The latest watches bring a lot of useful features for hunting, and you can make your hunting journey more daring with the latest hunting watches.
Most readers have a casual watch, and they think it is better for hunting so why should we invest in a new hunting watch?
Well! Modern hunting watches not just tell time but the have many useful hunting features.
Watches from brands like Garmin, Suunto, Coros, and others have built-in GPS and navigation features that help you find the best and safest tracks. Similarly, you can navigate back to the position of your initial camp and more.
Apart from the navigational features, these hurting watches have many hunting features.
If you are searching for the best hunting watch, you are in the right place because I am a smartwatch boy and love to test the latest watches. I will share my experience with you and help you to find the top watch for hunting. Let's get into it!
Top 11 Best Watches For Hunting
---
Our Top Picks…
| Image | Title | Price | Buy |
| --- | --- | --- | --- |
| | Garmin fenix 7X Sapphire Solar | | Buy Now |
| | Garmin epix Gen 2 | | Buy Now |
| | SUUNTO Traverse Alpha - SS022292000 (Foliage - NS) | | Buy Now |
Product prices and availability are accurate as of the date/time indicated and are subject to change. Any price and availability information displayed on [relevant Amazon Site(s), as applicable] at the time of purchase will apply to the purchase of this product.
Prices pulled from the Amazon Product Advertising API on:
---
1- Garmin Instinct 2 Solar
Hunting Features
10 ATM water rating
Barometric sensor
Thermometer to measure temperature
You can check the weather forecast
LiveTrack and Incident detection
Sun and Moon information
XERO locations
Area calculation
Vertical speed
Distance to destination
Garmin has recently updated the Instinct series and added two new watches to the lineup. The new Instinct 2 brings a lot of useful features for outdoor activities. 
If you want an extra long battery life, look no further than Garmin Instinct 2 solar. This solar version gives infinite battery life and up to 48 hours in GPS mode. So if you are on a long route for hunting, you can rely on Instinct 2 solar.
Unlike the original Instinct, this one has Incident detection features. Yes! It is similar to Apple Watch fall detection. In an emergency, it automatically sends SOS to your emergency contacts.
Under the hood, this powerful Garmin watch is jam-packed with outdoor features. First, it has insane navigational features, and you can use its turn-by-turn navigation to find the destination, back-to-start features, GPS coordinates, and more.
With Garmin Instinct 2, you can also keep an eye on weather conditions, and the watch automatically sends an indicator of a storm alarm so you can take the necessary precautions.
While hunting and other outdoor activities, you can also measure your fitness and recovery. Instinct 2 tells VO2 max performance, recovery time, heart rate, sleep tracking, body battery energy, and more.
The only drawback is that this watch comes in only a 45mm size, which is unsuitable for a small wrist. However, if you want a similar hunting watch, you can go for Garmin Instinct 2S.
Pros
Excellent navigational features
Rugged design
Suitable for outdoor sports
A lot of new health and fitness tracking features
Garmin pays for contactless payments
Cons
No music features
Limited sport types
Limited smartwatch features
Related Post: Best Garmin Watch For Hunting
2- Amazfit Trex 2
Hunting Features
Military standard toughness
10 ATM water rating for high-level water activities
1000 nits peak brightness for outdoors
Dual-band positioning and support six satellite positioning systems
A built-in compass, Altimeter, and Barometer
Good navigational features
If you cannot afford the expensive Garmin watches, then Amazfit Trex 2 is another alternative. This smartwatch has passed 15 military-grade tests and has a rugged design to face harsh outdoor environments.
Whether hunting in blistering deserts or freezing mountains, you can still view the screen of Amazfit Tre 2 and use its navigational features.
Amazfit Trex 2 is available in four colors, so you can choose according to your preference. I love its desert Khaki color, which gives a more aesthetic feel.
Amazfit Trex 2 has a 1.39″ HD AMOLED display, unlike most outdoor watches. The vibrant color display helps you read the dial under direct sunlight or underwater.
For navigation, this smartwatch provides dual-band and six satellite positioning so that you can track your routes even in a more challenging environment.
Amazfit Trex 2 can compete with Garmin watches in terms of battery life. It gives 24 days of battery backup on typical usage and 10 days on heavy usage. On GPS mode, it can last for 26 hours.
Lastly, Amazfit Trex 2 also gives comprehensive data regarding your health and fitness. You can track your HR, PAI health assessment score, sleep, SpO2, stress, etc. Unlike the Garmin watches, this one doesn't have recovery features.
Pros
Affordable price tag
Excellent battery life
Very durable design
Health and fitness features are amazing
Many workout modes
Cons
Lack of third-party app compatibility
Accuracy issues
The Zepp app is not as good as Garmin Connect
Amazfit T-Rex 2 Smart Watch for Men
The Amazfit T Rex 2 premium GPS smart watch is equipped with 1.39" HD AMOLED always-on display

Support for 6 satellite positioning systems, which can effectively reduce environmental interference and achieve more precise positioning. Hikers, climbers, and explorers.

The Amazfit T-Rex 2 sports watch's huge selection of over 150 sports modes.

With a battery powerful enough to endure adventures upto 24 days with typical usage and 45 days on Battery Saver Mode.

With the Amazfit T Rex 2 smart fitness watch you can test your heart rate, blood-oxygen saturation, stress level and breathing rate in a single tap of the watch, for a result in as little as 45 secon
3- Garmin Fenix 7
Hunting Features:
Offline mapping, TOPO Maps, and efficient GPS
Compass, Barometer, and Altimeter
Thermometer and weather forecast
LiveTrack, and incident detection
Provides point-to-point navigation
Hunt/Fish calendar
Sun and moon information
XERO locations
Tide Glance
The Garmin Fenix 7 is a popular hunting watch for various reasons. First, it has a very durable design with Corning Gorilla Glass and Stainless steel bezel, making it best for outdoor environments.
Secondly, the watch has 18 days of battery life so that you can track your outdoor activities for a long time. Fenix 7 has a strong grip on battery life, so it lasts 57 days in battery saver mode.
Further, you can view sunrise/sunset time and use barometric sensors to measure altitudes, heights, and more. Fenix 7 also has TOPO maps and supports offline mapping.
The new Hunt/fish calendar tells you which is the most suitable time of the day for hunting. It will maximize the chance of success. Further, you can use an ABC sensor to measure heights, altitudes, directions, etc.
Garmin Fenix 7 has many outdoor features, especially for runners; it includes running dynamics, run workouts, pace predictor, and more. You can view comprehensive data on your running or hiking in the Garmin Connect app.
The Garmin Fenix 7 measures your physical performance, body battery energy, blood oxygen saturation level, and more during hunting.
Pros
Powerful navigational features
Good battery life
Very durable design
Support offline mapping
Advance training features
Cons
Feels bulky on the wrist
Display feels dull
Expensive
No mic for calls
Garmin fenix 7X Sapphire Solar
Long-running solar powered multisport GPS watch

28 Days of battery life

Real-time stamina tracking, training status, advanced performance metrics

Get 24/7 health and wellness monitoring with wrist-based heart rate, Pulse Ox

Navigate the outdoors with a higher level of positioning accuracy

TopoActive maps
4- Casio Pro Trek Bio Mass Tough Solar Triple Sensor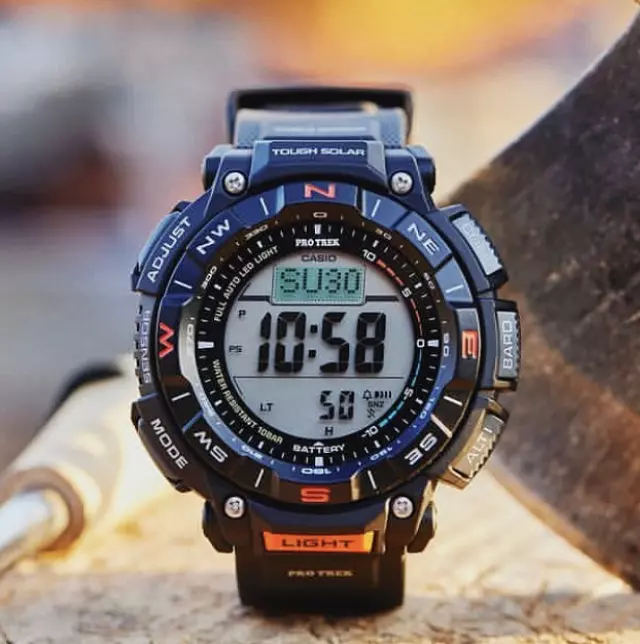 Hunting Features:
Sunrise and sunset time display
Countdown timer
Digital compass
Thermometer
Atmospheric pressure differential graphic, Barometer
Duplex LCD lays out separate layers for the compass graphics and the clock functions.
The ProTrek series of Casio is well known for harsh outdoor environments. Even though this watch lack major smartwatch features, it is still famous among hunters. Casio Pro Trek biomass features a rugged case made of Biomass plastic.
This tactical watch has passed several military tests for harsh thermal conditions. Because of the 100-meter water rating, you can use this watch for various water activities, including fish hunting.
For hunters, it provides data regarding sunset/sunrise time, world time, stopwatch, elapsed time, and more. Because of built-in ABC sensors, you can check altitudes and height data on the go. Casio Pro Trek Biomass has a digital compass that tells you direction.
Using the atmospheric pressure tendency graph, you can guess which place is more suitable for the hunt and check the temperature of the environment.
Thanks to its 7 months of long-lasting battery that makes you stress-free. So whether you go on the Trans Canada Trail, The Appalachian Trail, or the Pacific Crest trail, this watch will always remain alive.
Pros
Very durable and rugged design.
Digital compass to find direction.
Built-in ABC sensor.
Cons
No heart rate sensor
Doesn't track your steps
Casio Pro Trek Bio Mass Tough Solar Triple Sensor
Casios Tough Solar Technology charges your watch by converting light to energy

Part of Casios green initiative - Featuring Eco-Friendly Biomass Construction and environmentally friendly / recyclable packaging, paperwork & users manual

Triple Sensor (Version 3) includes a Digital Compass, Barometer, Thermometer & Altimeter

100M Water Resistance | Rotating Bezel | Super Illuminator w/ Full Auto LED/LCD Screen

Measuring range: -700 to 10,000 m (-2,300 to 32,800 f
5- Casio GBD-H2000-1A9
Hunting Features
Moon data
Sunset/sunrise data
GPS tracking
200-meter water resistant
Shock resistant body
ABC sensors
Thermometer
The new Casio GBD-H2000-1A9 is a watch for hunting because it includes a built-in GPS sensor, accelerometer, ABC sensor, digital compass, and much more.
Unlike most watches, this one has a 20-bar water-resistant rating. You can use this watch for swimming, diving, and all other water activities. This Casio watch is also Biomass plastic and has shock resistant casing.
Further, a built-in gyroscope and accelerometer track your steps, strokes, and turns. The watch also has 38 time zones, sunset/sunrise time, moon data, and more.
Apart from outdoor features, Casio GBD-H2000-1A9 offers a built-in heart rate sensor that measure your heart rate, cardio load, heart rate zones, SpO2, sleep, and more. So with outdoor adventures, you can take your speed, pace, distance, etc.
Casio GBD-H2000-1A9 also has a strong grip on battery life. It gives 2 months of battery life on normal use, whereas in the power-saving mode, it lasts 23 months.
The feature I love the most in this Casio watch is the notification system, and you will receive smartphone notifications on your watch.
Pros
Built-in GPS
Best for runners
Includes various strength training app
Long battery life
Very durable and rugged design
Incredible water-resistant design
Cons
Expensive
The stopwatch is limited to measuring in 1-second increments
6- SUUNTO Traverse Alpha
Hunting Features
Fishing and Hunting modes
Moon phase and moon set/rise times
GPS and GLONASS for navigation
100-meter water-resistant design
ABC sensor
Weather trends and storm alarm
Automatic shot detection
Backlight
Fishing and hunting specific POI types
The SUUNTO Traverse Alpha is specifically made for Hunter and fishing. As Garmin watches, this one is also durable and tested according to military standards (MIL-STD-810G). The watch has a stainless steel bezel and a Sapphire crystal watch that provides resistance against daily wear and tears.
The amazing feature of this watch is Automatic Shot detection, which automatically detects when you pull the trigger using your wrist movement. Secondly, you can find the best location for your hunt using barometric pressure trends and sunset/sunrise time.
Further, Suunto Traverse Alpha includes GPS and GLONASS satellite systems that help you to track your routes and trails. You can pre-plan your routes using Suunto Movescount.com and view route altitudes, breadcrumb trails in real time, coordinates, and more.
Under the hood, Suunto Traverse Alpha also gives comprehensive data on weather conditions, sea level pressure, temperature, storm alarm, and more.
This watch also includes a heart rate sensor for passionate hunters to measure HR, training load, calories burned, and more. You can also view your smartphone's notifications on your watch.
You should add Suunto Traverse Alpha to your watch list if you're a passionate hunter. It gives 14 days of decent battery life, many navigational features, and dedicated hunting and fishing mode.
Pros
Very durable design
Dedicated hunting and fishing app
Excellent navigational features
Include heart rate sensor
Cons
Design looks outdated
Lack of third-party apps compatibility
High price
Prices pulled from the Amazon Product Advertising API on:
Product prices and availability are accurate as of the date/time indicated and are subject to change. Any price and availability information displayed on [relevant Amazon Site(s), as applicable] at the time of purchase will apply to the purchase of this product.
7- Garmin Tactix Delta
Hunting Features
GPS Coordinates
Sun and Moon data
Tide
Area calculationHunt/Fish Calendar
Vertical speed
Back to start tracking
XERO location
Expedition GPS activity
Compatible with BaseCamp™
SIGHT 'N GO
ABC sensors
Thermometer
As the name suggests, the Garmin Tactix Delta is one of the most tactical smartwatches in the lineup. This watch has some exclusive tactical features that are useful for military or defense forces, including; Stealth mode, Jumpmaster, Kill switch, and Night vision capability.
The Garmin Tactix delta is pretty similar to the previous Fenix 7X Sapphire. It features Domed Sapphire crystal glass and premium diamond-like carbon-coated steel.
Even though this is an expensive watch, the navigational features and colorful mapping is incredible and worth it. You can use offline mapping, topographical maps, federal public land maps, and turn-by-turn navigation.
Fur hunters and outdoor adventures offer "Round trip routing"; you have to just distance, and it will automatically suggest the best routes that will also bring you back to the starting point.
The watch includes the Hunt/Fish calendar, sun and moon information, GPS coordinates, elevation tracking, ties, and many other things that help hunters successfully find prey.
Further, this high-end Garmin watch can track your fitness and health during outdoor activities. It has VO2 max, HR, training features, recovery time, body battery energy, and more.
Overall, Garmin Tactix Delta is the best watch for hunting which gives 21 days of battery life and is most recommended for military forces.
Pros
Includes major tactical feature
Very durable design
Premium navigational features
Includes a lot of health-tracking features
Long-lasting battery life
Accurate data
Personalized workouts
Cons
Expensive one
Complicated map navigation
Garmin tactix Delta Solar
The solar charging lens uses sunlight to extend battery life

Battery performance up to 21 days in smartwatch mode

Specialized tactical features include Jumpmaster mode, waypoint projection, dual-position format and preloaded tactical activity, stealth mode and kill switch

Quickly access customizable battery modes with power manager to extend battery life

Faturing an always-on 1.4" display with black DLC-coated bezel

Includes preloaded TOPO maps, a public land map, ski maps for 2,000 ski resorts worldwide, multi-GNSS support and advanced navigation sens
8- Coros Vertex 2
Hunting Features:
Action camera control
3D compass
Thermometer
Gyroscope
Touch-screen-enabled map control
Deviation alert
Back-to-start
Checkpoint
Offline maps
140 of battery life with GPS
ABC sensors
10 ATM water rating
Coros has a strong reputation for making running and sports watches. But the new Coros Vertex 2 is equipped with sports and outdoor features making it the best watch for hunters.
This premium watch features dual-frequency GNSS support and accurate and quick navigation. Thanks to its free global offline maps, that helps you stay on a route anywhere. So whether you're in a deep forest or hunting in a wilderness desert, Coros Vertex 2 is the best watch for you.
Unlike most Garmin watches, Coros Vertex 2 has a 1.4″ touch and color LCD screen. And it supports up to eight data fields on a single face, so you can view more data at a glance.
Regarding battery life, the Coros Vertex 2 is one step ahead of Garmin watches. It gives you 60 days of battery life with normal use and 140 hours of battery with GPS tracking.
Further, this watch offers some useful features for hunters, including; a thermometer, 3D compass, barometric Altimeter, and accelerometer. You can also track your Optical pulse rate, HR, stress, sleep, calories, etc.
This premium Coros watch has a dedicated Altitude mode for climbers and hikers that evaluate SpO2 score and fitness data at high altitudes. Coros Vertix 2 can also track your heart rate underwater, so you can also bring it to the pool or sea.
Coros Vertex 2 is the best option for a durable hunting watch with advanced navigational features, offline maps, and long battery life.
Pros
Very sports look feels durable
Offline maps
Gives 140 hours of battery backup with GPS tracking
Compatible with a lot of third-party apps
Accurate fitness tracking
Cons
Feels bulky on a small wrist
No music features
COROS VERTIX 2 GPS Adventure Watch
Built for Next Generation Adventure with Landscape, Topo, and Hybrid global offline mapping

VERTIX 2 brings huge accuracy improvements and solves the GPS accuracy challenge found in previous GPS units

A next-generation chipset and processor that is 20% faster than the original VERTIX

Built with premium materials including a sapphire glass screen with a Diamond-Like-Coating and new Titanium Bezel

Lot of outdoor sports mo
9- Casio Pathfinder PAG240-1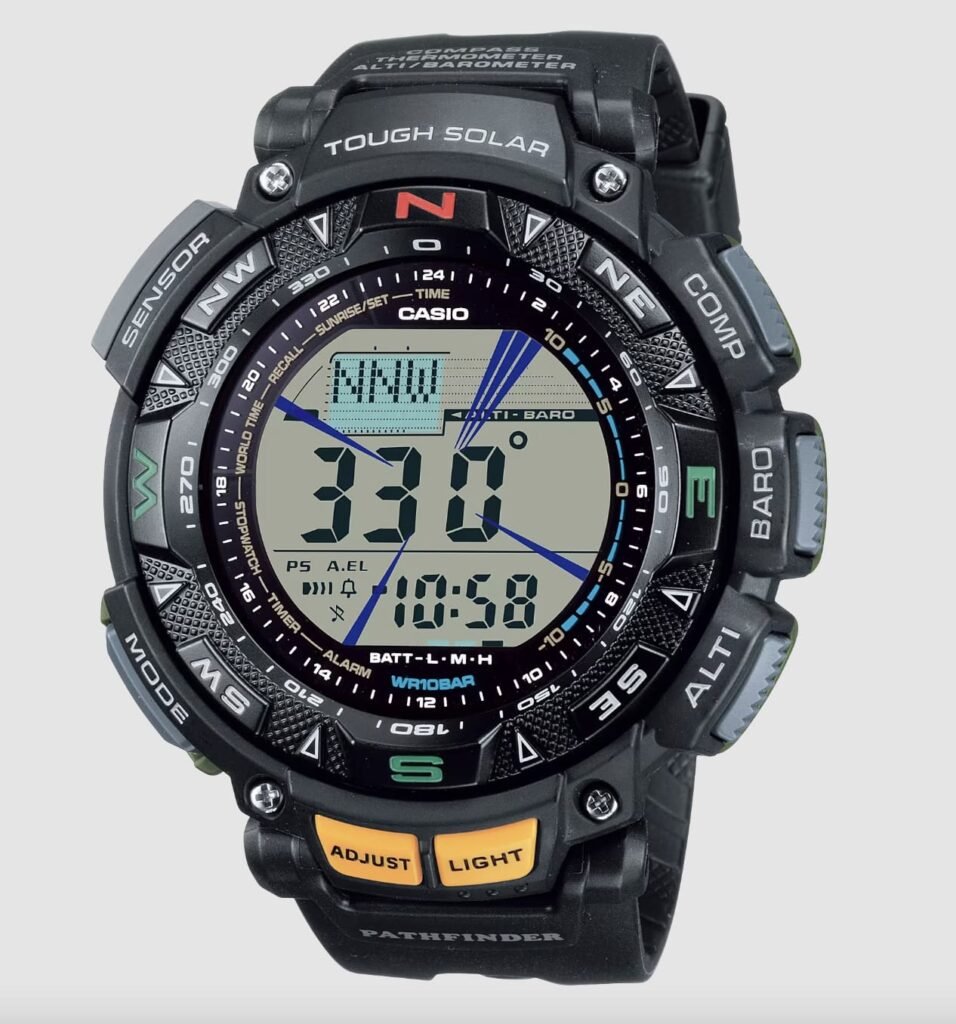 Hunting Features:
Digital compass
Altimeter with built-in high/low altitude memory
Barometer
Directional bezel
100-meter water resistant
Support 31 time zones
Stopwatch, timer, calendar
Electro-luminescent backlight
Sunrise/sunset display
The Casio Pathfinder PAG240-1 is our next watch for hunters. This watch has a double-layer display, so you can view more information on a screen. Like ProTrek and G-Shock watches, this one has a durable design and is made with Resin.
The buttons are large and easy to use; even you can easily press buttons with gloves. The Casio Pathfinder feels very comfortable; it would never irritate outdoor adventures.
As this is solar power, it gives you 6 months of battery life without exposure to light. But regular exposure to sunlight makes its battery life infinite.
Even though this watch doesn't have GPS for navigation, you can use the digital compass to find directions. Similarly, using the Altimeter, you can find altitudes and heights. This watch has separate high/low altitude memory and ascent/descent memory. And the Barometer helps you measure atmospheric pressure, showing atmospheric tendency and differential graphs.
The watch has a 51mm case which is pretty large for a smaller wrist but appropriate for outdoor purposes as this is a rugged watch, so you can only expect a larger display. A larger display helps you to read the readings on the go.
Overall, Casio Pathfinder is the best option for those who love hunting, trekking, or hiking. But this is not a watch with smart features and health-tracking capabilities.
Pros
Two-layer display
Equipped with triple sensor
Best for hiking and climbing
6 months of battery life without sunlight exposure
The digital compass has magnetic declination correction
Cons
No GPS
No heart rate sensor
Expensive
10- Garmin Epix (Gen 2)
Hunting Features:
Barometric Altimeter with Barometric trends and storm alarm
LiveTrack and live event sharing
Incident detection
Elevation tracking
Dedicated hunting profile
TrackBack features
NEXTFORK navigation
Hunt/Fish calendar
Area calculation
Tides, tide balance
Sun and moon information
Distance to destination
Garmin Epix is another exclusive watch with a rugged shape and durable design. The Corning Gorilla glass protection and stainless steel bezel make it the best watch for hunters and outdoor enthusiasts.
For hunters, it has a dedicated hunting profile where you can save the hunt location, navigate the hunt, use back-to-start features and checkpoints, and stop the hunt. If you're a pro hunter, I recommend using the Hunt & Fish app from Garmin Connect IQ. This app uses sun/moon data and the data to find the best time for hunting and fishing.
The navigational features in Garmin Epix (Gen 2) are insane. It supports NEXTFORK navigation, which shows trail names, the next trail, the remaining distance of the current trail, etc., so user can better understand their locations.
Further, you can see elevation plots, GPS coordinates, Topographical maps, and more. The feature which is very useful for hunters is "Distance to destination"; it helps you to find the distance between you and your prey.
As Garmin Epix is designed for outdoor recreational activities, that's why it has a lot of outdoor sports and training features. You can track your running, hiking, mountain biking, swimming, and more.
The Garmin Epix shows comprehensive data regarding your outdoor activities. You can view HR, HR zones, VO2 max performance, respiration rate, calories burned, body battery energy, hydration, and more. So if you want to take advantage of your hunting journey, you can opt for Epix 2.
The battery performance of the Epix 2 is similar to other Garmin watches. It lasts 16 days in smartwatch mode and 42 hours in GPS mode. Whereas you can also turn on battery saver mode if you're on a long trekking journey, battery saving mode gives 21 days of battery backup.
Pros
Exclusive outdoor features
Navigational features are incredible
Stunning AMOLED display
Very durable design
Accurate health and fitness tracking
Also best option for strength training and workouts
Bunch of recovery features
Cons
Expensive
Shorter battery life as compared to Fenix 7
No microphone for calls
Error: Unknown Link Type
11- Timex Expedition Tide-Temp-Compass
Hunting Features
Tide tracker
Compass
Digital thermometer
Quick date features
Fourth hand indicator
Indiglo night light
100-meter water rating
You can go for the Timex Expedition if you love wearing analog watches. This watch looks more classical and has a unique design; the polished stainless steel case looks adorable.
This watch has a 45mm case, so it's best for all wrists and outdoor activities. For hunters, it offers a tide tracker counts down, a digital thermometer, and a compass. You can use all these features to find the best hunting places. Remember that this watch doesn't have advanced features like GPS or heart rate sensors.
Timex Expedition features Quartz movement and INDIGLO that glows the dial in the dark so you can read the dial easily. The distant fourth indicator lets you know the time zones.
Further, this watch is water resistant up to 100 meters, so it won't damage the watch; you can use it while swimming or bathing.
Overall, Timex Expedition is a good hunting watch for traditional hunters who don't want expensive watches and don't need fitness tracking features.
Pros
Digital compass with adjustable declination angle
Indiglo night light
Tide tracker
Durable design with stainless steel bezel
Polished finishing
Cons
NO GPS
No moon and sun data
No fitness features
Timex Men's Expedition Tide-Temp-Compass
Adjustable blue 16mm silicone strap with green accents fits up to 8-inch wrist circumference; quick-release spring bars

Blue dial with green accents; date window at 6 oclock; compass markings

Tide tracker counts down to high or low tide; thermometer measures air & water temperature; analog compass

Silver-tone 45mm 316L stainless steel case with mineral glass crystal; Indiglo light-up watch dial; luminous hands

Water-resistant to 100m (330 ft): In general, suitable for snorkeling, as well as swimming, but not div
Guide To Buy Best Hunting Watches
Hunting watches are less common among folks. This is because no rule of thumb or criteria is required for a watch to be called a "Hunting watch." Most outdoor watches are also appropriate for hunting activities.
One sure thing is hunting watches should have solid and robust designs and be capable of withstanding harsh environments. As hunters spend most of their time in deep forests, bushy places, water, mountains, and such environments, not every watch can withstand such situations.
I have mentioned some core factors you should look for before purchasing a hunting watch.
1- GPS & Navigational Features
As a hunter, you need a navigational device to locate different locations, get navigations, and find trail names. A GPS watch can help you to find your current location, track your prey, and show maps.
Garmin, Suunto, and Coros watches are best for finding routes and trails. Even a few of the Garmin watches can track hunt, and you can chase it and get success in hunting.
Sometimes you get lost in the deep forest, and finding your initial position is difficult; in such a situation, the GPS watch is your only companion to finding your starting/initial position.
2- ABC Sensors
Altimeter, Barometer, and Compass (ABC) sensors are the most crucial elements in any hunting watch. They help you find altitude, height, atmospheric pressure, and direction to find the best locations for your prey.
ABC sensors are most common in outdoor watches. These sensors come with all the Garmin, Suunto, Coros, Casio Pro Trek, etc.
3- Battery Life
Next up, battery life is an important factor when choosing a hunting watch. The battery is a primary factor that sets hunting watches apart from regular smartwatches. A watch with a long-lasting battery life will be your long-term companion and track your activities for longer.
A good rule of thumb is your hunting watch should have at least 7 days of battery life on typical usage. Whereas on GPS, it should give 20 hours of battery time. But keep in mind that battery life depends on many other factors.
4- Design & Durability
As mentioned, a hunting watch must be durable to withstand daily wear and tears. A watch with stainless steel or rugged resin case is best for hard outdoor environments. Similarly, watches with Sapphire crystal glass are much more durable than Gorilla glass protection.
Most outdoor watches have passed the standard military test against harsh environmental conditions. So if you like to hunt in bushy or harsh environments, select a military standard watch.
5- Activity and Fitness Tracking
Last but not least is activity tracking, and if you're an old-school hunter and don't want fitness tracking features, you can skip this part.
Most outdoor and hunting watches are also equipped with activity tracking. They can track your pace, speed, distance, steps, and other such things.
Similarly, most watches track your fitness, heart rate, VO2 max performance, calories burned, etc. You can view comprehensive data on your health in the smartphone app. If you want such watches, you can opt for Garmin and Coros watches.
Final Verdict
The best hunting watch can increase the chance of success; by using the various hunting features of your watch, you can find the best place and time for hunting. The hunting features vary across the watches.
To improve your hunting skills, you should opt for the latest hunting watch. Similarly, these watches also track your physical performance and fitness.
About Author