In today's article we will talk about some of the trending and best Garmin watch apps.
If you own a Garmin watch, you are lucky because you have a Garmin's Connect IQ. With Connect IQ, you can access tons of workout apps, navigations apps, entertainment apps, widgets, watch faces, weather, calendar, and much more.
And every month, you will see a significant addition in apps. Garmin allows developers from outside of Garmin HQ to develop apps.
We have collected some best Garmin apps that we personally tested. You should also try these apps to make your Garmin watch more worthy.
Note:
The apps mention below are not compatible if you have old Garmin models. But if you have  a watch from any of these series then you can easily install all the apps.
Garmin Fenix
Garmin Forerunner
Garmin Vivoactive
Venu Series
Related Posts:
---
Best Garmin Watch Apps To Install
We have collected some best and most famous Garmin app. And we have personally used majority of these apps.
Not all apps are compatible with each Garmin device,  you can check the compatibility by visiting the app page. We have categorized the app for your ease, so make sure to check each department to get the most helpful app.
Let's have a look!
---
Running Apps:
1- Strava (Running App)
Strava routes are one of the most popular running apps, and they will help you effectively complete your daily running by tracking your daily routes. You can set your goals in it, and the app will automatically track them.
Strava routes can track your speed, distance cover, pace, routes, calories burned, heart health, and more.
The most exciting thing that we love in this app is the Strava community, where anyone can share their daily goals, achievements and also see other records. You can challenge anyone to compete with you and break your records.
The app will notify you about new routes and your achievements. You can see deep insights into your running or cycling activities on this app.
2- Runsafe+
This is a user-friendly app for runners, and it shows detailed activity analysis that allows you to accurately track your goals. The app supports ten different running/walking activities. If you want to get access to other stuff, you need to pay $3 to unlock everything available in this app.
In this app, you will see distance traveled, your speed, safety alters, race estimator for any distance, AutoLap ability, HRV, advance running dynamics, and more.
The app is compatible with Forerunner 245 and above forerunner members, Fenix 3/5/6 series, Venu, Marq, and Vivoactive series.
3- Hiking App Professional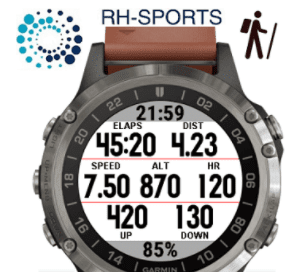 I know that Garmin watches are owned by people who love adventure and hiking. "Hiking app Professional" is only the app which is perfect for hikers. I have personally used it on my Garmin Fenix 6.
This app will deeply track your hiking or mountain climbing. You can see the distance covered, elevations, altitudes, speed, pace, Heart rate, time taken for hiking, and more things on it. Analyzing all these aspects on your wrist is an exciting experience for hikers.
If you are a serious and passionate hiker, then this app will improve your hiking skills. Its free version is enough for a beginner, including nine different data pages, compass, current time and elapsed session time, speed info, distance, heart rate info, cadence info, altitudes, alters, battery status in percent, and more.
Whereas in the premium version, there are many things to explore, and I only recommend the premium version if you are a passionate hiker. 
Being a tourist, you should an accurate and exciting navigation app. Maps Nav is your best companion during your adventures.
Basically, this app takes Google Map data to show you more accurate routes and unknown places. If you want to see your map more deeply, then you should install Map Nav. The app will guide you turn by turn and shows the best and short routes.
In case if you have lost your smartphone or its battery is dead, then at that moment, you can view the map directly on your wrist. This app is also available on the Google Play store. You will feel a vibration when there is a change in direction.
Check Out Latest Garmin Watches!
---
Entertainment Apps:
5- Spotify (Best Music App)
Being a tourist, you must have a solid navigation system, and Maps Nav is your best companion during your adventures.
This app takes Google Map data to show you more accurate routes and unknown place. If you want to see your map more deeply, then you should install Map Nav. The app will guide you turn by turn and shows the best and short routes.
In case if you have lost your smartphone or its battery is dead, then at that moment, you can view the map directly on your wrist. If you are taking any wrong direction or path, the app will vibrate the watch so you can change your way.
6- Amazon Music
This is the second-best music streaming app. Being an Amazon Prime member, you have access to over 2 million songs, and 1,000 playlists and stations designed by Amazon's music experts are available for free. 
You can leave your phone behind on your run or ride by downloading the Amazon Music app. Your wristband will have the music you need to stay active. Just like Spotify you have to pay for subscription, and making your favourite songs playslist.
---
 Garmin Fitness & Training Apps:
7- 7 Minute Workout
7 Minute workouts is the best self-improvement apps that are available on Garmin Connect IQ. Either you want to lose weight or give some shape to your body, "7 Minute Workout" is the perfect app for you. You can also sync its data with Google fit, which is an excellent thing.
The UI looks more sexy and easy to understand for beginners. You can set your exercise for 30 seconds with an interval of 10 seconds each.
Compatibility: Fenix 5 series, Fenix 6 series, Approach S60, Fenix 3, Vivoactive series, Forerunner 230 and above, D2 Bravo, Venu, Marq.
8- Pregnancy Tracking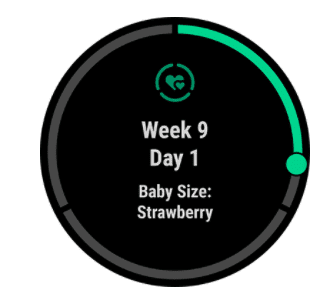 Garmin is the first company that launched the pregnancy tracking app. Females can use this app during their periods to track their health, symptoms, glucose level, baby's movement, and more.
This is a new app that Garmin adds in Connect IQ; that's why it has not much reviews. So use this app and leave a review. How do you like it?
To use this app, you must set up Garmin Connect's women's health tracking feature and update your pregnancy cycle type.
9- Heart Rate Zone Pie Chart and Recorder
If you want to know deep insights of your heart performance, then this app is best for you. It allows you to check your HR performance during every activity. You can also see the intensive training with different colors pie charts. The pie chart will update in real-time as you spend more time in each heart rate zones. You will see six screens;
Pie chart with HR max percentage

Pie chart with current Heart rate

Pie chart with elapsed time

Pie chart with a time of day

Average current heart rate

Data fields; (current, Percent, Min, Max)
This app is compatible with majority of the Garmin devices; you can see here.
10- Triathlon Duathlon Multisports
This is a multisport app and best for outdoor lovers. It supports all the major outdoor activities like running, swimming, cycling, and skiing, etc.
The app has impressive graphics and an easy user interface. If your Garmin watches don't offer Triathlon mode, then this is the perfect app for you.
Compatibility: The App will work on Vivoactive 3/4, Forerunner 245 and above version, D2, Darth, Descent, Enduro, Marq series.
11- Stryd Workout (Best Workout App)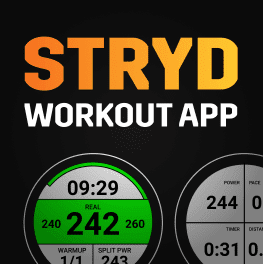 This one is a new app in Connect IQ that was designed to track running and cycling. Especially I recommend you install this app to track your indoor running like a treadmill.
Stryd is packed with a lot of new and existing features. It will also sync with third-party training platforms, which is an excellent thing. The app is compatible with Forerunner 245 and above, Fenix 6, Marq, Venu/SQ, Vivoactive series.
12- Ski/Snowboard Tracker
If you are fond of Ski/Snowboard, this specific app will help you track this outdoor activity. The app only works on our side; the accessible version of this app is enough for you.
This ski app will track your speed, distance ascent, fat loss, energy (Kcal), etc. You can also see the round map, which is your ski ground, and a red dot that indicates your position.
---
Best Garmin Apps For Rest:
13- Meditate
To make yourself calm and increase your focusing power, you should perform a meditation. For a beginner, it isn't easy to perform yoga. You need a guru or a trainer that helps you to make your activity more effective.
But with the "Meditate" app, you don't need any guru, and this app will tell you how to perform yoga more effectively. During your yoga, it will track heart rate, heart rate variability (HRV), stress and provide vibration alerts.
Unfortunately, this app is currently available for the latest Vivoactive series, but we can expect it will soon roll out for all variants.
14- Sleep Tracking App
Garmin's Sleep as Android app is one of the most popular apps for tracking your heart rate while sleeping. You can improve your sleep with the app's accurate sleeping insights.
A graph is created using the sensor on your watch to measure your sleep cycle. Every morning, you'll wake up with a sleep score from Sleep as Android that will help you assess how well you slept. Additionally, it provides anti-snoring, sleep advice, bedtime notifications and prevents you from oversleeping.
15- Air Quality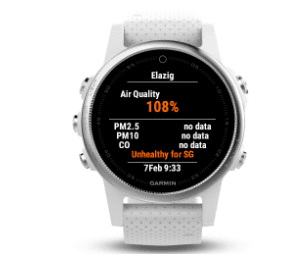 This one is a fantastic app, especially for people living in the urban environment or heavily populated cities. This app will tell you the real-time air quality through a widget.
What types of air do you inhale? Is it safe for your health or not? You can find out all these things here. This app will track the temperature, humidity in the air, and pressure.
This is compatible with Forerunner 235/245/630/735/745/945, Fenix series, Vivoactive series, D2 series, MARQ series, and Venu series.
16- Toothbrush Timer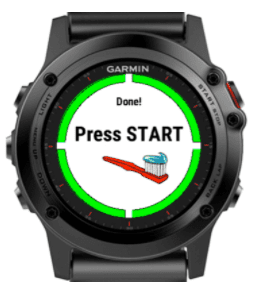 Haha, I love this app. It helps you to follow the dentist's 2 minute brush time recommendation. This is not a track of your fitness; and it's a timer. Just tab on your watch screen, and the timer will start. You'll also get a slight vibration when it's time to move on from those awkward bits in the back.
With this 2 minute time, you can focus on all the parts of your teeth. Toothbrush Timer is the best app for kids, and they enjoy this fun.
Compatibility: Forerunner 230 and above, Fenix series, Vivoactive series, Descent, Darth, D2, Captain Marvel, ForeAthlete, Venu, and Venu Sq.
18- Public Transport r.485
This app shows the bus schedules and times; you can know about the departure time from home. You need two clicks to know all about your bus routes without taking your phone from your pocket.
You can follow directions offline if your watch is paired to your phone to handle the route request. Additionally, you can set it up to save current locations or new addresses so that you can get travel assistance more quickly and easily.
19- Accu Weather
No doubt, everyone wants to check the weather on their wrist. Accu weather is available in a widget that you can place on your watch face screen, with just one glimpse you can check the weather forecast.
Accu weather is the most accurate plate to weather updates, either you are on your journey of performing outdoor activities this is a crucial app for you.  This will also help you to perfectly schedule your next plan according to the weather conditions.
How To Download Apps From Garmin Connect IQ on Phone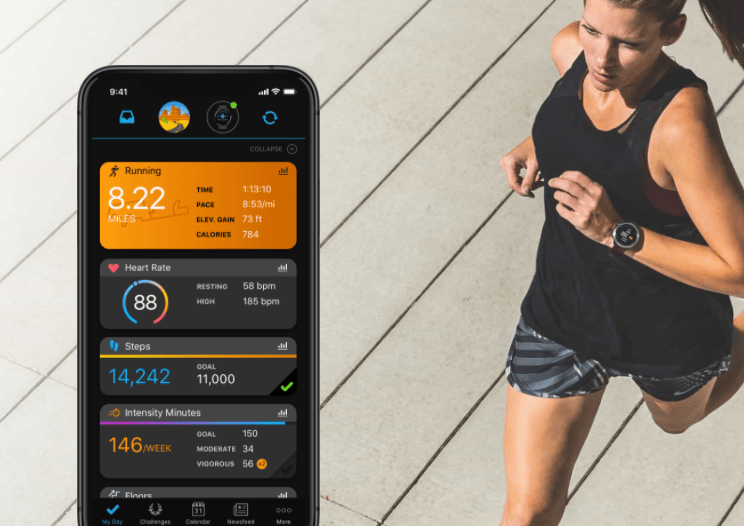 Garmin Connect IQ is a place where you canl get thousands of apps, widgets, data fields, and more. It's not a difficult job to download an app from Connect IQ. Before starting the installation process, you need a Garmin Connect account, just like the Google Play store.
Install the Garmin Connect IQ on your smartphone and launch the app. From the top left corner, click on the menu, and go to Connect IQ Store, here you will see tons of app. Choose the app that you require and then select allow to grant permission.
Note that your phone must be paired with your Garmin device to sync the app properly.
Final Words
These are the best Garmin apps that you should try. Among them few are very crucial apps like Accuweather, Strava, meditate, and Spotify, etc. But it's up to you which app you like more.
Not all the apps are available for free you need to pay something to get access to their full features. But if you are a beginner, I recommend you to try the accessible version of all apps.
Hi! I am Saad Dastagir, an enthusiast of smartwatches and fitness trackers. This blog is created to bring my personal experience with smartwatches in front of you. Our team tests different types of smartwatches and fitness gadgets constantly and shares hands-on experiences with you.