Fitbit and Garmin are two most competitive brands. Their watches and tracker are famous among fitness enthusiasts.
Garmin is the most expensive sports watch brand, but its few watches, like Garmin Venu Sq, are affordable. Similarly, Fitbit Charge 5 is also a budget fitness tracker like Venu Sq.
When it comes to choosing between Fitbit Charge vs Venu Sq, then it's challenging to choose the right one.
There are a lot of factors that make one watch superior to another. In this article, we will talk about all the differences between Fitbit Charge 5 and Garmin Venu Sq. And after reading this comparison guide, you will be able to decide which one is the right option for you.
Comparsion Table
| | | |
| --- | --- | --- |
| Features | Garmin Venu Sq | Fitbit Charge 5 |
| Bezel Material | Anodized Aluminum | Aluminum |
| Display Protection | Corning Gorilla Glass 3 | Corning Gorilla Glass 3 |
| Display Type | Colored, AMOLED | Colored, AMOLEd |
| Display Size | 1.3" | 1.04" |
| Water Rating | 5 ATM | 5 ATM |
| GPS | Yes | Yes |
| GLONASS | Yes | No |
| Battery Life | 6 Days in smartwatch mode, 14 hours with GPS | 7 Days in smart mode, and 5 hours with GPS |
| Fitness & Sports Features | Garmin Venu Sq | Fitbit Charge 5 |
| Heart Rate Tracking | Yes | Yes |
| Blood Oxygen Saturation | Yes | Yes |
| Stress Tracking | Yes | Yes |
| Fitness Age | Yes | No |
| Body Battery Energy | Yes | No |
| Active Zone Minutes | No | Yes |
| Sports Modes | 20 sports modes with GPS tracking + Extra preloaded sports modes for yoga, pilates, and strength training | 20 Sports modes |
| Fitness Assistant | Garmin Coach | No such assistant |
Fitbit Charge 5 Vs Garmin Venu Sq: Design & Display
Both Fitbit Charge 5 and Venu Sq have completely different designs. There is a square shape dial in Venu Sq, whereas Charge 5 offers a slim rectangular design.
Both smartwatches look beautiful on the wrist, but Charge feels more comfortable because of their sleek and lightweight design.
The bezel of Garmin Venu Sq is made of Anodized Aluminium that feels premium; Charge 5 also comes with an Aluminium bezel which gives a shiny look. Both watches featured Corning Gorilla Glass 3 protection that protects them from scratches and dust.
Charge 5 weighs 28 g making it the lightest fitness tracker, and Venu Sq also weighs 37 g which doesn't feel bulky on the wrist.
You can use both watches to track water activities like swimming because both have 5 ATM water ratings. But Venu Sq gives you a bonus point by offering an underwater wrist-based heart rate.
When it comes to display, you will see an AMOLED display in both wearables. Charge 5 includes a 1.04" touch screen display (326ppi), and Venu sq offers a 1.3″ display with 240 x 240 pixels resolution. You will get an Always On Display (AOD) on both devices, which allows reading the dial in a glimpse.
Fitbit Charge 5 Vs Garmin Venu Sq: Battery Life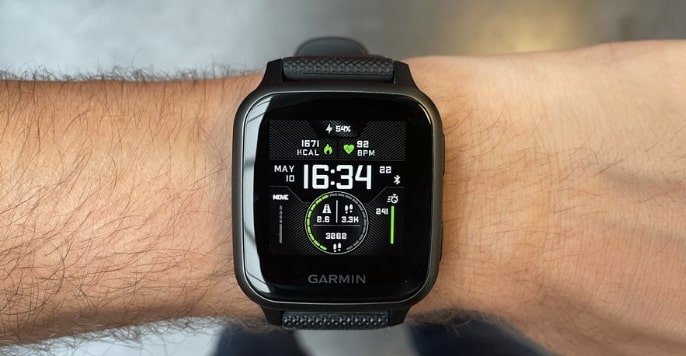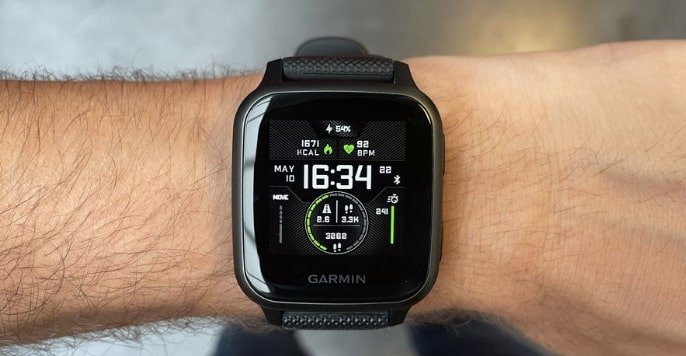 Garmin watches are well known for their long-lasting battery. But does Venu Sq offer a good battery at such a low price? Or is the Fitbit Charge 5 better than Venu Sq in the battery life department?
I have seen that Charge 5 has superior battery life because of its limited resource usage. It gives you seven days of battery backup on typical usage. But if you Always use on display and GPS, you will get less than that.
On the other hand, Garmin Venu sq lasts up to 6 days in smartwatch mode. But on maximum usage and AOD, it drains the battery faster.
Under GPS tracking Venu Sq clearly wins; in GPS mode, it lasts for 14 hours. At the same time, Charge with continuous GPS and heart rate tracking could last for 5 hours maximum.
So if you are an outdoor enthusiast and looking for a better GPS watch, then Garmin Venu Sq is a better option for you.
Fitbit Charge 5 Vs Garmin Venu Sq: Price
When it comes to price Garmin Venu Sq seems a little more expensive than Charge 5. The Venu Sq comes in different varieties; the standard 40mm variant costs $199, whereas the 43mm variant (with premium features) costs $449.
Whereas the Fitbit Charge 5 seems to be a much more affordable fitness tracker, it is available for $113 on Amazon. So if you're on a budget, then Charge 5 is the best option for you.
Fitbit Charge 5 Vs Garmin Venu Sq: Fitness & Sports Features
A smartwatch without fitness features is useless. Both Garmin Venu Sq and Charge 5 give a variety of fitness features. But which smartwatch is more reliable and has accurate fitness tracking?
Firstly both watches give you 24/7 heart rate tracking with alerts. But Venu sq also gives you underwater heart rate readings, which is a plus point for it.
You will get a SpO2 sensor on both watches, which is a core health feature. This feature measures your blood oxygen saturation. On Venu Sq, this feature is named Pulse OX sensor, which is similar to SpO2.
Another common feature that I have seen is stress tracking. But Charge 5 has more comprehensive stress management; you can view the whole day stress score. Similarly, you will get a breathe app on both watches.
Venu Sq includes some extra features like body battery energy that measure your body energy level, so you can find the best time to rest. Similarly, it also includes respiration tracking that enables you to track your anaerobic/aerobic performance.
Hydration tracking is another plus point in Venu Sq; you can set your water intake goals. You can also set hydration tracking to the auto goal, which automatically sets your hydration goals based on how much sweat you lost during activities.
Sleep tracking is another important feature to discuss. However, both watches include accurate sleep tracking. But Charge 5 offers some advanced sleep tracking tools. It also measures Breath rate (BR) and HRV during sleep.
The Fitbit Premium gives you more premium sleep tracking tools; you can use these tools to improve your sleep habits.
The thing that I like the most in Charge 5 is Active Zone Minutes; this feature is available in all Fitbits. I measure the time that you have spent in any heart-pumping activity. The more minutes you earn, the greater the performance will be.
Sports modes:
Both Fitbit Charge 5 and Venu Sq include built-in Sports modes. There are 20 exercises in Charge, five that give real-time stats of your activities. On the other hand, Venu Sq includes a preloaded GPS sports app along with preloaded cardio, yoga and pilates workouts.
Which One Is the Best Fitness Tracker?
In a nutshell, Fitbit Charge 5 is the best option for indoor fitness tracking. Whereas for outdoor sports tracking, Venu Sq is the best option. And if you're a person looking for the best sleep tracker, then Charge could be the best device to improve your sleep habits.
Garmin Venu Sq Vs Fitbit Charge 5: Smartwatch Features
On both devices, you will get different smartwatch features. You can reject calls or accept calls but can't speak into the tracker. Similarly, you can view text SMS; Venu sq allows you to respond to texts for Android users, whereas Charge can't reply to the text.
On standard Garmin Venu Sq, there is no music store, and Charge 5 also lacks built-in storage. But you can control your smartphone music with both watches.
Venu Sq comes with some extra safety features like LiveTrack, Incident detection, and assistance. At the same time, Charge doesn't have such features.
You can also make contactless payments via Venu Sq; Charge 5 doesn't have any NFC feature.
Garmin watches have a strong grip on GPS. Their GPS is much more accurate and efficient as compared to other brands. Venu Sq offers GPS paired with GLONASS that allows you to navigate even in a more challenging environment. Whereas Charge 5 has an average GPS tracking.
Final Advice
After going to the above article, I hope you're now able to decide which fitness watch is best for you.
Venu Sq seems to be more powerful for outdoor purposes; it has more outdoor features and looks durable. At the same time, Charge is a better option for indoor fitness, sleep tracking, and calorie tracking.
About Author