Garmin and Suunto are the two most popular names in sports watches and activity trackers.
Although widely used by amateur runners, Garmin has found particular success among elite competitors. But Suunto is well-known for its reliable navigation functions and durable watches.
Both Garmin and Suunto provide a variety of high-quality models with a broad range of monitoring features. However, determining which model best suits your needs can take time and effort.
To make things easier, we've created this guide that compares the main differences and specs between the two brands. Also, both have their pros and cons in different aspects.
Not only that, we have made the following table to help you better understand the distinctive features between these two highly competitive brands, Garmin and Suunto.
So, without any further ado, let's get right into it.
Comparison Table of Garmin And Suunto
| | | |
| --- | --- | --- |
| Comparison | Garmin | Suunto |
| Founded in | 1989 | 1936 |
| Debut Watch | Venu 2 | Suunto 3 |
| Flagship Watch | Garmin Fenix 7X Solar, Vivoactive 4, Venu 2 Plus, Forerunner 955 | Suunto 9 Peak Pro |
| Navigation | Topographic maps | Breadcrumb maps |
| App | Garmin Connect | Suunto App |
| Online Pay | Garmin Pay | Google Pay |
Garmin VS Suunto – Comparison Features
Unquestionably, both Suunto and Garmin produce excellent, high-quality watches. Both are excellent choices.
However, if you have to pick one, it depends entirely on your preferences for features, such as whether you need it for GPS, sports tracking, or health monitoring. Luckily, price isn't a big deal between them because each brand makes a variety of watches to fit different budgets and needs.
Listed below are the salient features we compared to determine the best choice between two leading competitors.
Garmin VS Suunto: Brand's Reputation
Garmin and Suunto are widely recognized as market leaders in the smartwatch industry. Both Suunto and Garmin produce impeccable products and enjoy a stellar reputation in the multi-sport industry.
While continuously enhancing their features, software, and designs, both smartwatch companies consistently launch new watches for runners, adventurers, and other specialized markets.
Garmin is popular among athletes for its multi-sport watches, while Suunto is well-known for its innovative diving technology.
They offer a variety of reliable watches, including some of the industry's best-selling timepieces like the Garmin Instinct, Forerunner 945, Fenix 7, Suunto Core, and the Suunto 9.
Overall, Garmin has a better and longer-standing reputation among sports enthusiasts thanks to its extensive selection of multi-sport watches, unlike Suunto, which offers fewer products.
Garmin vs Suunto: Design & Display
In terms of design and display, both Garmin and Suunto produce watches with exceptional designs and brilliant displays. However, the bezels and cases that come with Garmin products are more durable.
If you look at the Garmin Forerunner or Instinct Series, you will notice that all of their products have fiber-reinforced polymer bezels and cases with 40- and 45-mm displays. Some of the Garmin watches come with stainless steel bezels like Fenix or Vivoactive models. In addition, their screen resolutions are higher than that of the Suunto, resulting in greater clarity and a brighter display.
Some models, however, do not have touchscreen capabilities, but this is not a problem because they have conventional physical buttons that make them simple to use.
On the other hand, Suunto wearables have smaller screens, which can make reading a little more complicated while moving around. Aside from that, Suunto provides many touchscreen models that come standard with user-friendly controls. Additionally, they have transflective MIP displays, allowing you to view the screens even in bright sunlight.
Regarding comfort, both companies produce stylish and highly comfortable smartwatches. Some models, like the Suunto 9 and the Garmin Tactix Delta, are a bit bulky, but the silicone bands make them comfortable to wear for extended periods.
Garmin vs. Suunto: Build-Quality
Build quality is another crucial factor you need to consider while comparing these reputable brands – Garmin and Suunto. Both companies have a stellar reputation for making high-quality, long-lasting watches.
Garmin watches feature extremely long-lasting Corning Gorilla Glass DX touch screens and fiber-reinforced polymer bezels. Few solar versions of Garmin watches offer Power Glass which is more durable. And if you go for high-end models like Tactix Delta or Fenix 7X, you will get Sapphire crystal which is durable as hell.
In contrast, most Suunto models feature sturdy stainless steel construction, while some have fiber-reinforced polymer bezels. Further, these watches have sapphire crystals to protect the screens from scratches and abrasions.
In addition to producing sturdy displays, both companies are known for making timepieces resistant to water. However, Suunto offers higher IP ratings of up to 10 ATM, making them the best for diving and swimming. Garmin usually provides a water resistance rating of up to 5 ATMs.
To sum up, timepieces from both brands are reliable and well-made. Garmin is the best option if you're looking for a rugged multi-sport watch for hiking, cycling, and running. But if you want a durable smartwatch for diving, there is no better choice than Suunto.
Garmin vs Suunto: GPS System
The GPS is a crucial component of multi-sport watches that records your precise location and time spent doing various activities. Fortunately, both brands provide highly dependable GPS and location-tracking capabilities.
Garmin wearables give users access to numerous global satellite navigation systems (GPS, GLONASS, and Galileo). It enables the watch to follow you almost everywhere you go. Additionally, wearing a Garmin watch will provide real-time data regarding your location, speed, and other movement-related data.
In the same way, Suunto GPS sports watches also let you track your movements precisely and in real time. So you can concentrate on your fitness training while knowing that your trip is being recorded accurately at every step.
Comparing their top-tier models, the Fenix 7X Solar and the Suunto 9 Peak Pro, the Suunto uses more satellite systems (GPS, GLONASS, and Galileo) to track your location. However, Garmin stands out as having the most features and applications when comparing the smartwatches and trackers from each brand.
Garmin vs. Suunto: Mapping & Navigation
Along with GPS, sports watches rely heavily on built-in mapping and navigation features. Both Garmin and Suunto offer reliable mapping and navigation systems.
Garmin provides an excellent and better navigation system compared to Suunto. Depending on the model, you'll have access to the Garmin TOPO map system. Compared to conventional topographical maps, these are much more detailed and colorful.
Some models, including the Garmin Enduro 2 and Epix, have the best mapping and navigational capabilities. They provide precise navigation while enhancing battery life. With these devices, you can also benefit from turn-by-turn navigation and offline mapping.
However, Suunto's unique mapping system, breadcrumb maps, will provide you with more information than any other map. Additionally, they are renowned for having larger map sizes on their sports watches than other manufacturers.
Furthermore, Suunto features altimeter and barometric functions that facilitate and improve the safety of off-trail navigation.
Garmin vs Suunto: Data Management
When wearing a Garmin watch, you can use the Garmin Connect app to control the information the watch collects. It is a handy app for keeping tabs on your health and organizing your workout schedule all in one place.
The app also has a built-in social feature for interacting with other users. By doing so, you will be able to surround yourself with like-minded people who will help keep you motivated.
On the other hand, Suunto uses the Suunto app for data management and other purposes. In addition to improving data management, it also enhances smartphone synchronization. Moreover, it provides a detailed map and route planner to help you stay on the right track.
Garmin vs Suunto: Heart Rate Monitoring
Multi-sport watches featuring in-built heart rate monitors are available from Garmin and Suunto. The precision of their devices is also unquestioned. Consequently, it is challenging to compare Garmin and Suunto watches based on this feature.
However, if you must choose a winner, Garmin has the upper hand here because it offers a wider variety of options than Suunto.
All the Garmin watches come with heart rate monitoring, and few of them offer HRV alters. In case of any irregular heart rate patterns, it immediately sends you an alert. Alternatively, Suunto only offers limited number of watches, including the Ambit 3, Suunto 9, and Suunto 9 Baro.
Garmin vs Suunto: Safety Features
To use the safety features of either watch manufacturer, you need to connect your watch to the app (Garmin Connect or Suunto app) on your phone.
LiveTrack is a real-time safety feature available on Garmin devices that lets your loved ones keep tabs on your whereabouts. Additionally, if your watch detects an incident, such as a fall or accident, it will notify your emergency contacts of your location.
The latest Suunto 9 and 5 smartwatches also have incident detection features, though they are less comprehensive than Garmin's.
Garmin vs Suunto: Smart Features
Smart features are essential to take into account because of the value they add to users' lives on a daily basis. When comparing Garmin and Suunto, Garmin clearly wins in this department.
These features include text message replies, Garmin Pay contactless payments, third-party app notifications, and weather updates.
Like Garmin, Suunto devices have a few convenient and advanced features. Such features include smart notifications, text message replies, and a local weather forecast.
Long story short, this category goes to Garmin because of the company's extensive product lineup and thoughtful features.
Garmin vs Suunto: Music
Listening to upbeat music is a great way to boost your mood and keep you moving during your workout. The good news is that both Suunto and Garmin offer multi-sport watches compatible with popular music streaming services like Spotify, Amazon Music, and Pandora. Some even allow you to control the music on your smartphone from the watch itself.
Furthermore, both companies' watches have ample internal storage, enough to store thousands of songs. Thus, if you are looking for the best music smartwatch, you can choose any smartwatch from Garmin or Suunto.
Garmin only leads Suunto because it has more watches with music capabilities. Popular Garmin smartwatches with a music feature include the Vivosmart 3, Quatix 6, and Rey. However, Suunto only offers one music-capable smartwatch, the Suunto 7.
Garmin vs Suunto: Pricing
Everybody checks the pricing before they buy a watch. Therefore that's one of the primary considerations.
You'll see that both brands have a large selection of fitness watches that not only meet a variety of needs but are also offered in various price ranges, so there is something to fit any budget.
But overall, Garmin multi-sport watches have a higher price tag than Suunto multi-sport watches. Suunto multi-sport watches are roughly one-third the price of their Garmin competitors.
It is understandable if one considers the high-end multi-sport models produced by both firms, which are as follows:
Garmin VS Suunto: Battery Life
Lastly, good battery life is an issue to consider when choosing between Garmin and Suunto. There isn't a significant gap between the two, but Garmin is the superior option.
Even the most basic versions in this brand's lineup often claim a battery life of up to a week, while many of the pricier models offer even longer run times, such as the Fenix 7 Solar and the Instinct 2 last up to 3 weeks. Whereas the Garmin Instinct 2 Solar version gives ultimate battery life.
Suunto typically provides less, with most models expected to last only 6 to 10 days without recharging. However, the good thing is that their watches have three battery modes that users can use to extend the battery's life, which is a big plus.
Related Posts: Best Garmin Watches For Hunting
Pros & Cons of Garmin and Suunto
After considering all of these elements for both brands, it could be confusing to decide which is better. Therefore, we have prepared these lists of pros and cons to assist you in reaching a decision.
Pros and Cons of Garmin
Pros:
The following is a list of the features of Garmin smartwatches that we liked the most:
The largest variety of options
All watches are designed with a proprietary
Elegant and lightweight designs
Offers color topographical maps
Comprehensive well-being tracking system
Able to customize data display through the watch
Some models provide solar-powered options
Alternatives for every price range
Built with multi-sport capabilities
Cons:
Here is a list of what we dislike about Garmin smartwatches:
The size of the topographic map is too small
Watch offers a lot of data collection, which could be overwhelming for some
Classic button designs
The price of entry-level smartwatches might be a little too high for some
Pros and Cons of Suunto
Pros:
Here are the things we love most about Suunto smartwatches.
It comes with multiple battery saver modes
Designed with altimeter and barometric features
Crafted with larger map displays
More luxury looking
Ability to use breadcrumb maps
Affordable starter options
Compatible with Google Fit
More high-tech and advanced
Extensive sports functionality
Cons:
Here is the list of the things that disappoint us with Suunto smartwatches:
Some people find the prices to be a little high
One can only customize the display through the use of the app
Less sensitive touchscreen
It doesn't have solar-powered options
Some people may find it difficult to switch to a specialized app
Some watches are a little bulky
When Should You Choose a Garmin?
If you want to evaluate your effort levels, increase your endurance, and delve deeply into your performance to uncover areas for growth, Garmin will provide you with the necessary data.
Garmin devices are ideal for people who wish to track their sports activities accurately. Apart from reliable tracking, Garmin also offers durable designs, accurate built-in GPS, and great battery life.
Moreover, they have various sensors designed to monitor your fitness levels and help you maintain a healthy and active lifestyle.
Top 2 Recommended Garmin Watches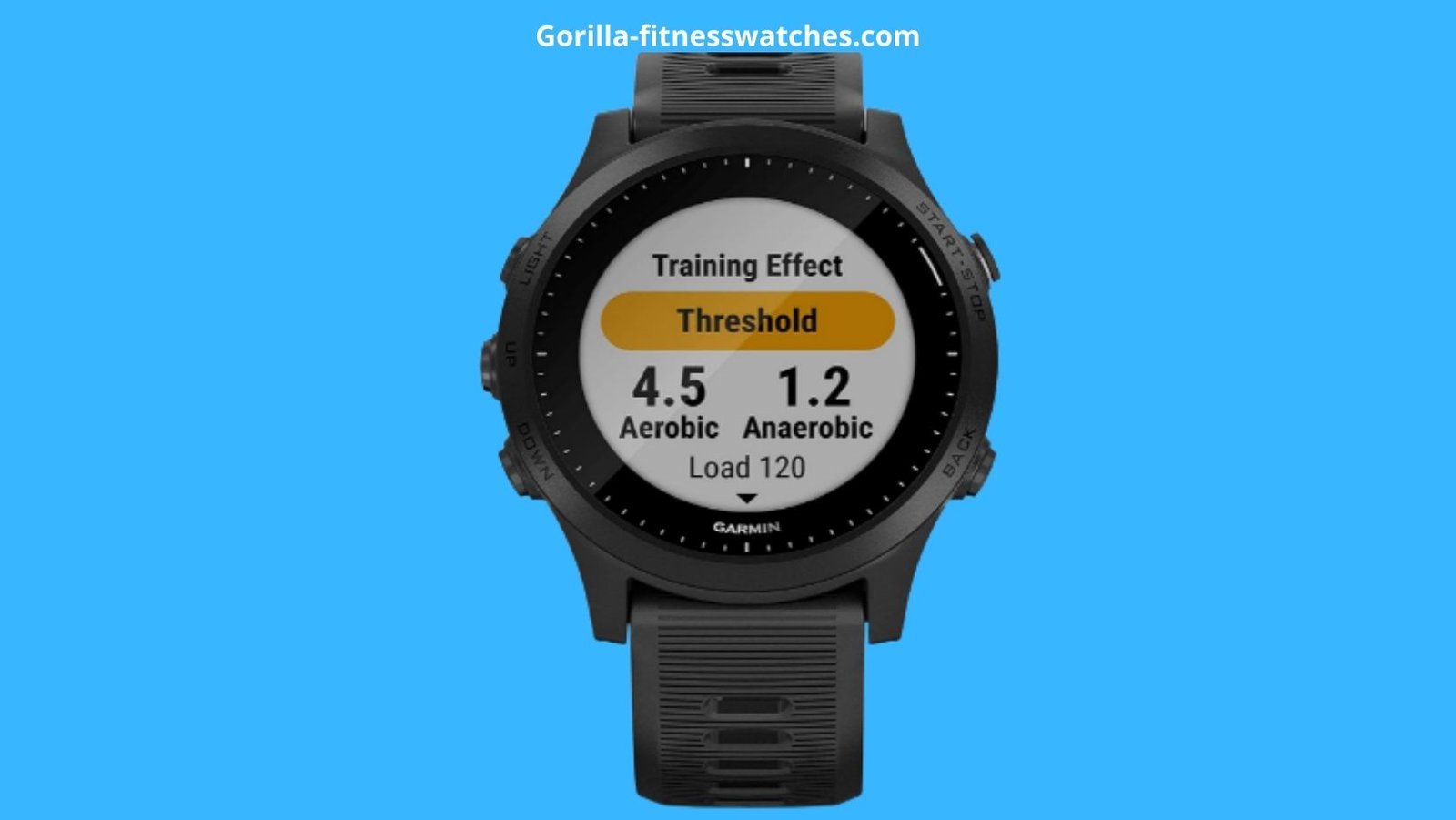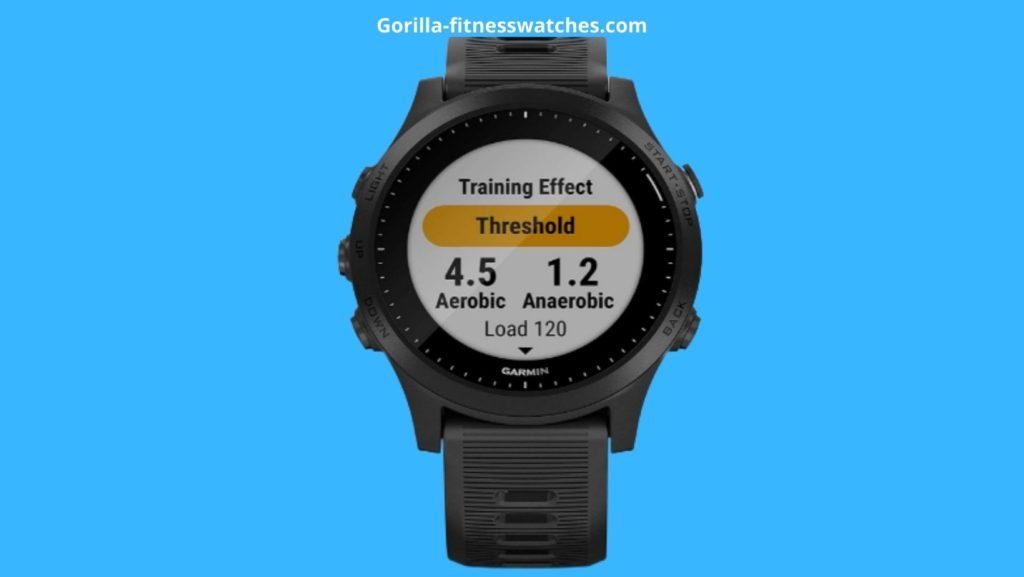 Product Specifications:
Display: 1.2 inches
Compatibility: Android and iOS
Internal Storage: 8 GB
Battery Life: Up to 10 hours in GPS mode
IP Rating: 50m
Built-in GPS: Yes
The Garmin Forerunner 945 is our top pick if you need a multi-sports watch, and it excels at tracking your running stats. It is equipped with all the necessary features for a serious runner. Moreover, it offers precise insights that enable you to enhance your daily performance.
In addition to its fitness-oriented functions, this device is packed with useful features like smart notifications, weather updates, and contactless payments.
In the health department, the watch has various health-tracking sensors to keep you fit and healthy. It provides monitoring sensors for sleep tracking, women's health tracking, hydration tracking, body battery energy tracking, respiration tracking, and so on.
Regarding battery life, this best running watch by Garmin lasts up to 2 weeks in smartwatch mode and 36 hours in GPS mode, which is quite impressive.
Other essential features include:
Garmin pay contactless payments
Aerobic and anaerobic training effects
Training load
Recovery time
Onboard topographic maps
Incident Detection
Prices pulled from the Amazon Product Advertising API on:
Product prices and availability are accurate as of the date/time indicated and are subject to change. Any price and availability information displayed on [relevant Amazon Site(s), as applicable] at the time of purchase will apply to the purchase of this product.
2- Garmin Fenix 7 – Best Multi-sport Smartwatch
Product Specifications:
Screen Size: 1.3 inches
Display: AMOLED
Human Interface Input: Touch screen
Built-in GPS: Yes
Battery Life: 18 days
The Garmin Fenix 7 is a rugged multi-sport watch with a stainless steel bezel and scratch-resistant Gorilla Glass. It has a 1.3-inch screen, which is large enough to view data quickly at a glance.
Apart from appearance, the watch includes built-in GPS to track your routes accurately. Additionally, this high-end smartwatch is rated to withstand a water pressure of 100 meters, so you can wear it in the shower or while washing your hands without worrying about damaging it.
Additionally, it offers numerous sports-related profiles and specialized sports apps. It provides HIIT workouts, recovery advisor, HRV status, training readiness, and more.
In terms of battery life, the Garmin Fenix 7 is fantastic. This watch has a long-lasting battery life, allowing you to use it for 18 hours in smartwatch mode and 57 hours in GPS mode. In addition, a power-saving mode will enable you to enjoy uninterrupted use for 57 days.
Lastly, the watch comes with a warranty period of one year so that you can purchase it with great confidence.
Garmin fenix 7X Sapphire Solar
Long-running solar powered multisport GPS watch

28 Days of battery life

Real-time stamina tracking, training status, advanced performance metrics

Get 24/7 health and wellness monitoring with wrist-based heart rate, Pulse Ox

Navigate the outdoors with a higher level of positioning accuracy

TopoActive maps
When Should You Choose a Suunto?
If swimming or diving frequently is your top priority, Suunto is the watch for you. Rather than focusing on smart features, all Suunto watches prioritize fitness and sports tracking.
Suunto watches are also renowned for their dependability, premium construction, long battery life, and customizable battery modes. They also include unique swimming and diving modes. So a Suunto will be the best pick if you're into diving or involved in underwater activities.
Suunto is not only great for athletes but also for those who prefer subtle designs in their smartwatches. Their timepieces boast high-quality finishes and a fashionable appearance. Not only that, they are incredibly comfortable to wear for long journeys.
Top 2 Recommended Suuntos
1- Suunto 9 – Best Durable Smartwatch
Product Specifications:
Screen Size: 50 Millimeters
Built-in GPS: Yes
Weight: 81 grams
Human Interface Unit: Touch screen, buttons
Compatibility: Both Android and iPhone
Water-Resistance: 10 ATM
Battery Life: 120 Hours
The Suunto 9 is, undoubtedly, the perfect combination of style and function. The watch has many useful functions for outdoor enthusiasts. It has a reliable built-in GPS that keeps track of your cycling, jogging, or hiking trips.
Suunto 9 is unparalleled to its predecessors in terms of quality and longevity. The bezel is made of fiber-reinforced polymer, which is additionally shielded from dust and scratches by tempered glass.
In addition, this smartwatch has several health-tracking features that can assist you in meeting your fitness objectives. There are also wrist-based stress monitors, sleep trackers, and heart rate monitors.
Additionally, the watch has a 100-meter water-resistant rating, so you may use it when swimming or taking a shower.
The battery life of the Suunto 9 is three weeks with typical use and 120 hours in GPS mode. In comparison to similar GPS smartwatches, this battery life is outstanding.
Suunto 9
Multisport GPS

Excellent ABC sensors

Advanced Performance Metrics

Extremely Durable

Excellent battery life
Prices pulled from the Amazon Product Advertising API on:
Product prices and availability are accurate as of the date/time indicated and are subject to change. Any price and availability information displayed on [relevant Amazon Site(s), as applicable] at the time of purchase will apply to the purchase of this product.
2- Suunto Core – Best Affordable Smartwatch
Product Specifications:
Display: 1.9 inches
Weight: 64 grams
Built-in GPS: No
IP Rating: 30 meters
Battery life: 7-8 days
If you are looking for a budget-friendly outdoor smartwatch, Suunto Core is the perfect pick. The beautiful design of this watch makes it both aesthetically appealing and valuable.
The stainless steel casing of this timepiece measures 49.1 millimeters in diameter, and it is protected with mineral crystal for further durability. Furthermore, the lightweight (64 grams) design of this smartwatch makes it quite comfortable to wear for extended periods.
Sadly, the watch does not have a GPS function. However, this durable smartwatch is equipped with ABC sensors that can determine altitude, monitor the weather, and aid in navigation.
Additionally, this smartwatch can withstand water pressure up to 100 meters, making it ideal for scuba diving.
Lastly, the battery life of the Suunto Core is exceptional. It has an impressive battery life of 7-8 days on a single charge!
SUUNTO Core
Altimeter, Barometer, Compass

Measures Temperature

Storm alarm

User-replaceable battery

Depth meter for snorkeling
Prices pulled from the Amazon Product Advertising API on:
Product prices and availability are accurate as of the date/time indicated and are subject to change. Any price and availability information displayed on [relevant Amazon Site(s), as applicable] at the time of purchase will apply to the purchase of this product.
Which One Is The Best For Runners?
Garmin is undoubtedly the finest choice for runners because its watches offer all the necessary running features. Their watches have built-in GPS that can precisely measure your running time, distance, and other metrics.
In addition, Garmin watches provide features that help you train to improve your running performance. Garmin devices monitor running dynamics like stride length, cadence, ground contact time balance, and vertical oscillation. It can assist you in improving your performance.
Furthermore, Garmin watches are compatible with various popular running apps, including Nike Run Club, Strava, and RunKeeper, for data recording. Also, they are coupled with Garmin Coach, a top-notch training program to keep you motivated.
The four top running smartwatches from Garmin are as follows:
Which One Is The Best For Hiking?
Garmin is a well-known manufacturer of high-quality and reliable hiking watches. All the gear you need to take your hiking experience to the next level is built into their devices.
We love various hiking features on Garmin smartwatches, such as onboard maps, built-in GPS, accurate ABC sensors, trackback, climb pro, and storm alerts.
Apart from hiking functions, these watches are designed to survive the most challenging hiking situations. Their cases are composed of premium quality stainless steel or fiber-reinforced polymers, additionally strengthened by Corning Gorilla Glass or Sapphire Crystal against scratches and damages.
Also, some watches, like the Garmin Instinct Solar and the Fenix 7X Solar, have solar-rechargeable batteries, so you never have to worry about running out of juice on a long hike.
Following is the list of the best Garmin watches for hiking in 2023:
Which One Is The Best For Training Watch?
Since Garmin watches offer all the necessary training capabilities to demonstrate your fitness level, they perform best as training watches.
Their smartwatches, like the Garmin Forerunner 245 and 945, have unique training tools to improve your performance, like Training Status, Training Load, and Training Effect. These performance metrics will inform you whether or not your training load is optimum and how it affects your fitness levels.
Garmin Coach is another vital training feature found in Garmin watches. Like a personal trainer, it helps you stay motivated and on track during your workouts. Additionally, it will recommend regular exercises to build your body's strength.
Furthermore, Garmin has designed specific watches for Weight lifting or Strength training (Garmin Instinct), Cardio (Garmin Fenix 5), CrossFit (Garmin Vivoactive 4S), and High-Intensity Workouts (Garmin Venu).
So, if you're looking for a watch to keep track of your workouts, this company has some of the best selections, including:
Which one is the Best for Swimming?
When it comes to water sports, Suunto usually comes out on top because all its watches are waterproof. They have good IP ratings to withstand water pressure ranging from 5 to 10 ATMs.
Also, their watches feature dedicated swimming modes like pool swimming and open water swimming. Moreover, Suunto smartwatches can be paired with Swim.com for access to comprehensive swim-specific analysis that can be used to make improvements.
Following are the top three Suunto watches designed for swimming purposes:
Which one is the Best for Health Tracking?
Garmin is unrivaled when it comes to health tracking. The company makes wearables monitoring various health metrics, including heart rate, sleep quality, stress levels, menstrual cycles, oxygen saturation levels, water consumption, breathing exercises, etc.
Although Suunto also has health monitoring functions, its accuracy needs to improve. Therefore, Garmin is the best option if you want to invest in a reliable health tracker.
Final Verdict
Garmin and Suunto provide a wide selection of devices at various price points and with a massive range of capabilities. However, which option should you pick?
You can narrow down your search for the perfect wristwatch by prioritizing the aspects that are most important to you.
Do you want a simple watch that can record your outdoor activities?
Do you want a multi-sport watch to track your sports activities?
Do you desire a fitness or health tracker that records your activities and health data?
If all you want is a diving watch at a reasonable price, the Suunto is the way to go. On the other hand, if you want the best GPS running watch, a Garmin is your best bet. So, it depends on what you're looking for and what you prefer.
Ultimately, it doesn't matter which brand of sports watch you buy because both are well-made and worth the money.
Related Posts:
About Author