Hunting is a big passion and adventure, and you can make this adventure more amazing by using the best Garmin watch for hunting.
Although there are a lot of hunting watches available out there, Garmin watches are the most durable watches made for outdoor purposes. These Garmin watches give a lot of valuable features for hunting, like; routing, GPS tracking, altitude tracking, weather condition, moon phase, compass, and much more.
After spending a lot of time in research and testing, I have found some of the best Garmin watches with exciting hunting features.
So let's get started!
Best Garmin Watches For Hunting
1- Garmin Instinct 2
Garmin Instinct 2 is one of the best smartwatches for hunting. First, it's durable like hell and doesn't wear and tear quickly. It has chemically strengthened glass which is much better than Gorilla glass and protects the watch against scratches and dust.
For hunting purposes, you can't go for a paltry battery life watch. That's why Garmin Instinct 2 offers 28 days of battery life in smartwatch mode. And if you have a solar version of it, then forget to charge your watch. The solar version of Instinct 2 gives unlimited battery life with continuous heart rate tracking.
Similarly, Instinct 2 also offers precise GPS tracking, and the GPS is paired with GLONASS to track even more challenging environments. For hunters, it also includes a Trackback feature which helps you return to your initial place from where you started the hunting journey.
Other useful features for hunting include Sunrise/Sunset times, Thermometer, compass, altimeter, barometer, stopwatch, and more.
Instinct 2 also offers some safety features like incident detection or LiveTrack. So in case of any incident, the watch will send a message to your emergency contacts.
Unlike previous Garmin Instinct watches, Instinct 2 is loaded with various health tracking features. It offers heart rate tracking, sleep tracking, stress monitoring, Intensity minutes, and much more.
For trainers, it includes different HIIT workouts, during workouts, and cardio training Instinct 2 measures your VO2 max performance, HR, and blood oxygen saturation levels. The Recovery time feature lets you know when you will be ready for the next workout.
2- Garmin Fenix 7
The Garmin Fenix 7 series is for people who are always on the go and love adventuring. This Garmin watch not only gives a premium look, but its features are premium too.
Fenix 7 includes a lot of hunting features like advanced GPS tracking, Topo maps, ABC sensor, Multi GNSS support, sunset/sunrise time, and more.
When it comes to looks, Fenix 7 is made of stainless steel bezel that gives an attractive look. The Corning Gorilla Glass provides better screen protection against wear and tear.
In terms of battery life, Fenix 7 series is the best-performing Garmin watch series after Instinct. The Fenix 7 lasts for 18 days in smartwatch mode and 57 hours with GPS tracking, which is enough for hunters. Similarly, if you want more than that, you can go for the Solar version of Fenix 7, which lasts for 22 days.
During adventures, the Garmin Fenix 7 measures elevations, altitudes, and directions, so you will never go off track.
Similarly, it has tons of advanced health features that you can take advantage of. During the adventure, it measures your heart rate, speed, pace, blood oxygen saturation level, VO2 max performance, and more. 
Garmin Fenix 7 has a wide range of sports profiles and dedicated sports apps. It also suggests daily workouts based on your past performance, so you can always maintain your fitness.
If you're involved in high-intensity or cardio workouts, Fenix 7 also supports you. It provides various HIIT workouts, recovery advisor, HRV status, training readiness, and more.
3- Garmin Epix
One of the reasons that Garmin Epix is the best smartwatch for hunting is its epic display. It features a 1.3″ AMOLED display, which is rare in Garmin watches. The AMOLED display looks vibrant, so you can easily read the dial during hunting.
Another plus point for hunters is extra long battery life. It offers 16 days of battery life in smartwatch mode and 42 hours in GPS mode. The Garmin Epix has a strong grip on battery life, that's why it has a battery saver mode which is great if you're on a long adventure; it gives 21 days of battery backup.
The watch includes all the features that you require for hunting, like GPS routing (multi-frequency positioning), compass, Thermometer, altimeter, ambient light sensor, offline mapping, elevation tracking, and more.
During your adventures, you can also use Garmin Epix for entertainment purposes. It has onboard music storage, and you can store up to 2000+ songs for offline listening. It also supports Spotify and other music streaming apps.
Garmin Epix is only the Garmin watch offering 24/7 respiration tracking. So during adventures, you can also track your health. Acclimation is another useful feature for hunters that elevations along with Pulse OX, HR, and respiration rate so you can see how well your journey is going.
If you're hunting beside the river or sea, Garmin Epix will support you there too. It has a 10 ATM water rating, so that you can use it for diving. The underwater wrist-based heart rate monitoring will tell your performance underwater. Similarly, it has many swimming features like stroke detection, swim metrics, speed, workouts, and more.
4- Garmin Enduro 2
If you want an extra durable Garmin watch for hunting, go for Garmin Enduro 2. This watch has a titanium bezel making it more robust, and Power Sapphire glass for extra protection.
For hunters, Garmin Enduro 2 includes the best mapping and navigation system. It comes with SATIQ technology that gives precise navigation while optimizing battery life. It also gives you a detailed view of your trails. You can also take advantage of offline mapping and turn-by-turn navigations.
This premium watch offers altitude acclimation that tells how your body is performing in different environments.
Garmin Enduro 2 has a large 1.4″ display that allows you to read the screen at a glimpse.
Another thing that makes Garmin Enduro 2 the best watch for hunting is 34 days of long battery life. A battery-saver mode is also included for next-level adventures, offering 111 days of battery life. On GPS mode, Enduro 2 lasts for 110 hours which is amazing.
In terms of health and Fitness features, Garmin Enduro 2 is a competitive watch. It has 24/7 respiration tracking, a Pulse ox sensor, hydration tracking, body battery energy, fitness age, and much more.
Moreover, this watch is fully loaded with outdoor features that are also useful for hunters, like the Trackback feature, speed tracking, topographical maps, GPS coordinates, ski maps, area calculation, hunt calendar, Xero location, and more.
5- Garmin Tactix 7
If you want a premium hunting watch loaded with many hunting features, then look at the Garmin Tactix 7. It includes a new Hunt activity feature that allows you to track your hunt, mark hunt, show distance towards your hunt, and more.
Moreover, Tactix 7 is a tough watch with a titanium bezel and Sapphire lens material. Another reason it is the best Garmin watch for hunting is its long battery life. On a single charge, it lasts 28 days in smartwatch mode and 90 days in battery saver mode. Similarly, on GPS, it gives 89 hours of battery life.
The watch offers many tactical features like Kill switch mode, jumpmaster mode, dual positioning format, stealth mode, and more. But these features are only useful if you're in the military. Otherwise, these tactics are not useful.
The useful feature for Hunter is offline mapping with public land boundaries and Topo maps. Because of GLONASS support, Tactix 7 measures your routes even in deserts and deep forests. It also includes various safety features, including LiveTrack, Group LiveTrack, Incident detection, etc.
SIGHT' N GO is the next useful feature for hunting, letting them navigate to locations that are within sight. Using this feature, you can navigate your targets or hunts. Similarly, it also includes area calculation, sun and moon information, weather updates, altitudes, GPS coordinates, and more.
Moreover, you can also install some other third-party hunting apps from Garmin Connect IQ.
For mountain bikers, Tactix 7 offers various features like MTB grit and flow, bike lap, power guide, advanced cycling dynamics, and more.
6- Garmin Fenix 5
Garmin Fenix 5 is a mid-range Garmin watch suitable for hunters who want an affordable one. Fenix 5 offers all the features hunters need, like GPS, dual navigation, long battery life, rugged design, sunset/sunrise time, HR, Thermometer, and more.
Just like Tactix 7, Fenix 5 has a heavy-duty design. The bezel is made of stainless steel, and the screen is protected by Sapphire glass.
Another key feature for hunters is GPS and GLONASS, which will help you navigate even in more challenging environments. Similarly, the LiveTrack feature allows you to share your live location with your friends; if you find any hunt at your location, you can share it with your partners.
Garmin Fenix 5 also gives Altimeter, Barometer, and Thermometer. It means this watch measures Altitudes, temperatures, and direction, which is helpful for hunters.
Like other premium Garmin watches, Fenix 5 supports dual grid coordinates, which gives you GPS coordinates in two formats, which means you can better understand your locations.
In terms of battery life, Garmin Fenix 5 seems excellent. You can use this watch for two weeks in smartwatch mode and 24 hours in GPS mode.
Garmin Fenix 5 is more waterproof; it has a 100-meter water rating, which means you can track water activities. But like other Garmin watches, this one doesn't have underwater heart rate tracking.
7- Garmin Tactix Delta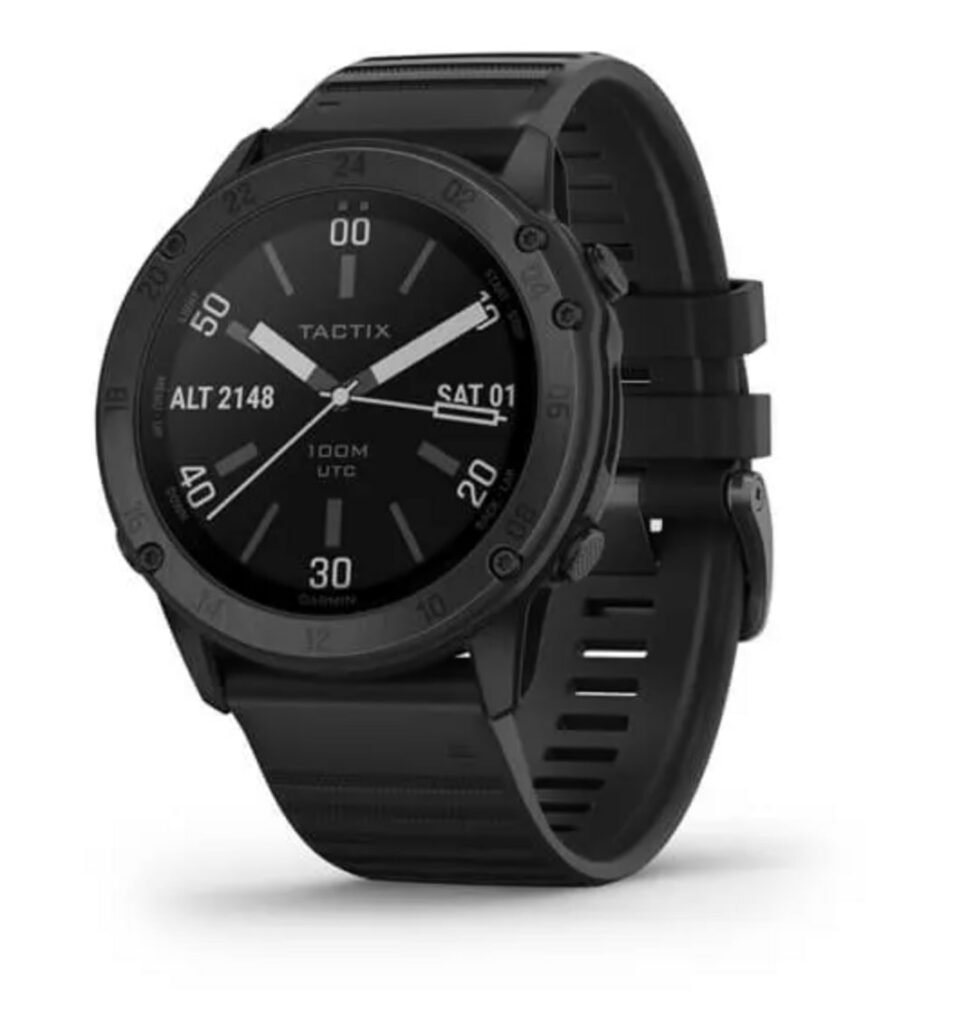 If you want more tactical and hunting features, go for Garmin Tactix Delta. This premium Garmin watch comes with various tactical features like stealth mode, kill switch, dual format GPS, jumpmaster mode, and more.
Garmin Tactix delta offers many features for hunters, especially for navigation and positioning. This is the best watch. You can save geo positions of your hunt for later use. It offers navigation with the Around Me feature, which helps you to find nearby points of interest and waypoints.
Garmin Tactix delta is one of the toughest watches made of Diamond-like carbon-coated steel, and the lens is made of Domed Sapphire crystal glass. So if you hunt in bushy and rocky places, Tactix delta is the best option.
Not on the ground, but Tactix delta also supports you underwater. It's water resistant to 100 meters, so that you can use it for sea hunting.
You can also track your health during hunting in the forest or the mountains via the Acclimation feature. This feature shows the Pulse Ox rate, HR, and respiration rate with an elevation of the route.
Garmin Tactix Delta also includes Federal published land maps that show public land boundaries on topographical maps; it lets you know where you're supposed to be.
Tactix Delta also benefits hunters by offering long-lasting battery life. This Garmin watch gives 21 days of battery life in smartwatch mode and 60 hours with GPS. But you can also turn on battery saver mode to extend the battery life up to 80 days.
Other useful features for hunters include Distance to destination, barometric trends with storm alerts, speed checks, elevation plots, hunt calendar, sun and moon information, Tides information, and more.
Tips To Choose the Best Garmin Watch For Hunting
1- Durability & Material
Only a durable watch will help you during hunting. If your watch has a stainless steel bezel, it will bear all the wear and tear during your adventures. Similarly, a Garmin watch with Sapphire glass is more durable than Gorilla glass protection, and even if you hit it on a stone, it will not be damaged.
Water rating also comes in durability. Mostly, it's recommended for hunting to opt for a watch having a 10 ATM water rating.
2- ABC Sensors
ABC sensor means Altimeter, Barometer, and Compass. These sensors are really important for tracking your surrounding conditions. Especially for hunting, these sensors help a lot. They will tell the altitudes, weather conditions, direction, and air pressure. So based on this, you can guess which spot is perfect for a certain hunt.
3- Hunting Features
Well, Garmin watches come with a lot of features, but being a hunter, you should look for hunting features. The best hunting watch comes with a hunting calendar, sun and moon data, navigation system, speed tracking, mark location, trackback features, elevation tracking, compass, ClimbPro, etc.
4- Battery Life
Being a hunter, you must spend most of your time in forests, deserts, and mountains. And you can't charge your watch in such areas. So make sure to choose a watch with a long-lasting battery.
All the Garmin watches mentioned above the last longer and gives excellent battery performance. But if you like to travel longer and longer, you should go for the solar version of Garmin watches.
5- Fitness Tracking
During the adventure, keeping an eye on your fitness and health is important. That's why Garmin watches offer a long list of fitness tracking features. And few of the features are most useful for hunters, including; Pulse Ox rate, HR, VO2 max performance, acclimation, stamina tracker, hydration tracking, recovery advisor, etc.
6- GPS & Navigation Features
The most crucial thing for hunters is a GPS in a watch. Most Garmin watches support GLONASS and Galileo, which give more accurate navigation even in more challenging environments. A few Garmin watches also support offline mapping, which will be helpful when your watch doesn't have enough battery life to run GPS. TOPO mapping in a few Garmin watches also helps find the best route directions.
7- Safety Features
Safety always comes first. That's why you should consider a watch that offers safety features. Luckily all Garmin watches come with an incident feature that sends an SOS message to your emergency contacts along with your live location.
Similarly, few Garmin watches offer advanced safety tracking features like LiveTrack, GroupTrack, and TrackBack features.
Why Choose A Garmin Watch For Hunting
No doubt Garmin is making the best outdoor watches. The durability of Garmin watches makes them the most competitive watches in the current markets.
Despite that, Garmin watches have incredible battery performance, making them best for outdoor situations. Hunters love to buy a watch with extended battery life as they don't have any place or thing to charge their gadgets.
The GPS tracking of Garmin watches another big plus point making them best for hunters. Garmin watches support GLONASS and Galileo for better navigation. Similarly, they have offline map support that no other watch offers.
Moreover, if you want to track your outdoor performance, nothing is better than a Garmin watch. It deeply recognizes how well you're going and at which spot you need to recover yourself. From sleep tracking to advanced health tracking Garmin watches support you.
Not just that, during hunting, the Garmin acclimation feature measures your Pulse OX rate, HR, respiration rate along with elevations.
Final Words
Although Garmin watches are expensive, they provide incredible features for hunters. The Garmin mentioned above watches are made for pro hunters who want to take their hunting skills to the next level and make their hunting journey more memorable.
After reading the above reviews, I hope now you're able to decide which Garmin watch mostly suits your preferences and meets your budget criteria.
Related Posts:
Best GPS Watch for Hunting
About Author