If you hate bringing your wallet or smartphone while jogging like me but still want a cup of coffee, an NFC-enabled smartwatch is for you. This contactless payment technology allows you to conveniently make purchases with the tap of your wrist.
Undoubtedly, the market is flooded with NFC-enabled smartwatches, making it difficult to choose the perfect one. However, you don't need to worry.
To help you out, we've compiled a list of the nine best smartwatches with NFC in this detailed guide.
So, without any further ado, let's get started.d
Top Best Smartwatches With NFC
In A Hurry! Here Are Our Top Picks…
Product Specifications:
Brand: Apple
Screen Size: 41mm
Dial Shape: Square
Display: OLED
Compatibility: iPhone
Built-in GPS: Yes
Weight: 38.8g
Water-Resistance: 50 m
Battery Life: 18-Hours
If you are an iPhone user looking for an NFC-enabled smartwatch, look no further than Apple watch 8. The payment feature on this smartwatch is easy to set up. Additionally, you can easily add and remove cards using the Apple Pay application on your Apple Watch 8.
Besides NFC capabilities, Apple Watch 8 provides advanced features such as built-in GPS, ABC sensors, cellular connectivity, etc.
Moreover, Apple Watch 8 is a fantastic fitness tracker. The device can track your steps, measure your heart rate, take an electrocardiogram, and measure your blood oxygen levels.
When it comes to its appearance, the Apple Watch 8 stands out because of its huge screen size (1.9 inches) and high-quality OLED display. So you can view the entire display at a glance, even in direct sunlight.
Another thing that we liked the most about this smartwatch is its durability. With its excellent stainless steel construction and sapphire crystal, this watch is built to last.
Besides, this watch has a 50-meter water-resistant rating, so you may use it while taking a shower and washing your hands. However, swimming is not recommended with this smartwatch.
Unfortunately, this smartwatch disappoints us because of its short battery life. This NFC smartwatch comes with an average battery life of 18 hours, which needs to be improved by the manufacturers.
Pros
Car crash detection
New watchOS 9 workout interface
Longer battery life with low power mode
Cons
Same design as previous model
Limited usefulness for retrospective ovulation estimates
Wish it borrowed the Apple Watch Ultra's siren
Product Specifications:
Brand: Fitbit
Screen Size: 1.58 inches
Dial Shape: Square
Display: AMOLED
Compatibility: Android, iOS
Built-in GPS: Yes
Internal Storage: 4GB
Water-Resistance: 5 ATM
Battery Life: 6+ Days
The Fitbit Sense 2 is an advanced fitness-tracking smartwatch that enables precise monitoring of your health and fitness metrics. And thanks to its NFC feature, you can use this smartwatch to pay your bills directly from your wrist.
Fitbit has developed its own payment system, known as Fitbit Pay, for making purchases. However, it does not yet support all banks.
Design-wise, this NFC smartwatch features a square 1.58-inch AMOLED display for a clean, modern look. It also has comfortable bands so you can wear it for extended periods.
The watch has a premium-grade stainless steel construction, which increases its durability. Corning Gorilla Glass provides additional durability by preventing scratches on display. With its 5 ATM water resistance, you can wear it while showering or swimming.
Other noteworthy features of this Fitbit smartwatch include accurate built-in GPS, active zone minutes, fall detection, smart notifications, and 40+ exercise modes.
When it comes to battery life, the Fitbit Sense 2 lasts for 6+ days. But with ongoing GPS tracking, it can last 12 hours, which is quite remarkable.
In terms of fitness and health feature, Fitbit Sense 2 offers amazing features like heart rate tracking, temperature sensor, sleep tracking, active zone minutes, and more.
Pros
Slim, lightweight, comfortable design
Improved touch-screen responsiveness
5-day battery life
Large, bright display
Excellent stress management features
Cons
Aesthetic downgrade from original model
No third-party app support
Product Specifications:
Brand: Fitbit
Dial Shape: Square
Display: 1.6 inches
Compatibility: Android, iOS
Built-in GPS: No
Internal Storage: 2.5 GB
Weight: 37.6 grams
Water-Resistance: 5 ATM
Battery Life: Up to 6 Days
Next, we have yet another Fitbit smartwatch with advanced features such as heart rate monitoring, voice assistance, Google Maps, etc. This watch has many features, but contactless payments are one of its more sophisticated features, which is why we have included this smartwatch on our list.
The only way to make purchases is to add your card to your Fitbit pay account. The best part about using Fitbit Pay is that it does not store your transaction history. However, it currently only supports some banks. So, if you want to know if Fitbit Pay is compatible with your bank, you can visit their website.
In terms of design, this NFC-enabled smartwatch has a minimalist design that looks awesome and feels great on your wrist. The case is made of aluminium, making it extremely long-lasting. Furthermore, it has a water resistance rating of 5 ATM, allowing you to use it while washing your hands or taking a shower.
This NFC smartwatch tracks your heart rate, oxygen saturation, steps taken, quality of sleep, and even your menstrual cycle. But it doesn't have advanced stress monitoring or electrocardiogram (ECG).
Aside from monitoring your health, Google Maps is integrated into the Versa 4 for precise direction finding, so if you want to keep track of your travel routes while outdoors, this watch is the best choice.
Regarding battery life, Fitbit Versa 4 is similar to its predecessors. The battery can last six days or more on a single charge, which is excellent. Not only that, but it also supports fast charging, which is a significant perk.
Pros
Great, slim-profile design
Easy to navigate
Thorough sleep tracking
Alexa on-board works well
Good battery life
Cons
Issues with heart rate accuracy
Doesn't properly count Active Zone Minutes
4. Galaxy Watch 5 – Best NFC Smartwatch for Android Users
Product Specifications:
Brand: Samsung
Dial Shape: Round
Display: 1.36 inches Super AMOLED
Compatibility: Android, iOS
Built-in GPS: Yes
Internal Storage: 16 GB
Water-Resistance: 5 ATM
Battery Life: Up to 50 Hours
If you are an Android user, Samsung Galaxy Watch 5 is the best NFC smartwatch for you. It offers all of the features and comforts that an Apple watch provides.
But unfortunately, iPhones are not compatible with this Samsung smartwatch. For that reason, this is not the right watch for iPhone owners.
Regarding NFC, the Samsung Watch 5 can pay your bills even if you leave your phone or wallet at home. Furthermore, the payment feature on this watch is simple to set up.
What we liked best about this NFC smartwatch is that you can use it to make contactless payments with either Samsung Pay or Google Pay, as per your choice.
In terms of display, the Samsung Galaxy Watch 5 features a Super AMOLED display with 450×450 pixels. It's lightweight, so you won't even notice it on your wrist as you go about your day.
Besides, the watch is protected by Corning Gorilla Glass DX+ for scratch resistance and rated 5ATM for water resistance, making it the best smartwatch for swimming.
In addition, it has numerous high-tech health monitoring functions, such as a 3-in-1 bioactive sensor, SpO2 monitoring, calorie counting, and more. Also, the watch can monitor your heart rate, blood pressure, stress levels, and the status of your female reproductive system.
Also, this NFC smartwatch by Samsung has done much more for sports fans. There are more than 90 different sports modes to choose from. These include HIIT workouts, yoga, outdoor sports, an indoor sport mode, workouts, games, and much more.
Lastly, the battery life of this smartwatch is disappointing. It can go for up to 50 hours on a single charge. However, if you don't mind the battery life, this is your ideal NFC smartwatch.
Pros
Competitive price
Slim, lightweight design
Not quite as locked in to Samsung's ecosystem
Stronger, scratch-resistant screen
Cons
Temperature data unavailable at launch
Lacks outdoor-specific features of Pro model
Product Specifications:
Brand: Garmin
Dial Shape: Round
Display: 1.3 inches AMOLED
Built-in GPS: Yes
Weight: 51 grams
Internal Storage: 4 GB
Compatibility: Both Android and iPhone
Water-Resistance: 5 ATM
Battery Life: Up to9 days in Smartwatch Mode
Although Garmin watches are renowned for their reliability and advanced navigation technology, the Garmin Venu 2 Plus is best known for its NFC capability. With its Garmin Pay contactless payment system, you can use any of your credit cards worldwide.
In addition, you can use Garmin Pay to make quick, secure, contactless payments by adding your credit, debit, visa, and Mastercard. Also, you can set up the watch to work with either an iPhone or an Android phone to make contactless payments.
In terms of aesthetics, we think this NFC smartwatch is fantastic. The dial is round and has a bright face. It makes it easy to see the face of your smartwatch at a glance. The watch also has several fitness tracking features, such as monitoring your heart rate, sleep, stress levels, breathing, water intake, and more.
Additionally, the Venu 2 Plus has built-in storage for up to 650 songs, making it the best smartwatch for music enthusiasts.
The main flaw we identified with this NFC smartwatch is its hefty price tag and bulky size, which may be ideal for large wrists. However, those having thin wrists can't enjoy the benefits of this Garmin smartwatch.
Apart from that, the battery life of this Garmin watch is exceptional, lasting for 9 days in smartwatch mode and 8 hours with GPS and music playing simultaneously.
Garmin Venu 2 plus is loaded with various fitness features, especially for weightlifting; it's the best watch. It also includes a recovery advisor, real-time stamina tracking, and other training features.
Pros
Rock-solid connectivity
Phone calls and assistant
Reliable fitness tracking and Garmin Coach
Comfortable to wear
Gorgeous AMOLED screen
Cons
Unintuitive UI
Missing some services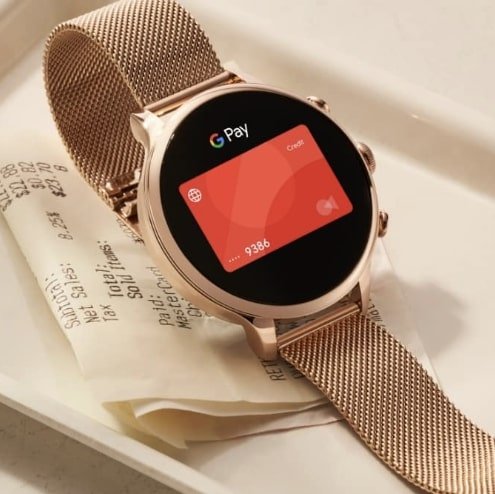 Product Specifications:
Brand: Fossil
Dial Shape: Round
Screen Size: 44 Millimeters
Display: AMOLED
Screen Size: 1.28 inches
Built-in GPS: Yes
Weight: 72.6 grams
Internal Storage: 8 GB
Compatibility: Both iOS and Android
Water-Resistance: 30 Meters
Battery Life: 24+ Hours
The next NFC smartwatch on our list is Fossil Gen 6. It is a stylish smartwatch with a large 1.28-inch display. Additionally, this smartwatch has interchangeable bands that let you personalize your appearance.
The Fossil Gen 6 offers NFC through the Google Pay platform, which allows you to choose between debit, credit, visa, and MasterCard for contactless payments. Unlike other platforms, this one is simple to use and only needs a smartphone for initial setup.
Aside from NFC, the Fossil Gen 6 has all the necessary features. It has a built-in GPS that allows you to track your route, speed, and distance.
In the health department, Fossil Gen 6 supports 24/7 heart rate tracking. Additionally, it has a SpO2 monitor, a stress tracker, a sleep monitor, and many other features.
The smartwatch also features 8 GB of storage space and 1 GB of RAM, allowing you to keep thousands of songs on hand.
Unfortunately, this watch only has a 24-hour battery life, which is a major disadvantage, but the amazing features make up for it. Also, it takes 30 minutes to charge up to 80%.
Pros
Sleek design
Extremely smart
Fast charging
Smooth navigation
Not too expensive
Cons
Short battery life
Wear OS 3 not coming until 2022
Product Specifications
Brand: Samsung
Dial Shape: Round
Screen Size: 1.4 inches
Built-in GPS: Yes
Weight: 72.6 grams
Internal Storage: 4 GB
Compatibility: Both iOS and Android
Water-Resistance: 50 Meters
Battery Life: 2+ days
The Samsung Galaxy Watch Active 2 is the best buy if you are looking for an affordable NFC smartwatch.
Thanks to the NFC feature on this smartwatch, you can make contactless purchases at numerous stores right from your wrist. It accepts NFC payments through the Google Pay and Samsung Pay systems.
In terms of design, the Samsung Galaxy Watch Active 2 has a sleek and sophisticated design that will look great on your wrist. The watch comes with a 1.4-inch AMOLED display that is bright and stylish.
Furthermore, this smartwatch with NFC is an excellent health-monitoring device. It has many sensors for tracking different aspects of health, including SpO2 sensors, a heart rate monitor, a stress reliever, breathing exercises, a blood pressure monitor, and much more.
In addition, the Galaxy Watch Active 2 has 4GB of built-in storage to keep your music library and other apps organized and readily accessible. Not only that, but when you pair your smartwatch with your phone, you'll receive smart notifications right on your wrist.
The watch can also withstand water up to a depth of 50 meters or 5 ATMs. For that reason, you can wear this watch in the shower or the pool without worrying about it getting damaged.
In terms of battery life, the Galaxy Watch Active 2 can go up to 48 hours before needing to be recharged, though this obviously varies from user to user.
Pros
Refined design that's lightweight, comfortable
Digital rotating bezel works well
There's an LTE option
Offers a lot for the price
Cons
Still needs more third-party apps
ECG sensor is in "research" at launch
Product Specifications
Brand: Ticwatch
Dial Shape: Round
Display: AMOLED
Built-in GPS: Yes
Weight: 41.9 grams
Internal Storage: 16 GB
Compatibility: Both iOS and Android
IP Rating: IP68
Battery Life: 3-45 days
The Ticwatch Pro 3 is a unique NFC smartwatch loaded with many fantastic features. You can use contactless payment whenever and wherever you want without fumbling with cash or cards.
Additionally, this smartwatch works with both iPhones and Android devices, allowing you to set it up for contactless payment from either an iPhone or an Android smartphone.
Our favourite feature of this NFC smartwatch is its ability to lock your cards so that only you can use them. You can do this with a combination of a PIN, a password, and a pattern.
In addition, the Ticwatch Pro 3 features several health monitoring sensors, such as those for tracking your heart rate, SpO2, blood glucose, stress, and advanced sleep patterns.
There are over 100 workout modes available, allowing you to track your indoor and outdoor activities. Moreover, it has a precise GPS that can record your travels and keep tabs on your speed, distance, and time.
Regarding battery life, it provides up to 72 hours of continuous use in smart mode and up to 45 days in basic mode.
Pros
Big battery lasts up to 3 days before charge
Fast Snapdragon 4100 chipset
Crisp, high-resolution display
Cons
Wear OS is unremarkable
Interface sometimes very unintuitive
Product Specifications:
Brand: Apple
Dial Shape: Square
Screen Size: 1.8 inches
Display: Retina LTPO OLED
Built-in GPS: Yes
Weight: 61.3 grams
Internal Storage: 32 GB
Water Resistance: 100 meters
Battery Life: Up to 36 Hours
Last but not least, the Apple Watch Ultra is an excellent smartwatch that supports NFC. You can add a card, credit, Visa card, Master card, debit card, or gift card and make secure cash transfers at any time.
The overall design of this smartwatch feels a bit large, with a 49mm dial making it perfect for wide wrists. It also has a powerful Retina LTPO OLED display that always stays on so that you can read the display clearly, even outside in the bright sunlight.
This timepiece is also well-known for its sturdy construction. Its case is made of aerospace-grade titanium and is further shielded from scratches by sapphire crystal.
This top-tier NFC smartwatch is also suitable for swimming and diving (to a depth of 40 meters) thanks to its IP68 water-resistance rating.
Aside from being durable, we liked that this smartwatch had advanced safety and security features like fall detection and car crash detection that sent alerts to your emergency contacts and your real-time location.
Unlike its predecessors, Apple Watch Ultra has a longer battery life. When used regularly, its battery life is roughly 36 hours. Even when using LTE, the battery has the potential to last for up to 18 hours.
Not only that, you can further extend the battery life of the Apple watch by disabling features like LTE, music, and the always-on display.
Pros
Large, clear display
Mightily impressive call quality
Dual-band GPS is more accurate than earlier watches
Improved durability
Cons
Battery life just is too short
Odd lack of navigation features
Best Smartwatch With NFC – Buyer's Guide
Before purchasing an NFC smartwatch, it's crucial to think about the following key factors:
1- Bank Support
If you're looking to buy an NFC smartwatch, you should prioritize its ability to recognize your bank cards. Considering this before making a smartwatch purchase is essential, as some NFC watches only work with some banks.
2- Supported Regions
For contactless payments to be successful, you must only add credit, debit, and other cards from specific regions to your digital wallet. Because of this, you should ensure that contactless payments using your smartwatch are accepted in your country.
3- Fitness and Health Tracking Features
Aside from NFC, you will use your smartwatch for fitness and health features. Therefore, the smartwatch you purchase must have fitness and health features like a SpO2 sensor, heart rate monitor, sleep tracker, blood pressure sensor, and many others.
4- Phone Compatibility
Before purchasing any smartwatch, everyone should think about compatibility. Avoid Apple Watches at all costs if you use an Android phone. Similarly, Galaxy watches are incompatible with iOS.
So, when shopping for a smartwatch, be sure to consider the model of your phone.
5- Battery Life
A good battery life is essential for a smartwatch, but you can skip out on this feature if you'll always be near a power outlet or if charging your watch frequently will be fine.
However, if you anticipate having to charge your smartwatch frequently, it is best to look for a watch with a longer run time.
Final Thoughts
We've listed a few of the best smartwatches with NFC that would be ideal for you. However, if you still need help deciding on the best NFC smartwatch, we will help you narrow down your choices.
We recommend choosing Apple Watch 8 and Apple Watch Ultra for the best NFC performance for an iPhone user. Both are superior build quality, have classy sports exteriors, are loaded with advanced features, and boast long-lasting batteries. Their prices might confuse you, but they are well worth it.
On the other hand, if you own an Android phone, look no further than the Samsung Galaxy Watch 5. In addition to its NFC functionality, this watch boasts many other convenient smartwatch features.
Hopefully, you found this post interesting and informative. For any further queries, please feel free to comment below.
Thank you for reading!
Frequently Asked Questions (FAQs)
Can I use NFC on my watch without a phone?
Whether you have an Apple Watch, Fitbit, Garmin, or Samsung Galaxy Watch, you can use it to make NFC payments even when you don't have your phone nearby. However, setting up cashless payments on the watch would always require using a smartphone. 
Which is the best smartwatch for Google Pay? 
Ticwatch Pro 3 is the best smartwatch for Google Pay because it has the most extended battery life compared to other devices that support Google Pay. It's inexpensive compared to similar options, has cellular connectivity, and is equipped with excellent fitness tracking features. 
Are NFC payments secure on watches?
It's completely safe to use NFC to make a purchase. You can rest assured that your credit card data is safe because it is encrypted and tokenized. When you buy something with your watch, they use different security protocols to ensure a secure transaction.
About Author