Are you getting boar with an on-screen fitness tracker? If yes! You should go for fitness trackers without a screen.
These fitness trackers have the same fitness features as screen fitness trackers, and they look like a bracelet or wrist jewelry.
With over five years of experience in the wearable niche, I will share some of the best fitness trackers without screens that will help you achieve your fitness goals.
There are dozens of such fitness trackers in the market, like the Whoop (my favorite), Oura Ring, the Fitbit Flex 2, and more.
So let's dive deeper and find out which fitness tracker is most suitable for tracking your activities.
1- Whoop – Best For Professional Athletes
Specs:
Water Rating: 10 meters
Battery Life: 5 Days
Connectivity: BlueTooth
Compatibility: Android and iOS
Charing: Magnetic Charging Pack
Memory: Cloudbase storage
First comes Whoop, one of the best Fitness trackers without a screen. Due to the advance fitness and training features, it's a superior choice for all professional athletes.
Whoop doesn't have a display and uses the native app to sync all the data in real-time. So you can use the Whoop app to check your performance and daily metrics.
After the gym and strength training workouts, Whoop tells the strain and recovery score, which lets you know how many resets you need for muscle recovery.
The Whoop strap has advanced sleep monitoring tools that take your sleep habits to the next level. Whoop tracks all the sleep stages, and you can see the detailed breakdown of your sleep data in the Whoop app.
The thing which is distressing about Whoop is its monthly subscription. You have to pay $30/month to access all these features.
But I'm still in favor because it helps you to achieve an active lifestyle. And if you don't like to pay a monthly subscription, you can opt for some best whoop alternatives.
Pros:
Advanced strength training features
Ultimate sleep-tracking tools
Give accurate HRV data
Amazon strain and recovery tools
Decent battery life
A good fitness tracker for athletes
Cons
Little expensive due to the monthly based subscription
Lack of support for third-party chest straps
It can get damaged by water
Prices pulled from the Amazon Product Advertising API on:
Product prices and availability are accurate as of the date/time indicated and are subject to change. Any price and availability information displayed on [relevant Amazon Site(s), as applicable] at the time of purchase will apply to the purchase of this product.
2- Oura Ring
Specs:
Sensors: Infrared LED sensor, temperature sensor, 3D accelerometer, gyroscope.
Battery Life: 7 days
Connectivity: BlueTooth
Compatibility: iOS and Android devices
Water Resistant: 100 meter
For those who don't want bulky smartwatches or even dislike fitness trackers, the Oura Ring is the ultimate choice.
This small fitness tracking ring looks like a normal engagement ring but can take your fitness journey to the next level. Oura ring can track your daily readiness score, sleep, Heart rate, calories, etc.
Oura Ring is a best sleep trackers that track fundamental sleep data, patterns, sleep stages, bedtime, awake, and much more.
In the morning, you will get a daily sleep report telling you your overall sleep score, average HRV during the night, temperate, SpO2 level, respiration rate, and much more.
Using this tiny fitness ring, you can also check your recovery rate, which will help you to find better times for your workouts.
Moreover, the Oura ring tracks the female's periods based on body temperature trends. Lastly, this fitness ring lasts up to seven days on a single charge.
Check out: Whoop Vs. Oura
Pros:
Very comfortable and lightweight
Stylish and eye-catching design
Long battery life
Accurate sleep tracking
You can sync our ring with Google Fit and Apple Health
Cons
Doesn't recognize the type of workout
Provides too much data, that's why not recommended for beginners
Expensive
3- Fitbit Flex 2
Specs:
Display: LED lights and a vibration motor for notifications and feedback.
Water Rating: 5 ATM
Battery Life: 5 Days
Compatibility: Work with both iOS and Android
Size: 5.5″ to 8.1″
If you like minimalist fitness trackers, consider Fitbit Flex 2. It is a comfortable and fantastic fitness tracker without a screen. Flex 2 has a very sleek design making it looks like wrist jewelry.
Using the Fitbit Flex 2, you can keep an eye on your daily fitness goals. This fitness tracker can track calories burned, steps, distance, and active minutes.
Moreover, you can use Fitbit Flex 2 to track your workouts and activities. The fitness tracker has SmartTrack features that automatically recognize your activity type.
Plus, the daily fitness reminders keep you motivated throughout the day.
Unlike the rest of Fitbits, the Flex 2 doesn't provide comprehensive sleep data like sleep stages. It only monitors the awake time, sleep time duration, and bedtime.
Besides tracking your fitness, this Fitbit also shows smartphone notifications using its unique vibrating patterns.
Regarding battery life, the Fitbit Flex 2 gives you five days of battery backup, which is enough to regularly track your fitness goals.
Pros:
Lightweight and comfortable
Waterproof, and you can use it to track swimming
Health reminders
Affordable prices
The band clasp is strong
Cons
Lack of advanced fitness features like SpO2, recovery tracking, etc.
Not recommended for professional athletes.
4- Polar H10
Specs:
Strap material: Polyamide, Polyurethane, and Silicone
Battery Life: 400 h
Water rating: 30 meters
Compatibility: Both iOS and Android Devices
Companion App: Polar Flow app
Regarding accurate and precise heart rate monitoring, the Polar H10 stands ahead. The Polar H10 is used as a benchmark to compare the heart rate accuracy of other fitness trackers.
If you're an outdoor runner or professional athlete wanting to keep an eye on you heart rate data, the Polar H10 is worth considering.
Apart from just tracking heart rate, the Polar H10 also monitors the calories burned, pace, distance covered, fat burn, and much more. From the native Polar app, you can choose the sport mode you want to track with Polar H10.
Individuals can also conduct ECG tests through Polar H10 and comprehensively report their heart health.
The thing about Polar H10 is its extended battery life; it lasts for 400 hours on a single charge. That's why you rarely charge this fitness tracker.
Pros:
Very accurate heart rate monitor
Amazing battery life
Waterproof
Comfortable
Cons
Not much accurate in tracking sports
No recovery tracking features
You can't wear it at night
5- Garmin Vivofit 4
Specs:
Display Size: 0.43″ x 0.43″ (11 x 11 mm)
Weight: 25g
Battery Life: 1+ years
Connectivity: BlueTooth
Compatibility: Android and iOS
Garmin Vivofit 4 is the next fitness tracker with a tiny screen, so you can neglect it. Unlike the other fitness trackers, this one has 1+ years of battery life, so you don't have to worry about charging.
Even though Vivofit 4 is not a high-end fitness tracker, it can still track your calories burned, distance steps, and daily fitness goals.
The Vivofit 4 syncs data with Garmin Connect, the companion app. In the app, you can see your daily activities, steps, and calories burn data.
This small fitness tracker automatically detects the activities and syncs real-time data with the Garmin Connect app.
Further, you can use Garmin Vivofit 4 to track sleep, but it doesn't track sleep patterns. Apart from fitness features, it has a timer, stopwatch, alarm, and Find my phone features.
Pros:
Very comfortable
Budget-friendly
Accurate step tracking
Auto activity tracking
Cons
No heart rate monitor
Very basic fitness tracker
No advanced fitness feature
Not recommended for professional athletes
6- Bellabeat Leaf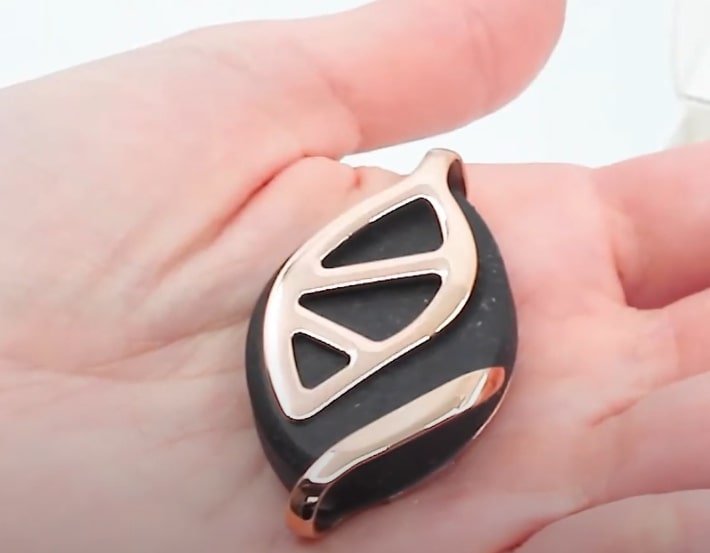 Specs:
Weight: 18 g
Battery Life: 8 days
Compatibility: iOS and Android
Dimensions: 1.18″ W and 1.89″ H
Water resistant: No (Only bear small splashes)
Bellabeat Leaf is a great fitness tracker without a screen. The unique leafy design of this fitness tracker makes it much more special for stylish people.
You can use this fitness tracker both as a necklace and bracelet. Bellabeat leaf is only made for females. This fitness tracker monitors your heart rate and other physical movement.
Yoga lovers can use the Bellabeat leaf to record their respiratory rate and cardiac health during yoga sessions.
Being the best fitness tracker for women, Bellabeat Leaf comes up with ovulation-tracking features.
The fitness tracker automatically syncs data with the Bellabeat Wellness Coach app, which is the native app compatible with both Android and iOS.
Thanks to its sleep tracking, that helps you to improve your sleep habits. It tracks your bedtime, overnight respiratory rate, sleep quality, and duration.
Unlike other fitness trackers, Bellabeat Leaf is highly durable and made of stainless steel and silicone. And lastly, this fitness tracker gives eight days of battery backup on a single charge.
Pros:
Stylish look
Tracks menstrual cycle and respiratory rate
Tracks daily readiness and wellness score
The native app has a very appealing interface.
Cons
No third-party app compatibility
Not too comfortable
No advanced fitness tracking features
Not a waterproof product
Guide To Buy A Best Activity Tracker Without A Screen
Many fitness trackers are available out there, but not all offer equivalent features. There is a huge difference between their features, durability, reliability, battery life, price tags, and design.
For beginners, picking the right activity tracker out of the box is challenging.
You must consider a few features before buying an activity tracker without a screen.
1- Fitness & Health Features
The first thing that you have to look at is the fitness features. Most of us want an activity tracker to track our fitness goals. That's why you should check the features you think are crucial.
Like, the recovery, training, and sleep tracking features are much have for strength trainers or people who do cardio exercise.
Similarly, the reparatory rate tracking, HRV, pace, and distance tracking are key metrics that a runner can use to improve performance.
2- Battery Life
Activity trackers have various battery life, so you can consider this factor depending on your need and usage,
We recommend a fitness tracker with at least 3 – 4 days of battery life, as it helps you track your goals for longer without any breaks.
3- Reliability
Reliability is one of the important factors that we usually ignore.
The unreliable and cheap fitness trackers waste your time and money. So make sure you have picked the right activity tracker, which is reliable and gives accurate stats.
None of the fitness trackers on the market give 100% accurate HR or steps data, but still, few of the fitness trackers give data closer to an accurate value.
The fitness trackers mentioned above are all accurate because they are tested before being on the list.
4- Design
If your concern is only fitness tracking and you don't pay too much attention to design, then you skip this factor.
For a few folks, the designs of a fitness tracker are super important. There are various types and designs of activity trackers available. Few are like a ring or chest straps, and some fitness trackers are only made to use on the wrist.
So according to your nature and comfort level, you can pick a fitness tracker with the best design.
5- Durability
Last but not least, durability steps into the game. An activity tracker must be durable and robust enough to withstand harsh conditions.
You need a water-resistant activity tracker to 5 ATMs (50 meters) if you're a swimmer.
Similarly, your fitness tracker should be rugged and tough if you track your outdoor performance in dust and rough conditions.
A durable and high-quality fitness tracker lasts longer than fitness trackers made of cheap materials.
Final Words:
Choosing the right activity tracker without a screen is not a big deal if you have a list of 5 or 6 fitness trackers of them from top brands.
We have spent a lot of time researching and testing these fitness trackers. And having five years in the wearable industry, we know the quality and reliability of fitness trackers.
So depending on your needs and budget, you can pick the right option for your wrist.
Thanks?
FAQs
Is Amazon Halo worth It?
Unfortunately, the Amazon Halo fitness tracker and app will no longer be available after August 1, 2023. And Amazon will refund the customers who purchased the Amazon Halo within the last 12 months. That's why investing in the Amazon Halo Band is not worth it now. Source.
Can Whoop measure blood pressure?
No, Whoop, I can't detect the blood pressure. This fitness tracker is one made to track your training and sleep. You can monitor your strain score, recovery, and other trading features using the Whoop strap. Whoop's reliable heart rate sensor tracks HRV, SpO2, resting heart rate, and other core health metrics. 
What are the disadvantages of using a screenless fitness tracker?
The only downside of using a screenless fitness tracker is that you cannot see real-time stats of your fitness journey. And a fitness tracker with a screen that lets you check your performance on the go. You can read the data with one glimpse of the screen. 
About Author