The Whoop fitness tracker is a popular wearable device that gives users personalized insights and data to maximize their performance and recovery.
However, many potential customers wonder whether it is possible to use the device without a membership.
Well, the answer is NO! The Whoop is only useful with an active membership. If you want access to all its advanced features, you'll need to pay $30 per month or enroll for a 12- or 24-month membership plan.
If you want to know more about Whoop membership, keep reading this post.
Can You Use Whoop Strap without Any Membership?
Whoop Straps are worthless without an active membership plan. Although you may use the Whoop strap without a subscription, it has limited functionality.
The Whoop membership gives you access to a wide range of functions necessary for making the most of the data acquired by the Whoop strap.
Even if you don't have a membership, you can still use the basic tracking features of the Whoop strap, like keeping track of your heart rate, sleep, and activity levels.
Unfortunately, you will be unable to get the personalized analytics and insights that are the essence of the Whoop device.
Whoop Membership Pricing Plan
Whoop offers membership plans to people in the US, Canada, the UK, Europe, the UAE, and New Zealand.
Its membership price strategy is divided into three categories. You can choose between a monthly membership, an annual membership, and a 24-month membership plan.
Here is a table for a better idea of how Whoop provides its membership plans to different locations:
Country
24 Month
Membership
Annual
Membership
Monthly
Membership
United States
$20/month
$25/month
$30/month
Canada
$26/month
$33/month
$40/month
United Kingdom
£18/month
£22/month
£27/month
Europe
€20/month
€25/month
€30/month
UAE
AED 80/month
AED 100/month
NA
New Zealand
$32/month
$40/month
$48/month
As discussed earlier, Whoop has 3 membership pricing plans that vary depending on the length of the subscription. These are:
1. 24-Month Membership Plan
If you're ready to commit to Whoop for two years, this is the best affordable membership option, as you'll need to pay only $480 upfront for the two years. A rough estimate puts the monthly cost at $20, which is amazing.
2. Monthly Membership Plan
The monthly membership option is Whoop's most expensive membership plan. You must sign up for at least 12 months of the plan, and each month you must pay $30. If you're unsure whether to commit to a longer-term plan, this is a fantastic choice.
This monthly plan is similar to an annual one, but rather than paying for the entire year at once; you will pay for it month by month.
3. Annual Membership Plan
Whoop's annual membership plan is the most well-liked membership option. The upfront fee for this plan is $300. It means the monthly payment cost for this plan is $25.
People are most likely to choose this plan because they don't want to commit for two years.
What do you get with Whoop Membership?
The subscription grants access to the tracker's software—the Whoop companion mobile app, which is compatible with Android, iPhones, and iPads.
However, if you want to view more in-depth insights of your stress, recovery, and sleep patterns, you can use the app's web-based counterpart.
Also, you'll get complete access to in-app coaching tools, customized progress evaluations, and firmware updates for your device.
And finally, you'll be able to join Whoop's global network. This network contains every user of the Whoop tracker.
As a result, you'll be able to connect with others who are trying for the same things you are and gain strength and inspiration from them.
How Do You Get Whoop Membership?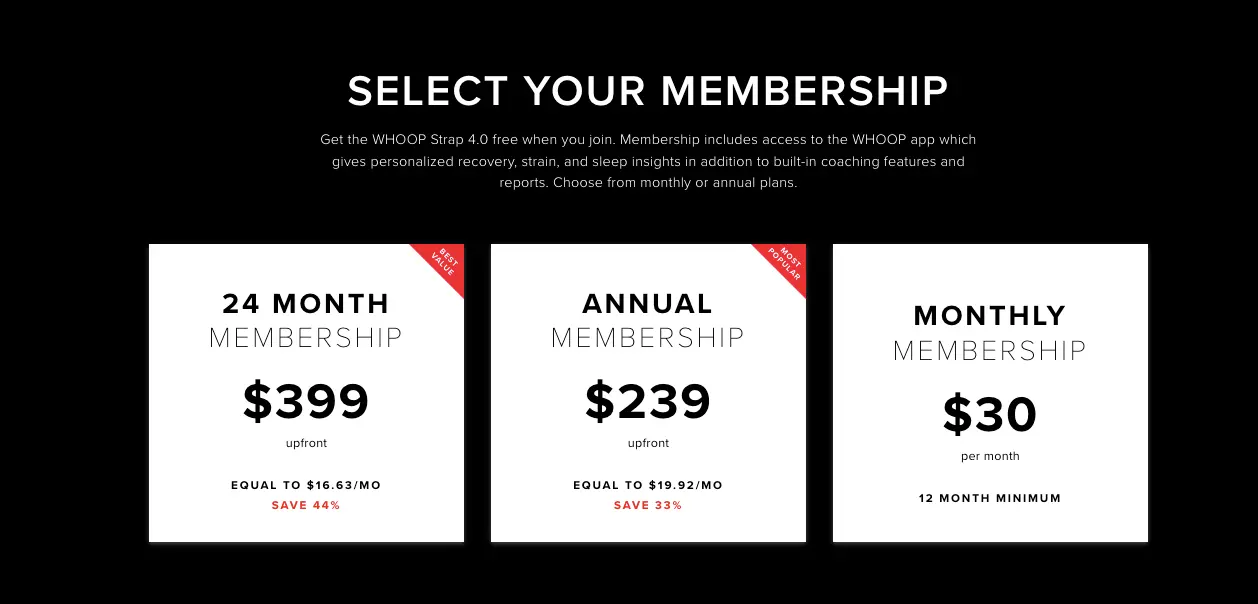 The process of becoming a Whoop member is quite simple. Here's how to get the membership:
Step 1: First, go to Whoop.com and sign up for an account by entering your email address and creating a password.
Step 2: Enter the shipping information, like the address.
Step 3: Pick your shipping method.
Step 4: Finally, select a payment method.
Is it Worth Getting a Whoop Membership?
Yes, a Whoop membership is worthwhile if it fulfills your needs. It is a great investment for those sick of leading unhealthy lives.
A Whoop membership plan will help you reach your fitness, recovery, and workout goals without needing an actual personal trainer.
Benefits of Subscribing to a Whoop Membership Plan
The advantages of becoming a Whoop member are listed below:
A Free Whoop Strap: When you join a Whoop membership, you'll get the Whoop strap without any charge. The device doesn't have any additional charges.
Recovery Insights: When you sign up for Whoop, you'll get the Whoop strap free of charge. The device doesn't have any additional charges.
Strain Insights: After getting the Whoop membership, your device can track your heart rate continuously throughout the day, enabling you to gain insights into the intensity of your workouts and daily activities.This information can help you comprehend the level of strain that your body is experiencing.
Sleep Insights: After joining the Whoop membership, you can utilize the sleep coach function within the app to keep tabs on how much and how well you slept each night. It can help you figure out when you're in the REM, deep, or light stages of sleep. As a result, you can modify your sleep each night, which will help you develop better bedtime routines.
Whoop Pro Member Eligibility: When you become an active Whoop member, you are entitled to join Whoop Pro Membership. The pro members will get access to discounted prices, free shipping, early access, and other perks.
What Happens if You Fail to Pay for the Whoop Membership?
Like other companies, Whoop provides you three extra days after your monthly, annual, or two-year subscription expires to pay.
If you no longer want to use Whoop, you can cancel it for any reason within 30 days upon receipt of your WHOOP by visiting their official website to initiate the process.
The only way to avoid this is to pay or renew your plan on time, preferably before the three extra fees hit you.
Can You Cancel your Whoop Membership?
If you wish to discontinue using Whoop, you can cancel it within 30 days of receiving the product for any reason. To begin the cancellation process, you may visit the official website of Whoop.
Here are the steps to follow to cancel your Whoop membership:
Step 1: Locate Membership Option:
First, log in to your account on Whoop's official website and navigate to the Membership option in the menu.
Step 2: Initiate Cancellation:
Then, locate the "Cancel your Membership" link and initiate the cancellation process.
Step 3: Confirm Cancellation:
Once you click Cancel your Membership, you'll receive a Cancellation Confirmation.
After your membership cancellation is verified, you will no longer receive any bills, and your commitment period will automatically end.
Please note that you can continue using Whoop until the end of your subscription period. After your membership is canceled, your account will be closed, and you will lose access to all of Whoop's features and benefits.
3 Whoop Alternatives that Work without Membership
There is no denying that Whoop straps are popular fitness trackers that provide detailed insights on your workouts, strength training, recovery, stress, and sleep.
Nevertheless, several other options offer better features and functionality without a membership.
1. Polar Vantage V2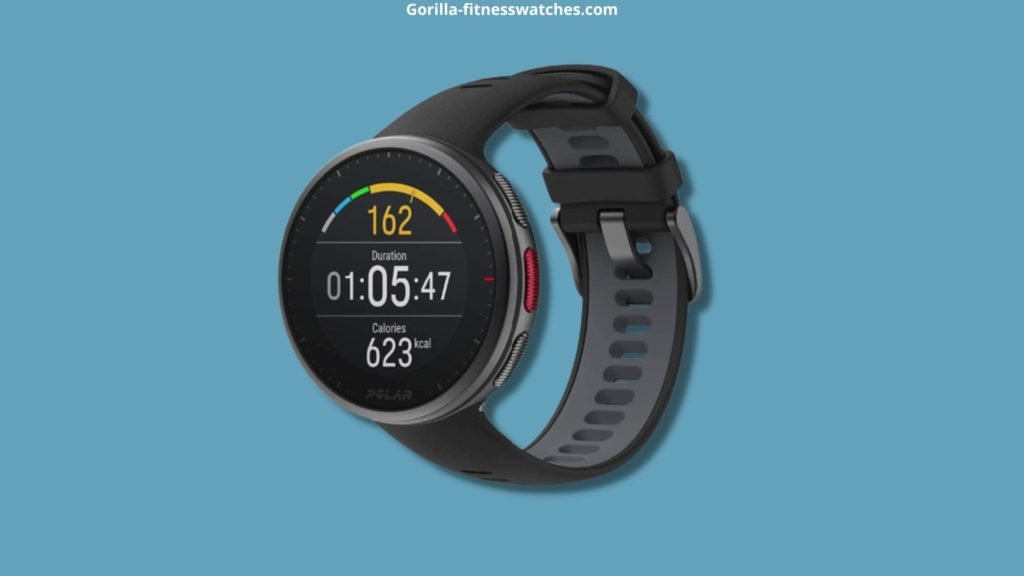 Product Specifications:
Brand: Polar
Screen Size: 1.2 Inches
Display Type: Digital
Band Material: Silicone
Sports Modes: 130+
Polar Vantage V2 is a popular fitness tracker that can be a great alternative to Whoop.
It has a robust stainless steel construction while maintaining a sleek and lightweight style. Moreover, it has a soft silicone strap that is easy to adjust for the ideal fit.
In addition to its convenience, this fitness tracker includes a detailed analysis of your training load, which indicates how much strain you're putting on your body during exercises and suggests ways to lessen that strain to achieve better results.
Also, it has a function called Recovery Pro, which offers suggestions for recovering based on your specific performance.
Like Whoop, the Polar Vantage V2 has advanced sleep monitoring tools that track your sleep patterns and assess your sleep quality.
So overall, Polar Vantage V2 is a top choice if you want a fitness tracker that can do everything, from monitoring your sleep to analyzing your workouts and providing recovery suggestions.
POLAR Vantage V2
Elegant design

Comfortable

Excellent battery life

Accurate GPS

More features
Prices pulled from the Amazon Product Advertising API on:
Product prices and availability are accurate as of the date/time indicated and are subject to change. Any price and availability information displayed on [relevant Amazon Site(s), as applicable] at the time of purchase will apply to the purchase of this product.
2. Garmin Venu 2 Plus
Product Specifications:
Brand: Garmin
Screen Size: 1.3 inches
Battery Life: Up to 9 days
Weight: 51 Grams
Bezel Material: Stainless steel
The Garmin Venu 2 Plus is a feature-rich fitness tracker that helps users keep track of their fitness levels.
The watch includes advanced strength training functions for tracking reps, sets, and weights during strength training sessions.
Additionally, it offers customized exercise recommendations based on your fitness history and goals.
With Garmin Coach, you can choose a personalized fitness plan for your fitness goals. It also offers users customized training schedules, including HIIT and recovery exercises.
Apart from tracking fitness, this watch offers a tough, athletic style. With its large 1.3-inch display, you can easily view the screen.
Moreover, this multi-sport watch features an integrated GPS for tracking your travels and locations.
Last but not least, the Venu 2 Plus includes a long-lasting battery that may last up to 9 days in smartwatch mode. However, it can only last up to 8 hours in GPS mode with music.
Garmin Venu 2 Plus
Advance health tracking and training features

Support music

More safety features

Animated on screen workouts

Fitness tracking seems more accurate than predecessors

HIIT and Cardio workouts inclu
Prices pulled from the Amazon Product Advertising API on:
Product prices and availability are accurate as of the date/time indicated and are subject to change. Any price and availability information displayed on [relevant Amazon Site(s), as applicable] at the time of purchase will apply to the purchase of this product.
3. Polar Grit X Pro
Product Specifications:
Brand: Polar
Screen Size: 1.2 inches
Battery Performance: Up to 7 days in HR tracking
Compatibility: Both iOS and Android
Built-in GPS: Yes
The Polar Grit X Pro is a fantastic alternative to the Whoop due to its advanced training and recovery features.
It offers cutting-edge training capabilities and recovery insights, making it essential for improving performance and reaching your fitness goals.
Compared to the Whoop fitness tracker, the Polar Grit X Pro offers more comprehensive fitness tracking features, such as a nightly recharge feature to track your sleep quality and recovery.
Also, it can assist athletes and fitness enthusiasts in maximizing their training and recovery plans.
By monitoring your daily strain and recovery metrics, the device can help you ensure that you are training at the appropriate intensity and recovering effectively to avoid injury.
In addition, it provides a leg recovery test, which may be used to determine how well your leg muscles have recovered in a short amount of time.
Moreover, the watch can provide guidance and support for various workouts and feedback on your performance.
Besides, this fitness tracker is also ideal for outdoor enthusiasts. It is built to withstand harsh environments because of its sturdy construction.
Polar Grit X Pro – GPS Multisport Smartwatch
Scratch-resistant sapphire glass

Up to 7 days in watch mode with 24/7 HR tracking.

World-renowned wrist-based heart rate monitoring. Built-in GPS provides exact locations & assisted-GPS ensures fast fix times.

Real-time, turn-by-turn navigation.

Tack your sleep behavior and understand how well you recovered from training and other factors during the ni
FAQs
Does Whoop come with a lifetime membership?
Unfortunately, Whoop does not offer a lifetime membership option. The longest membership commitment you can make is 24 months. However, there was a limited Whoop lifetime membership offer for founding members in the past, which is no longer available.
What happens when Whoop membership ends?
When your initial membership ends, it will automatically convert to an annual subscription that costs $25 per month.
How do I receive a free Whoop membership?
If you refer someone to use Whoop, you can receive a free one-month membership.
Conclusion!
If you are interested in monitoring your daily activities and improving your overall health, consider joining Whoop membership.
By becoming a member of Whoop, you'll gain access to personalized data insight that will empower you to improve your health and wellness. It will provide the tools and support you need to achieve your goals.
Related Posts: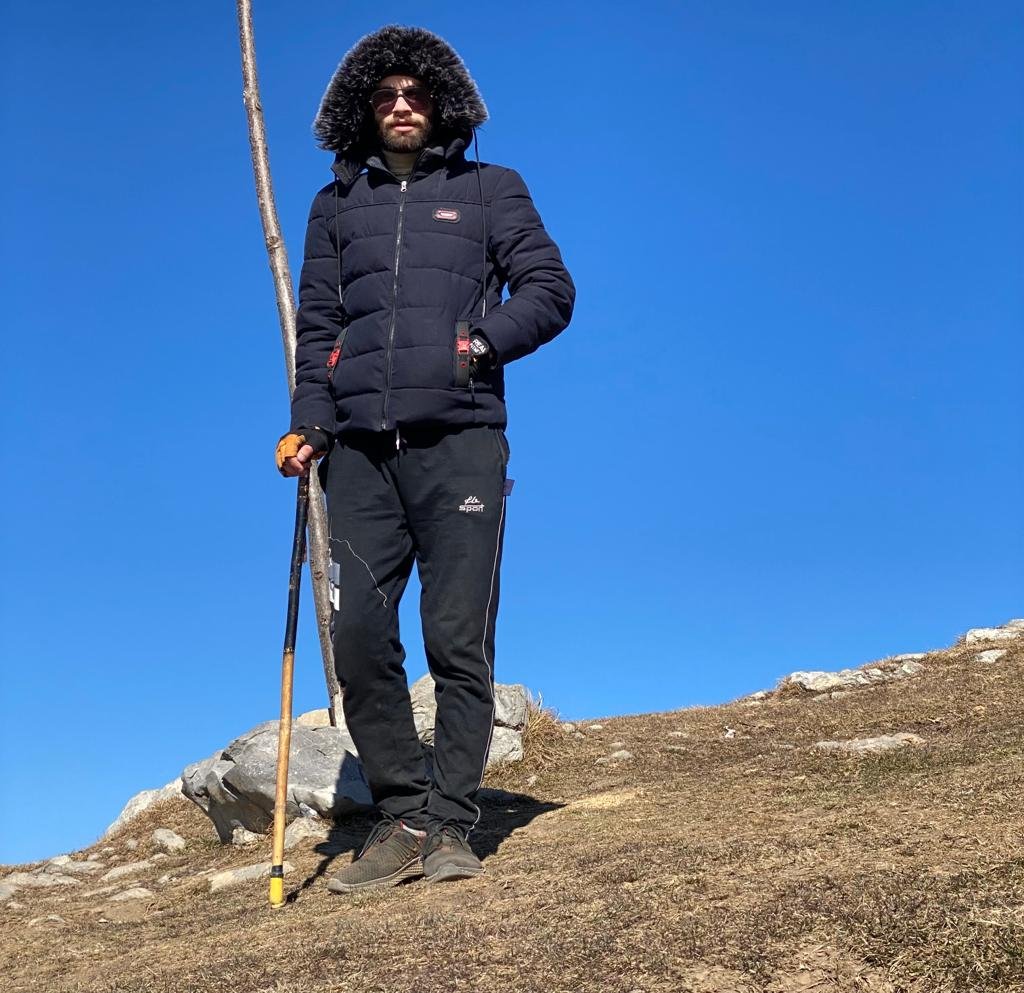 Hi, I'm Saad Dastagir. I'm a tech and fitness enthusiast who loves writing about smartwatches and fitness trackers. When I'm not testing out new gadgets, you can find me out on a hike or exploring new adventures. My passion for technology, fitness, and the great outdoors has led me to create a platform where I can share my experiences, insights, and reviews on the latest gear.