The market is flooded with various kinds of fitness trackers like garmin, samsung, xiaomi etc, each with some spectacular features, but which ones are the best whoop alternatives?
If you're looking for a device that offers it all when it comes to cutting-edge technology, offering a plethora of functions, and comprehensive health and fitness tracking, We've got you covered.
Since its debut, Whoop has become famous in the fitness trackers market. Instead of keeping you indoors and addicted to a screen, the company's gear helped advance the trend of tech, that helps encourage you to make healthier choices. Other brands took years to catch up, but still there are many whoop alternatives worth your consideration.
Some compete with whoop by putting emphasis on fitness and health tracking, while others provide a completely separate set of "smart" features to keep you encouraged on your path to the next goal.
If you're in the market for a new tracker or smartwatch to replace your whoop, these are our favorite whoop alternatives.
Related Posts:
Things To Look Before Choosing The Best Whoop Alternative
Tracking your health and fitness has never been more vital, and these whoop alternatives can provide you with information that will assist you in quitting bad habits and adopting healthy ones. These fitness monitors, however, will not do the work for you; it is still your responsibility to devise a game plan to lead a better lifestyle.
There are many factors to consider when choosing the best whoop alternative for you; below are the most important ones, which we considered while we were researching this list.
Health Features:
Because the purpose of wearing a fitness tracker is to track activities that affect your health. so, we made sure that every one of our choices can track how many calories you've burned, how far you've walked, your heart rate, and how well you've slept.
Battery Life:
You just do not want your fitness tracker to run out of battery power while you're working out because it won't track your progress.
We chose whoop replacements that can last at least one day without needing to be charged, and some that can last much longer. The amount of battery life you get will be determined by how frequently you exercise and settings such as screen brightness.
Durability:
Because your whoop alternative will be exposed to sweat, rain, sand, grime, and regular wear and tear, durability is the most vital attribute to consider. The IP (Ingress Protection) scale is normally used to test a device's resistance to dust and water, but some fitness trackers utilize the ATM (atmosphere) measurement instead. All of our fitness tracker suggestions are water-resistant.
Smart Features:
Fitness trackers have typically been used for one purpose: keeping track of your health. However, the whoop alternatives in our guide have smart functions as well. Some can do simple jobs like displaying text messages, while others provide hands-free access to virtual assistants. These things are good, but the main reason you use a whoop alternative is to monitor your fitness.
So if you are there Looking for brands like Whoop? We've researched the top 14 alternatives to Whoop and summarized the best options here in this Whoop competitors grid.
In A Hurry! Here Are Our Top Picks…
What Are the Best Whoop Alternatives?
Based on our research we choose these 14 best alternatives for your whoop
Apple watch series 7

Huawei Band 6

Fitbit Inspire 2 Health & Fitness Tracker

Lintelek Fitness Tracker

Polar A370 Fitness Tracker

Garmin venus 2 plus

Willful Smart Watch

HAFURY Smart Watch

Amazfit Band 5 Fitness Tracker

Xiaomi Mi Band 6

Fitbit Charge 5 Fitness and Activity Tracker

YAMAY Smart Watch Fitness Tracker

Garmin Vivosmart 4, Activity and Fitness Tracker

Coros pace 2
1- Apple watch series 7
The Apple Watch Series 7 is simply a more refined version of the Series 6. And can prove to be an awesome replacement to your whoop. You'll benefit significantly from the Series 7's larger screen, faster performance, and extra sensors. Along with a larger face and a more durable build.
The principles of fitness tracking remain the same as in its predecessor, which is generally a positive thing, as it provides a solid variety of health monitoring features.
The watch has a black ceramic and sapphire crystal case as well as a Digital Crown with haptic input.The Digital Crown includes a sensor for obtaining ECG readings.
The watch gives you Notifications on your wrist, along with easy Fitness tracking (calories, exercise minutes, standing) etc , Workout tracking, Heart rate monitoring and much more.
In some areas, such as sleep tracking detail and battery longevity, it may fall short of whoop's premium offerings. But still, it remains the best option if you're interested to invest in the Apple ecosystem.
Apple Watch 7
Excellent ECG App

GPS is very accurate

Comfortable

In-depth fitness tracking

Always-on Retina display
2- Huawei Band 6
The whoop 4.0 is a sleek fitness tracker for those who value aesthetics and accessories over a comprehensive function set. But With the Huawei Band 6, you may get the best of both worlds. It seems to be a good alternative to whoop.
My favorite feature of Huawei's fitness tracker is the large, spacious display. It's easy to read outside, and we had no trouble navigating the interface. Other noteworthy features include a 10-day battery life, numerous workout modes, all-day SpO2 monitoring, and more.
The SpO2 tracking is a nice addition for a device at this price point, allowing you to check your blood oxygen level at a glance.
It can measure your everyday activities such as stress, blood oxygen, calories, and heart rate, as well as track your sleep in four stages: awake, REM, light, and deep mode, and it has an inbuilt GPS that allows you to track outdoor exercises, which can be viewed via the companion app
3- Fitbit Inspire 2 Health & Fitness Tracker
Fitbit Inspire 2 is an easy-to-use fitness tracker that encourages, celebrates, and keeps you on track with heart-rate tracking, Active Zone Minutes and much more.
If you want to start tracking your activities and sleep, and you don't want to spend a lot of money on an expensive smartwatch this one is surely for you.Fitbit's entry-level fitness tracker, the Inspire 2, completely records your sweat sessions and shut-eye.
It continuously monitors your heart rate and even analyses your breathing and heart rate variability as you sleep, both of which can provide early warning indications of a COVID-19 infection.
It also offers the greatest battery life of any Fitbit device, lasting up to ten days.
You can choose from 20 exercise options on this gadget, and you can track your outdoor exercises using your phone's GPS.
4- Lintelek Fitness Tracker
This low-cost tracker provides performance and features comparable to higher-priced trackers, making it a great value selection.
The sleek design and comfy band contribute to the allure of this fitness tracker.
VeryFitPro, a user-friendly proprietary app, it would be a pleasant surprise for you which contains a number of valuable information.
Lintelek Provides characteristics comparable to more expensive models, such as easy syncing with most devices and tracking of several functions.
In addition to that, Lintelek combines a variety of functions into a single smartwatch. You simply wear this fitness device on your wrist, and the fitness tracker monitor function allows you to monitor your heart rate, sleep quality, calorie consumption, distance traveled, and so on.
After being completely charged, the battery power of this tracker can typically sustain 5-10 days of standby time.
5- Polar A370 Fitness Tracker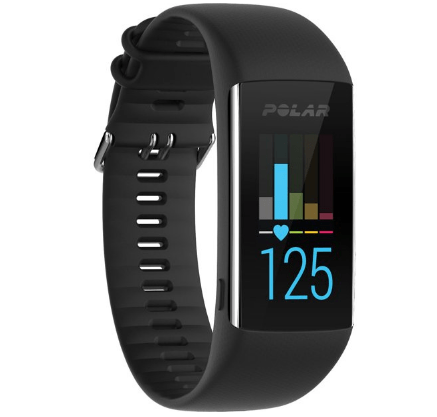 The Polar A370 isn't very spectacular, but it does its job well. It excels as a sports watch for training and workout tracking because of its excellent optical heart rate monitor.
It tells you how various activities influence your body, whether you do a simple recovery run or a cardio-intense exercise session. And, of course, it includes all-day activity tracking as well as phone notifications.
Overall, the Polar A370 operates admirably. My path and mileage lined up fairly well with Google Maps when I used my phone's attached GPS. When I turned off the phone's GPS during one of my runs, the A370 recorded the distance as being roughly 0.3 mile longer than it was on Google Maps, isn't that cool ?
There are better and more stylish all-day fitness trackers available, but not at the A370's price point ($149.95). If you're primarily seeking for a sports watch to accompany you while training, this is the watch for you.
6- Garmin venus 2 plus
Garmin has always targeted competitive athletes ready to spend a premium for a genuine fitness tracker with a variety of buttons, strong tracking software, and an abundance of battery life.
The previous model of venus 2, lacked necessities like cellular calling and voice assistant access. but the Garmin Venu 2 Plus, includes similar cellular benefits as well as some additional features such as animated on-screen HIIT workouts making it a worth buy
The Venu 2 Plus has the same super-bright AMOLED display as the Venu 2, but it also has the same plastic feel.
When compared to other excellent Garmin watches or big lifestyle brands like Samsung and Apple, it is only the best option for a very specific subset of fitness enthusiasts.
This is the first Garmin watch to include voice assistant connectivity, and it supports Apple's Siri, Google Assistant, and Samsung's Bixby right out of the box.
The ability to receive calls on your wrist and even activate emergency assistance and safety alarms via voice is, in my opinion, the most intriguing feature (which is new to Garmin as well).
Plus, if music is your thing, you can now listen to it through the watch's speaker, and it's actually not bad.
7- Willful Smart Watch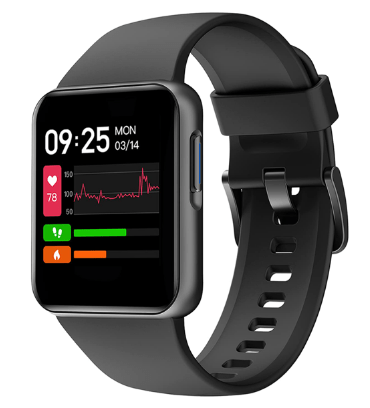 The Willful smart watch is made of high-quality raw materials and features a vivid LCD TFT display that measures about 1.3 inches in size.
The screen is not only tough, but it also has three distinct adjustable brightness settings for the finest visual experience both during the day and at night. Because the display includes anti-glare technology, you can easily check the screen at any time, even in direct sunlight.
This smartwatch has 11 sports modes and tracks your activity accurately and completely. It contains a sophisticated heart rate sensor that automatically checks your heart rate every 5 minutes.
You can effortlessly measure your sleep with this tracker and get data on how well you slept as well as the duration of light sleep, deep sleep, and waking time. Furthermore, it's VeryFitPro app is compatible with the majority of Android and iOS phones.
8- HAFURY Smart Watch
The HAFURY Android Smart Watch is a beautiful smartwatch that will help you stay fit. It provides you with routine health monitoring and reference data that you may use to make better decisions.
If you're searching for a smartwatch that can track your heart rate 24 hours a day, this is a fantastic option. The HAFURY Smart Watch provides precise information on average distance, heart rate, steps taken, and calories burned.
This watch analyses your sleep automatically and provides data on light sleep, deep sleep, and awake time. It also offers 9 exercise modes that provide daily health analysis and improvement data.
It sports a 1.3 inches touchscreen display that has water-resistant up to 38 degrees. Its strap is made of premium quality silicone rubber that is durable as well as comfortable to wear
In addition to collecting information, including the heart rate as well as step count, the wristwatch may also be used to estimate the calorie burn.
9- Amazfit Band 5 Fitness Tracker
This alternative to the Whoop band is developed to measure the sleep patterns and daily naps and help you modify your sleeping patterns.
One of the best aspects of this tracker is its price. You get a lot of features at a low price.
And it's difficult to perceive that in a bad way. Because the tracker is very excellent. If this were a low-quality tracker, you'd be able to dismiss it and presumably be comfortable spending more money on something else.
It's packed with sensors that measure your heart rate and high heart rate alert. You may quickly monitor your level of stress and learn how to regulate it with this equipment.
Furthermore, The Amazfit Band 5 is a good product. And when you look at everything it has to offer, the $50 retail price starts to look very appealing.
10- Xiaomi Mi Band 6
Xiaomi's fitness trackers provide a variety of features at a cheap price, making the Mi Band 6 an ideal whoop replacement. In our perspective, the Mi Band 6 is far more appealing than whoop's fitness tracker
It also includes a larger, higher-resolution screen, additional fitness tracking settings, and accurate heart rate readings.
It contains a 24-hour smart sleep monitoring system that simplifies your sleep and provides advice on how to improve your sleep. It also has blood pressure tracking and meditation training to help you relax successfully.
The Xiaomi Mi Band 6's battery life is also excellent, though it suffers when you activate the tracker's more advanced features.
We also encountered some bugs with its sleep tracking features, although many of these were easily resolved with software updates. Regardless, if you're searching for a low-cost Whoop replacement, the Mi Band 6 is a great option.
11- Fitbit Charge 5 Fitness and Activity Tracker
The Fitbit charge 5 is an awesome fitness tracker and can be a good replacement to whoop.This fitness tracker uses the built-in GPS to display your route and speed on the screen.
It has a heart rate sensor that tracks calories burned and resting heart rate 24 hours a day, seven days a week. The Fitbit Charge 4 is water-resistant up to 50 meters and can track more than 20 goal-based exercises.
The Charge 5 replaces the physical buttons on the side of the device in favor of curved metallic bars that house a new electrodermal activity sensor. EDA scans are intended to monitor stress, which may be useful when attempting to stay calm or level-headed during the day.
Furthermore, The Charge 5 is the first redesign of the company's mid-range tracker in three years. The grayscale display and pressure-sensitive surface for navigating menus have been replaced by a full-color OLED touchscreen.This display looks nice, even on an outdoor walk or run
12- YAMAY Smartwatch Fitness Tracker
The yamay smartwatch resembles the more costly Galaxy Watch Active 2.The round screen is slim, with no projecting bezel, giving it a premium and attractive appearance.
The watch employs Bluetooth 5.0, which ensures a quick and stable connection to your phone. The watch can track your daily fitness objectives as well as 15 different workouts, and the data is transferred to the companion app.
Although the YAMAY can replicate your alerts, you cannot engage with them or send messages from the device. Because the watch lacks a microphone and speaker, phone calls and voice assistants are also out of the question.
In the OnlyFit app, there are 40 watch faces to pick from, including digital and analog-style faces. It is possible to submit your own photo to the watch face.
13- Garmin Vivosmart 4
This whoop alternative fitness tracker is incredibly simple to use, with a simple interface and accompanying app.
This swim-friendly and thin wearable has remarkable fitness and wellness features to help you live an active lifestyle. The Garmin Vivosmart 4 offers dedicated activity timers as well as fitness and health monitoring functions that keep you informed of your progress throughout the day.
The Vivosmart 4 has a standard battery life and is water-resistant enough to use in the pool or shower, with a lovely watch-style band and clasp that makes it easy to put on and take off.
Furthermore, the Whoop strap alternative has powerful sleep sensors that track your sleep and categorize it as light, REM, or deep sleep.
The Vivosmart 4 tracks your sleep automatically, recording the amount of time you spent in REM, deep, or light sleep, as well as any time you were awake.
14- Coros Pace 2
The COROS PACE 2 is much lighter than many other sports watches like the Apple Watch Series 5 and whoop 4.0
The watch's long battery life appears to be its most significant advantage, lasting up to 20 days with regular use and up to 30 hours with constant GPS.
There's also an UltraMax GPS mode that shouldn't have a significant impact on the accuracy of your data during outside exercises.
The watch offers a long battery life so You would only needed to charge your device once every 10 days
At this point, the Whoop 4.0 is becoming too long in the tooth. While it remains a capable fitness watch.
This running watch is under $200, but you'd never think it based on its feature set. It has a nearly three-week battery life, inbuilt GPS, and running power stats that, to be honest, aren't typically found at this price point.
Coros PACE 2
Premium GPS Sport Watch

Barometer

Light weight

Long battery life

Excellent Fitness Tracking
Conclusion
We have listed some of the best whoop alternatives for you, but still that doesn't means that whoop itself is not a good brand, whoop is on top in its game but all these above mentioned fitness trackers come with some new and awesome features worth your consideration.
If you believe that the Whoop fitness tracker is not worth your money or is not providing you with the information you require to enhance your training performance, the alternatives to Whoop discussed above are reasonable considerations.