Watch faces impact your Galaxy Watch's appeal, reflecting your personality. The Galaxy Watch 4 comes with bundles of watch faces to choose from.
You can change the watch face of Samsung Galaxy Watch 4 according to your outfit.
Choose elegant and minimalist watch faces if you're in a business meeting. For a casual outfit, you can go for stylish options, and Similarly, you can opt for a watch face with many fitness metrics.
Choosing a best Samsung Galaxy watch face is a bit confusing when you have many options. That's why in today's guide, we will share the top best watch faces for Galaxy Watch 4.
Upgrade Your Galaxy Watch 4 with These Eye-Catching Watch Faces
1- S4U Ancient Gold Watch Face
S4U Ancient watch face is something more classical that you can use with both casual and formal outfits. This watch's face looks more realistic and has high resolution.
You can customize this watch's face further and change its colors, needles, etc. Besides telling the time, the S4U watch face has a pedometer, date and time, and battery status.
All the information on the watch face is in an analog form that makes the watch face more realistic. The S4U watch face is recommended if you prefer an analog display over a digital.
The watch is free, and you can easily download it via the Google Play store on your Galaxy Watch 4.
2- BALLOZI Treun
This is another excellent analog watch face for Samsung Galaxy Watch 4. BALLOZI Treun's watch face is inspired by strip racing cars. So if you're a fan of sports cars, you can opt for this option. 
The different types of needles reflect the RPM and speed meter, but here they show date/time, battery status, calendar, and compass. You can also change the color of needles and further customize different options.
The Watch face looks more stylish with a casual outfit. BALLOZI Treun is available on the Google Play store, and you have to only pay $1.5 to get this beautiful watch face.
3- Pixel Minimal Watch Face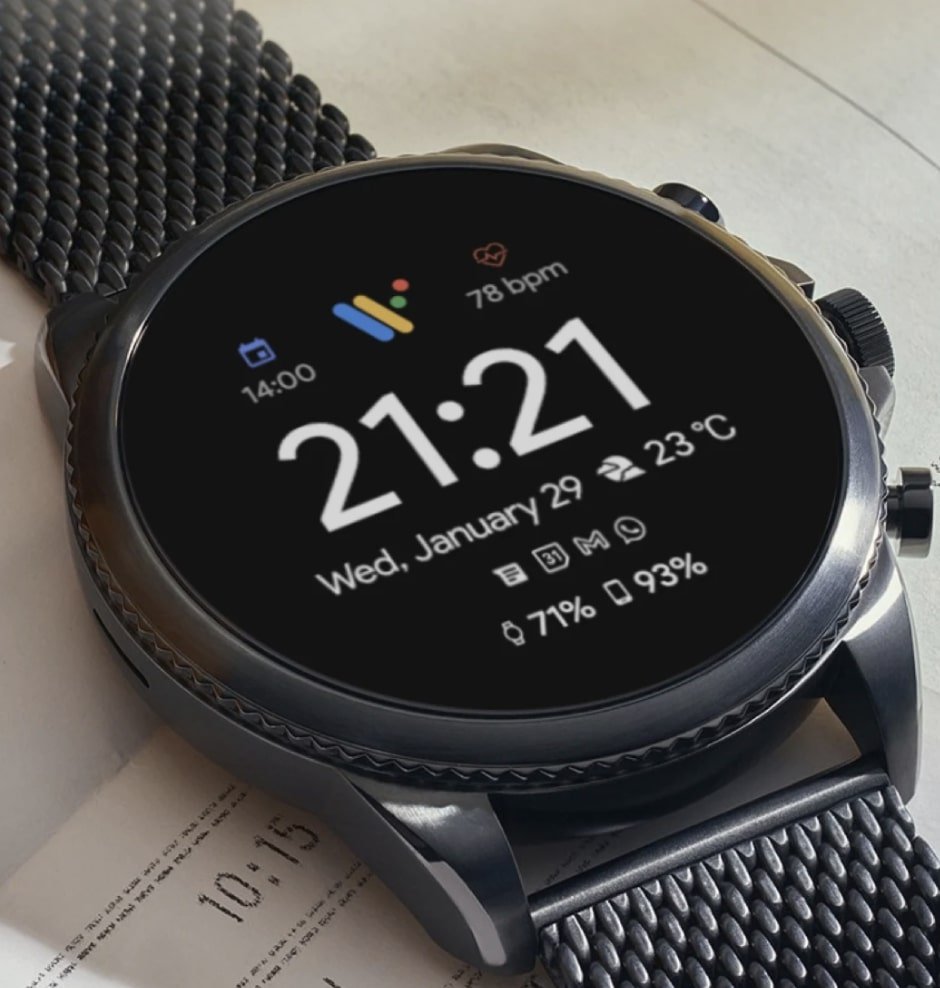 If you're a fan of simplicity, go for Pixel Minimal Watch Face. This watch is exclusively available for Wear OS watches, and because of the simple design Pixel Minimal watch face is battery efficient and preserves the watch battery.
Many customization options are available, and you can change the color of fonts, widgets, and more. The watch's face shows time, date, weather, notification icons, battery status, and heart rate.
4- Marine Commander Watch Face
This watch face will enhance the look of your Samsung Galaxy Watch 4. With glittering colorful needles, this watch face changes the entire look of your watch.
Marine forces inspire Marine Commander Watch Face. So if you love swimming, diving, kayaking, and other water activities, go for this watch face. 
Even though Marine Commander's watch face looks simple, it shows detailed information. You can view the weather with air pollution, wind speed, and sunset/sunrise time. It also shows a few health metrics like heart rate, steps, and calories. Etc. 
You can further customize the watch face according to your need. There are a lot of widgets to choose from, including; battery status, currency, barometer, etc.
5- Simple Digital Watch Face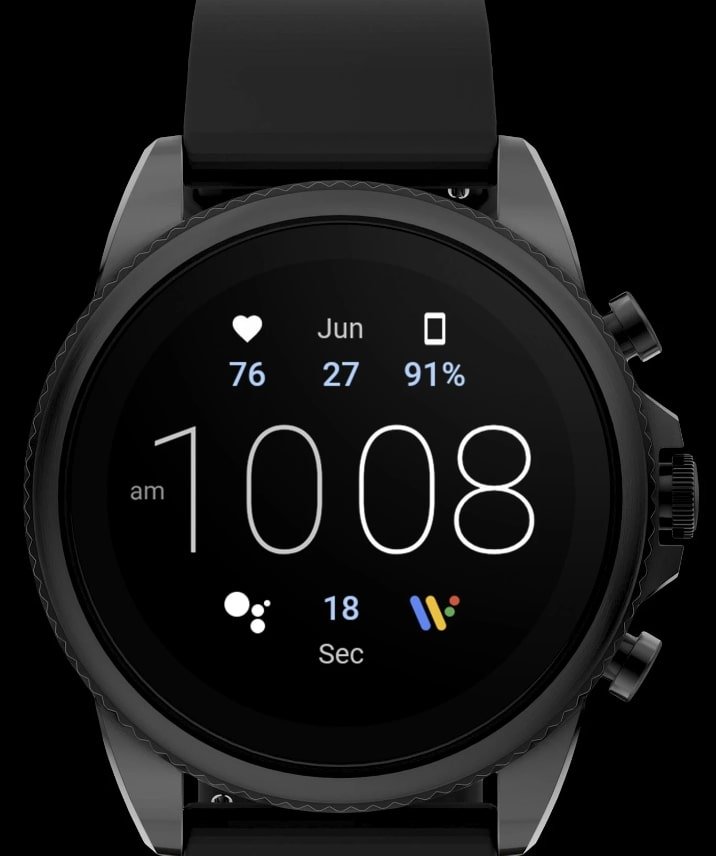 This one is minimalist among many Samsung Galaxy Watch faces. It preserves the battery life of the Samsung Galaxy Watch 4. Simple Digital is a very lightweight and simple watch face; however, its extensive information makes it my best watch face.
Besides just telling time, it shows the weather, battery status, heart rate, Spotify, timer, date, and more. You change the widgets according to your preferences. 
The watch's face has different colors, and all of them look like an ambient appearance. You can download this watch face from Google Play for free of cost.
6- Digitec Watch Face
This interactive watch face makes Galaxy Watch 4 look like a military watch. This digital watch face looks realistic and has a lot of customization options.
Apart from time, there is a bunch of space for other widgets. At the bottom, you will get the three activities widgets. Just parallel to the digital watch is a circular weather widget; on the top, you can view the date.
Digitec Watch Face is recommended for outdoor activities and military forces. The watch comes in free and paid versions, but the free one is enough.
7- Planet's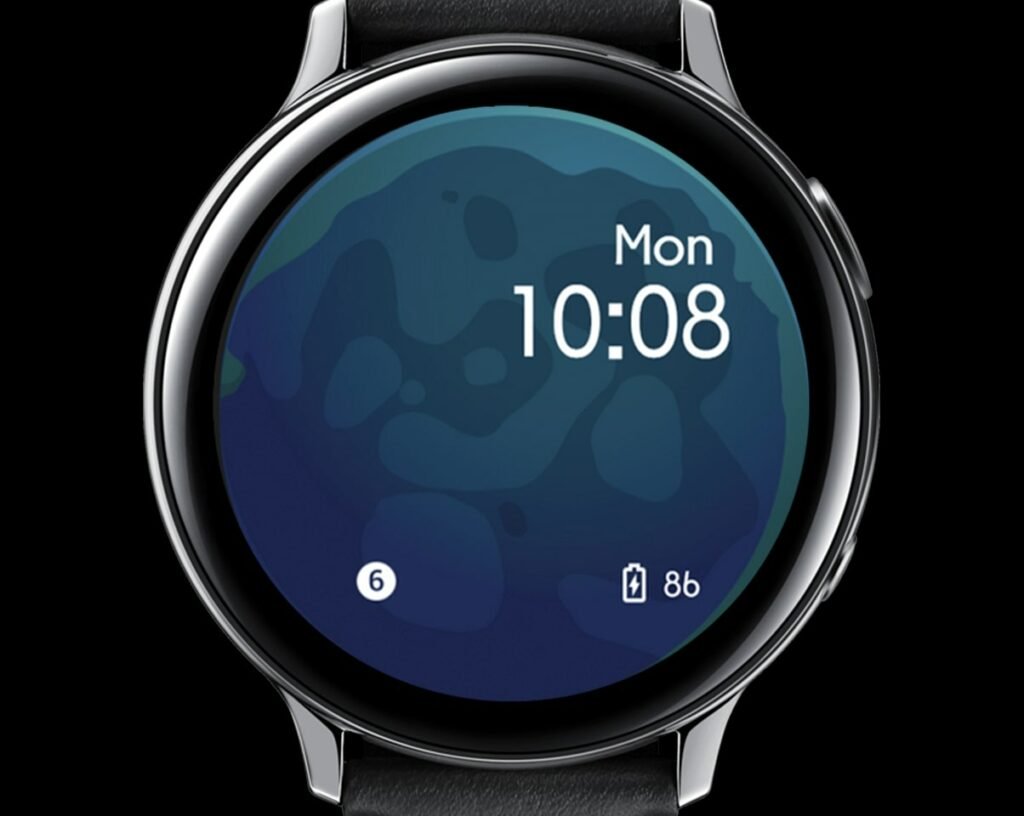 Planet's watch face makes Galaxy Watch 4 look cleaner and minimalist. The eye-catching colors and beautiful fonts are the main attractions of this watch face.
This watch face has four different styles, and one has AOD. The three non-AOD styles come with fascinating gradients. Planet's watch face shows limited information; you can only see the time, date, and battery status.
Because of its clean design and less widget, this watch face is battery efficient. You must pay only $1 to get this watch face from the play store.
8- Analog Watch Face
Analog Watch face is best for users looking to make their Samsung Galaxy watch more classic. The classic color combinations make the watch face more eye-catching.
An analog watch face is recommended with a formal outfit. It syncs with the calendar to show the date. The watch face only allows three widgets at a time. But the watch face looks cleaner with two widgets.
All the styles in this watch face come with AOD and turn on the ambient version after a while. The watch face is available for free of cost on app store. 
9- Sectograph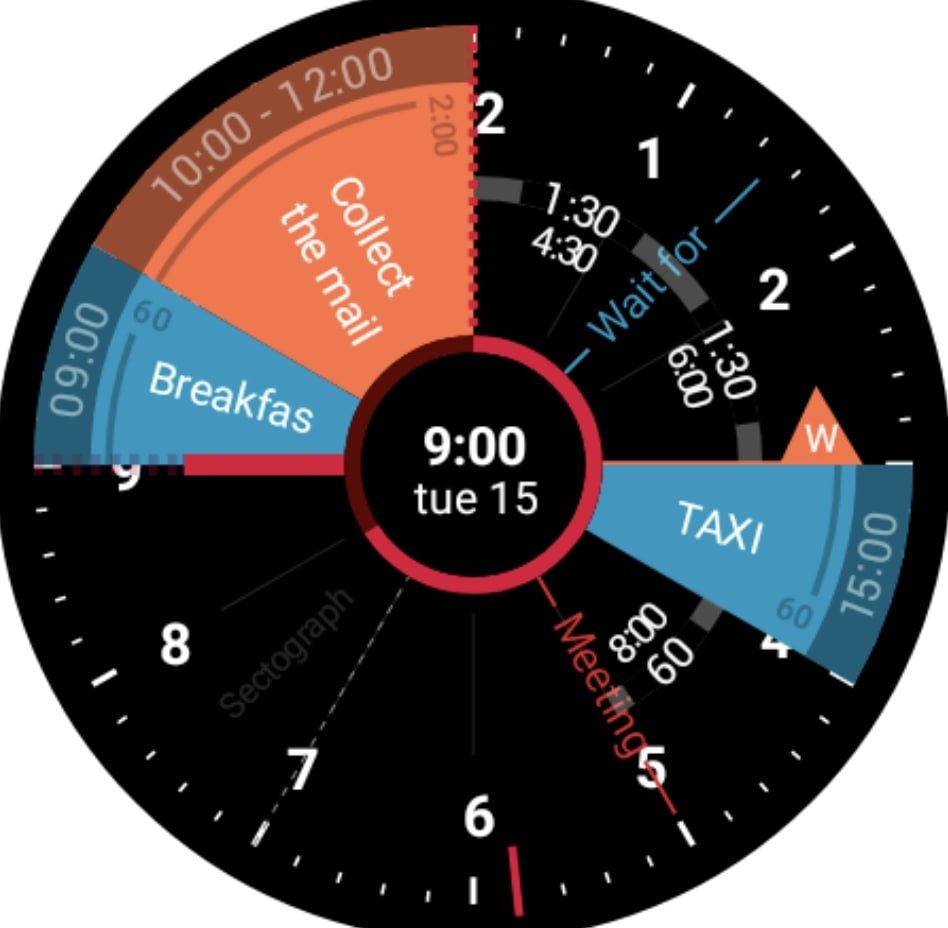 This watch face shows information in different chunks and slices. The colorful slices make the Galaxy Watch 4 more eye-catching.
If you have set the schedules on the calendar, the watch face will automatically fetch those schedules. Sectograph watch face helps you to be productive and manage your tasks on time.
There is a time and date in the middle of the Watch face. This is the best watch face for the busy person. You can download it from Play Store on your Galaxy Watch 4.
10- Awf Pear Analog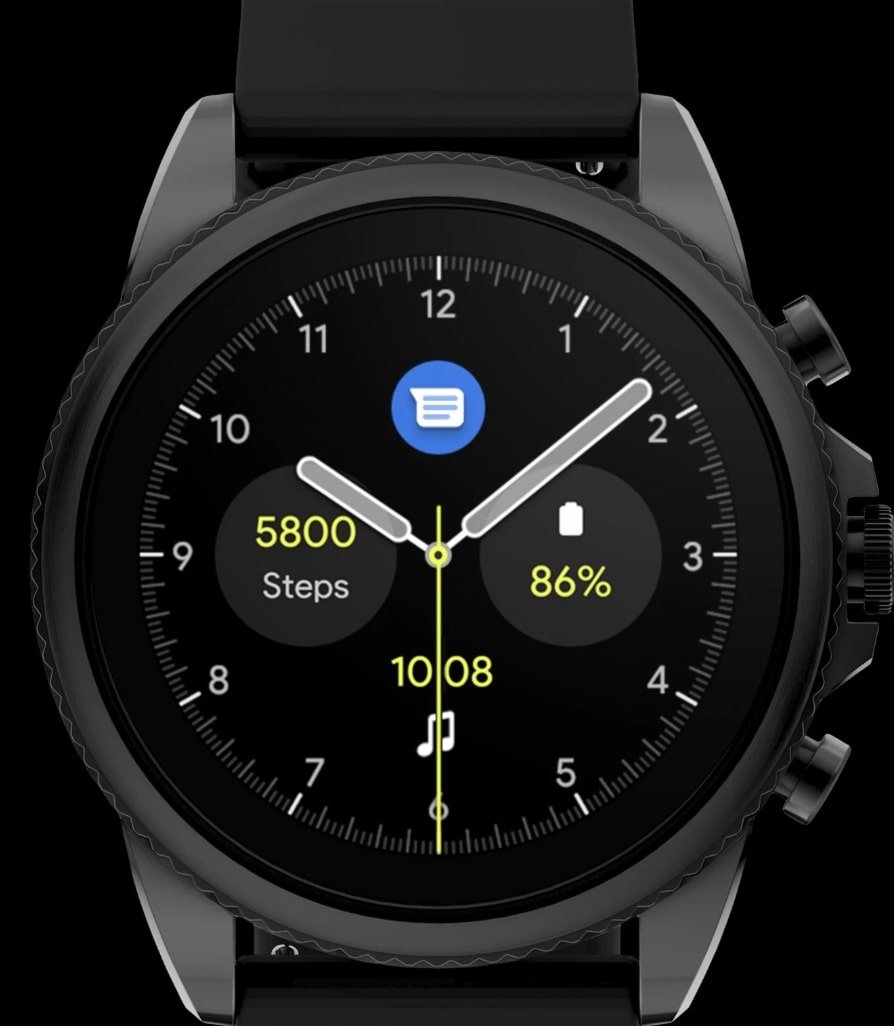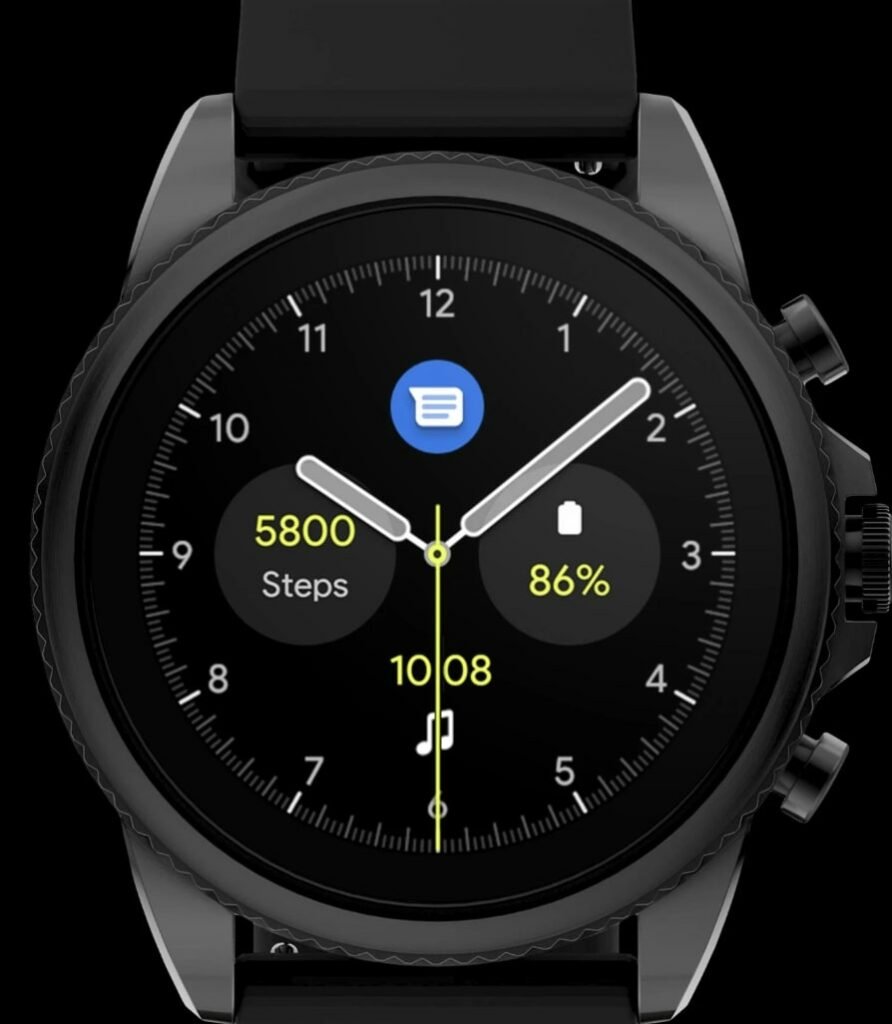 Taking advantage of classical analog design, AWF Pear put some elegant designs into the Watch Face. This watch face is inspired by the old "Premium Analog" watch face.
You can adjust the colors of fonts, needles, widgets, and more. So with a single watch face, you will get dozens of styles, and the watch face shows four widgets at a time.
The watch also has an ambient mode, so on AOD, it automatically dims the display and preserves the battery life.
11- Legion Watch Face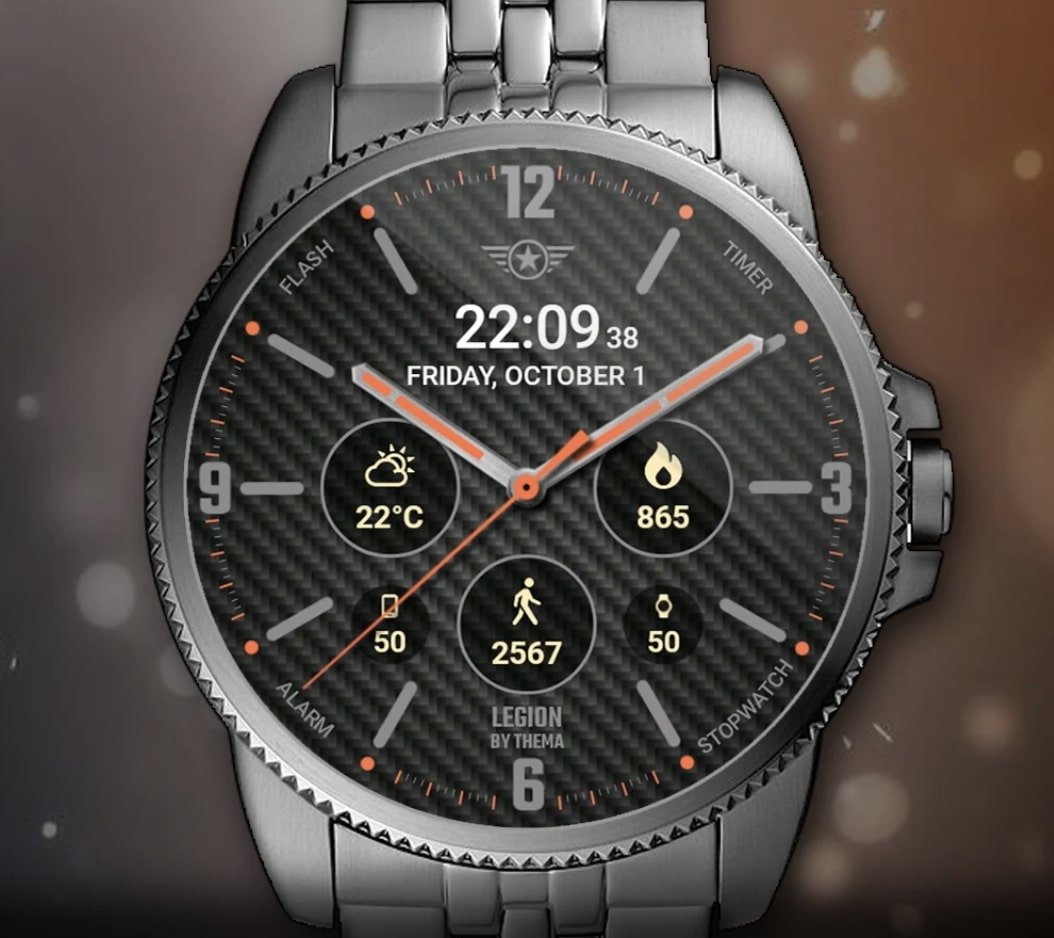 With the black texture and soft color tune, the Legion Watch face is one of my favorite watches for Galaxy Watch 4. It has a simple yet interactive design.
This watch face has four different textures, but the black one is amazing. You can customize the colors of widgets and fonts, and view both analog and digital clock at a moment, which is amazing.
This watch face offers all the fitness widgets for athletes, like calories, steps, heart rate, SpO2, etc.
12- Venom Watch Face
The Venom Watch face makes your Galaxy Watch 4 look hot like a hot sun. The orange gradient in this watch face looks fascinating.
It only shows the time in the middle, and there is a lot of space around it to adjust your favorable widgets. The main three widgets are on the top, whereas the calendar and battery status are on the bottom.
With a single touch, you can see the detail of the data. Venom Watch face comes in four different colors, and the orange and aqua blue is my favorite which looks more natural and appealing.
13- D-Max Watch Face
This watch's face gives a retro look to Galaxy Watch 4. The vibrant color backgrounds of this watch face make your Galaxy Watch 4 more enchanting.
The D-Max watch face is available in both paid and free versions. The free version also offers many customization options, so it's enough for daily use. The watch face shows time in digital and analog form; on the top, it shows three main widgets.
The vibrant backlight makes reading the watch's face easy under direct sunlight. In ambient mode, the watch faces automatically dim to preserve the battery life. There is no sound in this watch face which means it saves the battery life.
14- Ferrum Watch Face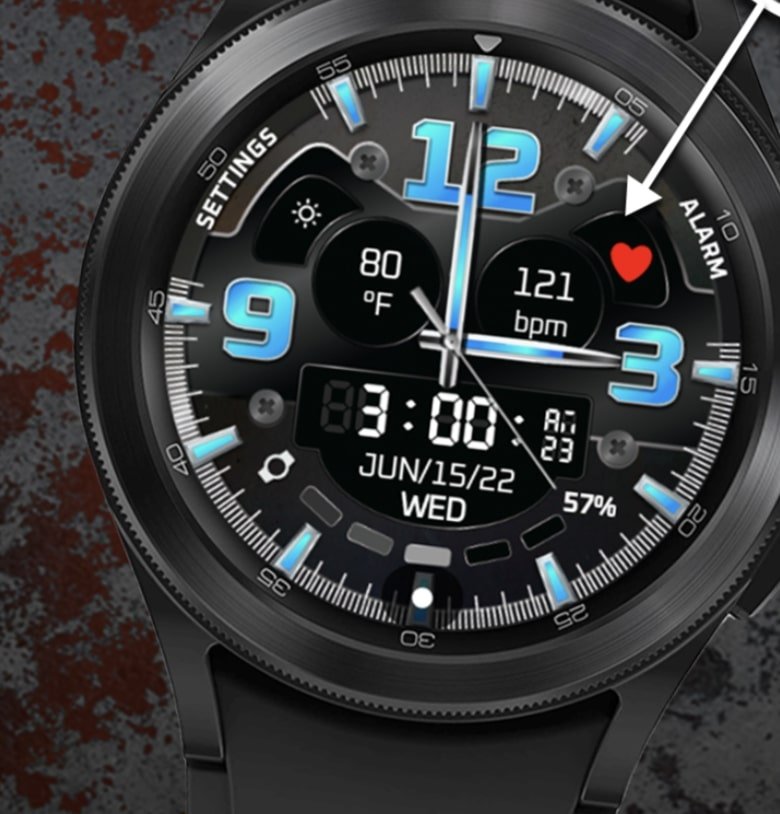 Forum is a new watch face available on Google Play Store, having bundles of customization options. This voguish watch face looks complicated but is too easy to read and handle.
There are bezel shortcuts, a beep-on sound every hour, a heart rate widget, and much more. Both analog and digital watches make it easy to read the time.
The watch supports many widgets, so you can see your fitness performance at a glance.
15- Swift Watch Face
Do you want to make your Galaxy Watch 4 different from the rest of the users? If yes, try Swift Watch Face. This quirky watch face has an interactive design because of the vertical alignment of widgets.
The intense color selection makes it my favorite watch face; the backgrounds are available in different gradients. The watch face includes nine interactive areas, so you can place as much data as you want.
Even though this watch face has many customization options, it looks more simple and elegant. A swift watch face is recommended for both casual and formal outfits.
Wrapped Up
Galaxy Watch 5 and 4 users can download watches from both the Play store and the Galaxy Wearable app. Choosing interactive and unique watch faces is the motive of every individual.
After much research and testing, we have compiled the list of these 15 watch feces; few are paid, while the rest are free.
About Author