Watch faces play a significant role in the overall aesthetics of a smartwatch. Without a doubt, they improve the appearance of any smartwatch. In addition, they are excellent for customizing and refreshing the look of your Samsung Galaxy Watch.
Samsung's Galaxy Watch 4 is the most recent model by Samsung. It offers an extensive collection of customizable watch faces options for the device.
The Samsung Galaxy Smartwatch 4 enables you to customize the watch face according to your taste. It means that if you want to keep it simple or pack it with lots of widgets, you can do it as per choice.
So, if you recently purchased a Galaxy Watch 4 and want to change the watch face, you've come to the right place. In this article, you will get the top 11 best watch faces for Galaxy Watch 4.
Let's get started.
Related Posts:
Top 11 Best Watch Faces for Galaxy Watch 4
Galaxy Watches are among the most popular wearables on the market today. Recently, Samsung introduced its new Galaxy Watch 4, containing the classic features and creative watch faces.
The smartwatch has a variety of watch faces that the users may select via the app or the watch itself. Furthermore, third-party developers are constantly creating watch faces and uploading them to websites like WatchMaker and Facer. You can browse these websites to find about their fabulous collection.
The best watch faces for your Samsung Galaxy Watch 4 are listed below.
Let's figure out which option is ideal for you.
1. Marine Commander
One of the most incredible watch faces for Samsung Galaxy Watch 4 is Marine Commander. It comes in a black and blue color combination, but you may customize it to orange, black, grey, blue, orange, green, and in any colors of your choice.
You may change the colors of the clock hands, alerts, screen timeout, ambient mode, visual effects, and unlock premium functions in the customization section.
[maxbutton id="1″ url="https://www.facer.io/watchface/ldtLZQxIss?watchModel=ticwatchexpress" text="Get Marine Commander" ]
2. E-Look Watch Face
The E-Look watch face is a good alternative if you're looking for a watch face with animation. In addition to the date and time, this digital face displays eight different data fields, including the temperature, number of steps taken each day, battery life, and more.
Furthermore, it does an excellent job of providing a lot of information to look at while maintaining a sleek appearance. In addition, it has an "always on" feature if you're constantly using the screen.
3. Pixel Minimal Watch Face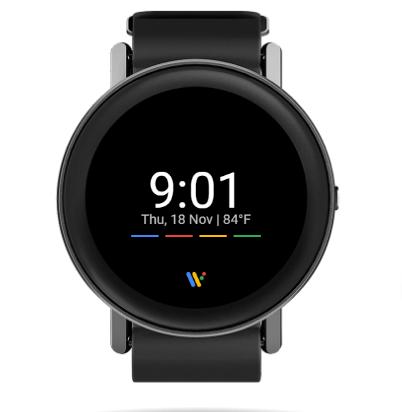 Choosing a pixel minimal watch face is the most incredible option since it gives your watch a Google pixel-like feel. It displays the basic information such as the time, date, and temperature in its watch face.
You may also add widgets to the watch's screen to see your heart rate, calories burnt, and the watch's battery life.
[maxbutton id="1″ url="https://www.facer.io/watchface/p3Nfsmze3X?watchModel=misfitvapor" text="Get Pixel" ]
4. Your Beast Friend Watch Face
When it comes to watch faces, you can't go wrong with the Your Beast Friend. This watch face might be the perfect one for you. The watch face features a small creature that pops up on your screen at various times. You have to feed the beast, and the more you nourish it, the more it grows and changes into something new.
It is, without a doubt, a fantastic idea that can help you combat boredom. If you're on the road or want to try something different, this is a must-do.
[maxbutton id="1″ url="https://www.facer.io/watchface/4spTIsBIIx?watchModel=gears3″ text="Get Your Beast Friend " ]
5. Feisar Watch Face
For those looking for interactive dials, Feiser is one of them. There are eight separate data sets displayed on the main screen by Feisar, and everything appears to be digital. If you're looking for a free face, this one isn't a wrong choice at all.
You may customize the data on the top, and on the bottom, you can view the current time. The customization section provides color options for Element, hands, text, wallpaper, and many more.
Remember: Widgets and shortcuts are only accessible after unlocking the premium content.
[maxbutton id="1″ url="https://play.google.com/store/apps/details?id=fr.thema.wear.watch.feisar" text="Get Feisar" ]
6. Matveyan Sport Watch Face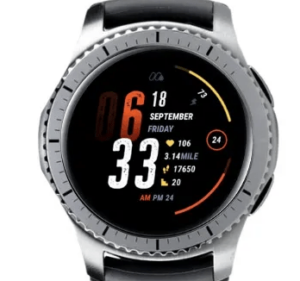 Matveyan Sport is an excellent choice for individuals who want a watch face that is both sporty and minimalist. The watch face features four-quarter circles. Each circle fulfills your four objectives: step count, calories burned, heart rate, and battery level.
Additionally, you are given information on your daily water intake, making it easier to keep track of your water consumption. You may customize the watch face by double-tapping it in the middle, which brings up a menu of available colors.
7. GS Weather 4 Watch Face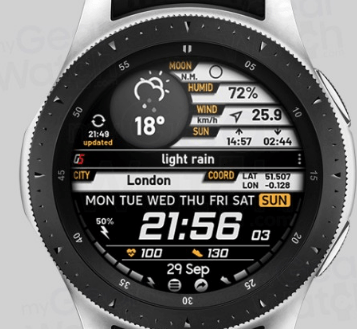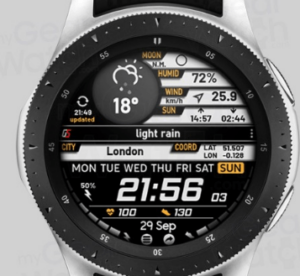 Many weather-related watch faces are out there, but few delve into as much information as GS Weather 4 does. It includes various other informational elements such as humidity, wind speed, moon phase, and sunset time.
Moreover, GPS data and steps are also recorded by GS Weather 4.
8. A/D Watch Face
There aren't many faces as elegant as this in the Google Play Store, but it looks excellent on Samsung's newest smartwatch. It shows the time in both digital and analog formats.
On the digital watch display, you can also change the color and font style of the watch face.
9. Valiant Watch Face
The next dial is Watch Face Valiant, which offers a wide range of options. With its magnificent display, it'll be a sight to behold when wears on your wrist.
A black and the red color combination is available in the free version, but you'll need to buy a premium version to get more. Furthermore, you may find all the information you need in a well-organized index.
But, keep in mind, only the most relevant information is displayed on the screen, thanks to the two customizable settings on the right.
[maxbutton id="1″ url="https://play.google.com/store/apps/details?id=watch.richface.androidwear.valiant" text="Get Valiant" ]
10. Ultra Watch Face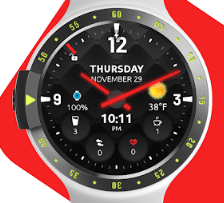 It is another informative dial that displays all the data on the main screen. By default, it has a black backdrop and red hands, but you may alter them from the settings.
There is a real-time weather forecast, an indication of how much battery power is left on the phone, shortcuts to apps, widgets, and custom themes on this screen. As a premium user, you'll be able to access most of the features that are otherwise locked behind the premium version.
If you want to get all the information on the main display, install the Ultra Watch Face on Galaxy Watch 4.
[maxbutton id="1″ url="https://play.google.com/store/apps/details?id=com.watch.richface.ultra" text="Get Ultra Watch Face" ]
11. Hour Glass Watch Face
Hourglass is a digital watch face that displays various essential data, including battery life, steps count, calories consumption, heart rate, and many more. This watch face features an ambient display mode that still displays calories and steps even when the watch is not being used.
Battery life is shown on the top of the screen with a battery indicator. Finally, there is a counter at the bottom showing the number of heartbeats per minute.
[maxbutton id="1″ url="https://galaxystore.samsung.com/geardetail/com.samsung.watchface-hourglass-s" text="Get Hour Glass" ]
Final Thoughts
These are some of the best watch faces for the Galaxy Watch 4. You can now customize the color of your main screen daily to reveal its genuine beauty. These faces are free; however, some require you to pay more to access additional features.
Hopefully, this article will help you choose the best watch face for your Samsung Galaxy Watch 4.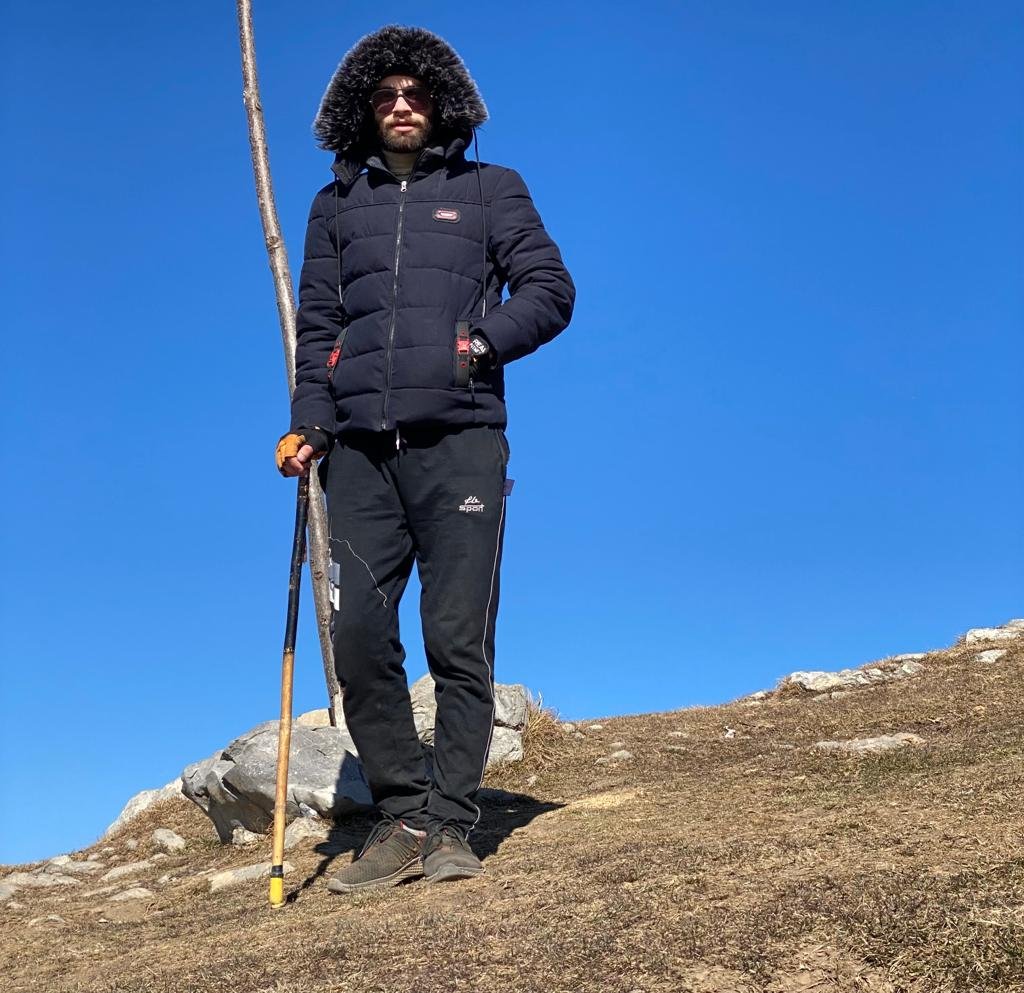 Hi, I'm Saad Dastagir. I'm a tech and fitness enthusiast who loves writing about smartwatches and fitness trackers. When I'm not testing out new gadgets, you can find me out on a hike or exploring new adventures. My passion for technology, fitness, and the great outdoors has led me to create a platform where I can share my experiences, insights, and reviews on the latest gear.