Are you a hunter or involved in some other outdoor activity? If yes, then you should have a smartwatch on your wrist.
Stop! and think for a moment. It was challenging to hunt a few years ago due to limited resources and products. At present, technology brings revolution and launches different valuable products.
These latest gadgets make hunting more accessible, whether it's hunting shoes, back braces, guns, rods, or any other product.
Now you might think about how a smartwatch can help me during hunting? Smartwatches come with a wide variety of features like
Identify routes, locations,

Weather forecast

Track your way back to the initial point

Showing sunset/sunrise times,

Stopwatch

Different activities tracking

Safety features

Notifications, and much more.
These features are beneficial for hunting and outdoor purposes. And I know hunting is more than just a sport. And it would be best if you had a smartwatch to enjoy your hunting.
Most importantly, it is tough to find a specific and best smartwatch for hunting. But for your ease, we create a list of the 7 best smartwatches for hunting. And you can choose the one which suits your budget.
In A Hurry? Here Are Our Top Picks…
| Image | Name | Rating | Buy |
| --- | --- | --- | --- |
| Top | Garmin fenix 5 Plus, | 4.5 | Buy On Amazon |
| | Polar Grit X | 4.5 | Buy On Amazon |
| | SUUNTO 5, | 4 | Buy On Amazon |
Related Posts:
10 Best Smartwatches For Hunting
After in-depth research we collect seven smartwatches for your hunting. Each watch in below list have its own identity, pros /cons and prices. Although few features are same in majority of watches. So let's have a look.
Suunto Traverse Alpha
Suunto Core
Garmin Instinct
Casio Protrek
Suunto 5
Garmin Fenix 5 Plus
Amazfit T-REX
Polar Grit X
Coros PACE 2 Premium
1- Suunto Traverse Alpha
Suunto Traverse Alpha is manufactured by keeping hunting ad fishing activities in mind. Compared to the predecessor, it comes with some special hunting feature which will make your hunting activity more easier.
This watch features a rugged design due to which it is more durable than any other watch. Also, this watch can handle the harsh conditions like shocks and extreme weather conditions.
It contains the Glass fiber reinforced composite case material with the stainless steel coating. Becasue of its Sapphire crystal lens, it is scratch-resistant and can handle the harsh conditions.
Which Special Hunting Feature It Has?
In designing this model, Suunto considered hunting and fishing activities and that's why Suunto has introduced the Automatic Shot Detection technology.
With this feature, you can keep track of when and where you shoot and it works best with the shotguns and hunting rifles. When recording an activity in hunting sport mode, this feature is enabled by default.
With this algorithm, the accelerometer of the watch measures both wrist and gun recoil movement to determine whether a shot has been fired.
This feature will work on both of the wrists but some people notice that it will measure more accurately when watch is on the trigger hand.
The watch displays a total shot count while recording, and each shot location is stored.
Additioanlly it has the Location based moon Phase calendar for determining the best time to hunt and fish.
Besides hunting, this GPS/GLONASS watch will also track your path and helps you to find your way back with the help of Automatic Breadcrumb Trail.
Battery life in normal mode: 14 days
Battry life in GPS mode: (Best/Good/Ok): 10/15/100 hours
In A Nutshell
In our opinion, this watch is perfect for hunting because of its new and amazing hunting feature that is rarely found on other watches.
Due to these features, your hunting activity will be more easy. So, we highly recommend you to go with Suunto Traverse Alpha if you have an enormous budget.
Key Features
Rugged design
GPS/GLONASS
Nylon strap
Automatic Shot Detection
Moon Phase calendar
Better battery life
2- Suunto Core Outdoor Sports Watch
Suunto Core is the most feature-packed altimeter watch we tested. Core leads its prdecessor because of waterproof buttons for snorkeling and shallow diving.
Additionally, it offers a more accurate altimeter, barometer, and nicer graphs, as well as an easy-to-use interface with a well-labeled, straightforward menu.
Core comes with the classic design which fits with your most of the outfits and is highly comfortable. Besides comfort, this design is also extremely durable and is perfect for harsh conditions.
How Is It Best For Hunting?
This watch comes with some intelligent and useful features for hunting which includes Storm Alaram, altimeter, barometer and compass to keep you informed of the environmental conditions.
With the built-in barometer, this watch hepls you to predict the changes in weather conditions. Intelligent storm alarms detect drops in air pressure and alert you to approaching storms.
As well as showing the elevation and ascent or descent, the altimeter also records your sessions.
This watch has some essential adventure features like sunrise and sunset predicted time, date display, dual time, etc. Due to these features, this watch is great for hunting, swimmingm running, hking and other outdoor activities.
Besides its hunting features, Suunto Core also tracks your daily activities, sports, sleep and other fitness activities in order to maximize your results.
Battery Life in time mode: 12 months
Battery Life in Smartwatch mode: 48 hours
Battery Life in GPS mode: 12 hours
In A Nutshell
Overall Suunto core is ideal for hunting because of its extremely durable design and top-notch materials. With its ABC sensors, hunting will be more easier for you.
Secondly, it is not so expensive. So, if you have a tight budget and want to get the best hunting watch, then you can go with the Suunto Core.
Key Features
Classic and stylish design
ABC sensors
Dual times
Date display
GPS
Predicted times
Storm Alarm
30m water-resistant
SUUNTO Core
Altimeter, Barometer, Compass

Measures Temperature

Storm alarm

User-replaceable battery

Depth meter for snorkeling
3- Garmin Instinct
Garmin is one of the most popular smartwatches brands. Mainly this brand focus on outdoor smartwatches that are more robust. Durability is the slogan of this brand. That's why I love it.
In the family of Garmin smartwatches, Garmin Instinct is my favorite. Instinct is considered one of the best outdoor smartwatches. It offers you a 1.27″ round dial made with a special polymer that increases its durability.
Comfort: For a more comfortable experience, there is a Silicon band that never makes your wrist un-comfort. Usually, a durable smartwatch is bulky, but this one has just 52 g of weight.
Best For Outdoor: Garmin Instinct offers you many outdoor features that are useful for hunting purposes. First of all its GPS is very appreciative.
Due to its Multiple Global Navigation Satellite System, it becomes easier to track routes in challenging and deserted areas.
Further, its GPS is efficient and quickly connected to the satellite. You will also get a "TrackBack Feature" that helps you navigate back to your starting point. Besides, it comes with a Barometric altimeter that keeps you updated about weather forecasts.
Health Tracking: Although there are not many health-tracking features. But Garmin Instinct offers you a few essential features like a real-time heart rate monitor, stress monitoring, and different activity tracking.
Battery Life: Garmin Instinct offers 14 days of extended battery life which is enough. And have 16 hours lasting time on GPS.
Garmin Instinct
3 axis compass and barometric altimeter,

Constructed to U.S. Military standard

High Performance GPS

100 meter Water Resistance

Wrist based heart rate
Check out: Best Smartwatch With Fishing
4- Casio Men's"Pro Trek" Outdoor
The traditional brand offers more value as compared to modern brands. Casio is one of the oldest Japanese multinational electronics brands that offer precious products.
Casio Men's Pro Trek is a rugged smartwatch with a beautiful design. It has a small and straightforward dial face that looks too elegant. A colorful LCD enables you to read the dial easily.
Colour Maps: Unlike Garmin smartwatches, Pro Trek offers full-color maps and Mapbox that are very useful and enable us to identify routes and directions quickly. You can also use maps in offline mode.
When there is no wifi or data, you can download the map in advance and use it at that time. Besides, Google Maps of Mapbox offers many different plans from the higher to the street level.
Outdoor Features: There are a lot of premium, and high-end features are available
Few build-in apps help you track your activities like Trekking, Paddling, Snowboarding, Skiing, Cycling, and Fishing.

Altimeter, Compass, and Barometer help you to measure weather conditions.

You can use Sunset/Sunrise data to keep your pace, so you will never be stuck out in the dark.

Tide data shows you the best time to fish

or surf.
Other Features: Similarly, you have an option to play your favorite music or track directly on your wrist. You can even download music via different music streaming apps and listen to them offline.
A heart rate monitor helps you keep an eye on your health and find the best time to rest. You will also receive a notification if your watch is connected to your smartphone.
5- Suunto 5
You may have heard about Suunto. This brand focuses on making premium quality smartwatches. After Garmin Suunto, smartwatches are considered best for outdoor purposes.
Suunto 5 comes with stainless steel bezels with graphite copper coating. At first glance, you will feel it is a highly robust and durable smartwatch. The watch is a bit comfortable due to its 66g of weight.
The outdoor queen offers many exciting features that are crucial and useful for outdoor lovers. First of all, its GPS is highly accurate and precise.
With Altimeter, Compass, and Barometer, you can also measure weather conditions.
Sports Modes: Suunto 5 offers 80 different sports modes to track your various outdoor activities. So you can get relevant and precise statistics of your actions. It can monitor your swimming, gym, cycling, hiking, running, and more GPS tracking with distance, speed, and pace.
Health Tracking: Similarly, Suunto 5 is packed with many health-tracking features that help you achieve your fitness goals. It has a wrist-based heart rate, stress monitor, and sleep tracking features.
It can measure your aerobic fitness level (VO2max), which shows your current estimated fitness level.
Besides these health-tracking features, there are many more things to explore in this smartwatch. Check these features here.
Battery life: Suunto 5 has an intelligent battery power management system that offers battery-saving modes. You can customize it according to your usage. But on average, it gives you 40 hours of lasting time.
6- Garmin Fenix 5 Plus
The next smartwatch on our list is Garmin Fenix 5 Plus. The most famous and premium smartwatch around the globe. Its quality, features, functionality, accuracy, comfort, all things are outstanding.
First of all, look at its design and shape its eyes too gorgeous. Fenix 5 plus is a highly rugged smartwatch made with stainless steel, diamond-like carbon (DLC), a titanium bezel, a solid rear case, and buttons. Garmin Fenix 5 Plus is a precious gift for a natural hunter and outdoor lover.
Multinetwork Navigation: Fenix 5 featured a Multinetwork navigation system. That tracks routes even in more challenging and deserted areas.
Besides, the navigation quality is fantastic. You can see a colorful TOPO mapping system with various preloaded maps. The device also offers Trendline popularity routing, which helps you follow and find the best trails and routed using Garmin Connect.
Advanced Performance: Unlike other Garmin Mid-range smartwatches, Fenix 5 Plus offers more advanced performance. Its way of tracking activities is very excellent. That's why it shows you in-depth details of your daily activities, which you can see on your smartphone.
Further, it comes with a lot of exciting features like;
Wrist-based heart rate

Preloaded health tracking apps

Safety tracking features

Customizable watch faces

Running power

Garmin pay

Supports Spotify and much more.
Battery Life: This is the best smartwatch for hunters, as it offers 12 days of extra-long battery life that makes you stress-free to charge it again & again. On GPS mode, it lasts for up to 18 hours.
7- Amazfit T-Rex
Amazfit is a new and fastest-growing intelligent wearable brand. The brand offers highly valuable smart wearables includes; smartwatches, fitness bands, and different equipment for sports and health.
It's challenging to have a cheap smartwatch with 12 Military certifications. But, Luckily, Amazfit T-Rex is one of them, an ideal smartwatch with a Rugged body. It comes with a 1.3″ strong AMOLED display that looks so attractive.
Best for Outdoor: Amazfit T-Rex is the best smartwatch for hunters. The cheapest smartwatch on our list that offers all the crucial outdoor features.
It has 14 build-in exercise modes: running, outdoor cycling, walking, treadmill, mountain climbing, trail running, indoor cycling, skiing, swimming, and more.
Secondly, it also measures weather conditions that are very useful for hunters. Besides this, a high-end GPS chip is exact and has a dual-satellite positioning system.
Similarly, a few essential health tracking features to measure your daily fitness. It can monitor your heart rate, sleep tracking, and elevation tracking.
Battery Life: I love its super solid battery. This budget-friendly smartwatch gives you 20 days of ultra-long battery life as there is an advanced lo=power chip and power management and optimization system that save battery life.
Amazfit T-Rex
1.3 AMOLED display

GPS

14 Sports modes

5 ATM water resistant

20 Days battery life
8- Garmin Vivoactive 4 (Ultra Light)
Here comes the next Garmin smartwatch. Overall in the Garmin family, the Vivoactive series is one of the most robust smartwatch series. Vivoactive 4 is the most popular and high-rated smartwatch on Amazon.
You know, durable and outdoor smartwatches usually look bulkier. But Vivoactive 4 is a more sleek, elegant, and modern design. Its 1.3″ round dial looks beautiful. There is an always-on chroma display that is packed with Gorilla Glass 3.
Ultra-Light Weight: To be honest, I never saw such a lightweight smartwatch. Just imagine a 36g watch and its comfort. It is sleek and light design; it enables us to wear this smartwatch for a long time without any discomfort.
Health Features: I love this feature because of its premium health tracking features. First of all, the most impressive quality is "Body Battery Energy Monitoring" this feature enables you to measure your body's energy levels throughout your whole day. So you can find out the best time to rest and boost your energy.
Similarly, unlike other smartwatches, Vivoactive 4 offers you animated workouts and exercises that are very useful and interesting.
Safety Tracking: As a hunter, this feature is very crucial. Whenever you have an accident, this smartwatch will suddenly share your location with your contact.
Other Features: Many health tracking and other essential features are available in this smart wearable.
Pulse Ox, Respiration, Menstrual cycle, Stress tracking, Hydration and more

Smart Notifications

Music Support

Garmin Pay

Connect IQ

Garmin Coach
Battery Life: The battery life of Vivoactive 4 is every day. It lasts for 8 days. And 6 hours of battery life on GPS and music mode.
Garmin Vivoactive 4
GPS Smartatch

Animated Workouts

Pulse OX sensor

8 days battery timing

Body Battery Energy Monitoring
9- Polar Grit X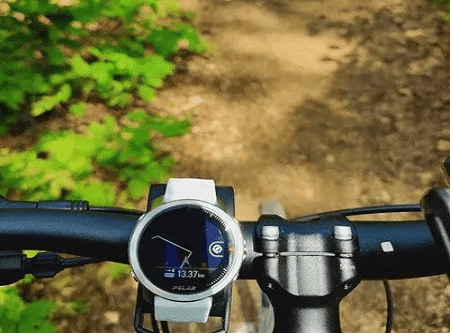 In smart wearables, the Polar brand plays an important role. And with modern architecture design, it fulfills all the needs of its customer and provides excellent smartwatches.
Personally, when I see Polar Grit X, I recognize that this is premium stuff at first sight. Either you are a hunter or involved in any other outdoor activity. This smartwatch is your best companion all the time.
It offers a 1.2″ high-resolution dial that enables you to read the dial easily. You can change the dial as well; there are many pre-installed dial faces available. This is one of the highly robust and durable smartwatches that passed several MIL-STD-810G tests. That's why it can easily sustain in a harsh environment.
Why is it the best smartwatch for Hunters: If you want a true smartwatch for hunting purposes and have a substantial budget. Then never buy any other smartwatch except Polar Grit X. It offers a lot of helpful premium features for outdoor pursuits. Some of its most important features are:
High-Quality GPS:

It comes with high quality and the fastest GPS. A Komoot premium also allows you to plan multi-day routes, use a worldwide offline map, and create personal. collections

Weather Forecast:

With this smartwatch, you can check current weather and 2-days forecast direct on your wrist.

UpHill and Down Stats:

This feature tracks your downhills and uphills using your speed, altitude, and distance data.

Nightly Stress Recovery:

This shows how much you recover from your whole day's stress and make the next day's best choices.

Assistant:

FitSpark is the next-level training guide that supports you 24/7, either on hunting or involved in any outdoor work.

Fuels:

It measures how many crabs you will need and automatically reminds you to refuel on the go.
Battery: Finally, it comes with seven days and gives you 40h of long battery time on GPS.
Polar Grit X
Light weight and elegant design

Excellent GPS

Automatically detected uphill and downhill

130 SPORT PROFILES
1o- Coros PACE 2 Premium
Quality never ends, and sometimes, by luck, you will get a precious product that you never think of. Coros Pace 2 is one of them. A premium quality smartwatch with a mid-range price.
Coros Pace 2 comes with a highly robust design. The whole dial is surrounded by a strong polymer that makes its durability look gorgeous.
On the main dial face, you will see many gadgets that help you check your stats just at a glance. You can also customize its dial faces according to your choice.
Premium Features: Coros Pace 2 offers the few most premium features in high smartwatches.
COROS Summary:

I know a majority of you never hear about it. With this feature, you can easily see your performance and insights, including GPS tracking, pace, heart rate, elevation, etc.

Hydration Monitor:

Its nutrition alerts notify you when you need water to extra calories to refuel yourself.

Weather Forcast:

With its intelligent barometric system, you will remain updated on storms and current weather forecasts

Health Tracking:

There is plenty of health and other activity-tracking features available. Most common are sleep tracking, heart rate tracking, steps & calories counter.

Battery Life:

It offers one of long-lasting battery life. You can use this intelligent wearable for 20 days without any stress of charging. Similarly, it gives you 30 hours in GPS mode.
Coros PACE 2
Premium GPS Sport Watch

Barometer

Light weight

Long battery life

Excellent Fitness Tracking
Guide to Buy Best Smartwatch For Hunting
Before buying the best hunting smartwatch, you should consider a few factors. These few factors are very crucial. Without them, you can't find the best hunting watch for your wrist.
Design
For outdoor smartwatches, design matters. A rugged watch looks different as compared to ordinary smartwatches. The majority of outdoor smartwatches look bulky.
Make sure that your smartwatch has a comfortable body and design. This is only possible when the weight of your smartwatch is too light. All the smartwatches mentioned above are highly satisfactory.
GPS
Another factor is GPS which is again a very crucial thing. As a hunter, you need to explore different routes, trackback routes to your initial location, pin other places, and much more.
These all can be achieved if you have a good GPS smartwatch. An accurate and precise GPS is a premium thing in the smartwatch.
Battery Life
Long battery life is essential to track your outdoor routine for a long time. But only a few smartwatches offer you a long-lasting battery. In the above article, all the smartwatches provide long battery life.
Outdoor Features
A smartwatch must have different crucial features to track the environment and other outdoor activities. It can measure weather conditions, altitudes, stress scores, and various outdoor activity tracking apps.
Price
Lastly, it comes to a price that matters everywhere. I know most people want to buy the best budget smartwatch. Smartwatches under $100 are not proper smartwatches and often give inaccurate results.
Never compromise on quality due to price tags. A cheap and inaccurate smartwatch is useless and has no advantage. Many mid-range smartwatches start from $100 to $1000.
Now it's up to you which smartwatch suites your budget and requirements. But always buy a smartwatch above $100.
Final Verdict
After going through above article, I hope you are now able to find best smartwatch for hunting that suits you. There are dozen of puposes and benefits of smartwatches. Whether it's is your outdoor activities, fitness tracking, exercises, hiking, finding routes, stree relief, and more.
But I think a person who is involve in outdoor works must have a smartwatch and especially hunters.
Lastly, thankyou for reading our article. It will be appreciative for us if you choose any smartwatch from our list. Also, is helps us to make pocket money.