LG is one of the largest multinational electronics giants. But in the last two years, LG didn't launch any smartwatch.
If you own an LG phone, you can use smartwatches from other brands. As there are tons of smartwatches available that work perfectly with Android phones.
If you are looking for an LG watch, this is not an article for you as we have not mentioned any single LG smartwatch here. Rather you will find other smartwatches with top-end fitness features, GPS tracking, and extended battery life.
So without further delay, let's get started!
In A Hurry! Here Are Our Top Pick…
Best Smartwatch For LG Phones:
1- Amazfit GTS 3: (Cheap Option With High Performance)
If you are interested in buying a fashionable smartwatch for your LG phone, then look at Amazfit GTS 3. This smartwatch comes with an 8.8mm Aluminum case that looks ultra-sleek and stylish. It's packed with dozens of fitness features that help you maintain a healthier lifestyle and stay active.
The first thing in Amazfit GTS 3 that gains users' attention is its 1.75″ Super AMOLED display. A crispy and vibrant display adds value to this watch, and you can read fitness metrics at a glimpse, even under sunlight.
The 5 ATM water-resistant design allows you to use this smartwatch while swimming or bathe. But overall, this smartwatch is not designed for tough environments.
When it comes to health tracking, Amazfit smartwatches always stand out. The new flagship GTS 3 comes with many improved health tracking features than its predecessor. It has over 150+ sports modes helping you effectively track your indoor and outdoor activities.
The upgraded BioTrack PPG 3.0 sensor measures your blood oxygen level and heart rate during every single activity. If you want to improve your sleep quality, this watch will also help you. Amazfit GTS 3 deeply tracks your sleep patterns, and you can also keep an eye on your stress levels.
The most useful thing spotted in this watch is the PAI health assessment found in every Amazfit watch. The feature takes data from your all-day fitness activities, including heart rate, sleep, SpO2, etc., and merges them into a single score. Improving your PAI health scores directly improves your lifestyle and makes it healthier.
Amazfit GTS 3 has improved GPS paired with GLONASS to track more challenging environments. Lastly, thanks to its 12 days of long-lasting battery, your adventures are more memorable.
2- Galaxy Watch 4
Galaxy Watch 4 is a current Galaxy flagship watch that gained popularity because of its fitness capabilities. The watch comes in two models, the GW4 and GW 4 classic. GW 4 classic is the best for outdoor enthusiasts as it offers a durable and robust design.
This one is the first Galaxy watch powered by Wear OS. They look pretty similar to the previous Galaxy Watch 3. Galaxy adds a 1.36″ AMOLED display with a 450 x 450 high-resolution display. Because Corning Gorilla Glass DX resists scratches and dust. Compared to the previous model's Galaxy Watch 4 has an improved processor.
The new 5nm Samsung Exynos W920 Dual-core 1.18GHz gives much smooth performance, plus RAM is upgraded to 1.5GB.
The Galaxy Watch 4 is 2X lighter than the previous watch when it comes to comfort. It weighs only 30g, so that you can wear it throughout the whole day without any stress on your wrist.
Samsung has introduced a new BioActive Sensor in GW4 that measures body composition. It's a really helpful feature for fitness lovers, helping them keep an eye on fat percentage, body water, skeletal muscle, and more.
Further, the watch also includes an ECG app and blood pressure monitoring that are useful for the elderly and heart patients.
Unlike previous models, Galaxy Watch 4 has very efficient sleep tracking that gives an improved measuring option and checks your blood oxygen level during the night. It includes 90+ sports that help monitor your performance for sports enthusiasts effectively.
If you are a person with a music craze, then this watch provides you with 16GB of onboard storage. You can pile up the playlist of your favorite songs and listen in offline mode. GW4 doesn't have a long-lasting battery when it comes to battery life. It only lasts for 40 hours which is best for regular use but not recommended for outdoor workers.
3- Garmin Forerunner 245
If you are looking for a durable multisport GPS watch, Forerunner 245 is better. Especially for runners, this is an insane device that gives comprehensive data on different running metrics. Garmin watches are compatible with all android smartphones, including LG phones.
A sleek and lightweight design makes Forerunner 245 an eye-catching watch. It comes with a 1.2″ small display, suitable for people with tiny wrists. This watch lacks a touch display; that's why you will get five side buttons for functionality.
To track your destination, it includes GPS paired with GLONASS so that you can measure your challenging environments. This sports watch lasts for 7 days in smartwatch mode and 24 hours on GPS, which is pretty cool for outdoor trips and adventures.
For runners, it includes Running Dynamics features that measure Ground contact time, Cadence, Stride Length, Vertical oscillation and ratio, pace, speed, distance, and more. All these metrics can help you improve your running and become a pro athlete.
Apart from running features, it includes dozens of health tracking features. VO2 max, Pulse Ox sensor, Body battery energy, Stress tracking, Intensity minutes, etc. As a sports watch, Forerunner 245 includes 20+ sports apps, and you can also create your custom sports mode from Garmin Connect.
Forerunner 245 is your virtual coach that recommends different exercises based on your intensities, training history, and recovery time.
The one thing I have noticed in this Garmin watch is its comprehensive data. In the Garmin Connect app, you can see in-depth health and activity reports, graphs, visuals, etc.
Overall, Forerunner 245 is the best smartwatch compatible with LG phones but not supporting lower Android models.
Garmin Forerunner 245
Advanced training features

Sync with music streaming services

7 days Battery life

Built-in GPS
4- Fitbit Sense
If you are too conscious about your diet and health, then Fitbit Sense can help you achieve your nutrition and fitness goals. This Fitbit Watch is compatible with Lg phones, you can install the Fitbit app on your smartphone, and it will automatically sync real-time data.
Fitbit Sense comes with a 1.58″ AMOLED display that looks creepy and vibrant. The case is made of aluminum that looks shiny and sleek, making the watch more attractive. The watch comes with an infinity band strap made of Silicon with no buckles.
You can also connect Fitbit Sense to favorite health apps like Strava, Google Fit, MapmyRun, Runkeeper, etc. It includes an Onboard GPS for measuring routes during running, cycling, hiking, etc.
The Fitbit Sense is 5 ATM water-resistant, making it a suitable device for swimming in the pool or the sea. But you can't wear this watch while scuba diving.
Thanks to its Fitbit for adding built-in speakers and microphones, you answer calls and reply to texts directly from your watch.
Fitbit Senses include reliable fitness tracking features like an EDA sensor, daily readiness, ECG app, real-time HR tracking, advanced sleep-tracking tools, etc. In the Fitbit app, you will also see daily workout videos, dancing classes, Cardio workouts, etc.
You can set your daily fitness goals, and Sense will effectively measure your goals. Apart from this, it includes 20 exercises with smartTrack that automatically recognize and record your activities.
The useful feature spotted in this smartwatch is active zone minutes that count your time spent in any heart-pumping activity. The more active zone minutes you earn, the more effective you will be in your performance.
Compared to other fitness watches like Apple or Galaxy watches, Fitbit Sense gives long battery life. It lasts for 6+ days with normal HR tracking and more.
5- TicWatch Pro 4G
TicWatch Pro 4G is another Wear OS watch with decent battery life. This watch comes with 4G LTE support, and you don't need to connect it to your smartphone to make calls and reply to a text. Compared to other high-end and expensive watches, this one offers much more at just $159.
Ticwatch Pro 4G offers a 1.39″ dual (AMOLED + FSTN LCD) display covered with Gorilla Glass 3. With an AMOLED display, the watch will last for two days, whereas an LCD screen will last for 5 days.
Ticwatch Pro 4G has Snapdragon Wear 2100 paired with 1GB RAM that gives smooth performance when it comes to performance. It also includes GPS + GLONASS for accurate navigation and route tracking.
TicWatch Pro 4G lacks advanced health tracking features, unlike other famous fitness smartwatches. But you will find a few useful features like heart rate tracking and smart sleep tracking. Calories tracking and activity tracking. But this watch includes proprietary AI algorithms to detect your activities and proactively provide accurate fitness records.
Being a Wear OS watch, it includes all the useful Google apps. Firstly you will get a smart Google assistant that helps you manage your daily tasks, plan your day, check the weather, etc. Google pay allows you to pay bills from your watch. You can download more Google Play apps and choose from thousands of different watch faces.
TicWatch Pro 4G LTE
Upgraded Premium Design

Long Battery Life

Dual-layered ALOMED/LCD screens

Cellular Connectivity

Advance Fitness Tracking
6- Garmin Fenix 7
Fenix 7 is a new addition to the Garmin Fenix series, which comes with a durable design and extended battery life. This top-of-the-line variant comes in different sizes, models, and materials. You can also go for a solar version if you need a longer battery backup.
Fenix 7 is made for pro athletes and outdoor enthusiasts. The bezel material is stainless steel, and the lens is covered with Gorilla Glass.
As compared to its predecessor, Garmin Fenix 7 comes with a touch screen and button design so you can easily navigate through menus. But touch screens are difficult to use during activities or when performing water activities.
Garmin Fenix 7 is the first Fenix series watch with 18 days of long-lasting battery in smartwatch mode and 136 hours in GPS. Fenix 7 has a stronger grip over the battery department, and it also offers an advanced battery saver mode that lasts for 57 days. So if you are working in outdoor environments, this watch is made for you.
When it comes to training features, Fenix 7 comes with an advanced training feature that helps you keep an eye on every single activity. The sports and training features include;
Running dynamics

MTB dynamics

Surf ready features

Visual race predictor

PacePro technology

Climb Pro feature

Performance metrics

Recovery time advisor
Apart from this, Fenix 7 includes an advanced sensor that can accurately track your high-intensity workouts. So if you lift heavy weights, Fenix 7 is a good watch that can measure your performance effectively.
Further, it includes different health features helping you know about your body's overall wellness. VO2 max feature working accurately as compared to forerunner series watches. Similarly, it also includes a new Real-time stamina tracker, an amazing feature for fitness lovers.
Overall, Garmin Fenix 7 is an insane multisports watch compatible with the Lg phone and all the latest android phones.
7- Fitbit Charge 5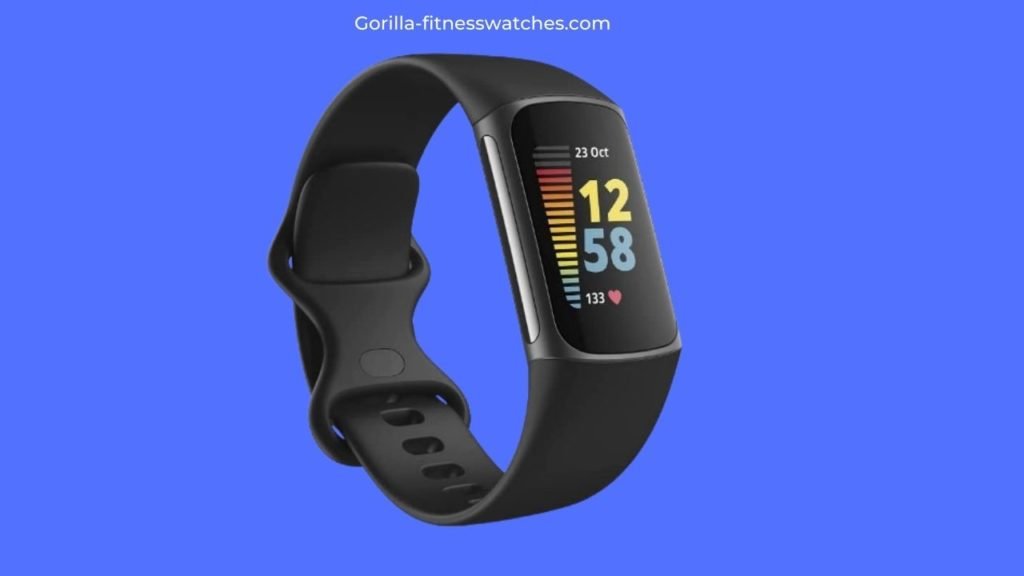 If you want a sleek and lightweight fitness tracker with all the crucial health features, look at the Fitbit Charge 5. This fitness tracker works perfectly with all the LG phones and android phones. Charge 5 comes with a significant facelift from older models.
The AMOLED display offers a big advantage over the Charge 4, a monochrome display. Fitbit also removed all the buttons in Charge 5, and the design of the buttons looks gorgeous and sleeker. Charge 5 is water-resistant to 50 meters, making it a suitable tracker for swimming and water activities.
Like other smartwatches on the Fitbit Charge 5, you will receive notifications and accept or reject phone calls. But using this tracker, you can't reply to or answer incoming calls.
The Fitbit Charge 5 comes with some big health updates, including ECG and EDA sensor, which is a big plus in this budget. It also includes a new Readiness feature that takes data from your exercise, sleep, and HRV and tells you if you're ready for your next workouts or need recovery.
Sleep tracking tools also look more updated and accurate than Charge 4. Plus, you will also get a built-in GPS to track your routes.
Lastly, Charge 5 offers up to 7 days of battery life in fitness tracking mode and 5 hours of battery backup in GPS mode. Overall, Fitbit Charge 5 is a reliable and affordable fitness tracker that gives comprehensive data on your daily fitness routine.
Fitbit Charge 5
Built-in GPS

AMOLED Display

ECG App

Stress Management Tools
8- Galaxy Watch Active 2
Here comes another affordable smartwatch with rotating bezels and reliable fitness tracking. The Samsung Galaxy Watch Active 2 is one of the best-selling watches. It looks more sporty and sleek and suitable for people with tiny wrists.
It's compatible with the latest LG phones like LG V50, G8X, LG Q6, etc. Moreover, the watch works perfectly with any android phone.
Galaxy Watch Active 2 is equipped with a Bixby voice assistant, and you can ask questions, read your text, answer phone calls, and more.
The watch comes with a 1.4″ AMOLED display that looks vibrant and gives a premium look. Active 2 is housed in an aluminum frame and has premium finishing. Two side buttons on the right help you navigate through menus. You can also enable an always-on display to view fitness metrics in a glimpse.
Galaxy Watch Active 2 has done a great job in the Fitness tracking department. It allows you to set your daily fitness goals, track stress, sleep, calories, etc. The new Tizen OS update also brings blood pressure monitoring and an ECG app to this watch which is a big plus.
With its wearable app, you have access to hundreds of watch faces to customize your watch with your lifestyle. Plus, you can also add more widgets and apps to your watch. You will get 4 GB of internal storage to pile up your playlist and listen to songs with built-in speakers.
You can also make phone calls, access contacts, save photos, and do more on Active 2. Lastly, the watch has average battery life that lasts for 2 days, but the always-on display and GPS may drain the battery faster.
Samsung Galaxy Active 2
Tested by Amazon-qualified suppliers.

Fitness Tracking Options at Your Fingertips

Apps at Your Command

Compatible with Android and iOS
9- Fossil Gen 5
Fossil is one of the giant watch brands that focus on producing fashionable wearables. The latest Fossil Gen 5 comes with a modern design that looks perfect on every wrist. This Wear OS-powered watch is the right option for your latest LG smartphone like LG V50 ThinQ and V40 ThinQ.
Fossil Gen has a 1.28-inch AMOLED display with higher resolution making it easy to read under direct sunlight. There are three knobs on the right to handle functionality. Gen 5 is compatible with many fitness tracking apps like Strava, Google Fit, Runkeeper, and more. You have access to hundreds of apps from assistants to fitness, payment, games, news, etc.
Fossil Gen 5 features a Qualcomm Snapdragon Wear 3100 and 1 GB of ram, giving a smooth performance. You will also get 8GB of internal storage, which is enough to store over 1000+ songs.
It has a Google pay option so that you can make contactless payments anytime. Gen 5 also includes standalone GPS, and you can also use Google maps on your watch for easy navigation.
Gen 5 gives an average battery backup when it comes to battery life. As WearOs watches use more resources, they usually have less battery life. Your Gen 5 can last for a full day, and you have to charge it after 24 hours.
Further, it includes all the useful fitness features, including heart rate monitoring, sleep tracking, calorie tracking, activity tracking, and more, helping you maintain a healthy lifestyle. But if you're a pro athlete or fitness lover, this isn't a watch made for you, and you should look for other options like the Fitbit Sense, Fenix 7, and Forerunner 245.
Buying Guide
There is a deep sea of smartwatches, and it becomes difficult to choose the best smartwatch for LG phones. Lg phones are powered by Android; you have to choose a watch compatible with Android OS. Here are a few things you should look for before picking a new smartwatch.
Operating System
The watches powered by WearOS are considered best compatible with Android phones. WearOS watches have large third-party app compatibility and are easy to use. But in recent years, it seems that Proprietary OS has dominated the WearOS market.
Proprietary OS powers the devices like Garmin and Fitbit, and these wearables give extensive battery backup compared to WearOS. Also, their performance is much better than WearOS devices.
Water Resistant
A water-resistant smartwatch can survive in pools, rivers, and under showers. Usually, most of the mid-range smartwatches come with 5 ATM water-resistant. These watches can resist water up to 50 meters in depth for 10 minutes. Smartwatches with 5 ATM / 50-meter water-resistance are suitable for low-velocity and shallow-water activities.
Comfort
The band softness and the weight of the watch are two factors that play a role in comfort. A smartwatch with a Silicone band is usually more comfortable than a Leather or nylon band. You can buy a smartwatch with interchangeable straps if you have sensitive skin. Similarly, the weight of the watch is up to you; people having small wrist sizes should go for a lightweight smartwatch.
GPS
GPS is another useful feature that adds value to the smartwatch. A GPS watch helps you to measure your routes and navigation. If you are a runner or involved in any outdoor activity, you should go for a watch with built-in GPS.
Watches like Garmin have more accurate GPS tracking paired with GLONASS to provide navigation in a more challenging environment.
Final Words
After going through this article, we hope that you will be able to choose the best smartwatch for your LG phone. We have done deep research before compiling this list, and our list includes the latest smartwatches that you can use with your LG phones.
We appreciate it if you share your feedback with us, or if you have any query must ask in the comments box; we will reply to you shortly.
Hi! I am Saad Dastagir, an enthusiast of smartwatches and fitness trackers. This blog is created to bring my personal experience with smartwatches in front of you. Our team tests different types of smartwatches and fitness gadgets constantly and shares hands-on experiences with you.