Garmin Enduro gained fame in part because of its epic longevity and solar charging lens that extends battery life to a great extent. Also, it offers numerous top performance features and is built for extreme endurance athletes.
On the other side of the coin, we have Fenix 7, which is Garmin's most advanced multi-sport watch. It features new training tools carefully designed to make them accessible to a wider range of athletes.
Both the watches are best in their places, but there is a lot of difference between them in terms of battery life, touchscreen functionality, weight, and sensors.
In this comparison, we have deeply compared the Garmin Enduro with the Fenix 7 and found some major differences. Ensure you will be familiar with the major differences between these watches at the end of the article.
Garmin Enduro Vs Fenix 7: Design
In terms of design, both the watches have the same dimensions, but there is a slight difference between the material and screen functionality.
Garmin Enduro
When it comes to the Enduro design, it measures 51 x 51 x 14.9mm and comes in either DLC-coated titanium bezels or stainless steel, but the titanium version is 10g lighter than the steel version.
Talking about its band, it features a super-light sport loop band that's adjustable, durable elastic, and provides extreme comfort even on long wear. Enduro has physical buttons, so you'll need to navigate the menus using the physical buttons.
Regarding durability, the 10 ATM water resistance rating allows you to take this watch swimming and submerge it up to 100m depth in the water.
Now looking at its display, it features 1.4 inches of sunlight-optimized display and has a resolution of 280 x 280, which provides you a crisp and clear image even in the sunlight. Also, it comes with an always-on display.
The things that make Enduro unique from its competitors are its Power Glass and transflective memory-in-pixel (MIP) display which saves power and adds to the device's durability.
Fenix 7
The Fenix 7 design comes with the updated, ultra-tough athletic design and features a large 1.3 inches solar-charged display and 47mm case.
Amazingly, this is the first watch that combines the benefits of sunlight-harvesting Power Glass with tough crystal. Also, it is tested to U.S military standards for shock, thermal, and water resistance.
Regarding durability, Garmin Fenix 7 has the 10ATM IP rating, which means it can withstand a depth pressure of 100 meters or 10 atmospheres below water level.
Its screen functionality comes with a new responsive touchscreen interface for quick access to functions and selections. Also, it features the traditional button controls that work in any environment.
Now talking about the display, the Fenix 7 has a slightly lower resolution than the Garmin Enduro because it has the 260 x 260-pixel resolution transflective color LED display. However, it's still clear and easy to read in direct sunlight.
Fenix 7 also has an always-on display due to which your watch will remain on, no matter what you or your watch are doing.
Fenix 7 VS Garmin Enduro: Battery Life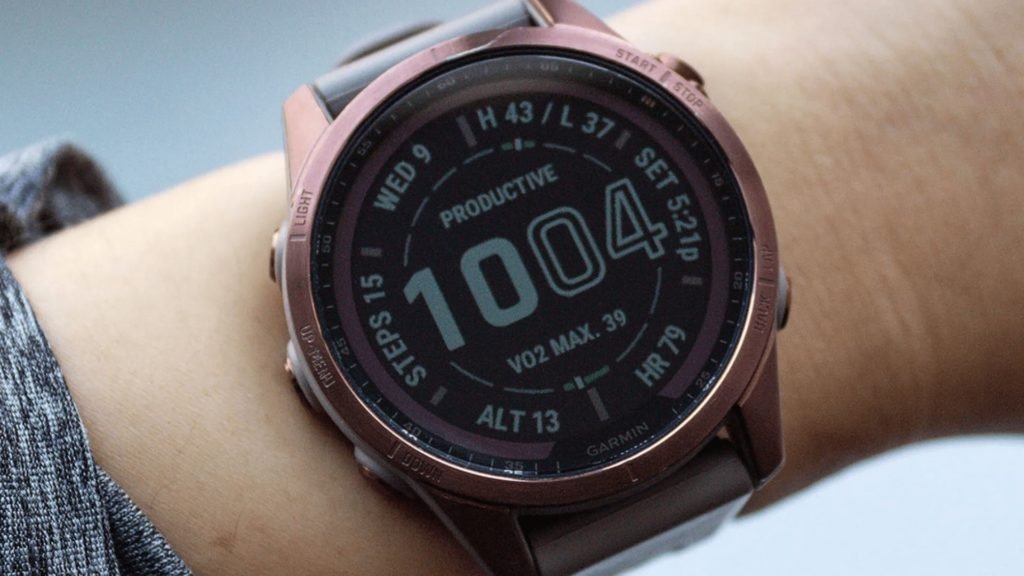 Garmin has a solid reputation when it comes to battery life. So that's something you need in an outdoor watch, which you don't need to charge repeatedly.
But there is a difference in the battery life of both watches. Below is the detailed battery life comparison of both watches:
Fenix 7
Regarding Fenix 7 battery life, Garmin promises solar charging, which can yield up to 22 days of battery life in smartwatch mode.
Up to 18 days in smartwatch mode / 22 days with solar

Up to 57 hours in GPS mode / 73 hours with solar

Up to 10 hours with GPS and music activity
Garmin Enduro
On the other side, Enduro has a solid reputation in the battery life department, and its extended battery life is also a key factor in its fame. Enduro leads in terms of battery life from Fenix 7.
Up to 80 hours in GPS mode

Up to 300 hours in max battery mode

Up to 65 days in smartwatch mode with solar charging
Garmin Enduro Vs Fenix 7: Price
In terms of price, Fenix 7 is the outdoor watch with military standard toughness, and Enduro is the best smartwatch with extended battery life. So, we can expect higher prices for both devices.
The Price of Garmin Enduro is $799.99
On the other side, Garmin Fenix 7 is more expensive than the Enduro, and this is because you get a military standards GPS watch full of fitness and health features.
The Price of Fenix 7 is $899.99
Fenix 7 Vs Garmin Enduro: Fitness And Health Features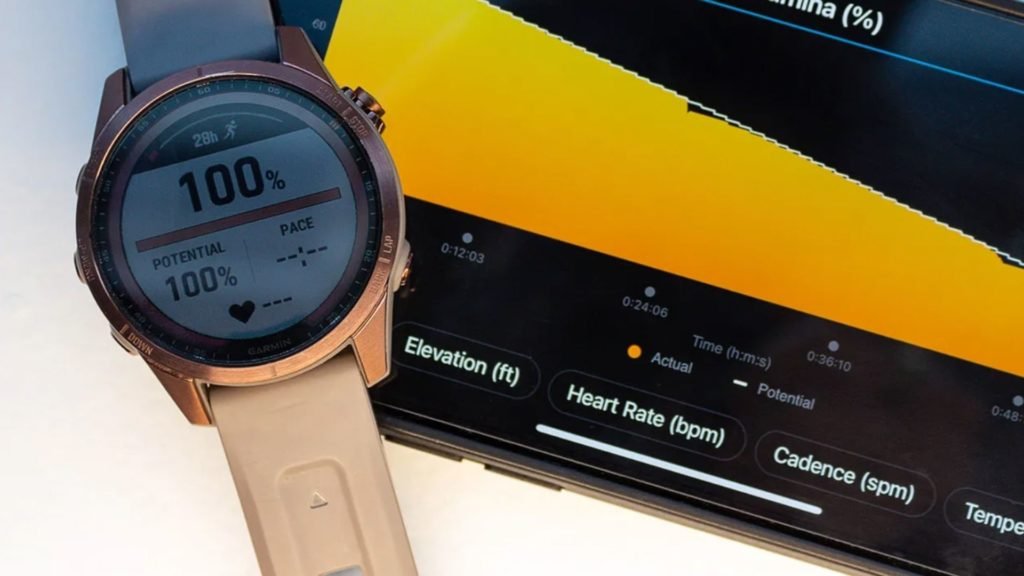 Garmin watches are the king of the market if we discuss outdoor features. These watches are enriched with numerous outdoor features that make outdoor activity easier.
Both the watches are a little different from each other in terms of fitness features. Garmin Fenix 7 comes with some extra fitness features. Below is a deep comparison of both watches' fitness and outdoor features.
Fenix 7
Fitness And Outdoor Features
In the fitness department, Fenix 7 comes with dozens of features that are just amazing.
Firstly, it has built-in sports so that you can use preloaded activity profiles for swimming, trail running, biking, running, rowing, skiing, golfing, surfing, indoor climbing, and more.
Secondly, it features HIIT workout, using which you can track your high-intensity interval training workouts, including Tabata, AMRAP, EMOM, and custom. Just set the number of rounds you want to perform, and that's it.
The MTB Dynamics features to track the details of every ride with mountain biking metrics. Also, you can track the specialized Grit and Flow measurement that will tell you trail difficulty and determine how smoothly you descend.
The most amazing outdoor feature we like in Fenix 7 is the Surf-ready feature which creates a video of every wave you ride in front of the Surfline camera.
Based on your overall fitness level and running history, the Visual Race Predictor will give you an estimate of what your pace could be for the distance you want to run. Also, its PacePro technology keeps you on pace with grade-adjusted guidance.
You can use the Real-time stamina feature to see your data and use this data to track and manage your exertion. This will help to avoid overexerting at the start of your bike or run.
The ClimbPro feature of Fenix 7 allows you to see real-time information on your current and upcoming climbs. This information includes elevation gain, distance, and gradient.
With the Multi-GNSS support, you can access multiple global navigation satellite systems, which include GPS, GLONASS, and Galileo. This will help you to track in a more challenging environment than GPS alone.
You can also navigate your next trail with ABC sensors, including a barometer for monitoring weather, an altimeter for elevation data, and 3-axis electronic compass.
Moreover, it has the Daily Workout Suggestions, which recommend you daily run and ride based on your training status and current training load.
Health Features
In the health department, Fenix 7 is beyond the limits. It is enriched with every health feature you can use to enjoy a healthy life.
Most importantly, it features a wrist-based heart rate with optical heart rate technology. This technology gauges activity intensity and heart rate variability as well. Also, it measures your stress level.
The Pulse OX Sensor allows you to monitor your sleep and altitude acclimation by using the light beams to gauge how well your body absorbs oxygen. With advanced sleep monitoring, you can fully break down your deep, light, and REM sleep stages.
The most amazing health feature of Fenix 7 that we like is Body battery energy monitoring, which can optimize your body's energy reserves, using stress, heart rate variability, and sleep to determine when you're ready to be active.
You can also track your respiration using the respiration tracking feature and see how you breathe throughout the day, and at night.
Moreover, it comes with the hydration tracking and health snapshot feature, using which you can record key stats and generate a report.
Garmin Enduro
On the other side of the coin, Enduro is also enriched with dozens of fitness, outdoor and health features. Below is a detailed guide to Enduro's features.
Fitness And Outdoor Features
In the fitness and outdoor department, most importantly, Enduro features UltraRun, which you can use with the rest timer and log the time you spend at the aid stations.
Secondly, it comes with Heat And Altitude acclimation. You can prepare yourself for any environment and see how your body is holding up in different environments with altitude and heat acclimation.
The Performance Metrics feature allows you to view the advanced training metrics, which include adjusted VO2 max, recovery advisor, running dynamics, etc.
With the Trail Run VO2 max feature, you can estimate the cardiovascular fitness level of trail runners. This is done by adjusting based on varying trail and terrain conditions which can affect your run performance.
The same fitness and outdoor features include daily suggested workouts, MTB dynamics, ClimbPro feature, Recovery advisor, Multi-GNSS support, navigations sensors, PacePro technology, and much more.
Health Features
Garmin Enduro has the same health features as Fenix 7, including Wrist-based heart rate, Pulse OX sensor, advanced sleep monitoring, body battery energy monitoring, respiration tracking, and hydration tracking.
This indicates no difference between the health features of both watches.
Garmin Enduro VS Fenix 7: Other Features
Rather than outdoor, fitness, and health features, both the watches come with other smart features. The details are given below:
Garmin Enduro
In the other features department, Enduro has a smart notifications feature. When paired with a compatible device, you can receive texts, emails, and alerts right on your wrist.
Secondly, it has Garmin Pay contactless payments, using which you can breeze through checkout lines via participating providers.
Most importantly, Enduro comes with safety and tracking features, so if your watch senses an incident, then this feature will send your location to the emergency contacts.
Last but not least, Enduro features Connect IQ store from which you can download custom watch faces and apps and add data fields.
Fenix 7
On the other side, Fenix 7 has almost the same features, including smart notifications, Garmin Pay, incident detection, and Connect IQ store.
Although there are music apps from which you download songs plus playlists. These apps include Deezer, Spotify, and Amazon Music.
Fenix 7 Key Features
Built-in sports apps

Backcountry SKI

XC SKI dynamics

Surf-ready features

MTB dynamics

HIIT workouts

Daily workout suggestions

Visual race predictor

PacePro technology

ClimbPro feature

Performance metrics

Real-time stamina

Multi-GNSS

Wrist-based heart rate

Pulse OX sensor

Sleep monitoring

Respiration and hydration tracking

Health SnapShot

Body battery monitoring

Smart notifications

Music apps

Garmin Pay

Incident detection
Garmin Enduro Key Features
Trail RUn VO2 max

UltraR

ClimbPro feature

MTB dynamics

Heat and altitude acclimation

Performance metrics

Recovery advisor

Daily suggested workouts

Multi-GNSS support

Navigation sensor

Sports apps

PacePro technology

Backcountry SKI

Surf-ready features

Wrist-based heart rate

Pulse OX sensor

Advanced sleep monitoring

Body battery monitoring

Respiration and hydration tracking

Smart notifications

Garmin Pay

Incident detection
Conclusion
After the deep comparison, we concluded that if you want some extra outdoor features, you should go with the Fenix 7. Otherwise, if you want some extended battery life, then Garmin Enduro is recommended.
Also, if you are a music lover on an adventure, then go with the Fenix 7. Lastly, also have a look at your pocket. Go with the Enduro if you have a tight budget. Otherwise, Fenix 7 is also an option.
About Author