Galaxy and Fitbit both announced their new flagship watches this month. And I know everyone is excited to get the best one for their wrist. 
The new Fitbit Sense 2 comes with some new features that make it a big competitor to Flagship Galaxy Watch 5. From built-in quality to fitness tracking, everything is amazing in both smartwatches.
In this comparison guide, we will deeply compare the Fitbit Sense 2 and Galaxy Watch 5 from every point of view so you will get the best smartwatch for your journey. So let's get started!
Galaxy Watch 5 VS FItbit Sense 2: Comparison Table
| | | |
| --- | --- | --- |
| Features | Fitbit Sense 2 | Galaxy Watch 5 |
| Dimensions | 1.5″ x 1.5″ w x 0.45″ h | 43.3 x 44.4 x 9.8 t  |
| Watch Case | Alumunium | Aluminium |
| Display  | 1.58" AMOLED  | 1.4" Super AMOLED  |
| Resolution | 336 x 336 pixels | 450 x 450 pixels |
| Water Rating | 5 ATM | 5 ATM |
| Battery Life | 6+ days | 48 hours |
| Mic/Speaker | Yes | Yes |
| BIA sensor | No | Yes |
| SpO2 | Yes | Yes |
| Skin temperature Sensor | Yes | Yes |
| Heart rate sensor | Yes | Yes |
| NFC | Yes | Yes |
| ECG app | Yes | Yes |
| Sport Modes | 40 | 90+ |
Fitbit Sense 2 vs Galaxy Watch 5: Design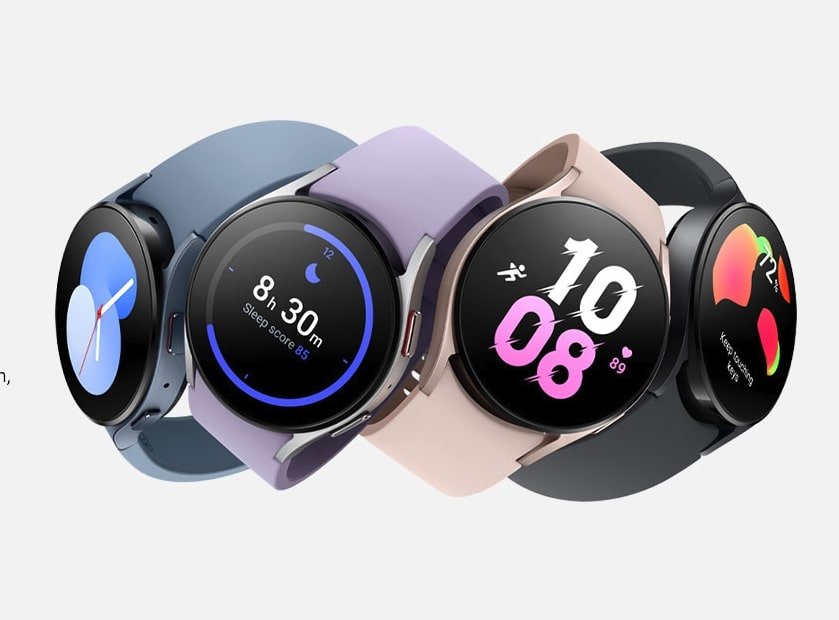 Starting from design, the Fitbit Sense 2 and Galaxy watch 5 opt for different paths. Sense 2 has a square dial, just like the original Sense. Whereas Galaxy Watch 5 follows the predecessor design, which is the circular dial. 
This time Fitbit has removed the aluminium ring around the dial, so you will get a more premium look. The Galaxy Watch 5 comes in an Aluminium armour case covered with Sapphire glass making it more durable than the Fitbit Sense 2. 
From the launch of the Galaxy Watch 3, it seems that the brand is focusing on durability. The new Galaxy Watch 5 has IP68 dust and water-resistant rating and is water resistant up to 50 metres. On the other hand, the Fitbit Sense 2 has no official IP rating, but it's 5ATM (50 meters) water resistant.
When it comes to comfort, the Fitbit Sense 2 feels more comfortable. Fitbit claims that the new Sense 2 is 10% thinner and 15% lighter than the previous model. 
On the other hand, Galaxy Watch 5 is made with heavy-duty material, that's why it's a little bulky and weighs 57g for its 44mm version. 
This time Fitbit has added a physical button which is much more efficient and easy to use than the haptic button in the original Sense. At the same time, GW5 has two physical buttons that control the functionality of your watch.
Fitbit Sense 2 comes in three beautiful colors; Shadow grey, Lunar White, and Blue mist. GW5 is available in Graphite, Silver, and Pink Gold color. 
Fitbit Sense 2 vs Galaxy Watch 5: Display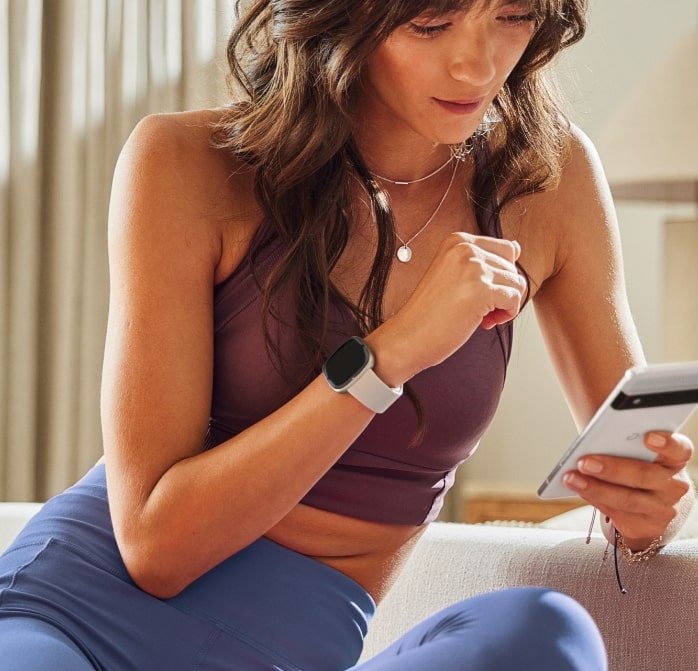 The display quality of both smartwatches is pretty much similar. The Fitbit Sense 2 comes with a 1.58″ AMOLED with 336 x 336 pixels. Sense 2 has a similar display to the original Fitbit Sense. 
Galaxy Watch 5 has a 1.4″ Super AMOLED display with a 450 x 450-pixel screen resolution. Samsung is an expert in making a super bright and crisp display. You will get a much more vibrant display in GW5 than the Fitbit Sense 2.
Both smartwatches come with hundreds of watch faces, and you can select any of them according to your outfit. 
Fitbit Sense 2 vs Galaxy Watch 5: Battery Life
This time we haven't seen major upgrades in the battery department. Under the hood, Galaxy Watch 5 includes a 410mAH battery. Whereas in the predecessor, you got a 361mAH battery lasting 40 hours. But GW5 gives you a maximum of 48 hours of battery backup.
On the other hand, the battery life of the Fitbit Sense 2 looks more long-lasting. But still, It doesn't get many big improvements. The new Sense 2 will give you 6 days of battery time. 
But in terms of fast charging, you will see amazing technology. Galaxy Watch 5 takes 30 minutes to charge from 0% to 45%. The Fitbit Sense 2 takes 12 minutes to get a full day charge.
The WearOS-powered Galaxy Watch doesn't give much effective battery performance, whereas the Fitbit Sense 2 wins the race. 
Fitbit Sense 2 vs Galaxy Watch 5: Fitness Features
Both Fitbit Sense 2 and Galaxy Watch 5 receive new fitness tracking features. Plus, the accuracy of previous features is also improved. With the advanced sensors, you will get accurate results on both smartwatches. 
But which is the best Fitness Tracker; Fitbit Sense 2 or Galaxy Watch 5? Let's explore!
Fitbit Sense 2
Sense 2 includes a new Improved SpO2 sensor that measures your blood oxygen level. It helps you to understand the overall wellness of your body. Like the original Sense, Sense 2 offers an ECG app to better understand your heart health. 
This time Fitbit also added an Irregular heart rhythm notification. Your smartwatch is continuously looking for irregular heart rate patterns and signs of AFib. In case of any irregular pattern, it immediately notifies you. In this way, you can take the necessary precautions. 
Similarly, it also has an improved stress management score. The latest breath app helps you to calm down and reduce stress. 
Fitbit Sense 2 also provides accurate sleep tracking tools along with Sleep Coach. The sleep tracking of Fitbit is much better than the Apple Watch. Using Sense 2, you can build good sleep habits. 
In sports features, Fitbit Sense 2 includes 20 new sports profiles as compared to the original Sense. Now you will get 40 sports modes, HIIT workouts, Cardio Fitness, and more. 
For diabetics patients, Fitbit Sense 2 introduces Blood Glucose Tracking (In-app only). You can generate a report of your activities and health features and discuss it with your doctor for better consultation. 
Other fitness features in Fitbit Sense 2 include Active Zone Minutes, Daily Readiness Score, Cardio Fitness Score, Steps, distance, and calorie tracking. 
Galaxy Watch 5
The new Galaxy Watch comes with many fitness tracking and health features. Samsung has introduced the new 3-in-1 BioActive curved sensor, and this technology tracks your heart rate very accurately. 
Apart from this, a Bioelectrical Impedance Sensor (BIA) reads your's body mass composition, skeletal muscle, body water, metabolic rate and more. Another sensor in Galaxy Watch 5 includes an Optical heart rate sensor which monitors your HR udder workouts and activities.
Compared to Fitbit Sense 2, the new Galaxy Watch 5 gives extra sensors like BoiActive and BIA. 
Similarly, the watch also includes improved sleep tracking with a new Sleep coach. It automatically tracks your sleep record for a few days and then creates a 5-week sleep program to improve your sleep habits. This is a big plus point in GW5 which the Fitbit Sense 2 doesn't offer.
Just like its predecessor Galaxy Watch 5 also includes an ECG app and Blood pressure monitoring, but this time, both features are much improved. Other health features are similar to Fitbit Sense 2, like SpO2, stress tracking, steps counting, calorie tracking etc.
On Fitbit Sense 2, you will get 40 different workouts, but Galaxy Watch 5 gives you 90 different indoor and outdoor exercises, along with HIIT and new yoga workouts. 
Fitbit Sense 2 vs Galaxy Watch 5: Smartwatch Features
Besides health and fitness, both smartwatches are loaded with many other features. There is a built-in GPS in both watches and a Google Map app, which helps you better navigate. 
You will also get a built-in voice assistant on both watches. The Fitbit Sense 2 includes Alexa, whereas GW5 features a Google Assistant. 
Both smartwatches support on-wrist BlueTooth calls. But Galaxy Watch 5 also offers an LTE version, so you don't require Bluetooth connectivity for calling. 
Another thing in GW5 is the QWERTY keyboard which is similar to Apple Watch 7. Using this keyboard, you can easily reply to text messages. 
A Google wallet in both smartwatches also helps you make purchases from your wrist with Google pay. Fitbit Sense 2 also includes a plus point for it. 
Fitbit Sense 2 vs Galaxy Watch 5: Price
From a price point of view, both watches fall in mid-range categories. And the price of both is pretty much similar, except the LTE model of GW5 is very expensive than Sense 2.
The new Fitbit Sense 2 is available for $299, similar to the original Fitbit Sense. Similarly. Galaxy Watch 5 price starts from $279 for its 40mm model and $309 for its 44mm model. 
Whereas GW5 40mm LTE variant costs you $329, and the 44mm LTE model is available for $359. 
Fitbit Sense 2 vs Galaxy Watch 5: Which One To Choose
Fitbit Sense 2 and Galaxy Watch 5 are both perfect fitness trackers. But when choosing one, which one should you go for?
If you are an Android user, then definitely Galaxy Watch 5 is the best option. Because of its durability, GW5 is perfect for outdoor enthusiasts. Similarly, it also includes 90+ sports modes.
On the other hand, the Fitbit Sense 2 is an expensive option. But this watch has a long-lasting battery and more health features. So if you are involved in indoor activities and tracking healing is your concern, then you should go for Fitbit Sense 2.
About Author