Today's comparison guide will discuss some major differences between forerunner 235 and Garmin instinct. In the end, we will also give you the recommendation to choose the one option.
Garmin Forerunner 235 and Garmin Instinct are the best watches that focus on outdoor enthusiasts. But there are some differences between their design, features, and price that makes one watch superior to another.
Garmin Forerunner 235 VS Instinct: Quick Overview
Garmin Forerunner 235 has a more sporty look, and it gives a wide range of sports and health features. Garmin Instinct doesn't have a lot of sports features, but it has insane durability and has a wide range of outdoor features.
Related Post: Garmin Forerunner 245 VS 645
Garmin Forerunner 235 VS Instinct: Comparison Table
| | | |
| --- | --- | --- |
| Features | Forerunner 235 | Garmin Instinct |
| Weight | 38.5g | 52g |
| Lens material | Gorilla glass 3 | Chemically strengthened glass |
| Bezel material | fiber-reinforced polymer | fiber-reinforced polymer |
| Physical size | 42.3 x 42.3 x 12.2 (mm) | 45 x 45 x 15.3 mm |
| Display size | 1.2″ | two-window design; 0.9" x 0.9" |
| Color display | Yes | No |
| Screen resolution | 240 x 240 pixels | 128 x 128 pixels |
Garmin Forerunner 235 VS Instinct: Design & Display
Garmin is the brand that focuses more on its design, as these watches are mainly used for outdoor environments.
Garmin Forerunner 245 and Instinct both look rugged and have durable nature. But the instinct series is considered the most durable Garmin watch series, and it looks more rugged. Whereas Forerunner 245 has a more sporty and stylish look.
Forerunner 235 has Gorilla Glass 3 lens material, and Instinct uses chemically strengthened glass that is more robust and has a high resistant nature. That's why Garmin instinct has a 10 ATM water rating, and Forerunner 235 is 5 ATM water resistance.
Because of its durable nature, Garmin Instinct weighs 52 g, whereas Forerunner 235 weighs 38.5g. But overall, both watches are comfortable to wear as both have a silicone band which is too soft and cosy.
The bezel of Garmin Instinct is thicker than Forerunner 235 and made up of fibre reinforced polymer. You will get five physical buttons to control the functionality of both watches.
So, if you are a person who is involved in some harsh outdoor work or activity, then Garmin instinct is a watch made for you. And if you are an athlete or love outdoor sports, Forerunner 235 is the best choice.
When it comes to display, Garmin Instinct has a custom, two window design of 0.9" x 0.9" (23 x 23 mm). And Forerunner 235 is a much bigger display of 1.2″ diameter that allows you to read the dial-in extreme sunlight conditions easily.
Both watches offer transflective memory-in-pixel (MIP) display type, but Garmin instinct lacks a color display which could be a downside. Moreover, Garmin Instinct has a screen protector, whereas Forerunner 235 lacks it.
Garmin Forerunner 235 VS Instinct: Battery Life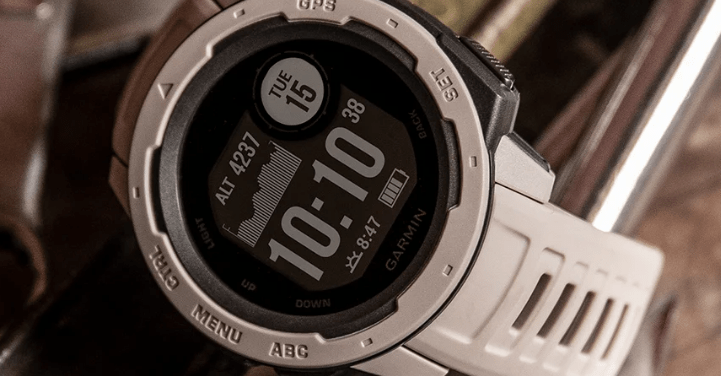 A simple rule of thumb says that the greater the number of features less would be the battery life and vice versa. The same rules apply in this comparison. Forerunner 235 has more sports and fitness features; that's why its battery timing isn't much stronger like Instinct.
The Garmin Instinct uses a monochrome display that doesn't drain the battery. It gives 14 days of battery timing in smartwatch mode and 16 hours in GPS mode. At the same time, Forerunner 235 battery lasts for 7 days in smartwatch mode and 24 hours in GPS mode.
Garmin Forerunner 235 VS Instinct: Price
Garmin Instinct and Forerunner 245 both fall in the mid-range watch category. The non-music version of Forerunner 245 is $110 more expensive than Instinct, but the solar performance of Instinct is much more costly than Forerunner 245.
The Garmin Forerunner 245 costs $299 for its non-music variant and $349 for its music variant.
On the other hand, Garmin Instinct is available for $189 for its standard version, and the solar performance of Instinct costs $399. So if you are on a budget, we recommend you go with the standard version for both watches.
Garmin Forerunner 235 VS Instinct: Health & Sports Features
| | | |
| --- | --- | --- |
| Features | Garmin Forerunner 235 | Garmin Instinct |
| Wrist based heart rate | Yes | Yes |
| Stress tracking | Yes | Yes |
| Built-in sports apps | Yes | Yes |
| Running dynamics | Yes | No |
| Pulse Ox sensor | Yes | No |
| Training status | Yes | No |
| Training load | Yes | No |
| Recovery time | Yes | No |
| Intensity time | Yes | Yes |
| Garmin Coach | Yes | No |
| Body battery energy | Yes | No |
| Steps counter | Yes | Yes |
| Calories burn | Yes | Yes |
| Floor climbed | Yes | Yes |
| Distance travel | Yes | Yes |
In the sports department, Garmin watches have a firm grip; that's why these watches attract a lot of athletes. The forerunner series contains the most exclusive feature for runners and cycling.
The Running Dynamics feature in forerunner 245 measures all the useful running metrics like cadence, stride length, ground contact and balance. All these features help improve your performance and work on your weak points.
Similarly, both watches have wrist-based heart rate monitors that monitor how hard your heart works during activities. This HR is used to evaluate your stress level, so you can find the best time to rest.
Being the best sports watch, Garmin Forerunner 235 includes a Pulse Ox sensor to measure blood oxygen saturation, training status, recovery time, intensity minutes and more, whereas Garmin Instinct lacks all these features.
Lastly, both watches come with preloaded activity profiles for running, swimming, hiking, MTB, etc.
Garmin Instinct VS Forerunner 245: GPS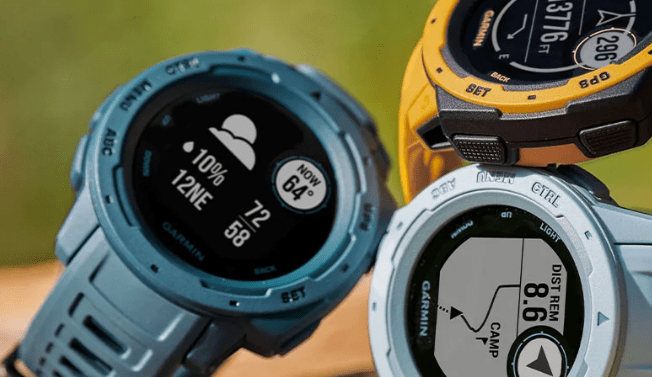 Garmin watches have superb connectivity features, and their GPS accuracy is better than the rest of the sports watch brands. But when it comes to Garmin Instinct and Forerunner 245, there is a difference in their connectivity.
The Instinct offers GLONASS and Galileo support and GPS to track more challenging environments. So if you are in a desert or any deserted area, the GPS of this watch will never leave you alone. Whereas Forerunner 235 only has GLONASS positioning, which is also good to track your sports activities.
Garmin Instinct VS Forerunner 245: Other Features
Apart from sports features, both watches have a lot of other valuable features. Firstly, Garmin Forerunner 235 offers safety tracking features, including live track, incident detection, and assistance, whereas Garmin Instinct only has a Live track feature.
Instinct is specifically designed for the outdoor environment; it offers some extra features like an Altimeter, barometer, and compass to measure direction and altitudes.
You will get notifications on both watches, but you can't reply to texts or calls via these watches.
Garmin Instinct VS Forerunner 245: Which One Is Best?
No doubt, both Garmin Forerunner 234 and Instinct are the best outdoor watches, but which one should you choose? If you are an athlete or interested in any outdoor sports, then Forerunner 235 is the best option. Whereas if you are a construction worker or involved in any harsh outdoor activity, Garmin instinct is the watch made for you.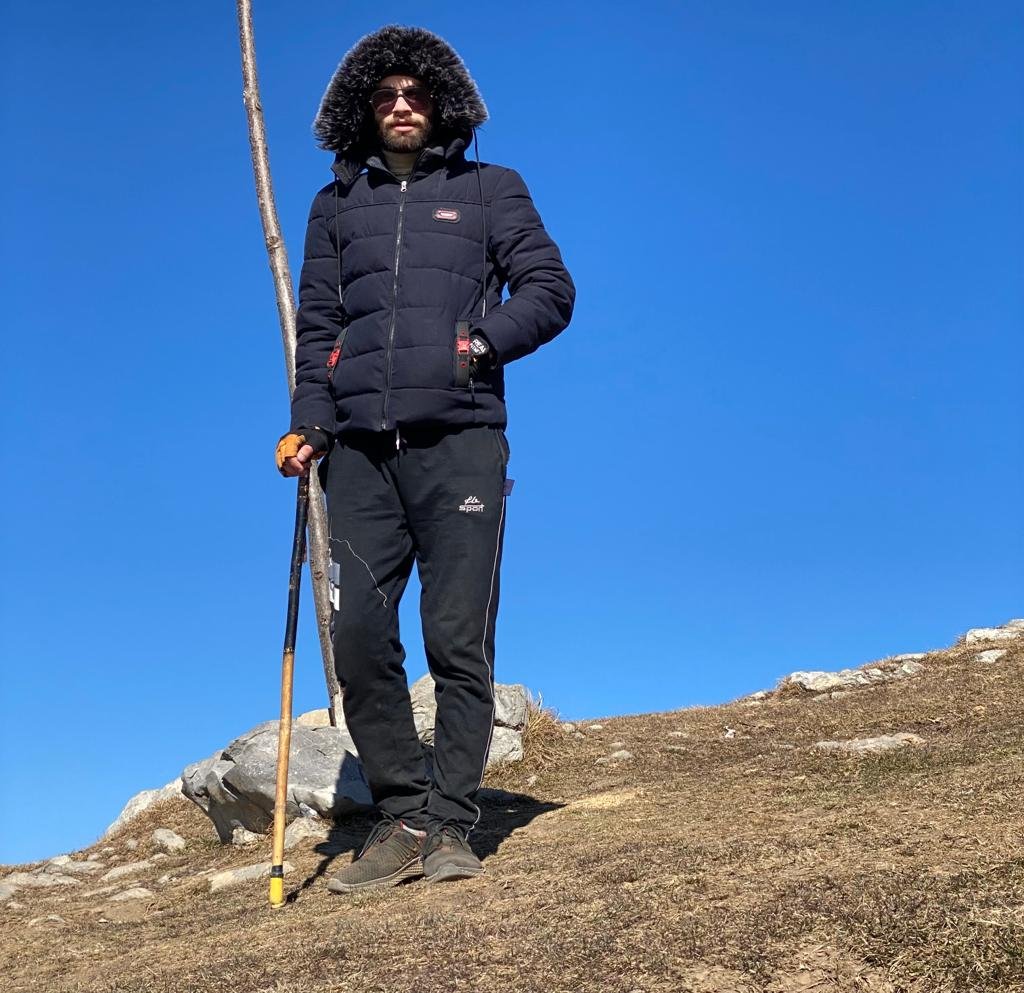 Hey! I'm Saad. My passion for tech wearables is true, and it started when my brother gave me a gift of a smartwatch.
I started Gorilla-FitnessWatches to give the latest and most reliable information to anyone who needed it. If you have any questions regarding smartwatches, fitness trackers, or smart rings, feel free to contact me.