The Garmin Forerunner series includes the best sports and running watches. Most athletes and outdoor enthusiasts opt for the Forerunners series.
In Forerunner series, Garmin Forerunner 245 and 645 are the most famous sports gadgets that give you premium sports and training features. Both watches are perfect for tracking outdoor sports activities and have accurate GPS tracking.
Although both Forerunner 245 and 645 similar offer features, there are some differences between both, making one watch the winner. Forerunner 645 is a more robust and durable watch because of its stainless steel bezel and also includes some extra outdoor features.
In this article, I will deeply compare all the features of both smartwatches and see which one suits you.
So let's get started!
Garmin Forerunner 245 VS 645: Comparison Table
| | | |
| --- | --- | --- |
| Features | Forerunner 245 | Forerunner 645 |
| Physical dimensions | 42.3 x 42.3 x 12.2 (mm) | 42.5 x 42.5 x 13.5 mm |
| Display Size | 1.2″ (30.4 mm) diameter | 1.2″ (30.4 mm) diameter |
| Display Resolution | 240 x 240 pixels | 240 x 240 pixels |
| Water Rating | 5 ATM | 5 ATM |
| Weight | 38.5 g | 42.2 g |
| Bezel Material | fiber-reinforced polymer | Stainless steel |
| GPS, GLONASS, GALILEO | Yes | Yes |
| Thermometer | Yes | Yes |
| Gyroscope | No | Yes |
| Barometric Altimeter | No | Yes |
| Pulse OX sensor | Yes | No |
| VO2 max | Yes | Yes |
| Body Battery Energy | Yes | No |
| Running Dynamics | Yes | Yes |
| Stress Tracking | Yes | No |
| Intensity Minutes | Yes | No |
| Recovery Time | Yes | Yes |
| Smart notifications | Yes | Yes |
| Live Track | Yes | Yes |
| Incident Detection | Yes | Yes |
Garmin Forerunner 245 VS 645: Design & Display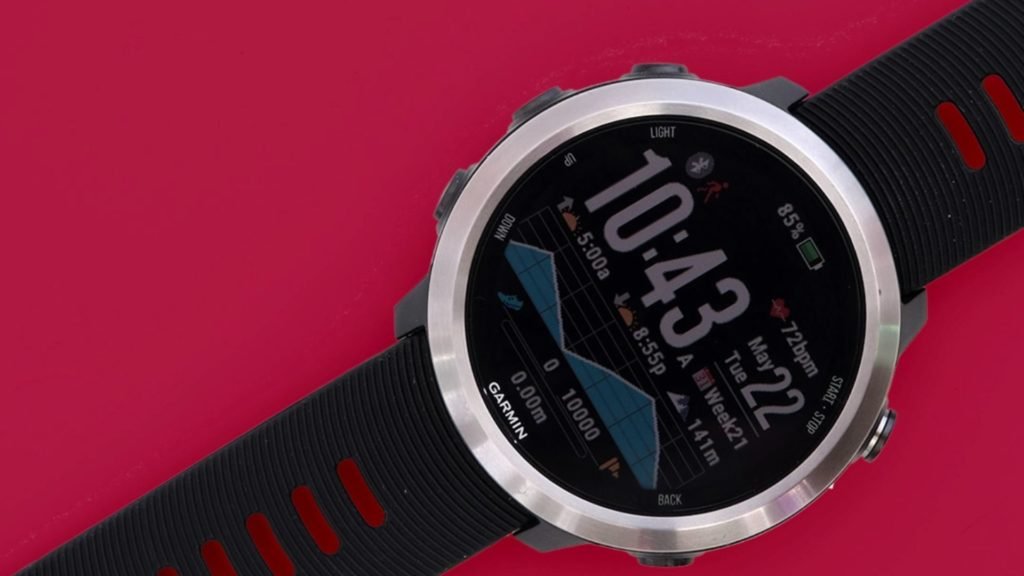 The major difference I have seen between both watches is the design; the Forerunner 645 looks more durable because of its stainless steel bezel, and it looks more premium. Where the plastic bezel on Forerunner 245 looks weird, but it's still much more durable.
Similarly, both watches have five side buttons allowing you to control the watch's functionality. Both have Corning Gorilla Glass 3 protection that protects the watch from unexpected scratches and dust.
Because of the 5 ATM water-resistant design, both watches can be used to track water activities. But only Forerunner 245 comes with an underwater wrist-based heart rate that allows you to track water activities more comprehensively.
When it comes to comfort, Forerunner 245 feels lightweight and comfortable, and it only weighs 38.5 g. Forerunner 645 42.2 g feels slightly bulky on the wrist because of the stainless steel bezel.
Regarding the display, both Forerunner 245 and 645 have a 1.2″ transflective memory-in-pixel display. There is no touch display; you must use a physical button to control functionality.
You will get a 240 x 240 pixels display resolution, and you can easily view the dial under direct sunlight.
Overall, Forerunner 645 is a little more premium in terms of build material and looks.
Garmin Forerunner 245 VS 645: Battery Life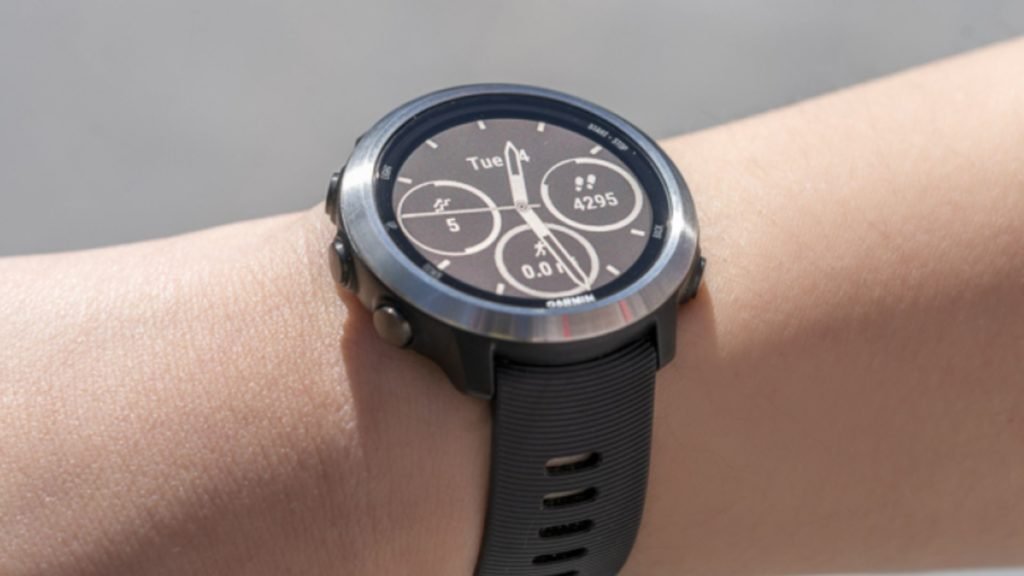 The battery life in Garmin watches usually longer than the rest of the watch brands. So, you can measure your outdoor performance for extended times.
The Garmin Forerunner 245 has an excellent battery and lasts seven days in smartwatch mode. Similarly, Forerunner 645 also gives similar battery backup in smartwatch mode.
But when it comes to GPS tracking, Forerunner 645 only gives 14 hours battery time, and Forerunner 245 lasts 24 hours in GPS mode. The fewer battery life in Forerunner 645 is because of its extra sensors.
Garmin Forerunner 245 VS 645: Price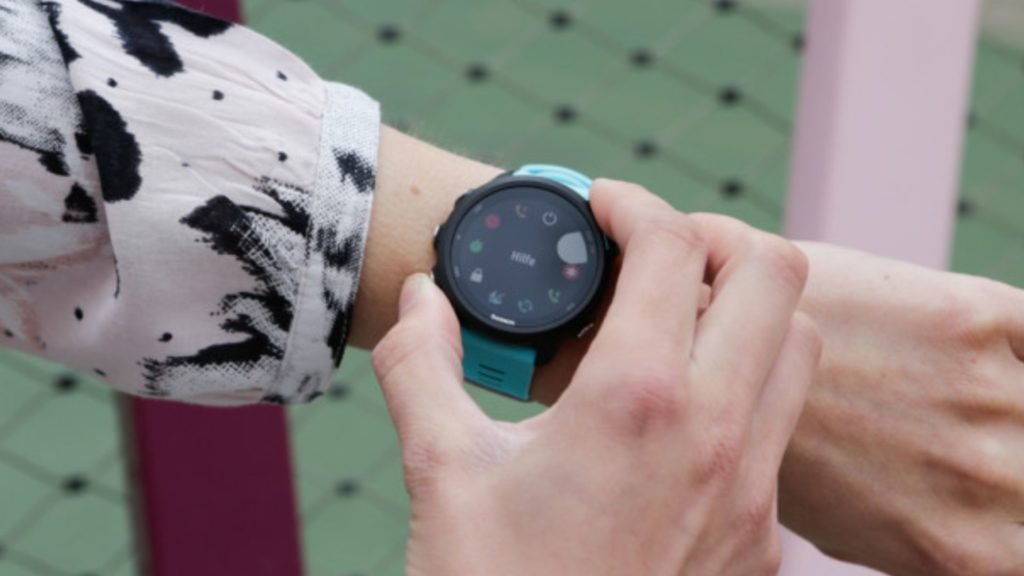 The price department has a big gap between Forerunner 245 and 645. Forerunner 245 is $100 cheaper than Forerunner 645.
Forerunner 245 will cost you about $299 for its non-music variant and $349 for extra music features. On the other hand, Forerunner 645 costs you $399 for the non-music variant and $449 for the music variant.
The higher price of Forerunner 645 is because of some extra sensors and premium design.
Garmin Forerunner 245
Advanced training features

Sync with music streaming services

7 days Battery life

Built-in GPS
Garmin Forerunner 245 VS 645: Training & Health Features
Most health and training features are the same on both Forerunner 245 and 645, but the 645 includes some additional outdoor features and sensors, making it more worth buying a watch.
Garmin Forerunner 245:
If you're a runner and want more comprehensive data, then Forerunner 245 is the best option for you. For runners, it includes running dynamics features that measure your cadence, ground contact time, stride length, vertical oscillation, vertical ratio, running power, pace, speed, and much more. Using all this data, you can easily improve your day-to-day performance.
Similarly, it also includes VO2 max, which describes your cardiorespiratory fitness. And SpO2 measures your blood oxygen saturation during activities and at night.
Further, it comes with useful training features like Training effect, training load, recovery time, and training status. Using all these metrics, you can estimate your wellness, check the history of your activities, and find the best time to rest.
Another important feature of Forerunner 245 is the body battery energy that Forerunner 645 lacks. This feature helps you to know about your body's energy levels. So you can plan your next workouts based on your energy levels.
A new training feature spotted in Forerunner 245 is Intensity minute, which is useful for fitness lovers. You should get at least 150 minutes of moderate-intensity physical activity each week. This will help you to improve your wellness and metabolic rate.
Forerunner 245 includes sports like running, walking, cycling, trail running, biking, swimming, cardio training, stair-stepping, rowing, yoga, and more. Plus, this watch also allows you to create a custom sports profile which is amazing.
Other health tracking features on Garmin include advanced sleep tracking, wrist-based heart rate, daily suggested workouts, calories counter, steps tracking, and more.
The built-in GPS allows you to accurately track your routes, distance, pace, and intervals. But Forerunner 245 doesn't include a gyroscope and elevation tracking feature, so you can't measure elevations, etc.
Forerunner 645:
I have been using Forerunner 645 for six months, which has amazing outdoor functionalities. Just like Forerunner 245, it also measures your running metrics more thoroughly.
The built-in Running dynamics feature track biomechanics measurements like cadence, stride length, balance, vertical oscillation, and ratio. Similarly, you can measure anaerobic health and VO2 max performance during outdoor training.
Unluckily, In Forerunner 645, you will not get a SpO2 sensor which is a downside. But still, there are enough training features like training status, load, and effect to estimate your performance.
Forerunner 645 is recommended if you're a trail runner, hiker, or biker because it includes elevation tracking, which accurately measures your elevation stats.
Similarly, Forerunner 645 has more sports profiles than Forerunner 245. You will get extra outdoor sports profiles like Skiing, XC skiing, snowboarding, stand-up paddle boarding, and more.
For females, It includes Women's health tracking that tracks their menstrual cycle or pregnancy. On Garmin Connect IQ, you can access different nutrition, education videos, log symptoms, and more.
Forerunner 645 also measures our hydration which is my favorite feature. It allows me to measure my daily water intake and keeps me hydrated and motivated.
Although Forerunner 645 includes all the useful health features, it still lacks a few important features. That's why Forerunner 245 gets more points in the health department, but in outdoor training, Forerunner 645 reserves the first spot.
Garmin Forerunner 645 VS 245: Other Features
Apart from health and training features, both watches include different smartwatch features and sensors.
First of all, both watches give GPS tracking so you can measure your routes. The GPS is paired with GLONASS for more accurate and quick navigation.
You will also get safety tracking features like live track and incident detection. Both watches automatically send an SOS to your emergency contacts in case of any emergency or incident. Forerunner 245 gives an extra assistance feature that is not present in Forerunner 645.
Similarly, Forerunner 645 includes an ABC sensor to measure direction, weather, and heights. But Forerunner 245 lacks these features.
Moreover, on both watches, you will get smart notification features, meaning you can view smartphone notifications on your wrist. Also, both watches include Garmin pay, thermometer, find my watch, calendar, stopwatch, and more.
Garmin Forerunner 645 VS 245: Which One You Should Buy?
It's a little difficult to decide which watch is best. Indeed both watches are the best sports watches. But when it comes to choosing one, I recommend you go for Forerunner 245.
Because this is an affordable option, and also this watch gives extended battery life in GPS mode. Similarly, the health features in Forerunner 245 are more than in Forerunner 645.
But if you are involved in outdoor training and elevation tracking is essential for you, then definitely Forerunner 645 is the best option. Also, it's more durable and specifically designed for harsh outdoor environments.
I hope this companion guide helped you in choosing the best option. You can ask me in the comment box if you have any questions or suggestions.