Amazon Halo VS Whoop: which fitness tracker is best for you? You're in the right place if you're curious about the one-to-one difference between these fitness trackers.
Whoop is one of my favorite fitness trackers that helps to track my sleep data, recovery score, strain and much more.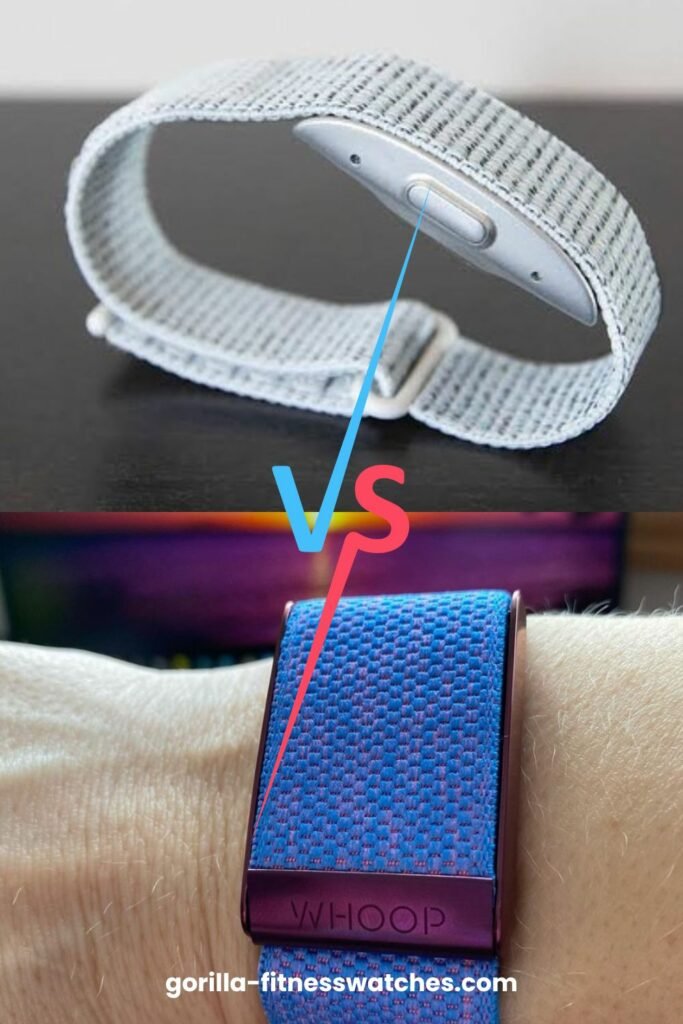 Amazon Halo is one of the big competitors of the Whoop tracker, and it also features sleep, activity tracking, body composition and Tone. Both fitness tracker seem excellent fitness gadgets; both lack screen and look similar.
There is a clear-cut difference between the tracker regarding features, data, and accuracy. And I have compiled this article to help you know which is more convenient for you.
Comparison Table
| | | |
| --- | --- | --- |
| Specs | Amazon Halo | Whoop Band |
| Display | No | No |
| Button | Yes | No |
| Steps Counter | Yes | No |
| Heart rate tracking | Yes | Yes |
| SpO2 | No | Yes |
| Body Composition Analysis | Yes | No |
| Recovery Features / Strain | No | Yes |
| GPS | No | No |
| Water Resistant | 50 meters | 100 meters |
| Battery Life | 7 Days | 5 Days |
| Subscription | $3.99/mo | $30/mo |
---
Amazon Halo VS Whoop: Design
Amazon Halo and Whoop strap are different from other fitness trackers, as both lack a display screen; you can only view data in your smartphone app.
Amazon Halo
Unlike the Whoop fitness tracker, Amazon Halo is more sleepy and has less width. On the left side, you will get a button that helps you to reset the device if needed, toggle on/off the microphone, and more. On the button's side are two microphones to analyze your voice tone.
Amazon Halo is a fully customizable fitness tracker. By default, it comes with fabric straps and has three color options: Onyx, Rose gold, and Silver. But Amazon officially offers dozens of silicone and soft-woven bands to choose from.
Unlike Whoop, it offers adjustable hook-and-loop fasteners that keep the band firm and comfortable. The textured and breathable band makes it more comfortable while outdoor sports activities.
Amazon Halo has water resistance up to 50 meters, so you can use it for swimming activities. But it's not recommended to use Halo for scuba diving.
Whoop
The Whoop tracker is wider than the Amazon halo. Similarly, the band's thick fabric makes it most suitable for sweaty conditions and sports activities. Unlike the Amazon Halo, Whoop has a clip above the dial, and it's very easy to adjust according to your wrist size.
The one thing that I like the most about the Whoop fitness tracker is its flexibility, you can use it with a chest strap, arm strap or on your ankle. At the same time, Halo is only made for the wrist.
Another big difference between Whoop and Amazon Halo is its water resistance rating; It is water resistant up to 10 meters, meaning it has greater resistance than Halo.
The Whoop has a button-less design, which might be a nightmare for Whoop users. You can control the whoop tracker via its dedicated app, and also, in the app, you can view all of your insights.
One of the big improvements in the Whoop fitness tracker is its battery pack, which comes with a whoop. The battery pack slides over the whoop and charges it even if you wear it.
---
Amazon Halo VS Whoop: Fitness Tracking
Both Amazon Halo and Whoop measure fitness activities. You can view your daily fitness stats and insights. But Whoop straps seem much more powerful in tracking your daily fitness routine. Let's have a look at fitness tracking features offered by both trackers.
Amazon Halo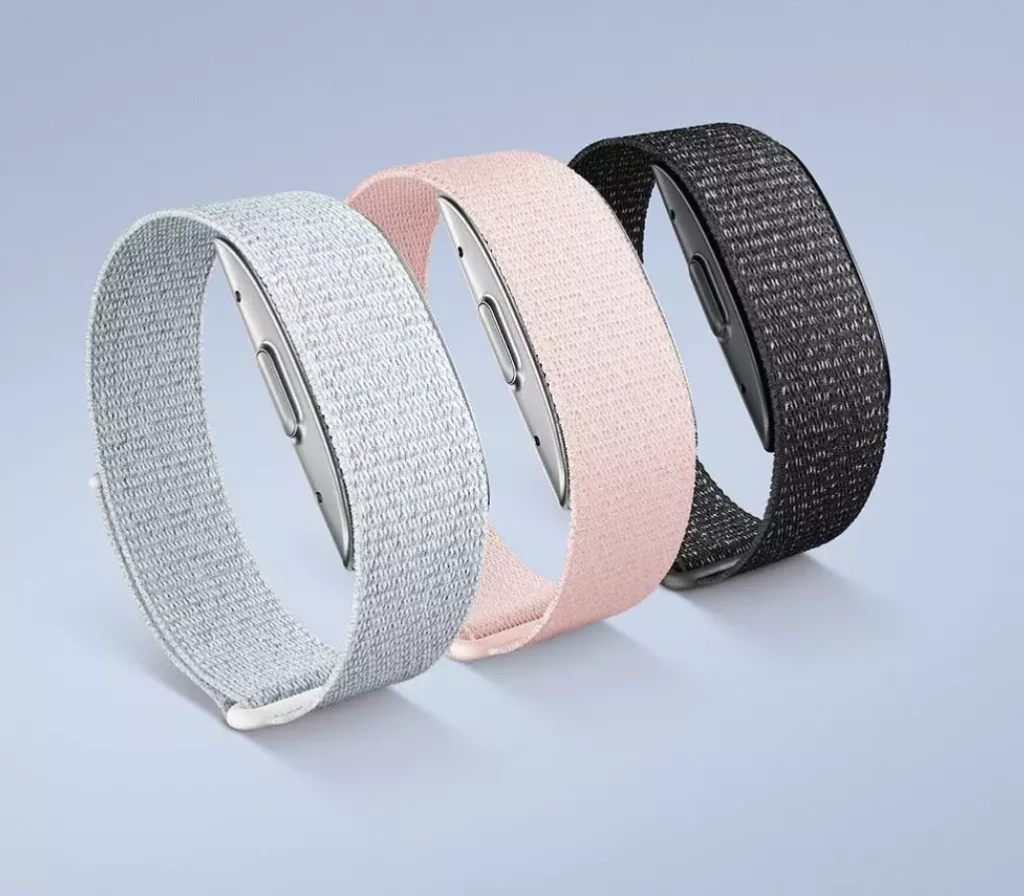 Amazon Halo is one of the most trending fitness gadgets to measure fitness routines. It has various fitness features but first, let's talk about its unique features.
Halo offers new tone features, which is an innovation in the market. The features collect your voice data, and its algorithms analyze your mode based on your voice. In the app, you can also access live mode, which lets you analyze your voice in real time. Four microphones in Amazon Halo capture your sounds all the time.
The second big feature of Amazon Halo is body fat composition. Even though the feature is available in Galaxy Watch 4/5, Halo tracks it differently. The Halo app uses your smartphone's camera to capture your 3D model, and then it tells you about your body fats, total mass, fat tissue, lean mass etc.
In terms of accuracy, you can't 100% believe the results, but you can analyze your health based on the trends.
The heart rate tracking with Halo seems pretty accurate. Halo is the best device for tracking your movements and their intensity. Even if you take your dog to the park, Amazon Halo will track it. Based on your daily movement, it gives you a unique score.
Halo is a week-based tracker rather than a daily based tracker. The Halo recommends you achieve an Activity score of at least 150 points each week.
Moreover, you can also track your workouts, outdoor sports and more. Halo includes various workout programs, sleep improvement programs, and nutritional courses that help you stay fit.
Whoop Strap
Regarding fitness tracking, Whoop is considered a superior fitness gadget to Halo. First, thanks to its recovery advisor, which tells me how much my body recovers after workouts and which time is more suitable for rest or sleep.
The second best thing in Whoop strap is the Strain score, which is very useful for cardio lovers and fitness enthusiasts.
The strain score demonstrates the amount of physical and mental stress you're putting on your body during workouts. In short, this feature measures your cardiovascular load during workouts.
Whoop also suggests doing more workouts and cardio to hit your daily fitness score.
Unlike Amazon Halo, Whoop tracks your SpO2 (blood oxygen saturation level) and skin temperature. You can also view your heart rate report during sleep and activities.
Whoop is so smart and intelligent, and it also tracks your daily behavior like stress level, diet, caffeine intake and more. And at the end of the month, it shares a monthly report that shows which negative behavior impacts your health the most.
In terms of activity tracking, Whoop automatically detects your activities. According to the official Whoop website, it can track more than 60+ activities.
On the Whoop app, you can also compare the sleep data and export your previous fitness data in a PDF file.
---
Amazon Halo VS Whoop: Sleep Tracking
| Feature | Amazon Halo | Whoop Strap |
| --- | --- | --- |
| Bedtime/Awake Time | Yes | Yes |
| Movement Tracking | Yes | N/A |
| Breathing Patterns | Yes | Yes |
| Sleep Efficiency | Yes | Yes |
| Room Environment Monitoring | Yes | N/A |
| Sleep Score | Yes | Yes |
| Respiratory Rate | N/A | Yes |
| Sleep Couch | N/A | Yes |
| Sleep Assistant | N/A | Yes |
First, let's compare the sleep-tracking features of both fitness trackers. Undoubtedly, people love to track their sleep, and both fitness trackers are perfect for this.
Let's talk about Amazon Halo sleep tracking capabilities, which work well. You can track your sleep patterns, bedtime, awake time etc.
The unique thing about Amazon Halo is environment monitoring which is also an important factor for healthy sleep habits. The feature measures the room's temperature, light intensity, humidity etc., which can affect sleep quality.
We change our positions at nighttime, and Amazon tracks all our movements. You can also view your breathing patterns, sleep efficiency, and rate while you sleep.
On the other hand, Whoop is a game changer regarding sleep tracking. It gives more comprehensive data on your sleep. Even the tracker features a smart sleep assistant that lets you know when you should sleep based on your recovery data.
The whoop strap measures your sleep and tells which affects your sleep score. The built-in sleep couch tells how much you sleep based on your baseline, recent strain, sleep dept, and recent naps.
While you sleep, the Whoop strap measures your respiratory rate and number of breaths per minute. The thing I like the most about Whoop sleep tracking is efficiency, which measures how efficiently you sleep.
If you want to improve your sleep habits, then the Whoop fitness tracker is the best option over Amazon Halo.
---
Amazon Halo VS Whoop: Battery Life
When it comes to battery life, Whoop strap lasts between four to five days on maximum performance, the battery life might vary depending on the usage.
But what I like the most about the Whoop strap is its charging puck or clip (whatever you say). The charging clip easily slides on the whoop, so you can charge it while running or cycling.
On the other hand, Amazon Halo can give up to seven days of battery life, but battery life might decrease when you turn on the Tune feature. The plus point of Halo is its fast charging, which takes around 90 minutes to fully charge the tracker.
---
Amazon Halo Vs Whoop: Apps
As you know, Amazon Halo and Whoop strap doesn't have any screen to view fitness stats, but you can view in-depth data regarding your fitness in their mobile phone's app.
Amazon Halo
On the Halo app, there are four different categories, including; Sleep, Activity, Tone, and Body scan. By tapping on any category, you can view detailed insights and data regarding that category.
Amazon Halo apps look user-friendly and show data via visuals and different graphs. Amazon Halo also includes different workout and sleep courses that help you to improve your performance.
Another amazing feature in the Amazon Halo app is the Live feature, which tracks your heart rate, and Tone in real-time. After recognizing your face and Tone, it tells whether you're confident, focused, dull, stressed or whatever feeling.
You can download your health data from Halo. Unluckily, Halo doesn't accept any third-party app compatibility.
Whoop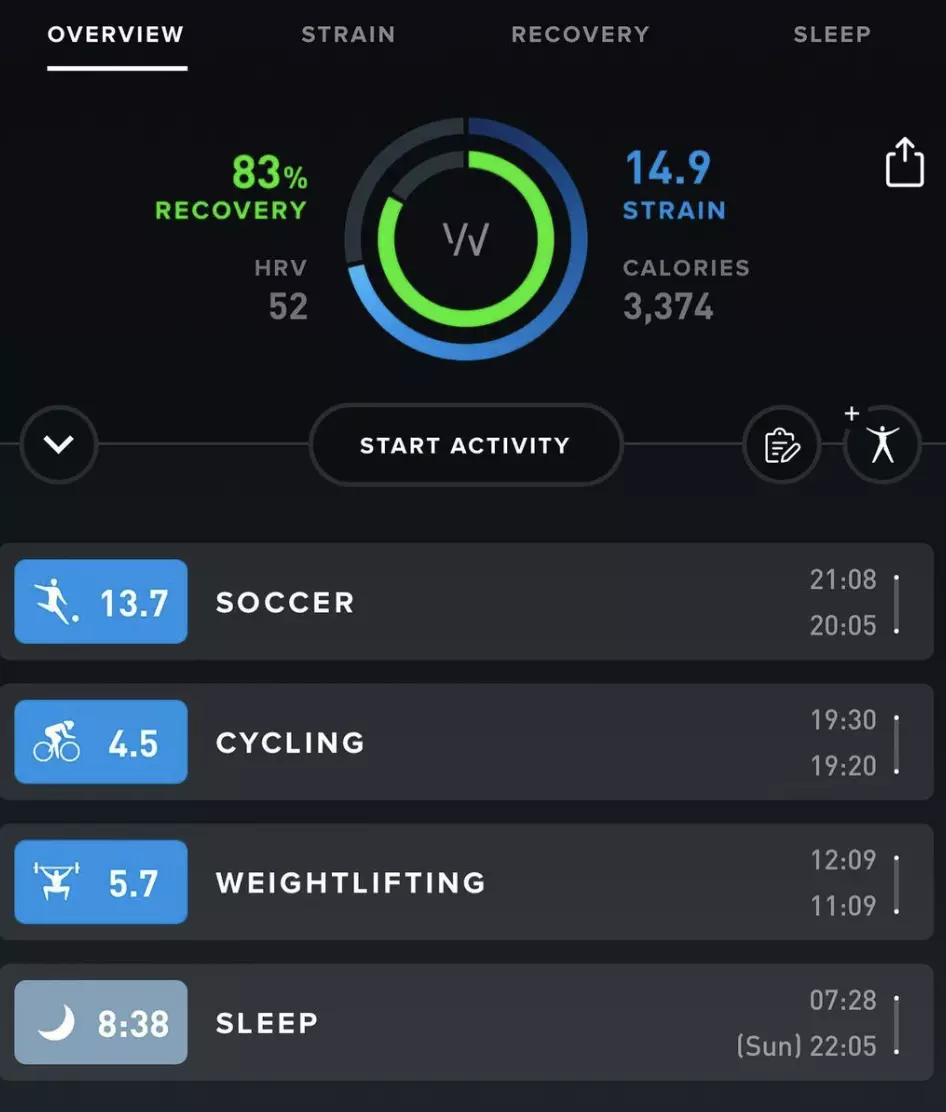 When it comes to Whoop, its app's interface looks very easy to read and use. On the top, you have your recovery data, strain score, calories, and HRV. Tapping any of the metrics will give you a detailed overview of that.
The Whoop app gives a more detailed overview of your data via different visuals. It focuses more on visuals than readings. You can easily compare your metrics, past data, and more.
On the front of the Whoop app, you can view your daily activities like cycling, running, swimming etc. Clicking on any activity will give a detailed overview of it.
The good thing about the Whoop app is that it's compatible with Strava, Apple Health, and Google Fit.
---
Amazon halo VS Whoop: Price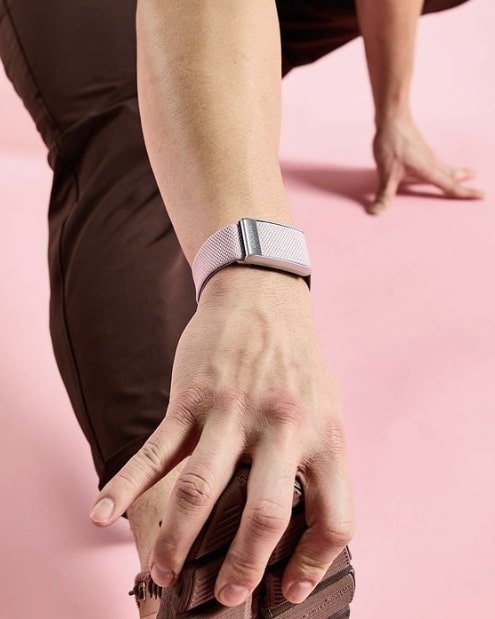 From the price point of view, there is a big difference between Whoop and Amazon Halo.
The Amazon Halo is available for $34, which is very affordable. Still, to access the high-end features like Guided Programs, Workouts, Movement Health, Scores, Nutrition etc., you have to pay a $4/month subscription.
The Whoop strap seems more expensive because it's only available on a monthly subscription, the Whoop Strap is free, but you have to pay a $30/month subscription to access the latest app updates, features, coaching programs, and more.
For an annual membership, Whoop cut its subscription up to $25/month. Similarly, 24 monthly membership costs you $20/month.
---
Final Verdict:
Last but not least, the Whoop Fitness tracker is the best option for tracking your daily workouts, cardio fitness, and other sports activities. The recovery and stain score on Whoop is worth it.
On the other hand, Amazon Halo is more like an entry-level fitness tracker. The Tone and body scan feature on Halo doesn't seems authentic or reliable, but you can trust the big spikes in trends. Otherwise, small ups and downs between the data or scores are negligible.
From the price point of view, the Amazon halo is worth considering, but here I talk about the quality and the features, and the Whoop strap is definitely a clear winner in tracking your health and fitness.
---
Video Guide
---
FAQS
Does amazon halo work with Apple health?
No, Amazon Halo doesn't work with the Apple Health app. Only Apple watches can sync data with Apple Health App. Halo has a dedicated app where you can see the data.
Does the Amazon halo come with a charger?
Yes, Amazon Halo comes with a charger; it has a standard USB Type A or USB connector that you can plug into any mobile adapter or wall mount. The other end of the charger has a unique design that is only compatible with Amazon Halo View.
Does amazon halo have GPS?
No, Amazon Halo lacks GPS. Also, it can't use phone GPS. That's why you can't track distance, or pace. You can only view your step count etc. 
Does amazon halo play music?
No, the Amazon Halo band doesn't have built-in speakers to play music. The Halo view, on the other hand, can control your smartphone's music because it has a touchscreen display. 
Does the amazon halo band have an alarm?
Yes, the Halo band has a vibrating alarm, which is not too effective but okay to wake you from naps. You can set the alarm from the Halo app on your smartphone. 
Does amazon halo band work with google fit?
No, the Halo app can't sync data with any third-party app. You can only view your health or fitness data in the Halo app on your smartphone. 
Does whoop have GPS?
No, Whoop has no built-in GPS, but it uses your phone's GPS to track distance, speed, latitude, longitude, etc. So while running, you must keep your smartphone in your pocket to get your phone's GPS data. 
How to cancel a whoop membership?
You can cancel the Whoop membership at any time you want. To cancel your Whoop membership, go to Whoop.com > Membership > Cancel your Membership.
Is the whoop strap better than the Oura ring?
Oura ring is different from Whoop fitness tracking. Oura ring is an entry-level fitness device, whereas Whoop gives comprehensive data on strain, recovery, and strength training activities. At the same time, the Oura ring is best for sleep tracking. 
Related Post: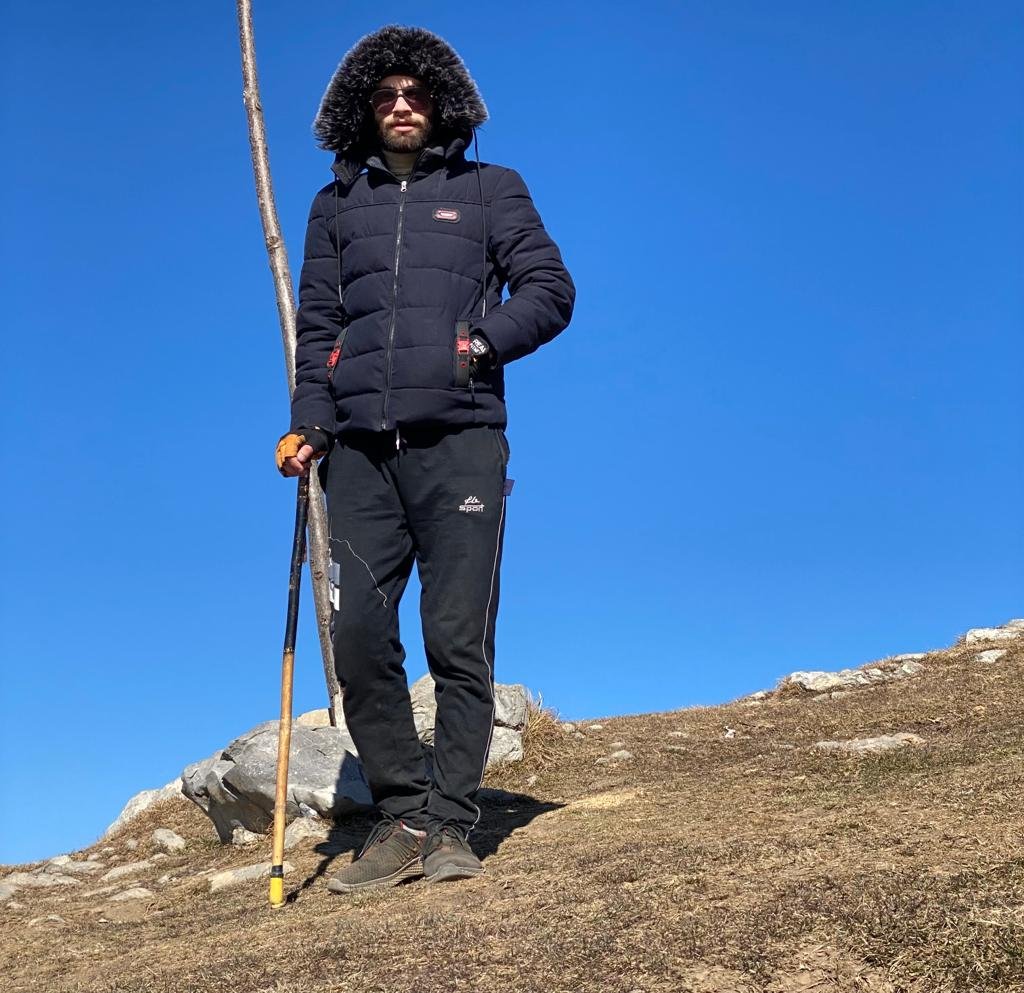 Hi, I'm Saad Dastagir. I'm a tech and fitness enthusiast who loves writing about smartwatches and fitness trackers. When I'm not testing out new gadgets, you can find me out on a hike or exploring new adventures. My passion for technology, fitness, and the great outdoors has led me to create a platform where I can share my experiences, insights, and reviews on the latest gear.