Garmin and Whoop are the two most competitive brands in the market. Garmin VS Whoop is one of the big competitions because both brands are struggling to provide the best information on your Sleep, training, sports, and daily fitness routine.
In a nutshell, Whoop is most focused on cardiovascular activities, and it always suggests doing strength training workouts, cardio, and other such activities to keep you active. And the whoop also deeply tracks these activities.
On the other hand, Garmin offers various smartwatches, each having different goals. But primarily, Garmin is focused on making outdoor wearables that track your performance outdoors, like cycling, running, swimming etc.
When it comes to weightlifting or cardio workouts, Whoop is the best option.
But still, you can't deny the actual power of Garmin; the brand not only offers health tracking features but under the hood, there are dozens of other features like GPS, NFC, smart notifications, live tracking, safety features, and much more.
So if you're curious about a suitable fitness tracker between Garmin and Whoop, we have deeply compared both brands, and at the end of this article, you will be able to find the best fitness tracker for your wrist.
Whoop VS Garmin: Sleep Tracking
| | | |
| --- | --- | --- |
| Feature | Garmin | Whoop |
| Sleep tracking | Yes | Yes |
| Sleep stages tracking (light, deep, REM) | Yes | Yes |
| Heart rate monitoring during sleep | Yes | Yes |
| Sleep score/rating | Yes | Yes |
| Smart wake-up feature (using sleep stages) | Yes | Yes |
| Sleep insights and suggestions | Yes | Yes |
| Integration with other apps/devices | Yes | No |
| Sleep Efficiency | No | Yes |
| Sleep Disturbances | No | Yes |
| Sleep Autonomy | No | Yes |
| REM Latency & Density | No | Yes |
| Recovery Score | No | Yes |
| Respiration Rate | Yes | Yes |
| Pulse Ox | Yes | No |
| Sleep Score | Yes | Yes (Colors) |
First, let's start with sleep tracking because most people want to improve their sleep habits. Even though Garmin and Whoop offer Sleep tracking, one gives more comprehensive insights into Sleep.
Whoop Sleep Tracking: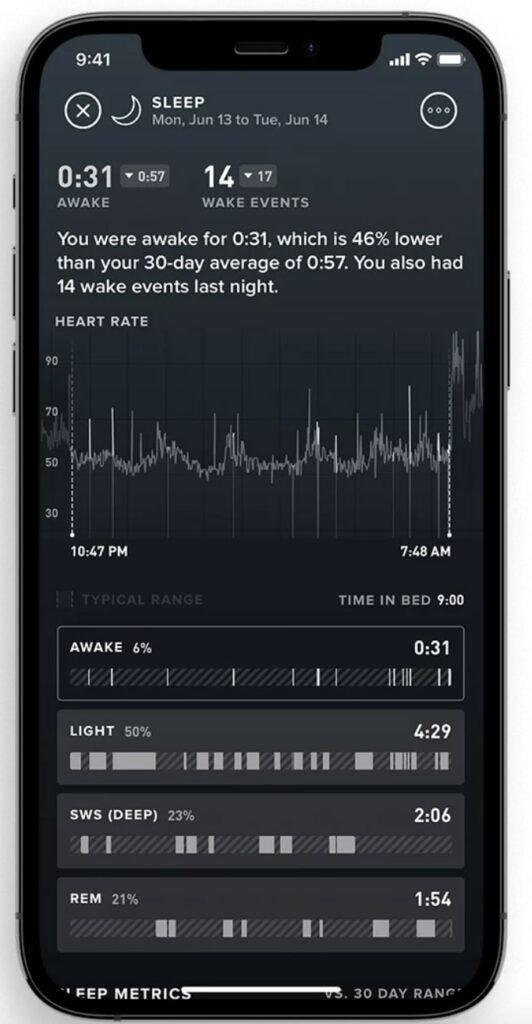 In the case of Whoop, it gives more comprehensive insights into your Sleep. It tracks your Sleep and tells how well your body recovers at night. Plus, it also puts light on strain score, which is a measure of cardiovascular exertion.
Whoop displays sleep scores in three colors; green, yellow and red. When the sleep score ring is green, it means you fall good asleep at night, the yellow light indicates some improvement, and a red light means a very small nap or poor sleep quality.
Another plus point in Whoop is the sleep couch, whereas Garmin doesn't offer a sleeping couch. The Whoop sleeping couch tells you how much sleep you need based on your daily workouts and activities.
On the Whoop app, you can see the data about sleep stages, respiratory rate, disturbance and more.
The sleep tracking system of Whoop is way better than Garmin and the rest of market leading smartwatches. Even the Whoop also track how efficiently you sleep at night. Because sometimes we have restless nights and continuously wake up.
Garmin Sleep Tracking:
Garmin offers various variants, and all of them can track your Sleep. But here we only talk about the average results of high-end and latest Garmin smartwatches.
Garmin also tracks your sleep stages like REM sleep, light Sleep, deep Sleep etc. A few of the high-end Garmin watches also track your Pulse OX score at night, which tells how your body absorbs oxygen at night.
Similarly, in the Garmin Connect app, you can also see respiration rate at night, HRV, and more. Based on your sleep score and other metrics, Garmin gives you a single sleep score, which is a quick overview of how well you fall asleep at night.
At night Garmin watches don't calculate how your body recovers while sleeping. Few high-end Garmin watches have dedicated training features that measure your recovery time, training load, etc.
Unlike Whoop, Garmin doesn't have any sleeping couch that can predict your Sleep and awake time. But few Garmin watches suggest the best time to rest based on your energy levels.
Overall Results:
In terms of Sleep tracking, whoop is a clear winner because of its smart data. The comprehensive data on Sleep make the Whoop band best sleep tracker on the market. It has a dedicated sleep couch, detailed insights on your Sleep, and recovery score. Whoop can suggest the best sleeping time by comparing data with your previous day's Sleep and daily activities.
On the other hand, Garmin is also a good option for sleep tracking, giving insights into your REM, light, and deep Sleep. It tracks your Pulse OX score, respiratory rate, and more during the night. But Garmin can't compete with a whoop regarding rich sleep data and a sleeping couch.
Garmin VS Whoop: Activity Tracking
| | | |
| --- | --- | --- |
| Feature | Garmin | Whoop |
| Automatic Activity Detection | Yes | Yes |
| Heart Rate Tracking | Yes | Yes |
| Steps Tracking | Yes | Yes |
| Calorie Burn Tracking | Yes | Yes |
| Distance Tracking | Yes | Yes |
| Strain Score | N/A | Yes |
| SpO2/PluseOX, Respiration rate, HRV | Yes | Yes |
| Outdoor Navigation Features | Yes | No |
| Training Readiness Score | Yes (on some high-end models) | N/A |
| Strain Coach | N/A | Yes |
| Suitable for | Outdoor Athletes | All-round tracking |
Both Garmin and Whoop are the host of sensors to measure your activities. Both of them can automatically track your activities.
Whoop can detect more than 97 activities, and you can see the detail of every activity on the app. Whoop measures your heart rate, steps, calorie burn, distance, and strain score during activities. 
On the other hand, Garmin Watches can't automatically detect all of your activities. It can only automatically detects running, cycling, swimming, hiking, and other major activities.
The plus point in Whoop is Strain Coach, which provides instant recommendations during your activities to reach your stain goal. The Whoop app also gives you a quick overview of your SpO2, Respiration rate, and HRV.
When it comes to Garmin, it's the best option for outdoor athletes. Garmin provides very detailed insights on your running, cycling or hiking. For runners, it gives a detailed overview of Running dynamics. Similarly, few Garmin watches efficiently measure your hiking because of the elevation sensors.
The plus point of Garmin is the built-in GPS; during outdoor activities, you can pre-plan routes, use navigational features, and more. At the same time, Whoop lacks these navigational features.
A few high-end Garmin watches also show a Training Readiness score that tells you how ready your body is for the next training or workout.
Garmin VS Whoop: Durability & Water Resistant
When it comes to design, Garmin watches are the clear winner. Garmin's major focus is making durable watches that survive in harsh environments. Whoop is not too durable, but Whoop resistant is water resistant to 10 meters. It means, you can wear Whoop while swimming or showering.
Whoop bands are made of microfilament yarn which is comfortable and water-resistant.
On the other hand, most Garmin Watches are water resistant up to 50 meters, which is suitable for swimming but not recommended for diving. The few high-end Garmin watches like Garmin Forerunner 945, the Garmin Fenix 6, and the Garmin Quatix 6 are water resistant up to 10 meters.
In terms of material, Garmin watches are made with a fibre-reinforced polymer case, while the lenses are made of Gorilla glass or Sapphire crystal. Garmin watches are fully scratch and dust resistant.
Garmin VS Whoop: Battery Performance
Both Whoop and Garmin offer decent battery performance. But Garmin watches again dominate this department. As I have already mentioned, Garmin watches are outdoor watches that offer extended battery life.
Contrary, Whoop Fitness trackers also offer good battery life. Whoop fitness tracker lasts up to 4 to 5 days on a single charge. But the big advantage of Whoop is its charging mechanism. Whoop comes with a tiny Charger that slides on top of it, and you can charge the device while using it.
On the other hand, the battery life of Garmin watches may vary from model to model. The Fenix series offers the most extended battery backups. The Fenix 7 can last up to 18 days in smartwatch mode. But one thing I have noticed about Garmin watches is that they all offer a battery life of more than 7 days.
Similarly, if you're a travel enthusiast, you can opt for a solar version of Garmin watches that give extra long battery life.
Garmin VS Whoop: Price
There is a big difference between the pricing of Whoop and Garmin. Before buying the Whoop fitness tracker, keep in mind that Whoop is available on a monthly membership. The monthly subscription to Whoop will cost you $30/per month. You can also pay yearly, which is $324.
On the other hand, for Garmin watches, you have to pay one time. The price range of Garmin watches is fairly higher than Samsung or Apple watches. But you will get an excellent Garmin watch between $400 to $700 budget.
In a nutshell, When you compare the ROI of both watches, Whoop fitness trackers cost you more. After 3 years of use, Whoop costs you about $972, and in this budget, you can get Garmin Fenix 7X Sapphire, the top-end Garmin watch.
Garmin VS Whoop: Companion App
To view your health or fitness data, you must install a companion app forth Whoop and Garmin. Even though you can view a few simple stats on Garmin watches, you must install the Garmin Connect app to analyze data comprehensively.
Both Whoop and Garmin Connect apps offer a user-friendly interface. The Whoop interface looks easier and more attractive because of the sharp color visuals.
On the top of the Whoop app, you will see your Strain and Recovery score and house of Sleep. The Garmin Connect app shows Recovery, Training Readiness, and HRV status.
Garmin Connect app has additional features like Garmin pay option, LiveTrack for sharing activity, free online fitness community, and more. You can sync your Garmin Connect data with another third-party app like Strava, MyFitnessPal etc.
Related Post: Whoop VS Amazon Halo
Garmin VS Whoop: Final Verdict
Garmin and Whoop fitness trackers provide a plethora of information regarding your fitness tracking. But one thing you should remember before buying any of them is the price. Whoop is available on a monthly subscription, whereas for Garmin watches, you have to pay one time.
Garmin offers full-featured watches on display, so you can see time, and date, use it for contactless payment, GPS navigations, and more. At the same time, Whoop is a heart rate sensor that measures your Sleep, strain score, and recovery.
Garmin is a better option for you if you're an outdoor enthusiast. At the same time, Whoop is best if you want to improve your sleep habits and stay active.
About Author