A smartwatch with long battery life allows you to track your fitness journey for longer.
But Mostly smartwatches in the market offer average battery life, lasting between 1 and 2 days. Even big brands like Apple don't provide watches with extended batteries.
A few brands, like Garmin, Fitbit, and Amazfit, offer smartwatches with extra-long battery life.
I have tested and used dozens of smartwatches in the past few months. Based on my experience, I'm compiling this guide to help you find the best smartwatch to give you a long-lasting battery.
So let's get started!
In A Hurry! Here Are Our Top Picks…
| Image | Title | Price | Warranty | Buy |
| --- | --- | --- | --- | --- |
| Top | Garmin Instinct 2 GPS Rugged Outdoor Smartwatch | | https://www.garmin.com/en-US/legal/consumer-limited-warranty/ | Buy Now |
| Top | Garmin fenix 7X Sapphire Solar | | 1 year limited warranty | Buy Now |
| Top | Amazfit Band 7 Fitness & Health Tracker | | 1 year manufacturer | Buy Now |
Product prices and availability are accurate as of the date/time indicated and are subject to change. Any price and availability information displayed on [relevant Amazon Site(s), as applicable] at the time of purchase will apply to the purchase of this product.
Prices pulled from the Amazon Product Advertising API on:
Top Best Smartwatches With Long Battery Life
Features:
18 days of battery life
10 ATM water rating
79g weight
GPS with GLONASS
Barometer
Storage for 2000 music
Safety tracking features
One of the best smartwatches with long battery life is Garmin Fenix 7, and it gives you 18 days of battery backup in smartwatch mode.
Fenix 7 also comes in a solar variant that gives extra battery performance than the standard version. The Fenix 7 solar variant lasts for 22 days. If you're a person who is always on the go or an outdoor worker, then Fenix 7 solar version is the best option.
In GPS mode, Fenix 7 also provides exceptional battery performance than its predecessor. You can use Feenix 7 in GPS mode for 57 hours which is enough for outdoor adventures.
Fenix 7 has a strong grip on the battery department, which also includes battery saver mode, which lasts for 57 days. And the solar version of Fenix 7 gives 173 days of battery timing in battery saver mode.
Moreover, Fenix 7 brings MTB dynamics features for bikers that measure biking metrics and trail difficulty.
There are tons of sports profiles available in Fenix 7. Plus, you can also create a custom sports profile. All the data of your training and sports activities will sync with Garmin connect app, where you can see your daily performance more comprehensively.
There is a built-in recovery advisor that lets you know whether you're ready for the next workout or need some rest.
Fenix 7 is not only just a sports watch but also a virtual coach that gives daily workout suggestions based on your previous training record and training status.
After sports features, Fenix 7 also includes an advanced health tracking feature to measure your health condition. The core health feature in this watch is the pulse ox sensor that measures your blood oxygen level during activities and at night.
The upgraded wrist-based heart rate sensor measures your real-time heart rate and gives you HR alters. The heart rate sensor also calculates stress data based on your heart rate variability.
Sleep tracking on Fenix 7 is also excellent; you will get a full breakdown of your sleep data. You can use this watch to improve your sleep habits.
There are a lot of other health features in Fenix 7 like Body battery energy, respiration tracking health snapshot, calories tracking, elevation tracking and more.
If you are a pro athlete, Fenix 7 is the best smartwatch, which is overloaded with health and training features.
Garmin fenix 7X Sapphire Solar
Long-running solar powered multisport GPS watch

28 Days of battery life

Real-time stamina tracking, training status, advanced performance metrics

Get 24/7 health and wellness monitoring with wrist-based heart rate, Pulse Ox

Navigate the outdoors with a higher level of positioning accuracy

TopoActive maps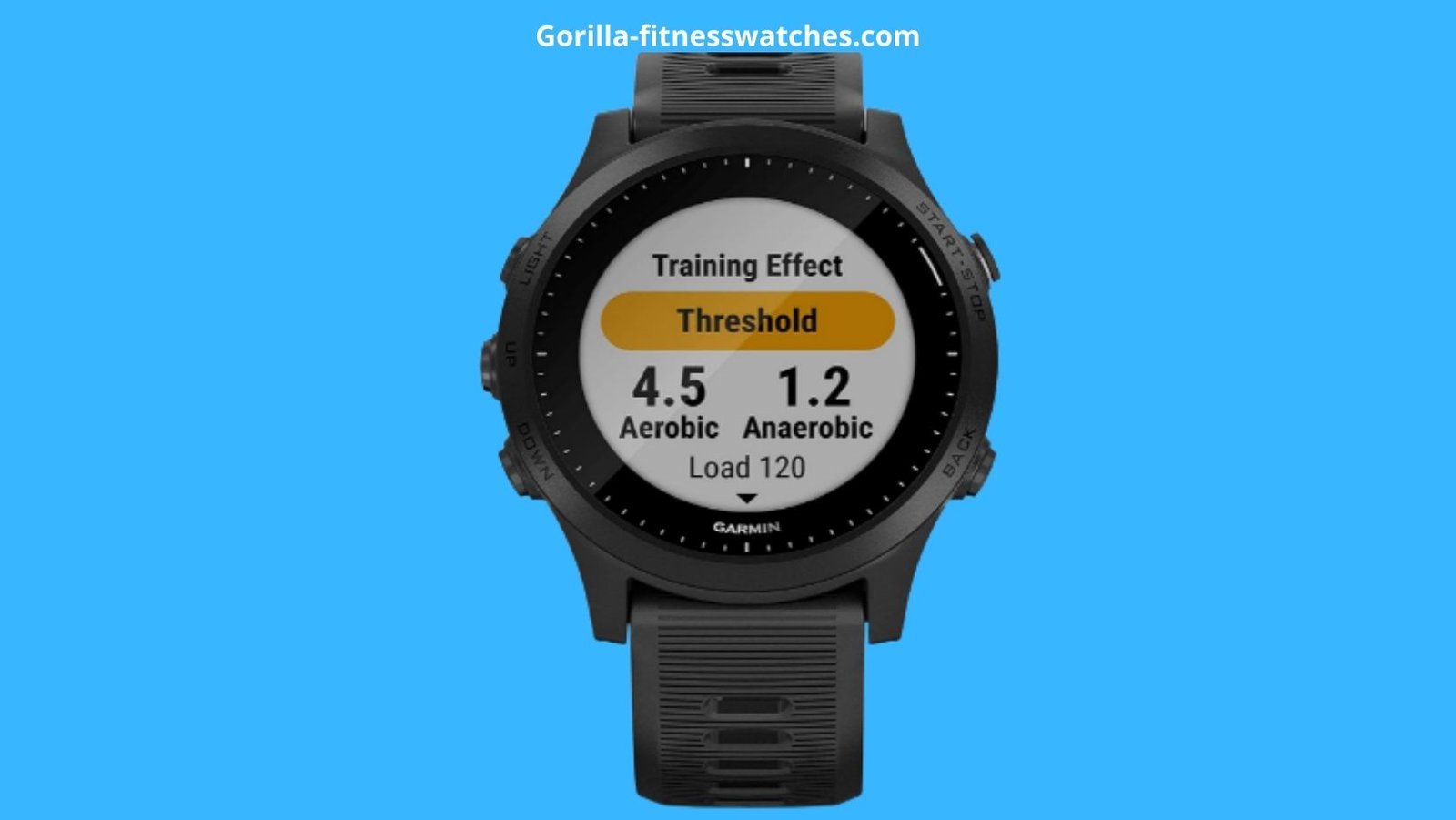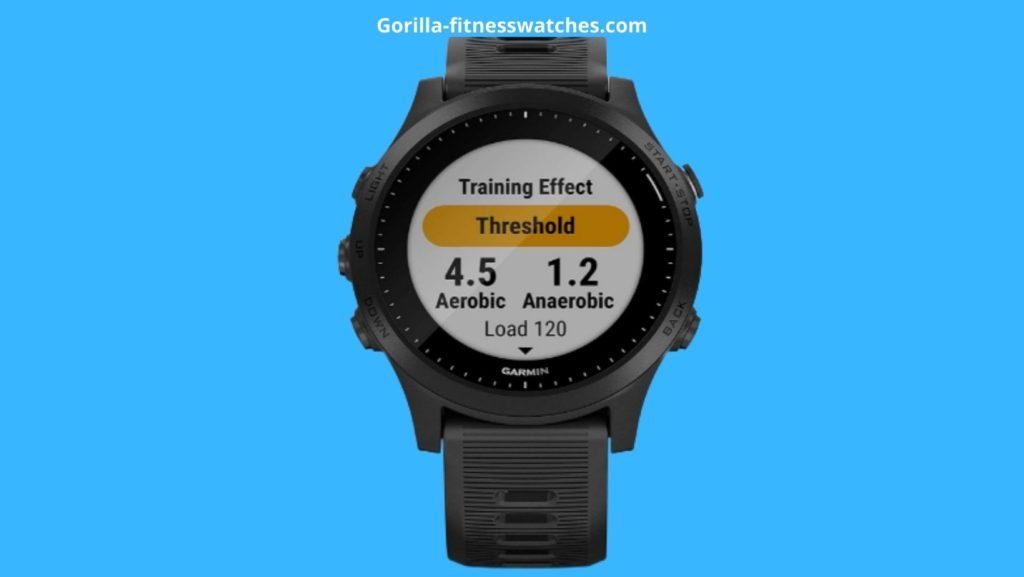 Features
2 weeks of battery life
5 ATM water rating
Corning Gorilla Glass DX
50 g weight
GPS, Compass, Barometer
LiveTrack
Cardio workouts
Garmin Forerunner series is best known for offering long-lasting batteries. The Forerunner 945 is a high-end Garmin watch which is a little expensive but gives 2 weeks of battery backup on a single charge.
Forerunner 945 is the best battery life smartwatch for hikers and outdoor enthusiasts because it lasts 36 hours in GPS mode.
For making phone-free calls, texting Forerunner 945 includes an LTE feature.
The LTE variant gives less battery performance than the standard one. If you use the LTE feature with GPS, your watch will only last up to 10 hours. But you can also turn off the LTE feature if you don't need it; in such a scenario, it lasts 35 hours in GPS mode.
Forerunner 945 is made for people working in side areas where it's difficult to charge your watch. Similarly, the watch also performs well for pro adventure enthusiasts.
There is a 1.2" screen, which is protected with Corning Gorilla Glass Dx, and the case is made of fire polymer that looks like plastic. Overall, Forerunner 945 doesn't give much premium looks like Fenix 7, but still better than its predecessors.
Forerunner 945 is specifically made for pro runners and cyclists. To track your moves, this watch includes an upgraded accelerometer that gives more accurate results. Whether a trail runner or indoor runner, Forerunner 945 tracks your performance very efficiently.
It has a lot of running profiles like outdoor track running, Treadmill Running, indoor running, virtual running, and ultra running. Like other Forerunner watches, it also includes a Running dynamics feature so you can measure your running in detail.
For cycling, Forerunner 945 includes different profiles like indoor biking, biking, trail biking, e biking and mountain biking.
The watch includes a special cycling feature called Cycling power. To use this feature, you must connect your Garmin with a power meter to track your rides more efficiently.
Enjoy Music On Your Wrist
To keep yourself motivated, you should listen to music while training. Luckily Forerunner 955 includes built-in storage for music that allows you to store up to 1000 songs on your device.
You must connect your watch with any BlueTooth headphones for phone-free listening. You can also download and stream music from Amazon Music, Spotify, and Deezer.
Garmin Forerunner 945
Excellent GPS
Lot of Space to Store songs
Free EarsBuds
POWER PACK Feature
Long battery life
Prices pulled from the Amazon Product Advertising API on:
Product prices and availability are accurate as of the date/time indicated and are subject to change. Any price and availability information displayed on [relevant Amazon Site(s), as applicable] at the time of purchase will apply to the purchase of this product.
Features:
270 mAh battery last for 15 days
Microphone and speaker
Aluminum alloy body
31.2 g weight
126 sport modes
Advance sleep tracking
If you're on a budget but still want a smartwatch with the best battery life, then Amazfit GTS 4 is the best option. This Amazfit watch is lightweight and comfortable, so you can easily wear it throughout your day.
Amazfit claims that this smartwatch will work for 15-days on a single charge which is impressive. There is a 270 mAh battery that gives the best performance. Amazfit also introduced battery saver mode for minimal battery drainage, and you can use your watch for 45 days in this mode.
GTS 4 mini supports magnetic charging, but this watch has no fast charging feature. It takes about 2 hours to fully charge the battery.
Amazfit GTS 4 Mini gives 1.65" of AMOLED display that looks much brighter. You can easily view the dial under direct sunlight. The screen is tempered glass that protects your watch from scratches and dust.
Sports & Health Features:
Amazfit GTS 4 mini also performs excellently in the health tracking department. Especially the Zepp app gives more comprehensive detail of your daily fitness data.
There are over 120+ sports modes, including running, cycling, yoga, treadmill, hiking, and more. The watch also includes VO2 max, which tracks your maximum oxygen uptake during workouts. You can also track your Aerobic and Anaerobic performance on this watch.
For fitness enthusiasts, there is a PAI Health Assessment System. PAI takes data from your daily activities and converts all the data into a single score. So you can improve your daily PAI score to achieve fitness goals.
Amazfit GTS 4 mini also includes Women's health tracking. The watch measures cycles and menstrual periods and gives predictions for upcoming periods.
Amazfit GTS 4 Mini Smart Watch
【Position with Precision】

【Alexa Built-in & Powerful Zepp OS】

【Health Made Effortless】

【120 plus Sports Modes & Smart Recognition】

【Swim with Confidence】

【Long-lasting Enduran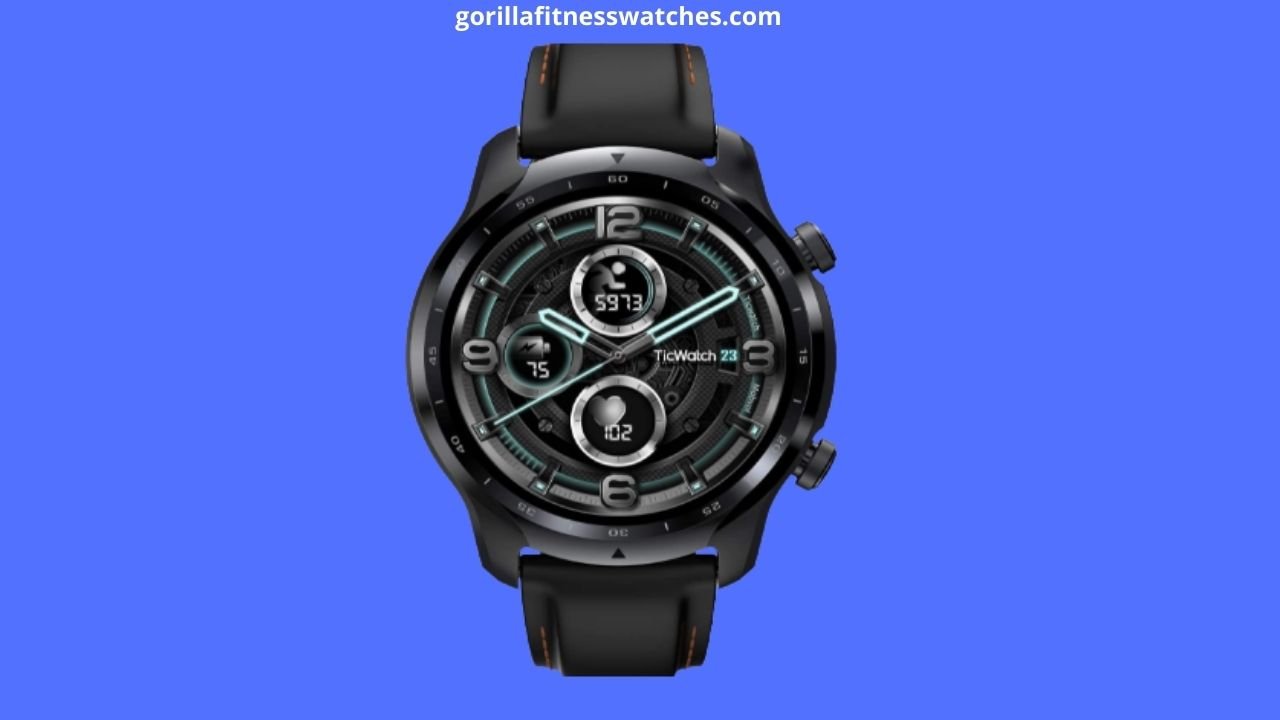 Features
100+ sports modes
Qualcomm Snapdragon Wear 4100
Dual-layer Display 2.0 supports Smart Mode
1G RAM and 8G ROM
24H heart rate monitoring
Auto-adjustable brightness
If you're an Android user, TicWatch Pro 3 is your best smartwatch with longest battery life.
Mostly, Wear Of watches does not offer good battery performance. But in TicWatch Pro 3, you will get innovative technology that ensures long battery life. It comes with dual-layer display 2.0 that supports essential mode and smart mode.
In enhanced mode, Ticwatch Pro 3 lasts for 45 days, whereas in the smart mode, it gives 3 days of battery life.
For a faster and optimized experience, there is a Snapdragon wear 4100 parallel with a Mobvoi dual processor. Plus, this watch has a full 1 GB of ram that boosts the speed.
Unlike other WearOS watches, there is no screen lagging in this watch. And every app opens too fast.
TicWatch Pro 3 comes with an LTE feature, similar to the Apple watch's Cellular feature. It allows you to answer calls and send SMS directly from your wrist. You can also use the internet on your wrist without smartphone connectivity
TicWatch Pro 3 includes a PPG sensor that gives accurate heart rate tracking. It has also included Blood Oxygen Saturation level monitoring which is the core health feature in any smartwatch.
The upgraded TicSleep feature measures your sleep stages and all-day naps. It gives a daily sleep score so you can guess your sleep quality. Similarly, Tizen measures your stress score by analyzing HRV.
There are over 100+ workout modes that allow you to track your every indoor and outdoor activity. You can also measure distance and speed during running or cycling with built-in GPS.
TicWatch Pro 3
InLonger Battery Life - Dual-layer Display 2.0 supports Smart Mode
Updated Chipset, Better Experience
Advanced Health and Fitness Monitoring
Premium Design, Flagship Model
Lighter and More Comfortab
5- Fitbit Charge 5 – Lightweight Fitness Tracker
Features:
7 days of battery life
SpO2 and heart rate tracking
Stress Management Score
Real-time pace & distance tracking
Daily Readiness Score
According to Fitbit, the new Charge 5 will last up to 7 days in smartwatch mode and 5 hours in GPS use. This battery performance is much better than predecessors, and now you can track your fitness for a week on a single charge.
The new health and fitness feature in Charge 5 making it superior to Versa 2 and 3. This Flagship tracker includes high-end fitness features that only come with Fitbit Sense.
First, it has an ECG app that allows you to look for signs of AFib. This feature also works while you are sleeping. Plus, there are also HRV alters that keep you informed about your irregular heart rate.
The Daily Readiness score is another useful feature for health tracking. This feature gathers data from your exercises, HRV, and sleep and lets you know if you're ready for your next workouts or need rest.
The advanced EDA sensor also looks pretty accurate and measures your stress using a heart rate sensor. Plus, mindfulness tools also help reduce your stress and stay focused.
Another feature that I like the most in Charge 5 is Active Zone Minute. Although this feature is also available in previous smartwatches, it is a very useful. This feature counts the minutes you have spent in any heart-pumping activity; the more you earn, the more the performance will be.
Sleep tracking tools in the Fitbit Charge 5 are also very efficient, and you can measure your REM, deep sleep, light sleep, and bedtime using these tools.
There are over 20+ sports modes that allow you to measure your daily exercises effectively. You can see real-time data on your Charge 5, which is very helpful.
Excellent Display & Design
Compared to the previous Charge 4, this new flagship tracker offers a vibrant AMOLED display which is 2X bigger than Charge 4. You can easily read the display under direct sunlight.
The Fitbit Charge 5 also comes with new changes in the design department. This time there is an Aluminum frame that enhances its look. The overall weight of Charge is only 28 g which feels too comfortable and lightweight.
Fitbit Charge 5
Built-in GPS
AMOLED Display
ECG App
Stress Management Tools
Prices pulled from the Amazon Product Advertising API on:
Product prices and availability are accurate as of the date/time indicated and are subject to change. Any price and availability information displayed on [relevant Amazon Site(s), as applicable] at the time of purchase will apply to the purchase of this product.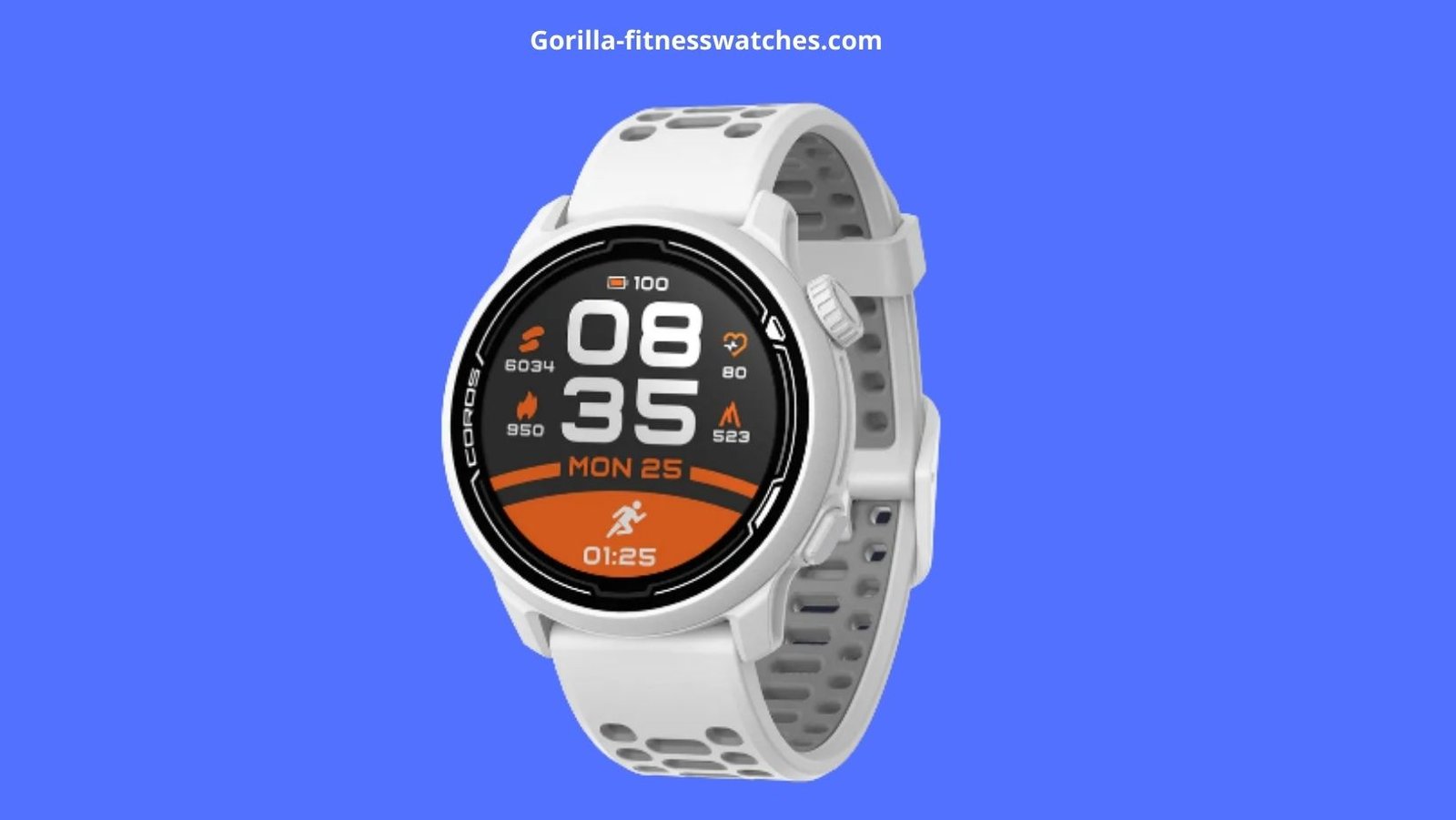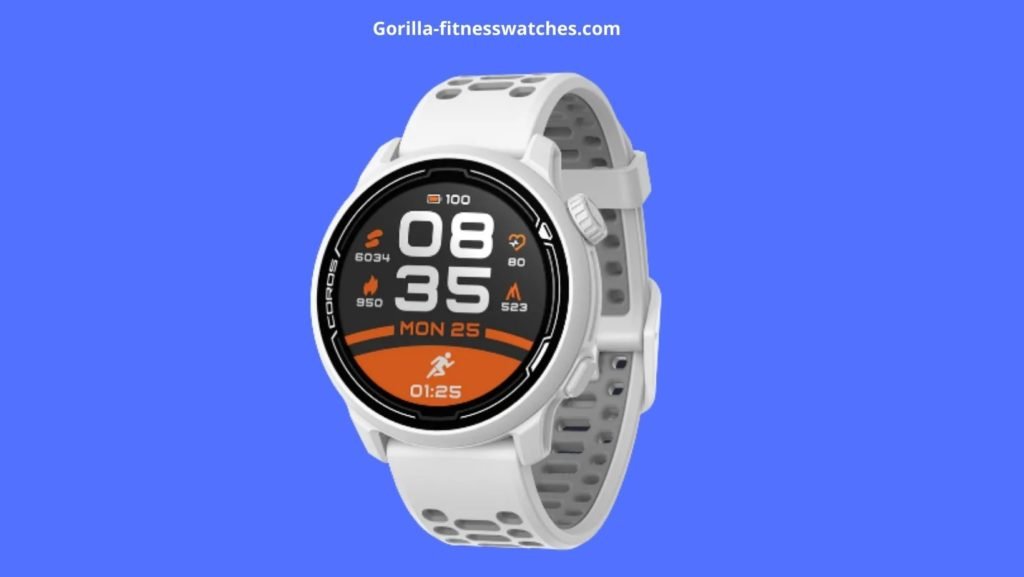 Features:
20 days of battery life
Nylon band for comfortable experience
ABC sensor
24/7 heart rate monitoring
Running power metrics for runners
If you're looking for an affordable GPS smartwatch with best battery life, then Coros Pace 2 is the best option. The battery life of this watch is much better, offering 20 days of daily use time and 30 hours of battery backup in GPS mode.
Coros Pace 2 also includes UltraMax GPS mode, which gives 60 hours of battery life in GPS mode. If you're an outdoor enthusiast or a person who is always on the go, Coros Pace 2 is the best watch for you.
The watch includes an ABC sensor to measure the environmental conditions and direction. Plus, a thermometer enables you to measure your body temperature during training.
In the app, you can also see your VO2 max performance and your heart rate.
Advance Training Features
For effective training, it's essential to have a trainer. Coros Pace 2 offers a personal training program that has over 200 exercise modes for every muscle of the body. During a workout, it measures your heart rate and calories burned.
To check the effectiveness of your workouts, it includes Muscle Heatmap. This feature allows you to check which muscle group shows the most action daily, weekly, and monthly.
For runners, it includes Track Run mode that measures your running in a new way. You can see your weak points and start working on them to improve the overall performance.
Plus, it offers a built-in GPS paired with GLONASS that gives an accurate overview and navigation of your routes. Further, it also includes a barometric altimeter for more accurate elevation tracking.
Coros Pace 2 also brings Coro's EvoLab feature, which brings detailed training analysis helping you to understand your performance more easily. You can see different insights like training load, recovery advice, base fitness rating and estimated race times.
Coros PACE 2
Premium GPS Sport Watch
Barometer
Light weight
Long battery life
Excellent Fitness Tracking
Prices pulled from the Amazon Product Advertising API on:
Product prices and availability are accurate as of the date/time indicated and are subject to change. Any price and availability information displayed on [relevant Amazon Site(s), as applicable] at the time of purchase will apply to the purchase of this product.
Features:
130+ sports modes
Training Load Pro & Running program
Integrated GPS
Fuelwise & Energy Sources
Nightly Recharge sleep tracking
Polar Vantage M2 is one of the powerful Sports watches. It has a rugged design, premium fitness features, GPS, and long-lasting battery life.
Usually, Polar watches don't provide the best battery performance, but Vantage M2 lasts for 7 days in smartwatch mode and 30h in training mode. Various power-saving options allow you to use the watch for over 100 hours in training mode.
You will get 1.2" always on display with 240 x 240 resolution. The display is not as vibrant and bright as Coros Pace 2, and you will struggle to view it in certain lower lighting conditions.
Fitness & Training Features
Polar Vantage M2 is a fitness-focused watch with multiple sensors to track your daily fitness and training. This watch has high-end training features for pro athletes and fitness enthusiasts.
Polar has a firm grip on the heart rate sensor, and you will get precise heart rate tracking. Polar's FitSpark is the most useful function in this watch that provides custom workout suggestions. This feature is based on machine learning; the more you wear the watch, the more appropriate the suggestions are.
The sports tracking in Vantage M2 is impressive; you will get 20 different sports modes for indoor and outdoor training. You can also customize your sports profile, add new or delete unnecessary profiles.
For nutrition-conscious people, Vantage M2 includes a FuelWise function that allows you to set up reminders for your crabs. The feature automatically calculates how many carbs you need for your session.
The new Nightly Recharge feature is impressive and automatically calculates your body recovery overnight. For sleep tracking, there is an efficient Sleep Plus Stages function that tracks the quality, duration, and time spent in each sleep stage overnight.
Accurate
Polar Vantage M2 benefits runners as it has accurate GPS tracking. The watch immediately connects with satellites and shows accurate navigation.
Similarly, Polar is well known for making heart rate monitors. I'm very happy with its precise heart rate tracking. If you are looking for the best accurate heart rate tracking watch, then the Polar Vantage M2 is the best option.
Polar Vantage M2
Comfortable Wear
Advance sports modes
Running Program
FitSpark training guide
Prices pulled from the Amazon Product Advertising API on:
Product prices and availability are accurate as of the date/time indicated and are subject to change. Any price and availability information displayed on [relevant Amazon Site(s), as applicable] at the time of purchase will apply to the purchase of this product.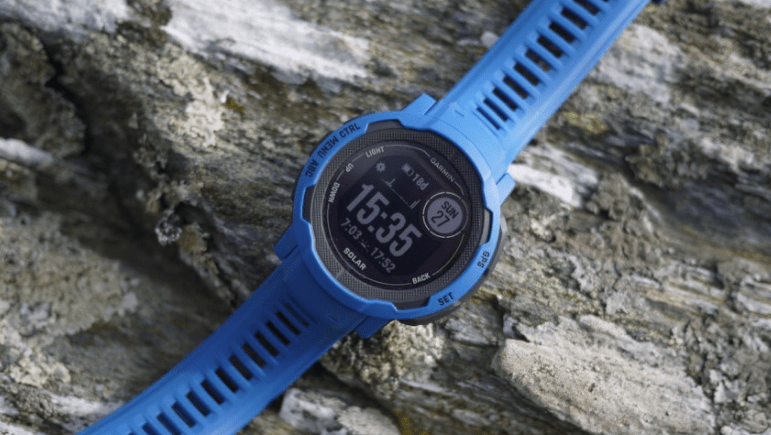 Features:
28 days of battery life
Built-in 3-axis compass
VO2 max
Smart notifications
More advance training features
Multi-GNSS Support
10 ATM water rating
Instinct 2 is another Garmin latest watch which is jam-packed with training features. This Garmin watch is specifically designed for outdoor workers, and it's the best smartwatch with long battery life.
The battery life of Instinct 2 is much more than high-end smartwatches. It comes in different variants; solar and non-solar. The solar variant is the best option if you want more extended battery performance.
The non-solar variant of Garmin Instinct 2 gives 28 days of battery timing in smartwatch mode and 30 hours in GPS. At the same time, the solar variant works for unlimited time and 48 hours in GPS mode. No other Garmin Watch offers such impressive battery life.
Fitness & Health Monitoring
As compared to the predecessor, Instinct 2 includes various health tracking features. Firstly it has a wrist-based heart rate monitor, which gives accurate results and sends HRV alerts.
You can also track your blood oxygen saturation with Pulse Ox, the core feature of measuring overall wellness. Fitness Age is a new feature in this watch that estimates your age based on your heart rate and daily activities and tells if your body is older or younger than you are.
Similarly, Intensity minute is another impressive fitness feature in this watch that counts the number of minutes you have earned in any heart-pumping activity. Another thing I like about this watch is its impressive sleep tracking.
Instinct 2 gives a comprehensive breakdown of your sleep stages, and you can also add a sleep widget on the screen.
You can set different daily goals on Instinct 2, and it will track them more accurately. For guidance, this watch also gives daily workout suggestions and daily recommendations.
Best Outdoor Watch
Garmin Instinct 2 includes different outdoor features and sports profiles. Firstly it has dedicated MTB dynamics that track your every ride in detail. During your ride, it shows Grit and flow score and trail difficulty and tells how smoothly you descend.
Because of accurate sensors, the Instinct 2 also measures your high-intensity workouts. It includes profiles for HIIT workouts, including EMOM, AMRAP, Tabata, and custom. Just like other Garmin watches, Instinct 2 also includes different sports profiles.
Apart from outdoor features, Instinct 2 has a durable design marking it a perfect watch for harsh environments. The watch's bezel is made of fibre-reinforced polymer, and the screen is protected with power glass, scratch-resistant and dust proof.
Moreover, the watch is 10 ATM water resistant, so you can use it for different water activities. It also has an underwater wrist-based heart rate to measure your water sports.
9- Amazfit Band 7 – Affordable Option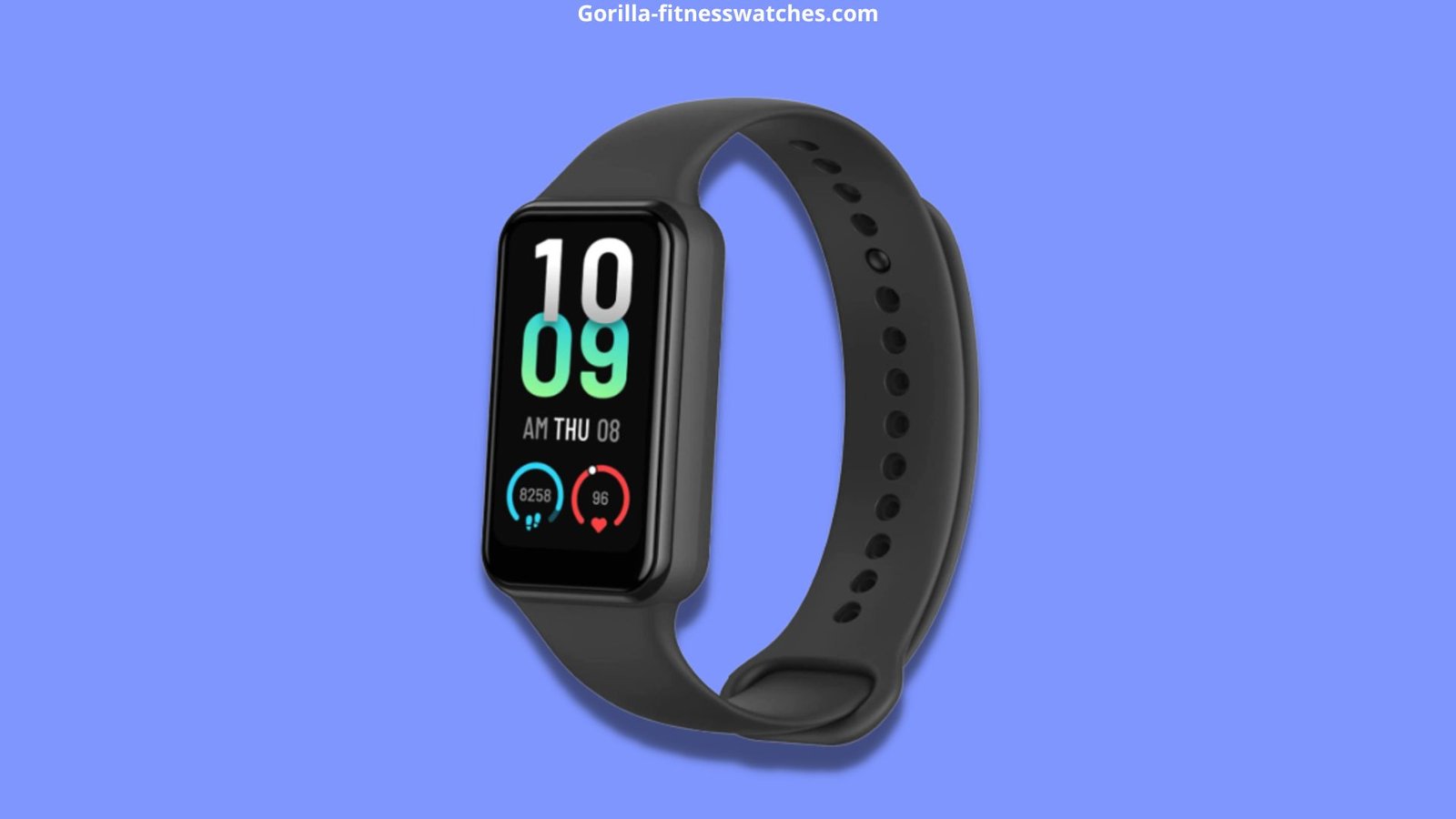 Features:
18 days of battery life
120+ Sports modes
5 ATM water rating
Built-in Alexa assistant
28 g weight
Comprehensive health management
If you're on a budget but still want a smartwatch with longest battery life, then look at Amazfit Band 7. This band has a unique design and is a comfortable Silicon band. You can also do voice searches and control smart home appliances with a built-in Alexa assistant.
Amazfit Band 7 comes with much-improved battery life. Now it gives you 18 days of battery backup with typical usage and 28 days in battery saver mode. I know you can never have such an extended battery life at such a price tag.
This new band 7 comes with a 1.47" HD AMOLED display with a resolution of 198 x 368 pixels that feels vibrant. Just like Amazfit GTS 4 mini, Band 7 sync with the Zepp OS app and watch real-time sync data with this app.
Comfortable Design
Apart from a long-lasting battery, this budget-friendly track also offers a comfortable design. It only weighs 28g which feels very comfortable, especially sleep tracking on this tracker is very impressive. You can wear this tracker 24/7 without feeling any burden on your wrist.
The soft Silicon strap feel very comfortable during a workout and are also sweat resistant.
Fitness & Sports Features
Amazfit band 7 offers all the valuable fitness features you need to achieve your goals. Like other smartwatches, it offers a heart rate monitor with HRV and high stress alerts.
In such a price range, SpO2 tracking is a big plus; now, you can monitor your blood oxygen saturation level right on your wrist. Band 7 also tracks your stress and includes a breathing app to reduce stress.
Like its predecessor and GTS 4 mini, Band 7 comes with a PAI health assessment that gives you a single score based on your daily activities and HR.
Other health tracking features include calories monitor, sleep tracking, steps counter, and women's health tracking.
There are over 120 sports modes which are insane. You can track every single indoor or outdoor activity with Amazfit Band 7. Its smart recognition system automatically detects your few exercises like running or cycling.
Amazfit Band 7
【Large HD AMOLED Display】

【18-day Battery Life】

【Dominate Your Workout Goals】

【Harness the Power of Health】

【Almighty Assistance & Powerful Zepp OS】

【Commanding Control of the Everyd
10- Honor MagicWatch 2
Features:
5 ATM water resistant
14 days of battery life
Stainless steel bezel
Built-in speaker and microphones
VO2 max and other advance health features
Honor is a well-known brand in making smartphones and smartwatches. The brand mainly focuses on giving extended battery backups. The Honor MagicWatch 2 lasts for 14 days in smartwatch mode. Under the $197 price tag, this is the best smartwatch with long battery life.
MagicWatch 2 is similar to the Galaxy watch, and includes a 1.39" AMOLED display with 454 x 454 resolution at 326 PPI resolution. The watch includes many watch faces, so you can choose one that matches your outfit.
The bezel is made of stainless steel, giving the watch a more premium look. The watch also looks durable and has a 50-meter water-resistant rating. Underwater this Honor watch works perfectly and tracks swimming metrics like heart rate, calories, distance, and speed.
Built-in Speaker & Microphone
Honor MagicWatch 2 includes a built-in speaker and microphone for answering calls directly from the wrist.
Calling from the wrist is very convenient for those who don't want to carry bulky phones in their pockets. Similarly, you can also see different notifications from your phone.
Fitness Features
MagicWatch 2 includes different types of fitness features. First, there is a SpO2 sensor, but this feature is only available in selected countries. You will also get VO2 max that tracks your respiration, but it only works with a few sports modes.
You can also manage everyday stress with TryRelax. The watch accurately tracks your sleep stages and offers a breathing app for reducing stress.
Honor MagicWatch 2 has over 12 sports, and outdoor sports modes are paired with GPS to measure distance, speed, and routes. The GPS tracking is accurate because it supports the GLONASS Dual Satellite Positioning system.
The watch also offers calorie tracking, but you can't expect an accurate calorie tracker in such a price range.
Honor MagicWatch 2 Smart Watch
⌚【1.39 AMOLED Display】

⌚【Super Long Endurance】

⌚【SpO2 Function & Stress Monitoring & Breathing Exercise】

⌚【Super Fitness Modes】

⌚【Excellent Life Assitan
Guide To Buy Best Smartwatch With Longest Battery Life
Many smartwatches are available on the market, and choosing a smartwatch with extended battery life is difficult. Before buying a smartwatch, you must consider a few factors like features, compatibility, design, performance, brand etc. If you research properly before making a purchase, it will save your money and a lot of time.
1- Battery Life
The first thing is the battery life which is our main concern. Smartwatches with long battery life make you stress-free of charging them repeatedly. Typically most smartwatches give one week of battery backup.
But few smartwatches like the Garmin watch last up to two weeks or more. Especially for an outdoor person, it's essential to have a smartwatch with long battery life. Secondly, you also have to check that your watch supports a quick charging feature; it can save you a lot of time.
2- Training & Fitness Features
If you're an athlete, you need to have a smartwatch with various training features. Smart Watches like Garmin Forerunner 945, Instinct 2, and Coros Pace 2 offer advanced training features.
Also, your smartwatch must be capable of measuring essential health metrics like SpO2, sleep tracking, HRV, stress, and calories. Using these metrics, you can easily improve your fitness performance.
If you want extra health features, you have to invest extra money. Smartwatches like Garmin instinct 2, Fenix 7 and Amazfit GTS 4 mini offer advanced fitness features.
3- Design
You can skip this party if you're not a fashion enthusiast. Design is also an essential factor for some people. A smartwatch with a sleek shiny bezel gives a more premium look than a smartwatch with a thick and plastic bezel.
Secondly, you should also consider the durability of a smartwatch. If you're working in outdoor environments, you must have a durable smartwatch. Your watch should also have a 5 ATM water-resistant rating.
4- Compatibility
Most people face compatibility issues once they buy a smartwatch. So first, you should look for compatibility options. Avoid buying Apple watches if you have an iPhone. Similarly, Galaxy watches do not work correctly with the iPhone. 4
Similarly, Garmin watches work perfectly with both Android and iPhone. But on iPhone, Garmin lacks a few features like replying to text SMS.
5- Budget
The market is full of smartwatches ranging from $50 to over $1k. So before getting any smartwatch, you should have a fixed budget; under that budget, you can easily search for a suitable smartwatch.
Typically people go for smartwatches for between $300 to $500. You can easily get the best smartwatch with long battery life and premium fitness features in this price range.
FAQs
What are the benefits of smartwatches with long battery life?
Smartwatch with long battery life gives you the freedom to keep track of your health for a long time. You don't need to charge such smartwatches every night. 
Can I replace my smartwatch battery?
Yes, you can replace the battery of your smartwatch. After two or three weeks, your smartwatch battery becomes weak, showing a notification on the screen about the poor battery condition. There are dedicated smartwatch batteries available on Amazon. 
How many years does the smartwatch battery last?
Typically the rechargeable smartwatch battery lasts 2 – 3 years depending upon the usage of the watch. Most Li-ion batteries have 300 – 500 cycles. After completing these cycles, the battery becomes weak, and you must replace it.
Which smartwatch has the longest battery life?
Most Garmin watches give extended battery performance. The new Garmin Instinct 2 and Fenix 7 are smartwatches with longer battery life. If you want an extra battery, you should opt for the Solar version of Fenix 7 or Instinct 2. 
Which smartwatch has unlimited battery life?
According to Garmin, the new Instinct 2 Solar gives you unlimited battery life in smartwatch mode, which is insane. You can track your training without any charging stress.
How can I extend the battery life of my smartwatch?
There are a lot of Setting options available to extend the battery life of your smartwatch.
1- Decrease the brightness according to your need
2- Try out the minimal watch face
3- Turn off Always on Display from Settings
4- Turn off all unnecessary notifications
5- Update the software of your watch
6- Delete unnecessary apps
7- Turn on battery-saving mode
Final Words
We have compiled this detailed guide after deep research. Now it's up to you which smartwatch you want according to your budget and need. All the smartwatches we reviewed are from top brands, and you can confidently invest in these brands.
Hi! I am Saad Dastagir, an enthusiast of smartwatches and fitness trackers. This blog is created to bring my personal experience with smartwatches in front of you. Our team tests different types of smartwatches and fitness gadgets constantly and shares hands-on experiences with you.