Clip-on fitness trackers are attachable devices attached to your pocket, shirt, belt or bra to provide on-the-go tracking.
Sometimes, you may not want to replace your watch with a fitness tracker, where clip-on fitness trackers come in. However, the high competition makes finding the best clip-on fitness trackers difficult.
Considering all these factors, I've enlisted some of the best clip-on trackers that will help you accurately track your data. Surely at the end of this guide, you'll be able to pick the perfect one for you.
So let's get started.
Best Clip-On Fitness Trackers
Our Recommendations
| Image | Title | Price | Buy |
| --- | --- | --- | --- |
| | WHOOP 4.0 Wearable Health | | Buy Now |
| | Fitbit Inspire 3 Health & Fitness Tracker | | Buy Now |
| | Garmin 010-12520-00 Running Dynamics Pod | | Buy Now |
Product prices and availability are accurate as of the date/time indicated and are subject to change. Any price and availability information displayed on [relevant Amazon Site(s), as applicable] at the time of purchase will apply to the purchase of this product.
Prices pulled from the Amazon Product Advertising API on:
1- Whoop 4.0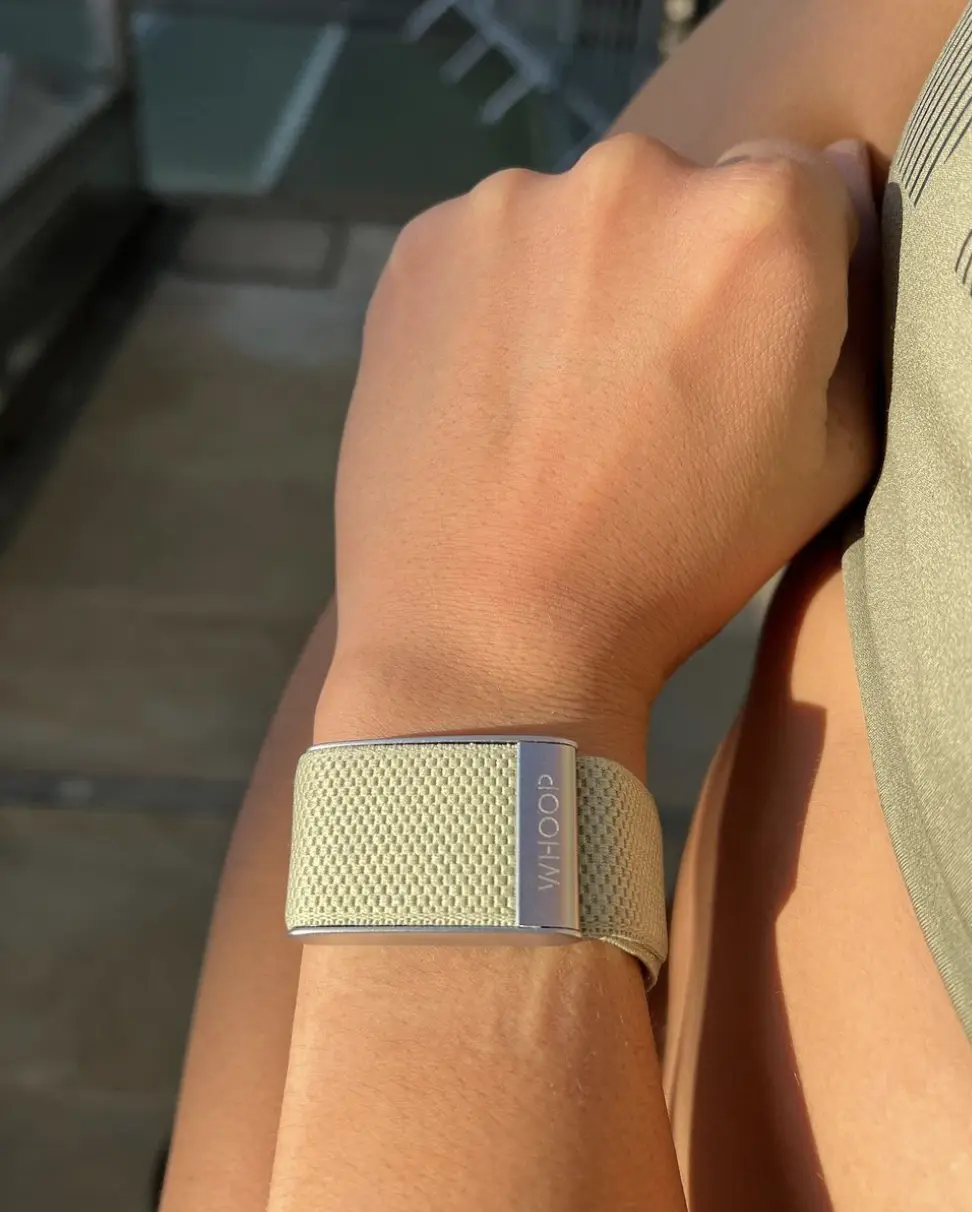 In the fitness world, Whoop is the well-known brand among fitness enthusiasts and professional athletes.
The new Whoop 4.0, which is somewhat smaller than its predecessor. However, what makes this model amazing is its ability to track your fitness and health metrics more effectively.
Whoop 4.0's main selling point is its 24/7 wearability, lightweight and minimalist design. Also, it doesn't feature any screen and notifications but still provides non-stop data on your health and fitness.
In this model, Whoop has added amazing features like biometric tracking, skin temperature, blood oxygen monitoring and much more.
On my testing, this clip-on fitness tracker is comfortable enough to wear all day because of its Superknit bands. In addition to its clip-on feature for inner clothing, it can also be worn on the wrist.
With Whoop 4.0, you can measure your heart rate, blood oxygenation, and skin temperature using its robust sensor, whose accuracy I appreciate.
In A Nutshell
Whoop 4.0 is the best option for a comfortable, small, accurate clip-on fitness tracker.
Although it has an expensive monthly subscription, but it's highly worth it option for fitness freaks. Otherwise, go with another option in the list.
Pros
Lightweight
Small and minimalist
No screen and notifications
Biometric tracking
Superknit bands
Cons
Expensive monthly subscription
2. Fitbit Zip Wireless Tracker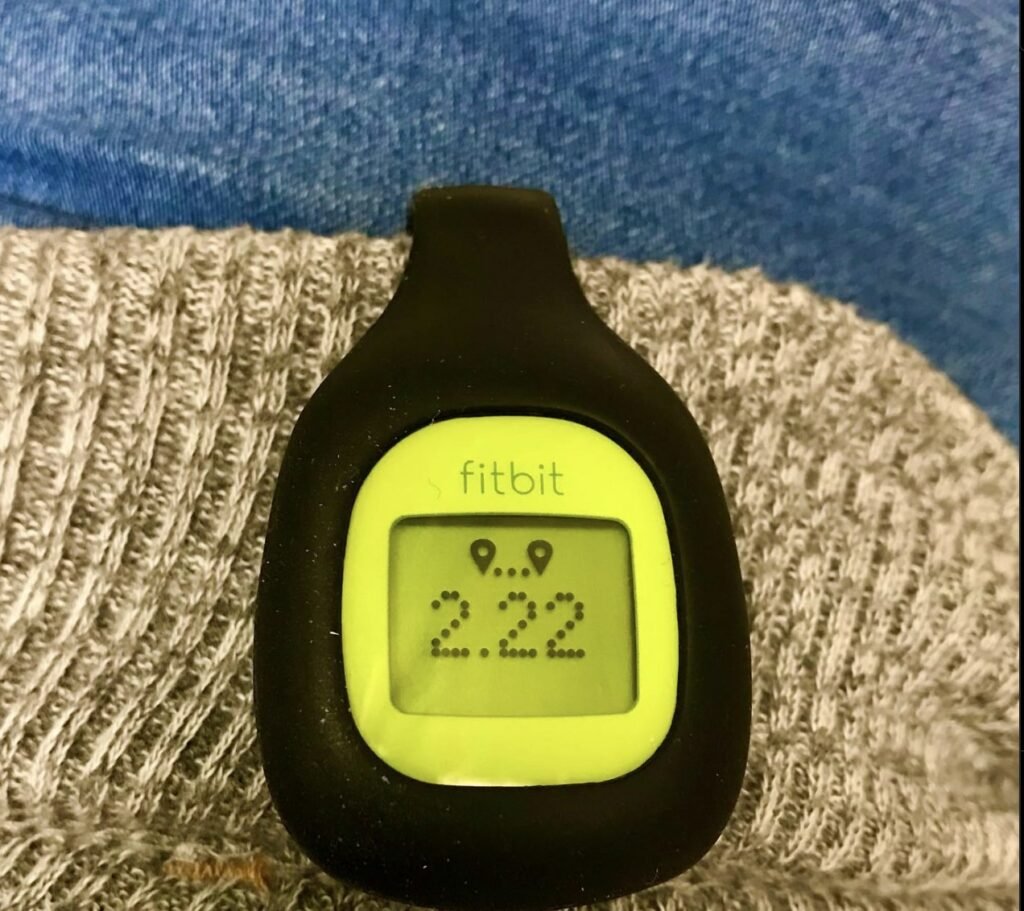 Push your fitness goals with Fitbit Zip. It's an affordable option that tracks your steps, distance, and calories burned.
Talking straightly, it doesn't track your heart rate, blood oxygen or any health metrics. Also, it doesn't allow you to see the previous results. For this purpose, you need to open the app or website to see your previous data.
What I most like about this tracker is that it syncs automatically to your phone, and you can see your stats easily.
With this tracker, it's important to use the Fitbit app or website as they tell you what to eat and allow you to track your weight.
Fitbit's app can track individual workouts called "Track Exercise". This option lets you track your workouts in steps, distance, calories, and time.
After completing milestones of steps, and calories burned, you earn badges. Zip also encourages you to challenge friends and spend your life in a healthy and achievable way.
Upon using it, I miss the stopwatch for my workouts, but if you carry your phone, you can use the Track Exercise option.
In A Nutshell
Overall, the Fitbit Zip Wireless activity tracker is an affordable option with accurate tracking. However, it does not have a stopwatch or a sleep monitor; I feel it lacks.
So, if you are happy without these features, you can go with this tracker. Otherwise, look for another option in the list.
Related Post: Fitness Trackers For Weight Loss
3- Fitbit Inspire 3
Grab your Inspire 3, and feel the energy to achieve your goals. Inspire 3 is the most advanced health and fitness tracker that tells how to stay active and healthy.
Natively talking, it's a wrist tracker, but you buy it's a clip-on accessory to make it clip-on.
Compared to its predecessors, it features a brighter display that helps you to see your stats more easily.
The best part about this tracker is its affordable price; what you get for that price is incredible battery life, detailed and fun sleep tracking, continuous SpO2 monitoring, and an excellent companion app.
You also get a six-month free trial of a premium subscription that features more data on recovery and sleep.
The device can detect breathing, skin temperature, and heart rate variability. The battery life is still the best Fitbit on the market, even though it has decreased slightly from the previous model.
In my testing, I found the stress monitoring feature more valuable since it teaches you how to spend your time more healthfully.
In A Nutshell
Overall, it's the best affordable option, in my opinion, that considers all the metrics. The only thing that is lacking is SpO2 monitoring.
So, if you are willing to go without SpO2, then it's highly recommended. Otherwise, choose another option from the list.
Pros
Slim and lightweight
Brighter display
Accurate
Strong battery life
Comfortable
Cons
The screen may be small for some people
You need to buy the clip-on accessory separately
Related Post: BEST FITNESS TRACKERS FOR YOGA
4- Garmin Running Dynamics Pod
Garmin is the leading brand for activity trackers and sports watches. This dynamic pod is also one of the best GPS devices for tracking.
It's a tiny device about the size of a UK 50-cent coin, but believe me, it collects and stores your data very precisely and accurately.
Talking straightly, you need to pair it with the compatible Garmin watch, and it doesn't work with the non-Garmin watch.
Looking at its features so it has an accelerometer that measures torso movement to calculate and send six running metrics to your compatible device.
It's the best option for runners and athletes as it measures cadence, vertical oscillation, ground contact time, ground contact time balance, stride length, and vertical ratio.
You can easily measure your running dynamics with the Running Dynamics Pod by clipping it on your waistband. It allows you to run without a chest strap for monitoring your heart rate.
In A Nutshell
Overall, it's the best device for runners and athletes. You need to remember that it should be paired with a compatible Garmin watch to function.
So, if you have a Garmin watch, buy it. Otherwise, go with another option.
Pros
Computes and sends six running dynamics metrics
One year of battery life (Replaceable)
Small size
Sync with your watch
Automatic turning on and off
Comfortable
Cons
Requires compatible Garmin watch to work
5. Xiaomi Mi Band 6
Xiaomi Mi Band 6 is light weight and elegant fitness tracker. Remember to buy its extra accessory to make it a clip-on tracker. This is the most affordable option to handle all your fitness and health metrics.
Compared to its predecessors, Mi Band 6 features a bigger AMOLED display and more fitness and health features like breathing quality monitoring during sleep.
The Xiaomi Mi Band 6 comes with 30 fitness modes, including 19 new modes that Xiaomi has added. These include Boxing, basketball, HIIT, Zumba, Core training, Pilates, Ice skating, and Street dance.
Talking about its health features, most importantly, it features SpO2 tracking, which keeps your body in tune by detecting any disease. So, it's a big protection for you.
Regarding sleep monitoring, Mi Band 6 analyzes sleep breathing quality accurately. Also, it includes features like stress monitoring, female health tracking, and breathing exercises.
My experience with this tracker indicates that it lacks GPS, which could result in inaccurate readings from some activities. But overall, I think it's accurate.
Lastly, talking about its battery life so it features a 14-day promised battery life is amazing.
In A Nutshell
Overall it's the best clip-on tracker for your fitness and health activities, as it includes all the metrics at a very affordable price. The only thing that I feel it lacks is No on-board GPS.
Pros
Comfortable
Lightweight
Affordable
Strong battery life
Solid performance
6- Omron HJ-720ITC Pocket Activity Tracker
This is the most advanced tracker of Omron, and it's a pedometer that tracks your steps, distance, aerobic steps and minutes.
With this tracker, you can track days, weeks, months and years of exercise. Just connect it to your laptop using its USB connection and start tracking.
I found its build quality amazing, and its plastic is very high quality. So, you don't need to worry about its damage on falling.
It also provides you with a 7-day history chart using which you can have an eagle eye on your performance and can improve it.
There is a separate display for aerobic steps and minutes walked continuously for more than 10 minutes.
Its other features include a large display, detachable belt holder, clock and security strap.
Lastly, its battery lasts six months and can be replaced using a button cell battery after six months.
In A Nutshell
In my opinion, if you want the best clip-on pedometer, then it's the best option for you. The only thing I don't like about this tracker is its display, which might confuse some people.
Pros
Simple
Powerful
Durable
Accurate
Strong and replaceable battery
Cons
The display might be confusing for some people.
7- Fitbit Alta HR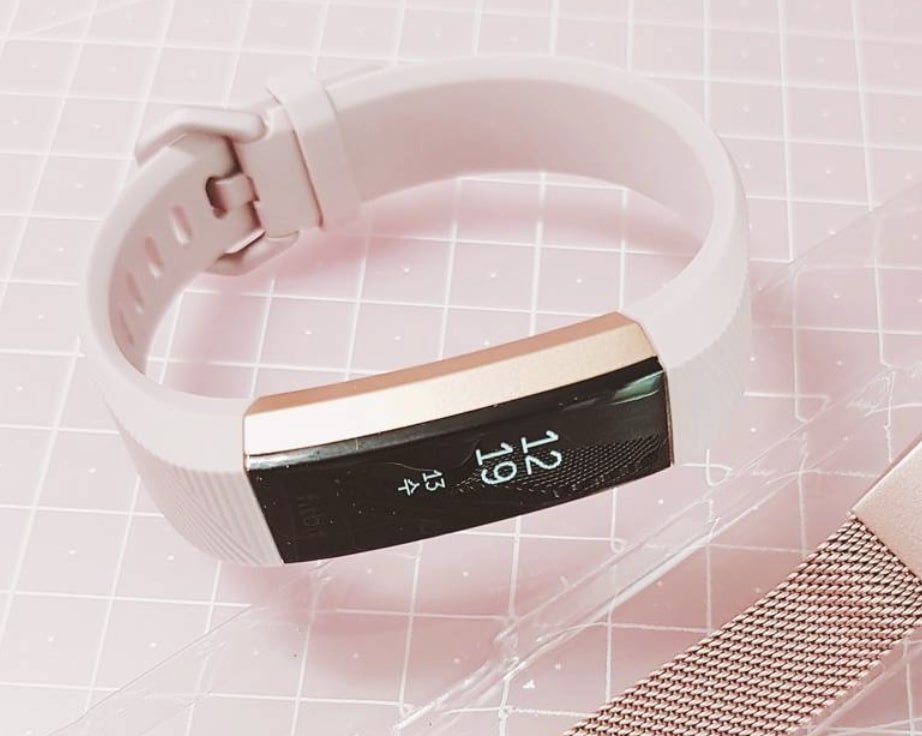 Fitbit Alta HR is one of the best fitness trackers for people who take their fitness seriously. It has a very basic and simple design and can be understood by a beginner.
Talking about its design so it comes with a sharp design that is extremely comfortable even on long wear. Although it's a wrist tracker, you can attack the accessory to make it a clip-on tracker.
What I like most about this tracker is its training levels, such as fat burn, cardio and peak, to monitor your activity.
Looking at its health features so it comes with continuous heart rate monitoring that keeps track of your heart all day and during activities as well.
Also, it features sleep monitoring with the advanced technology of PurePulse, so there's no chance of inaccurate data.
Lastly, talking about its battery life, Fitbit promises seven days of battery life that can be extended by turning off notifications and less usage, etc.
In A Nutshell
Overall, it's the best activity tracker for fitness and health. Just no GPS could lead to inaccurate distances.
Pros
Sharp design
Comfortable
Durable and reliable
Seven days battery life
Added heart rate sensors
Things To Consider Before Buying the Best Clip-on Activity Trackers
The following things should be considered to get the perfect clip-on activity tracker:
1- Design And Comfort
The design and comfort of the clip-on tracker should be your priority because you will have to wear that tracker for a long time and during activities.
So, always look for a tracker that is lightweight and comfortable.
2- Battery Life
Battery life is also an important factor to be considered while buying the clip-on tracker, as you need to use the device for some days without charging. So, always choose the tracker that has a long battery life.
3- Features
Always consider the tracker that has features according to your preferences and that meet your requirement. If you want health features along with fitness, you should choose the one with both functionalities.
4- Compatibility
Compatibility is also the most important feature when choosing the best clip-on tracker. Always go with a tracker which is compatible with your watch or laptop.
If you are buying a Garmin Dynamics pod, you must have a Garmin watch.
5- Price
Price should also be considered because most clip-on trackers range from $40 to $200. So, first, determines your features and go with the affordable option.
Frequently Asked Questions (FAQs)
What Is A Clip-on Fitness Tracker?
A clip-on fitness tracker is a device that can be worn on a belt or placed in a pocket. So, if you don't want to wear a tracker on your wrist, a clip-on tracker is the best option.
Benefits Of Clip-On Fitness Tracker?
Clip-on fitness trackers are convenient, comfortable, and reliable and provide in-detail workout data tracking.
Final Words
Hopefully, now you can pick the perfect clip-on tracker for you. All the devices we reviewed are the best, but always consider the buying guide to get the perfect one based on your preferences.
About Author