Yoga is one of the most potent rituals that brings an impressive change in your lifestyle, behaviors, and mentality. But without a trainer, it is tough to perform effective Yoga as a beginners.
But if you have a fitness tracker then you don't need a trainer.
Fitness trackers are most famous among fitness lovers, enabling you to track your activities and perform them effectively.
In Today's article, we discuss the few best fitness trackers for Yoga. Apart from yoga tracking, these trackers come with various health tracking features, keeping you healthy and fit. You can see your yoga performance right on your wrist and smartphone (via app).
Guide To Buy Best Yoga Fitness Trackers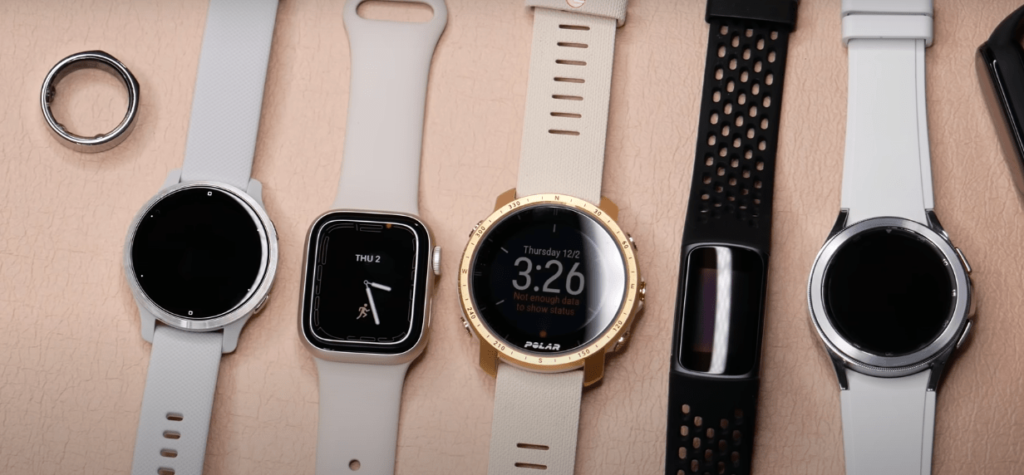 Before choosing the best fitness tracker for yoga, consider the below factors. As you know, there are many fake things available in the market, so it's better to buy a product after a bit research.
1- Accuracy
Your first priority should be accuracy. The majority of the fitness tracker don't offer accuracy. They are fake and useless. It is hard to find the best smartwatch with high precision. But sadly no smartwatch is 100% accurate.
Make sure your fitness tracker must have some positive customer reviews about accuracy. An accurate tracker helps you to quickly analyze your daily fitness routine. All the fitness bands mentioned in the above article have good accuracy and efficiency.
2- Stress Management
I think for yoga, there should be a Stress tracking system. Whenever you feel stress, your fitness tracker should notify you about it, so you can try to lower it via yoga or other guided breathing exercises.
3- Price
Price matters. I know the majority of the audience wants to buy the best budget products. Most of the features are common in high-end smartwatches and a cheaper ones. So I recommend you to buy a fitness band at a low price. But if you have enough budget and want to invest in a fitness tracker, then Fitbit Sense is the best option.
---
Best Fitness Trackers For Yoga in 2022
Based on our experience in smartwatches and deep research we put 7 amazing fitness tracker in the list.
All the tracker are some sort of different features pros/cons, specs, and prices. Choose the best one according to your budget.
Fitbit Charge 4
Fitbit Inspire 2
Amazfit GTR 2e
Fitbit Sense
Samsung Galaxy Watch Active 2
Amazfit Band 5
Xiaomi Band 5
1- Fitbit Charge 4
Specifications
| | |
| --- | --- |
| OS | Fitbit OS |
| Compatibility | Android and iOS |
| Display | 1.57 inches, Monochrome OLED, Touchscreen |
| Internal Storage | 4GB (2.5GB available, 300+ Songs) |
| IP Rating | 50m |
| Battery Life | 7+ days |
| GPS | Yes |
Who doesn't want to buy the best budget fitness tracker for yoga? Well, everyone wants. But a question arises: Is this cheap fitness tracker valuable or not? So I have been using Fitbit Charge 4 for over two months, and it never disappoints me.
From health tracking activities to sports tracking, this is fabulous smart wear. It looks so sexy and eye-catching. The best thing is Charge 4 is a more comfortable and easy to use health tracker as compared to other Fitbit Smartwatches.
It offers an LED display that looks so cool, and you can also change and customize the dial face.
The battery life of the Fitbit Charge 4 is average. It offers you seven days of battery life. I think most of the Fitbit smart wear gives you about the same battery life. And on GPS, it lasts for 5 hours.
You can't find a GPS fitness tracker in such a cheap amount. With built-in GPS, find inspiration to get outdoors with pace and distance on your tracker and see a workout intensity map showing your route and speed in the app.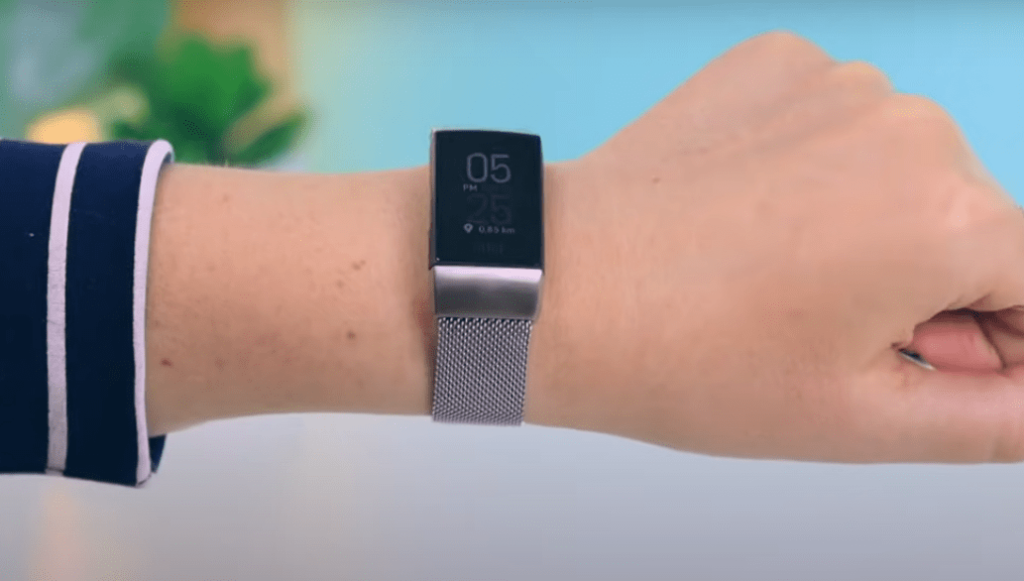 Why Fitness Tracker Is Best For Yoga?
It comes with different mindful exercises that help you to perform effective yoga. And it also tracks the stress level, and when you feel down, it informs you to take some rest.
Fitbit Charge 4 tracks real-time heart rate, all-day calories; So you can keep an eye on your calorie burn and heat rate performance while performing yoga.
Further it also offers advance sleep tracking, Active Zone Minutes with the latest heart rate sensors, so you truly understand your body. Besides, there are 20+ built-in exercise modes, auto exercise tracking and reminders.
I like the way that it shows data in-app. You can analyze the daily insights of your daily fitness routine in its app via graphs, percentages, and other visualization.
Charge 4 allows you to play your favorite songs and playlists with Spotify app controls on your wrist.
2- Fitbit Inspire 2
Specifications
| | |
| --- | --- |
| OS | Fitbit OS |
| Compatibility | Android and iOS |
| Display | 1.4 inches, OLED, Touchscreen |
| Internal Storage | – |
| IP Rating | 50m |
| Battery Life | 10+ days |
| GPS | No |
Here's come another Fitbit fitness tracker, again a budget friendly device that enable you to track your all daily fitness routine. Inspire 2 looks much similar to Charge 4 but it lacks 1-2 features and GPS too.
Similarly, the Inspire 2 is cheaper as compared to Fitbit Charge 4. If you have a low budget then you can go with this one.
Inspire 2 offers a variety of features that are useful for yogis. Their upgraded stress management feature keeps you updated of day to day stress, so you can find the best time to perform yoga. Plus guided breathing app helps you perform yoga and meditation with more concentration.
As a fitness lover you can set goals and with its smart functionality and features you can achieve them more easily.
Just like Charge 4 there are a couple of crucial health tracking features. First of all, its 24/7 heart rate tracking helps you better estimate calorie burn, track sleep stages and see your resting heart rate trends.
And guided workouts will get your heart pumping and help you maximize exercise sessions along the way.
Secondly, Active Zone Minutes allows you to reach your target heart zones, and track if you are getting the recommended 150 minutes of heart-pumping activity each week.
Besides this, Fitbit Inspire 2 also tracks your daily fitness activities; like steps, distance, calories burned etc. Its way to track sleep is so cool, it tracks different stages of your sleep.
You can see deep insights of your activities on your smartphone via its smart app.
With its long 10-day battery life, Inspire 2 keeps maintain your inspiration of tracking health without stress of charge.
3- Amazfit GTR 2e
Specifications
| | |
| --- | --- |
| OS | AMAZFIT OS |
| Compatibility | Android and iOS |
| Display | 1.39 inches (AMOLED) |
| Internal Storage | – |
| IP Rating | 50m |
| Battery Life | Up to 45 days |
| GPS | Yes |
Amazfit is a well known smart wear brand that offers highly reliable and valuable products. GTR 2e is below $150 but It's an extraordinary beauty having a worth of more than that.
You will get the most premium and high-end features in this smartwatch. For Yoga lovers, I strongly recommend this smartwatch. It's your best companion that tracks your Yoga and other fitness activities with accuracy and preciseness.
GTR 2e allow users to check personal stress level – relaxed, high, medium, or normal. So that they can find some best time to lower their stress via yoga
GTR 2e is much more comfortable. With its 1.13 ounces weight, you will never feel a bulky experience on your wrist. A dial is more sleek and slim that looks much more attractive and beautiful.
Best For Fitness Lover:
As I already told you, this smartwatch offers highly in-demand and premium features. First, its PAI Health Assessment System is my favorite feature.
PAI system gives you a unique score after tracking your whole day activities. It is based on efficient algorithms that collect data from all your daily activities and shows you a percentage score.
Then there is Blood-Oxygen Saturation measurement, sleep tracking, Calories counter and most importantly, Stress tracking.
Interestingly, you will get 90 different sports modes that track your various indoor and outdoor sports activities. Now you can quickly improve your favorite activities, including Yoga.
4- Fitbit Sense
Specifications
| | |
| --- | --- |
| OS | Fitbit OS |
| Compatibility | Android and iOS |
| Display | 1.58 inches, AMOLED, touchscreen. |
| Internal Storage | 4GB |
| IP Rating | 50m |
| Battery Life | 6+ days |
| GPS | Yes |
This Fitbit Sense is one of the most premium members of the Fitbit family, full of health tracking features and function. You will never become bored with Fitbit Sense on your wrist.
A comfortable smartwatch with a small dial but have high resolution display that give premium feel. You will get two colors options carbon and graphite.
For yogis, Fitbit sense includes different features. This watch has a new version of a guided breathing app that helps you perform yoga based on your heart rate or health.
Other Fitness Features:
If I sit and start writing all Fitbit Sense features, then its review will cross over 1k+ words. So I briefly explain what are the most premium features in this smartwatch;
Real-time heart rate sensor (wrist-based)

ECG app

SpO2

Stress management

Smart sleep tracking

Detects electrodermal activity

Stay informed with heart rate notifications

Measure skin temperature

Free 6 months trial for more advanced health tracking activities
Besides these features, you can install different apps to track your specific activity like Yoga, cycling, hiking, swimming and more.
Thanks to Fitbit that offers Alexa Assistant. With just one voice command, you can control your smart home appliance direct from your wrist.
Now stay updated about the latest new weather forecasts, play music with voice command, ask Alexa anything, and set your goals via voice, alarms, and much more.
5- Galaxy Watch Active 2
Specifications
| | |
| --- | --- |
| OS | Tizen OS 5.5 |
| Compatibility | Android and iOS |
| Display | 1.4 inches, Super AMOLED |
| Internal Storage | 4GB |
| IP Rating | 50m |
| Battery Life | Up to 4 days |
| GPS | Yes |
You can't ignore Galaxy watch active 2. The smartwatch is selling like hotcakes due to its accuracy and efficiency. There are much more to explore in this smartwatch. After Fitbit Sense, this is a precious smart wearable for yoga lovers and professionals.
If you're on a mid-range budget, then this is a decent and excellent watch for you. Most of its features are premium that is only found in high-end smartwatches.
For yoga lovers, the Galaxy watch active 2 includes more in-depth stress tracking so you can keep an eye on your day-to-day stress. Plus, it offers guided breathing exercises that you can customize according to your need.
Due to its large round bezels, this watch is bulky as compared to Fitbit Sense. It has 136g of weight which I think is less comfortable for a thin wrist. Overall the looks are pretty sexy and attractive. There are a lot of customizable watch faces available. You can choose anyone according to your need.
Health Tracking Features:
Like Fitbit Sense, there are a lot of health tracking features like heart rate, sleep tracker, calories counter, women health tracking, ECG, blood pressure and more.
Similarly, Galaxy Watch Active 2 automatically tracks your most popular fitness activities, from cycling to swimming and hiking. You can also manually track specific exercises.
Other Feature:
The smartwatch also offers a lot of other exciting features. GPS is one of the most in-demand and useful features in Watch Active 2. Similarly, it also has Samsung pay that allows you to easily pay utility bills right from your wrist.
You can play a track directly on your wrist, have fun with the Bixby voice assistant, set alarms, change dial faces, track your speed and distance and much more.
The average battery time on Watch Active 2 is five days, which is enough for normal use.
6- Amazfit Band 5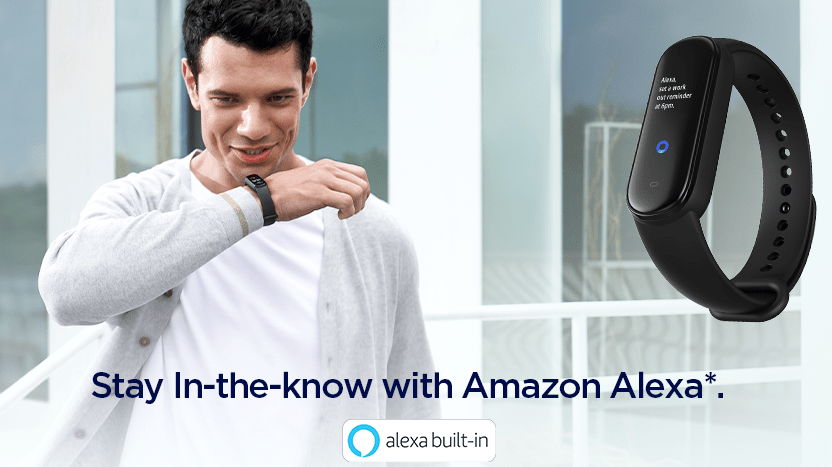 Specifications
| | |
| --- | --- |
| OS | Proprietary – Amazfit OS |
| Compatibility | Android and iOS |
| Display | 1.1 inches AMOLED |
| Internal Storage | – |
| IP Rating | 50m |
| Battery Life | Up to 15 days |
| GPS | No |
Now let talk about some best budget stuff. You should buy this fitness band if your budget is below $50. You might think, "Holy shit… Below $50? Is it offers enough feature to track your fitness activities like Yoga and other?
The fitness tracker includes a lot of sports modes, including yoga. While performing yoga, Amazfit band 5 monitors your heart rate, and calories burned.
Amazfit band includes some updated features from its predecessor that increase its worth. Like you will get built-in Alexa, so ask any single question from your band, set alarms, and timers, create a shopping list, control your smart home devices, check the weather, etc.
The band can track your blood oxygen saturation and observe your physical state with Oxygen Beats. That's why this band is perfect for sports and other physical activities. Similarly, you will get a 24/7 heart rate tracker, sleep monitor, calories burned, track distance, and much more.
Premium Features:
Besides this, there are a few premium features that I usually see in Amazfit High-end smartwatches. PAI Health Assessment System is one of them. It measures your all-day activities, and at the end of the day gives you a percentage score. This handy feature allows you to constantly and effectively enhance your fitness routine.
A stress level monitor is another top-rated feature in this band that checks your stress level -release, medium, regular, or high. To reduce your stress, luckily, there is also a guided breathing exercise.
Eleven different sports modes track your other indoor and outdoor activities. Amazfit Band 5 is an ideal and best fitness tracker for Yoga because it includes all the features a yoga lover needs.
7- Xiaomi Mi Band 5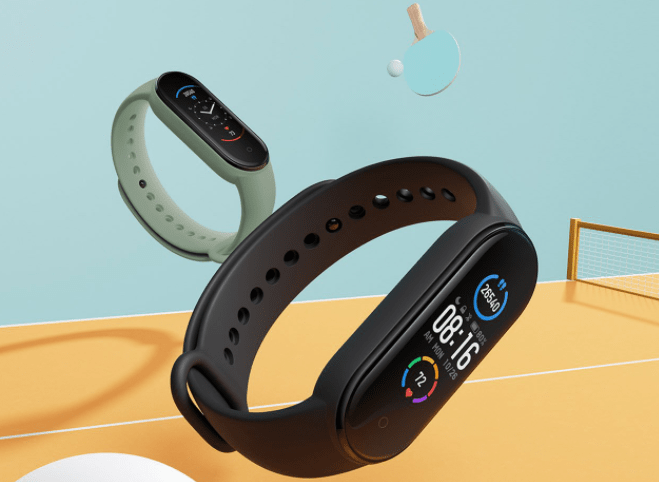 Specifications
| | |
| --- | --- |
| OS | Proprietary OS |
| Compatibility | Android and iOS |
| Display | 1.1 inches AMOLED |
| Internal Storage | 16 MB |
| IP Rating | 50m |
| Battery Life | Up to 14 days |
| GPS | No |
The final member of the list is Xiaomi Mi Band 5. This Xiaomi flagship has done a better job than its previous models like Mi band 4 and 3. A cheap and reliable fitness band for health and fitness tracking features.
First of all, there is a color screen which looks so sexy. The band is ultra-lightweight, which's feels very comfortable on the wrist. You can also interchange bands, as various colorful bands are available on Amazon and Local Xiaomi Store.
The band also offers 11 different sports Modes, including; walking, running, cycling, swimming, skipping, yoga, rowing machine, indoor cycling, elliptical machine. In yoga mode you can view number of calories burn, and heart rate graph.
Plus, you will get all the mandatory features in Xiaomi Mi Band 5. Staring from heart rate tracker, sleep tracker, calories and steps counter, sleep monitor; deep sleep, light sleep, REM rapid eye movement, women's health tracker, and more.
But still, it lacks few features like stress tracking, PAI system, and Alexa voice assistant. But it offers five days of extended battery life which is a plus point in this tracker.
Final Words
We care about our audience and wants to create more ease for them. If you have any questions, then don't hesitate to ask in the comment box. We always appreciate and enjoy answering our public.
After going through the above article, I am sure most of you are clear and able to choose the best yoga fitness tracker. But if still, you have confusion, we would help you decide which one is perfect for you.
If you want to buy the best fitness tracker for yoga at a low price then; Amazfit Band 5, Amazfit GTR 2e and Fitbit Charge 4 is the perfect option for you. And if you want more valuable and premium quality, then go with Fitbit Sense.
I hope you guys are now clear, and we really appreciate if our readers buy any product from our suggestions.
Thanks and have a nice day:)