Fitbit is not only made to track your fitness routine, but you can also play games on your Fitbit.
There are a lot of games available on the Fitbit Store, and you can install them directly on your Fitbit. You will see different games, including; puzzles, shooting games, racing, cards, and more.
But only a few games in Fitbit app are entertaining; in this post, I will share some of the best games for the Fitbit smartwatch to kill your boring time.
These games are compatible with all the Fitbit smartwatches like Fitbit Sense 2/Sense, Versa 2/3/4, Charge 4/5, etc.
So let's explore some exciting Fitbit games.
Best Games For Fitbit Smartwatch
1- Tic Tac Toe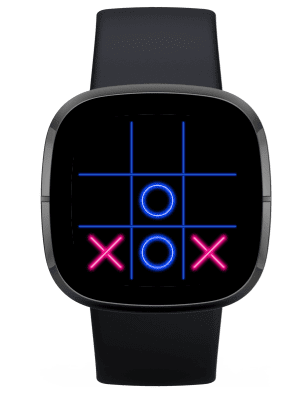 This is one of the oldest games, Which reminds us of our past. You can play it with your kid or friends. I have seen that most people love puzzle games, so this game is a perfect option for them. Tic Tac Toe is available in different flavors and colors on Fitbit store, including alphabets, numbers, images, fruits, etc.
2-

Snake
Everyone has played the Snake game in their childhood. This is one of my favorite games that I also install on my Fitbit Sense. You can play the game until your name is live, but once it touches the corners or itself, it dies. If you look at your Fitbit watch, it has a similar screen size to Nokia 1200, where you moved the snake with physical buttons.
In this game, you will see different levels, each has a global high score ranking, and you can compare our score with the rest of the community and try to beat them.
3-

Wild West
Here comes the most fun shooting game, which is just like a "Whac-A-Mole" game. You need to shoot the bad guys when they appear on the screen, but you must be careful not to shoot the good guys. Game developers put in a lot of effort to make a game performance like butter smooth.
There are several levels in this game. The more you unlock the levels, the higher the difficulty will be. You have a total of 6 lives in one round after you have wasted your lives. The level will start from the beginning. This game is compatible with all the Fitbit versa series.
4- Flappy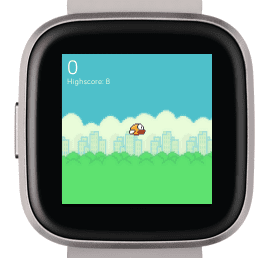 This is another classical game which is just like "Mario." You might play this game in your childhood, especially this game was very famous in 2014 and 2015. In this game, you have to make high scores and pass the levels. Compared to other games, this one is super light, and it's compatible with the Versa series and Fitbit Ionic.
5- Pocket Golf
If you are a golf lover, then you must install this game in your Fitbit watch. Just drag on the screen to drive a ball; the longer you drag, the harder the ball goes. At the bottom, it will shows; Stroke, Hole, and Score. You can also save your top score and rest them.
The graphics in this game are pretty good and smooth, and you can easily pass your time by playing this exciting game.
6- Move The Box
"Move The Box" is another best game for Fitbit; this game is just like a solving puzzle. You have to move the boxes up and down to free your toy. It's a tricky game and requires mental skills to play. You can purchase this game for $1.99 from Fitbit Gallery.
Move the box is available for the Fitbit Versa series and Fitbit Ionic. And the best games to increase your intelligence level boost mental health.
7- Drag Racing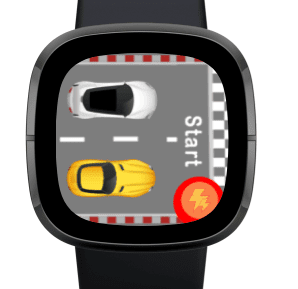 If you love racing games and driving cars, this "Drag Racing" game is ideal. The game's primary goal is to boost the speed at a perfect time to overtake the opponent's car.
You can slow and increase the speed of your car. The best thing is when you win the race, and you get $100 virtual cash. You can collect this money and buy expensive sports cars in the game.
8- Ping Pong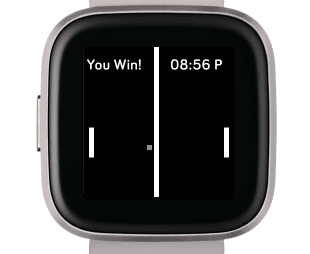 It's fun to play Ping Pong on your wrist. This is also a classical and famous game, and everyone has played it. On your Fitbit watch, you can control both paddles. You can also play it with your children and friends to create some fun moments.
So every time the ball touches the paddle, you will earn some points. You need a total of five points to win; if you miss hitting the ball, you lose a point. And luckily, this app is 100% free, and you don't need to give a single penny to buy it.
9- Space Rocket
You might have played this game on your Nokia phones. At that time, this game came in a black and white display. On your Fitbit watch, it is available in colorful graphics. You need to fly your space rocket and avoid all the obstacles in your path, and you can also fire your enemies to destroy them.
Tap the screen above the rocket to move your rocket up. On tapping below the rocket, it will move down. Similarly, to shoot enemies, tap the left corner button. This is one of the best shooting games, which is full of action. It's available for all the versa series members.
10- Sliding Puzzle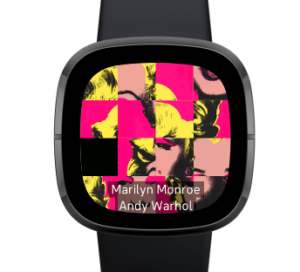 The sliding puzzle is a fun puzzle game that will keep you entertained until you figure out how to solve it. This game creates a random image and splits it into a series of blocks arranged in random order. To solve the puzzle, you must tap the blocks to shift them around.
The image that results might be anything. It could be landscapes or artworks. Your primary task is to watch the picture and rearrange the blocks until it resembles its original shape.
Thus, you won't get bored of this game because of its easy gameplay and captivating idea. Not only this, but it's also not the type of game that necessitates a significant investment.
11- Basket Ball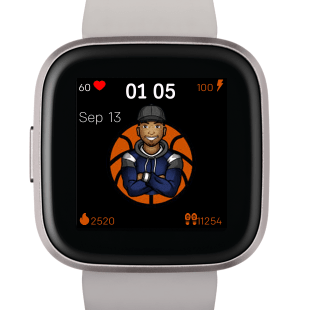 A simple game can sometimes be the best game to serve your free time. It is where the game of basketball comes in.
Basket Ball is an ideal fun game for anyone who enjoys sports. A net is provided to players to collect the basketballs falling from the sky in this game. As the game progresses, the rate and velocity of the falling balls increase, so you'll need to adjust the basket rapidly to collect them.
There will be a total of three lives available to you. If you miss a ball, you'll lose one. Ultimately, it's a fun way to pass the time.
Final Words
If you're an entertainment lover and have a Fitbit, you should install a few exciting games on your devices. Above mention games are the best games for the Fitbit smartwatch, and you can easily install these games from Fitbit Gallery. And the good part is you don't have to pay a single penny for these games.
FAQs
How can I add games to my Fitbit?
It's not a difficult task to add games to your Fitbit. First, open the Fitbit app on your smartphone > Tap on your profile picture > your device image. Then tap Gallery and App tab; here, you can browse available games and directly install them on your Fitbit smartwatch.
Does Fitbit offer free games?
Most of the games are free on Fitbit but only a few premium games are paid, but they cost you one a few bucks. You can purchase Fitbit games via PayPal or Credit cards. 
Can I play games on Fitbit Charge 5?
Yes, you can play games on Fitbit Charge 5. All the Fitbit support gaming, and you can download these games from Fitbit gallery. There are various types of games available in the Fitbit gallery including; puzzles, shooting, snake games, racing, etc.
Related Posts:
About Author