When it comes to smartwatches and fitness trackers, Fitbit offers some of the leading trackers, and because of the high demand Fitbit tracker industry is growing drastically.
Fitbit has introduced several new fitness trackers in the past few years. They have five major lineups: Sense, Versa, Inspire, Charge, and Ace. Each lineup includes various models with different features.
A few Fitbits are best for tracking your sports and recovery, while the rest of the Fitbit trackers are best for measuring your sleep, SpO2 levels, and ECG.
Because of a huge collection of Fitbits, it's challenging for beginners to choose the best option. This blog will help you to find the best Fitbit to track your routine; we have put a comprehensive Fitbit Comparison chart in the blog.
Fitbit Comparison Chart
I will share the latest Fitbit model of the most common lineup in this Fitbit comparison chart. Here you can find the comparison of Fitbit Sense 2, Versa 4, Charge 5, Inspire 3, and Luxe.
I have decided the chart into three sections, and the first section will explain the physical parameters of every Fitbit, while the second and third sections will show the Health and Fitness Features.
Latest Fitbit Models
1- Fitbit Sense 2
Fitbit Sense 2 is the current flagship of the Sense lineup, and it comes with improved health features and some additional sensors. The new Sense 2 now monitors your all-day body response with notifications. It automatically notifies you whenever your body is experiencing stress.
The Fitbit Sense 2 is not too much different from the original Sense and has a similar design and display. But the new Sense 2 is slightly thinner and lighter, giving you a more comfortable feel.
Moreover, Sense 2 has an improved temperature sensor that measures your body temperature and helps you understand your wellness. You can also track your sleep stages, breathing rate, heart rate variability, SpO2 performance, wellness report, and more.
Sense 2 brings Cardio Fitness Score and Active Zones Minutes for cardio lovers so you can improve your strength training and cardio workouts.
The Sense 2 has many smart features, including Google Maps, wallet, Fitbit Pay, and Alexa. You can also answer calls, and reply to texts from this Fitbit tracker.
Pros
Vibrant AMOLE display
Thin and lightweight design
Excellent performance
All-day body response tracking
Accurate sleep tracking
Cons
No music storage
Unreliable GPS
Fitbit Sense 2 Advanced
Manage Stress

ECG app for atrial fibrillation assessment, Irregular heart rhythm notifications

SPO2

Built-in GPS

6+ day Battery
Related Post: Which Fitbit Can Make Calls
2- Fitbit Versa 4
Unlike Fitbit Sense 3, the Versa 4 lacks exclusive health features like an ECG app and EDA sensor, but still, you can monitor your primary health metrics like sleep and recovery tracking, SpO2, heart rate, etc.
Compared to the previous Versa 3, the Versa 4 includes 40 exercise modes that accurately track your workouts. The built-in GPS is another plus point in this watch that helps you to measure distance, pace, and speed during outdoor activities.
This Fitbit smartwatch also tracks your floor climbed, sleep habits, SpO2, high low heart rate, skin temperature variation, and more. You can generate a Wellness report of your previous data and share it with a doctor for a better consultant.
You can manually log additional information like blood glucose level, weight, food, and water intake.
The Fitbit Versa 4 has a built-in microphone and speaker to make calls directly from your wrist. You can use Google Maps to track your routes efficiently and enjoy turn-by-turn navigations, but this feature is only available for Android users.
Unlike its predecessor Versa, 4 offers Google Wallet and Fitbit pay to make contactless payments at any store. The battery life of versa 4 is similar to Versa 3, offering 6 days of battery backup on typical usage.
Pros
Built-in Google Maps and Google wallet
Comfortable watch
40+ sports modes
Built-in GPS
Cons
No ECG app
No EDA sensor
No Temperature sensor
Fitbit Versa 4 Fitness Smartwatch
Real-time stats during exercise

Built for better fitness results

Tools to measure and improve sleep quality

Maintain a healthy body and mind

Designed for fitness & beyond
3- Fitbit Charge 5
Fitbit Charge 5 is a mid-range Fitbit tracker with a very sleek design that feels comfortable. The AMOLED display, temperature sensor, and ECG app are significant upgrades in this tracker. Similar, stainless housing and sleek design give an appealing look.
Charge 5 is the first tracker in the Charge lineup that measures your irregular heart rate warnings, letting you know when you need rest to calm your heartbeat. The daily readiness score is another big feature that lets you know if your body is ready for the next workout.
Charge 5 brings 20 goal base excesses for outdoor enthusiasts, and you can track your running, walking, hiking, swimming, cycling, and other activities. The built-in GPS provides additional information regarding your outdoor activities.
Using Fitbit Charge 5, you can also track your sleep score, sleep stages, sleep profile, stress management, skin temperature variation, SpO2, ECG, and more. 
The GPS performance of Charge 5 seems inferior to Sense 2; it lacks Google Maps but can track your speed, pace, distance, etc. Charge 5 has fewer smart features as compared to Sense 2 and Versa 4. The battery life of this tracker is excellent, and it lasts for 7 days with excessive usage.
Pros
Excellent AMOLED display
Built-in GPS
Supports contactless payment
EDA app
Accurate heart rate tracking.
Cons
Doesn't track floor climbed
No music controls
No altimeter
Fitbit Charge 5
Built-in GPS

AMOLED Display

ECG App

Stress Management Tools
Prices pulled from the Amazon Product Advertising API on:
Product prices and availability are accurate as of the date/time indicated and are subject to change. Any price and availability information displayed on [relevant Amazon Site(s), as applicable] at the time of purchase will apply to the purchase of this product.
4- Fitbit Inspire 3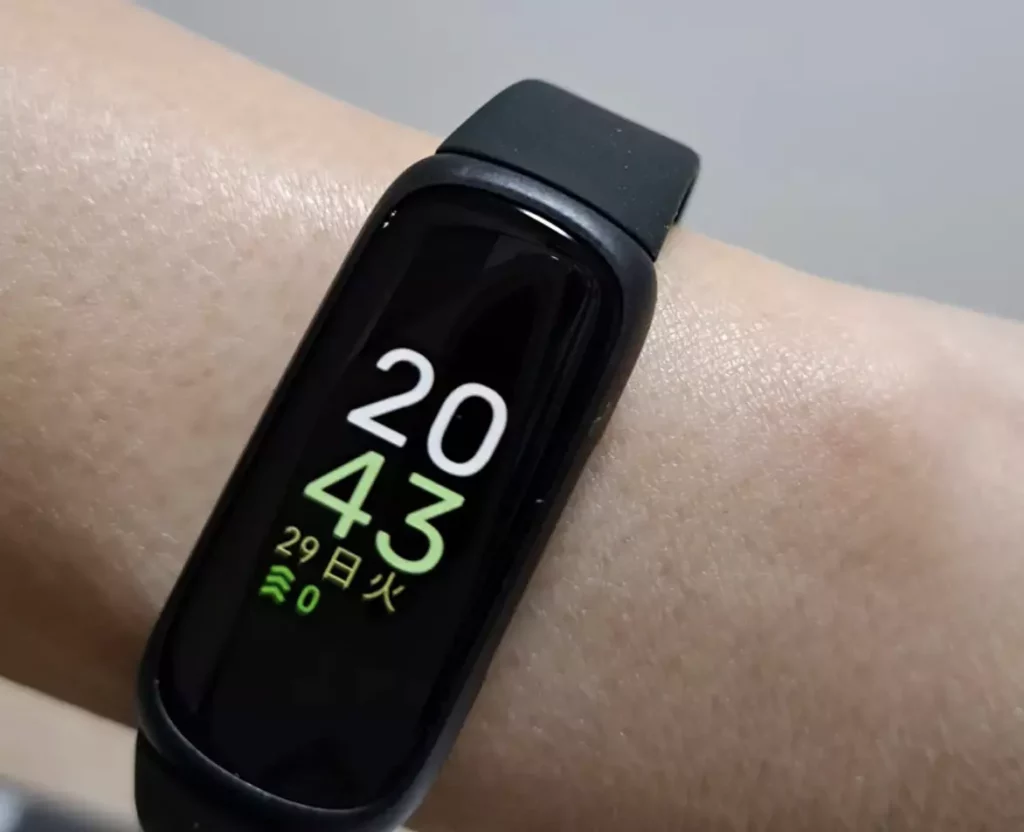 Fitbit Inspire 3 is an entry-level Fitbit tracker which is best for people on a budget. It offers 24/7 heart rate tracking, calorie monitoring, Active zone minutes, blood oxygen saturation tracking (SpO2), and more.
Inspire 3 lacks premium features like ECG and EDA app, floor climb, skin temperature sensor, and GPS. So if you want Fitbit features, you can skip this tracker.
For active people, Inspire 3 brings a lot of valuable features, and it can track breath rata, includes 20 exercise modes that show real-time performance, stress tracking, heart rate variability, a reflection app, and much more. But remember that few high-end features require Fitbit premium subscription to unlock them.
Inspire 3 also shows calls, texts, and social notifications from your phone, but you can't reply to them. "Find My Phone" is a pretty nifty feature on this tracker that immediately locates your phone when it's out of sight.
The Fitbit Inspire 3 doesn't have built-in GPS, and it uses your phone's GPS to track distance, speed, etc. In terms of battery life, Fitbit Inspire 3 is superior to all Fitbit trackers, and it offers 10 days of battery backup on a single charge.
Pros
Very lightweight and compact design
Bets for small wrist and female
Less than 100 bucks
Excellent sleep tracking
Easy-to-use interface
Cons
No GPS and Altimeter.
No EDA and ECG app
Fitbit Inspire 3 Health & Fitness Tracker
Inspire 3 is the tracker that helps you find your energy

Move more: Daily Readiness Score(1), Active Zone Minutes, all-day activity tracking and 24/7 heart rate, 20+ exercise modes, automatic exercise tracking and reminders to move

Daily Stress Management Score, mindfulness sessions, relax breathing sessions,

Automatic sleep tracking, personalized Sleep Profile.

Comfortably connected day and night: calls, texts & smartphone app notifications(4), color touchscreen with customizable clock faces, super lightweight and water resistant to 50 meters, up to 10 day battery life
5- Fitbit Luxe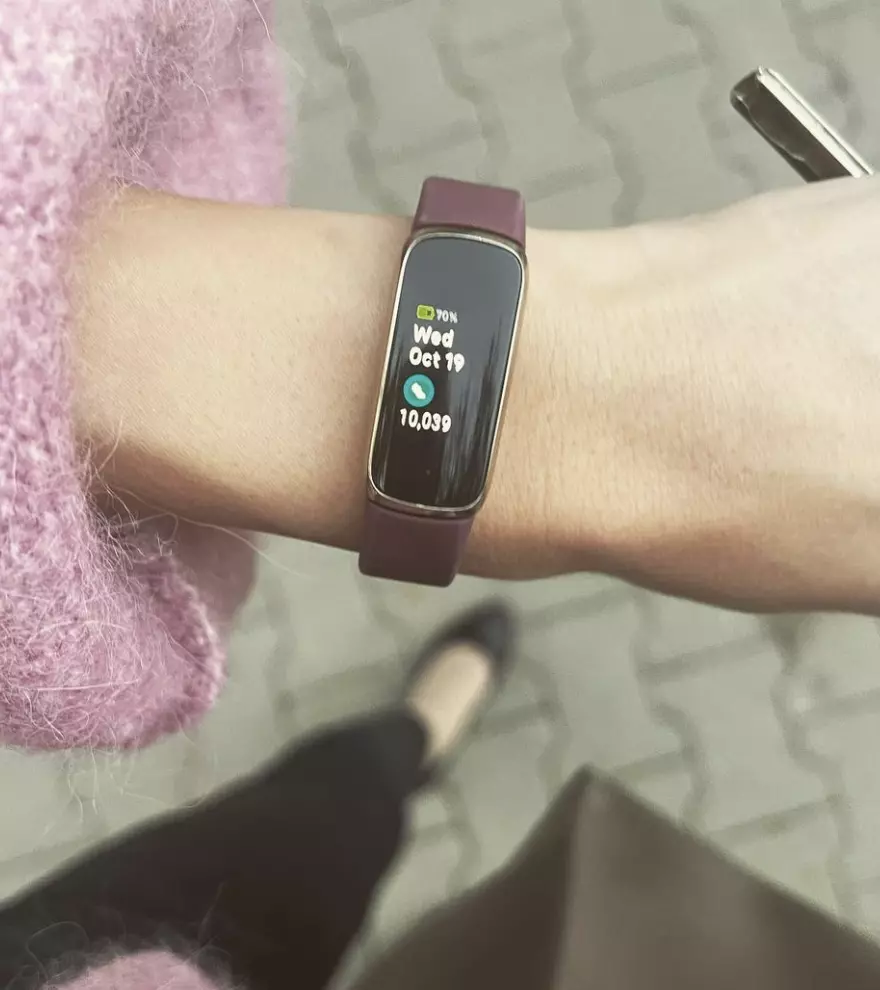 The Luxe is another mid-range Fitbit tracker which is made for stylish people. This tracker comes with beautiful gold aluminum housing and has a small display making it perfect for small wrists.
In the health and fitness tracking department, the Luxe offers powerful features like SpO2, heart rate tracking, HRV, skin temperature variation, sleep tracking, etc. For a female, it brings menstrual health tracking so they can log periods, record symptoms, and estimate ovulation time.
Fitbit Luxe includes some primary smart features like DND mode that helps you focus on your work, Find my phone, call and text notifications, and many clock faces.
The Luxe doesn't have an EDA sensor; you can only view your stress management score. Fitbit Luxe tracks your active zone minutes and cardio fitness core during workouts using VO2 max and daily readiness score. But these premium feature requires Fitbit premium subscription.
Because of the 50-meter water rating, you can use it while swimming or showering. Lastly, the Luxe offers 5 days of battery life which is enough simple routine.
Pros
Very stylish look
Vibrant AMOLED display
Impressive heart rate tracking
Sleep tracking is good
Very lightweight
Cons
NO GPS
No NFC features
No Altimeter
The screen is too small to read
Fitbit Luxe
Track heart rate, sleepm and respiration

Robust companion app

Color touch screen

Slim, jewelry-inspired design with a metal case
Prices pulled from the Amazon Product Advertising API on:
Product prices and availability are accurate as of the date/time indicated and are subject to change. Any price and availability information displayed on [relevant Amazon Site(s), as applicable] at the time of purchase will apply to the purchase of this product.
Price & Purpose Table
| Model | Dedicated Purpose | Price |
| --- | --- | --- |
| Fitbit Sense 2 | For comprehensive health and wellness tracking. It has ECG and EDA sensor. | $299 |
| Fitbit Versa 4 | Versatile fitness tracker with bunch of smart features. | $199 |
| Fitbit Charge 5 | Great option for people who are on budget and still wants a Fitbit with ECG app. | $126 |
| Fitbit Inspire 3 | Basic fitness tracking and health monitoring, affordable option. | $99 |
| Fitbit Luxe | Fashionable and stylish fitness tracker with bunch of wellness featues. | $129 |
FAQs
Does the Fitbit app work with all models?
Yes, all the Fitbit models are compatible with the Fitbit app. The Fitbit trackers sync real-time data with the Fitbit app, and you can view compressive insights into all your fitness activities there. Before installing the Fitbit mobile app, ensure your phone runs on Android 5.0 or higher and Apple iOS 10 or higher. 
Which Fitbit has ECG?
The latest Fitbit models have an ECG app that measures signs for AFib and generates pdf reports. The Fitbit models with the ECG app include Fitbit Sense, Sense 2, and Charge 5. 
Which Fitbit has GPS?
Several Fitbit tracker offers built-in GPS, including Fitbit Sense, Sense 2, Versa 3, Versa 4, and Fitbit Charge 4. A few Fitbits also have Google Maps that provide detailed routines and turn-by-turn navigations. 
Does Fitbit track blood pressure?
No, Fitbits doesn't have any blood pressure feature. But few of the high-end Fitbit model, including Fitbit Sense, Sense 2, and Versa 3/4, offers an EDA sensor that measures your body's response to stress. 
Which Fitbit can make calls?
Some Fitbit devices, such as the Fitbit Sense/Sense 2 and the Fitbit Versa 3/4, have a built-in speaker and microphone that allow you to make and receive phone calls when your smartphone is nearby and connected via Bluetooth. You can use these devices to answer incoming calls and make outgoing calls by using voice commands or by selecting contacts from your phone's contact list.
Is Fitbit Charge 5 Waterproof?
Yes, almost all Fitbit devices have a 50-meter water-resistant rating. You can wear Fitbits while swimming, bathing, or taking a shower. 
Does Fitbit sense 2 have Spotify?
Fitbit Sense 2 doesn't have additional storage for Spotify, but you can control your smartphone's Spotify music via Sense 2. You can pause, skip tracks, and adjust the volume without taking out your phone. However, you must have a Spotify Premium account to use this feature.
Wrapping Up:
We hope you found the best Fitbit using our Fitbit comparison chart. Every Fitbit is made for a dedicated purpose and has a different price tag. Similarly, we have also put a Price and Purpose table that helps you to make a more precise and better decision.
We have put the latest Fitbit tracker in our Fitbit comparison chart so that you will get updated information regarding Fitbits. If you have any queries, please ask in the comment box; we love to answer our audience.
About Author