Clock faces are the most impressive element in smartwatches as it allows you to customize the watch screen with visually appealing dials. No doubt, they improve the appearance of any smartwatch.
Fitbit Charge 5 is the most recent model by Fitbit. Like other smartwatches, Fitbit Charge 5 also offers a wide variety of clock faces that include both free and paid options. However, selecting the right one from a huge list can be pretty challenging.
But don't worry! Let's make it easy for you.
We've produced a list of seven of the best clock faces for the Fitbit Charge 5, so you can make an informed decision. Additionally, we'll provide a step-by-step guide on how to download the watch face to your device.
So, without any further ado, let's get started.
Top 7 Best Clock Faces on Fitbit Charge 5
Fitbit Charge 5 has a compact rectangular display. It offers 24 versatile watch faces, so you can choose one according to your style and preference.
Here we will discuss the seven best clock faces for Fitbit Charge 5. These are:
https://www.pcmag.com/reviews/fitbit-charge-5 ( for pictures)
1. Continuum
Continuum is the best choice if you want a simple watch face for your Charge 5 smartwatch. It displays days on the top, following the time.
In addition, the left half of the face is displayed with a sequence of lines. Lines depict the progression of several health measures, such as the number of steps taken or the number of activities completed. As the lines fill up, the color changes from blue to yellow.
Overall, the continuum watch face for the Fitbit is a good choice.
2. Intersection
The intersection is an analog clock phase. It shows time in a unique analog format. Besides time, it shows the date with the name of the month.
Moreover, it shows changeable health metrics, including active zone minutes, steps taken, total calories burned, distance, and heart rate.
3. Zones
The zone is a stylish clock face and is different because of the always visible active zone minutes. Below the symbol of active zone minutes, you will get the date and time.
Also, it helps to check your stats such as steps taken, heart rate, distance, and total calories burned.
4. Vogue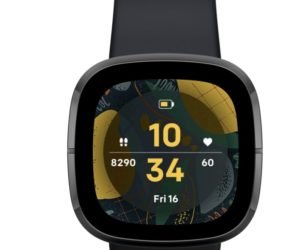 Are you looking for a more simple watch face? The Vogue is the simplest watch face you can find for your Fitbit watch. It can be the perfect choice for someone with minimal taste in everything.
Talking about the watch face, it shows time with a second, and you can scroll through the active zone minutes, steps, and heart rate. Overall, it is the simplest clock face of Fitbit Charge 5.
5. Slashed
Next, we have a slashed clock face. Like other watch faces, it shows the date and month followed by hours and minutes.
The unique thing about this clock face is that it displays three stats simultaneously, including active zone minutes, steps taken, and heart rate. And if you tap once, it shows further two stats data of calories burned and distance.
6. RetroFlip
Fitbit's retro flip watch face is an 80s-inspired design that will make you feel like you've stepped back in time. It displays the month and day of the month at the top with hours and minutes.
Further, we have changeable stats such as active zone minutes, steps taken, total calories burned, and distance. The good thing about this part is that it shows all the data fields in different attractive colors for better visibility.
7. Statposter
Statposter is a good alternative if you are looking for a modern watch face. It shows hours, minutes, and seconds. On the right corner, it displays a date with a month.
In addition to date and time, it offers switchable stats with a background written with specific data in attractive hues. You can scroll through active zone minutes, steps, distance, BPM, and calories burned.
How Can You Install Fitbit Clock Faces on Fitbit Charge 5?
Installing the clock face on the Fitbit Charge 5 is an easy and rapid process. The watch faces are only a few hundred KB each, so downloading and activating a new face on the watch should take just 30 seconds.
Following these steps, you can download new watch faces from the Fitbit app.
Step 1: First of all, you must have a Fitbit app on your smartphone. Install it from the Play Store if you don't have one.
Step 2: After installing your Fitbit app, log in with your account.
Step 3: Tap on the "Apps" tab at the bottom of the screen and then tap "Clock Faces."
Step 4: Scroll through all the clock faces and select the one you like.
Step 5: Tap "Install" to download it to your device.
How to Change Fitbit Charge 5 Clock Face?
Changing a watch face on Fitbit Charge 5 is a pretty easy task. Here's a step-by-step instruction for changing the clock face on your Fitbit Charge 5. The steps include:
Step 1: Start with the Fitbit app on your phone.
Step 2: Click on the today tab.
Step 3: Go to the upper left corner of the screen and tap on your profile picture.
Step 4: Find your device, "Fitbit Charge 5," in your list of devices and tap on it.
Step 5: Then, tap on clock faces. It will show you the currently available clock faces.
Step 6: Once you find one you want to switch to, tap on it.
Step 7: Tap on the install option to download it.
Step 8: After downloading, your Charge 5 shows the new clock face.
Conclusion
To conclude, these are the best clock faces for Fitbit Charge 5. These faces are free to use; however, some demand a fee to unlock additional features.
Hopefully, this article will help you select the best clock face for your Fitbit Charge 5. If you have any other suggestions and queries, please leave them in the comment section down below.
Thank you for reading!
Frequently Asked Questions (FAQs)
1. Are all Fitbit clock faces paid?
No. Some of the clock faces on Fitbits are free of charge. Fitbit's gallery store offers both free and paid clock faces. However, purchasing clock faces often costs between $1 to $10, which is quite affordable.
2. Where can I get a clock face for my Fitbit?
The Fitbit Gallery Store in the Fitbit app is the quickest and most convenient way to see all the clock faces. It allows you to customize your watches by enabling you to select different faces and complications.
3. How to uninstall a clock face on Fitbit Charge 5?
For uninstalling a clock face on your device, you need to follow these steps:
First of all, open the Fitbit app on your smartwatch.
Click on the profile picture. Next, click on the Fitbit Charge 5 icon.
Choose gallery. You will be able to see all clock faces you saved earlier. To uninstall a Fitbit clock face, tap on the watch face you want to uninstall.
Select "Remove Clock Face."
About Author