In today's article, we will talk about Fitbit floors climbed, how Fitbit tracks Floor climbs, and its accuracy.
Fitbit wearables have many health and fitness tracking features; a few of the Fitbit come with a "Floor Climbed" feature. When someone takes stairs, the Fitbit tacker use Altimeter and accelerometer sensors to detect Floor climb.
Climbing the Floor is a vigorous activity that burns more calories; that's why fitness conscious people must track the number of floors climbed in a day.
Counting floors climbed becomes easy with the use of the Fitbit wearables; if you have one, you can keep an eye on your daily flights of stairs or floor count.
Let's talk more about the "Fitbit Floors Climbed" feature on Fitbit.
How Does Fitbit Measure Floor Climbed?
Because of the built-in Altimeter, the Fitbit calculate Floors climbed and also tracks when you're going down from stairs. The Altimeter in Fitbit is responsible for measuring altitudes. T
he atmospheric pressure changes when someone climbs the stairs, and Fitbit can easily detect that.
Similarly, the accelerometer sensor in Fitbit also takes into account when it comes to Floor climbing because the accelerometer sensor is responsible for measuring your movements.
So both the Altimeter and accelerometer measure the elevation gain when you climb stairs.
Garmin watches also use a similar mechanism to measure Floor climb and change in elevation. But the Fitbit trackers count one Floor when someone climbs ten feet at one time.
A few Fitbit devices lack an altimeter sensor, so they pick altitude data from built-in GPS. However, it's often inaccurate because the GPS receiver doesn't provide a continuous signal to track vertical elevation gain.
If you expect accurate floor climb readings on Fitbit, you must have Fitbit with an altimeter sensor.
Related Article: CAN YOU WEAR A FITBIT ON YOUR ANKLE
Which Fitbit Tracker Count Floors Climbed?
Fitbit has a diverse culture, it offers a variety of models, and each model has some unique feature making it superior to others. The Floor climb feature is only found in high-end models of Fitbit. Here is the list of Fitbit that offers Floor climbing feature;
Fitbit Sense and Sense 2
Fitbit Versa 4, Versa 3, and Versa 2
Fitbit Blaze
You have seen that only the Sense, Versa, and Blaze series offer altimeters. Even the Fitbit Charge 5, the successor of the Charge lineup, lacks this sensor.
In a nutshell, the Altimeter is only found in Fitbit smartwatches, not in Fitbit fitness trackers. The Fitbit Sense and Versa series have many other smartwatch features like a microphone, speakers, built-in Alexa, NFC, and more. 
How Accurate Is The Fitbit Floors climbed?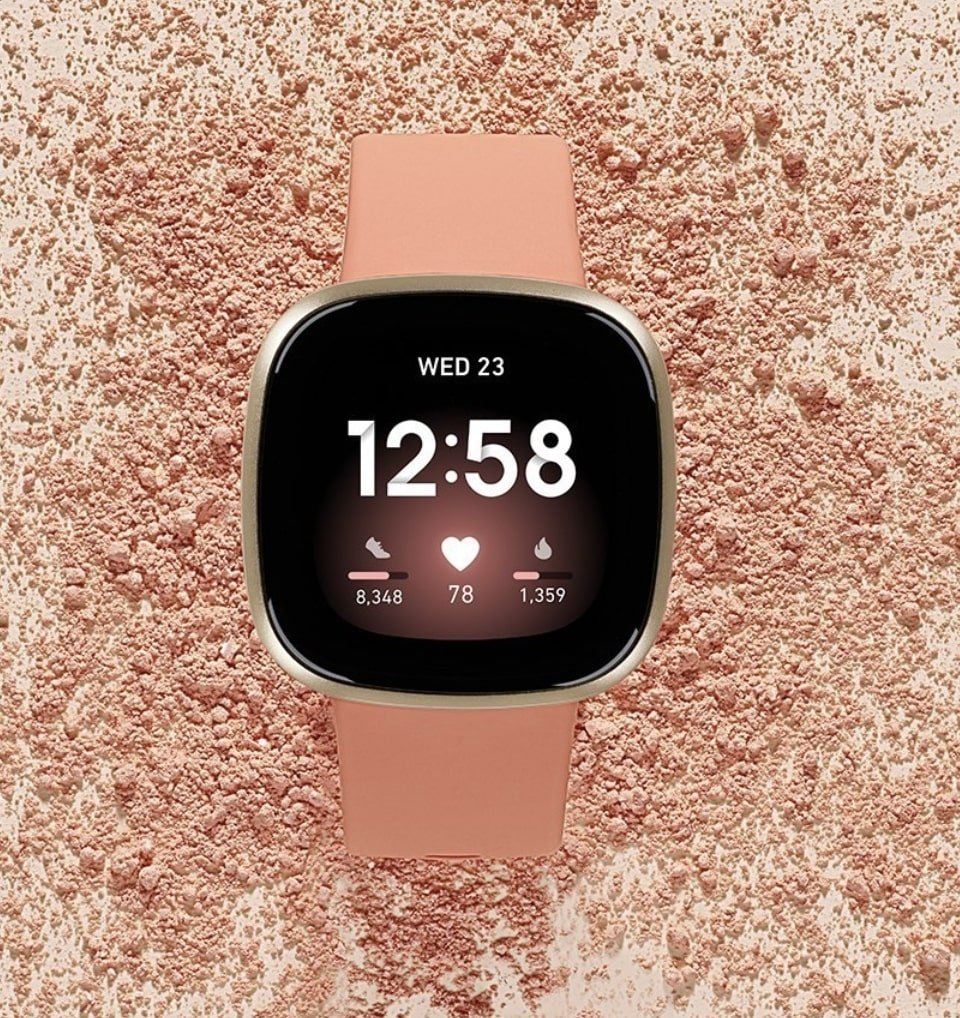 The "Floors Climbed" feature on Fitbit is only useful if it works accurately. Unexpectedly most of the Fitbit Sense and Versa 3 owners reported some bugs in the altimeter sensor.
According to the customers, the Fitbit even tracks the small change in air pressure due to weather, while riding the cycle or driving a car, resulting in additional floor counts.
Similarly, other natural elements like wind pressure, pool activities, and other factors produce inaccurate floor climb readings. So don't worry about it, If you see unusual data regarding Floors climbed on Fitbit.
Does Fitbit Measure Calorie burn With Floors Climbed?
Fitbit tracks calories burned based on your movements. The built-in accelerometer in Fitbit devices measures your movements. In the case of Floor climbing, Fitbit measures the same calories burn as you walk on a straight footpath. For example; The calories tracked by Fitbit on a 1-mile straight path will be similar to those burned while Floor climbed.
Fitbit measures calories burned based on the intensity of certain activities. A high-intensity activity increases your heart rate, which results in more calories burned.
Similarly, you can't measure elevation gains caused by Stairmaster, inclined treadmills, and other fitness equipment. But a Fitbit measures calories burned during every activity. 
Related Post: Why Fitbit Is Not Counting Steps!
How To Set Floors Climbed As Daily Fitness Goal On Fitbit?
Like the daily "distance covered" goal, you can also set a daily Floors climbed goal on your Fitbit. But you can only do this for a few Fitbit with Altimeter. Here are the steps to set "Floors Climbed" as the primary goal.
In the Fitbit app, navigate to the Today dashboard.
From the top left corner, tap the Profile icon.
Scroll down and select Main Goal.
Next, tap the stats icon representing the Floors Climbed feature.
Once you have set this, you can see floors climbed on your Today dashboard.
Tips To Improve Floors Climbed Accuracy On Fitbit
Even though the Floor climb might vary depending upon the external conditions, you can follow simple tips to improve the Floor climb accuracy.
Your Fitbit will only count one Floor if you climb at least 10 feet, so you can't take advantage of Floors climbed features below that.
Too much moisture in the Fitbit also prevents Altimeter from properly functioning that's you should wipe it off with a microfiber cloth after taking a shower or swimming. Always use the water lock feature before performing any water activity.
Sometimes the altimeter sensor gets stuck because of overload or some other reasons; in that scenario, restart your Fitbit and then try to monitor elevations.
Fitbit Floors Climbed Badges
What I love about Fitbit trackers are their beautiful badges that push you and motivate you to achieve your goals. An individual will get a Fitness badge if he/she accomplished a certain goal or got big achievements.
Similarly, for Floor climbing, Fitbit also offers badges.
If you have climbed 10 floors in a day, Fitbit will give you a Happy Hill badge. On climbing 25 floors in one day, you will get Redwood Forest, and for 700 floors, it assigns you a Rainbow badge.
There are lot of badges for Floors Climbed; the more badges you have, the more active you become. You can view all the badges into Fitbit app.
Final Words:
Fitbit is a useful gadget for fitness enthusiasts that helps you to stay on the path, keep an eye on your daily fitness goals, and monitor various activities.
When you dive into Fitbit's deep sea of features, you will also get a Floor climbed feature. This feature helps you measure your daily Floor climb, which is only found in Fitbit Sense and Versa series. You can also add this feature to your daily goal from Fitbit app settings.
After reading the above article, I hope you are aware of Floor climbed feature and can get the maximum benefit from it. If you still have a any question, make sure to ask in the comments section.
FAQs
How many floors per day is good?
Floor climbing is a vigorous activity that increases your heart rate and burns more calories than walking on a straight path. Taking two to four flights of stairs per day is recommended, which can reduce mortality risk. But for active or young people, walking up and down the stain for 10 – 15 minutes a day is good. 
Which Fitbit devices track floors?
Only a few high-end Fitbit can track Floor climbed. These include Fitbit Sense, Sense 2, Versa 4/3/2, and Fitbit Blaze. 
Does Fitbit Charge 5 Track Floors Climb?
No, Fitbit Charge 5 doesn't track Floor climbs because it has no altimeter sensor. But the Charge 5 includes a built-in GPS to track altitudes during hiking and outdoor activities. 
Video Guide
Related Articles:
About Author