Health and fitness tracking are essential things that every athlete does. Getting insights of your daily fitness routine is compulsory to understand your wellness.
Google Fit and MyFitnessPal offer advanced health tracking metrics to understand your performance better.
Folks become confused in choosing the best app between Google Fit and MyFitnessPal as both have different features.
So in this article, we will discuss some of the major differences between Google Fit and MyFitnessPal so you can choose the best one.
Google Fit VS MyFitnessPal: Quick Overview
Google Fit is a more simple and easy-to-use fitness app that tracks your steps, heart points, calories, energy expended, sleep, and respiratory rate. Whereas MyFitnessPal is specifically designed to keep more of an eye on your calories, nutrients, and food intake. MFP can also track your steps and other exercises. But the app contains ads in its free version. 
Google Fit VS MyFitnessPal: Interface 
When it comes to interface Google Fit gives a more easy-to-use UI. Even you can understand this app with just one glimpse. Google always tries to make user-friendly apps. The best thing about this app is it can automatically monitor your steps and heart points. So you don't need to put much effort into setting up this app.
On Google Fit, you can customize widgets, delete, or add more widgets, whereas MyFitnessPal doesn't have such a feature.
On the other hand, MyFitnessPal is a complex app that requires some time to understand all the options. Unlike Google Fit on MyFitnessPal, you have to add your exercises manually.
A free version of MFP shows ads that give a bad user experience. But you can make the app ads-free by buying its premium subscription plan, which is available at $9.99/month.
Google Fit VS MyFitnessPal: Calories Tracking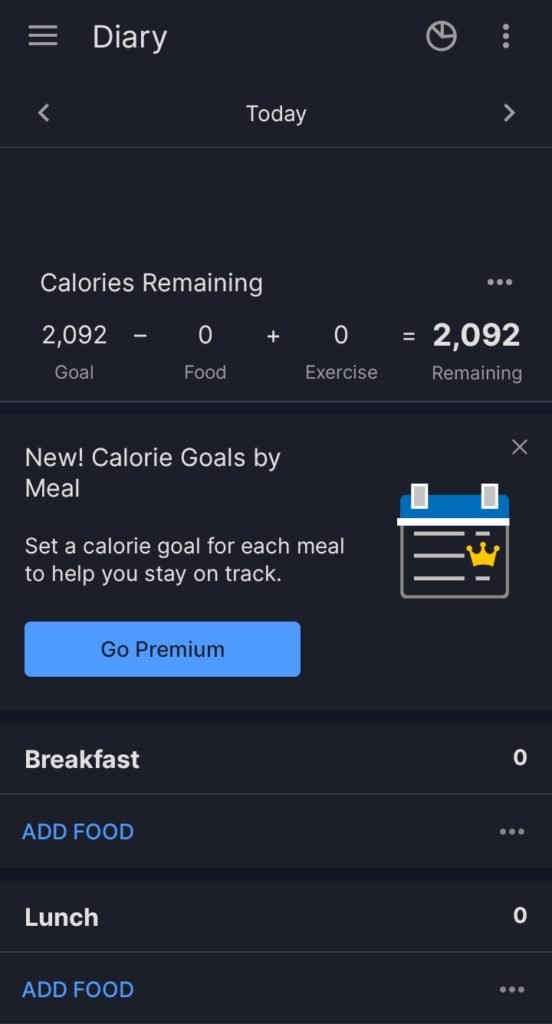 If you are diet conscious or a fitness focus person, calorie tracking might be essential. Keeping an eye on your calories burned and intake helps you maintain a healthier lifestyle and makes you fit. That's Google Fit and MyFitnessPal designed to help you in this manner. 
If your Google Fit is synced with your smartwatch, it will automatically track your calories. On this app, you can view your calories data daily/weekly/monthly basis, which is very convenient to guess which day you eat more calories.
Whereas on MyFitnessPal, you have to add your calories of every nutrient manually, and it will help you reach your daily calories intake goal. We have seen that MyFitnessPal doesn't track your calories burn automatically, which might be its downside.
You have to add an exercise where you mention the calories burned manually. But on MyFitnessPal, you will find many videos and training programs to burn calories and get high-quality nutrients.
Similarly, MyFitnessPal gives you a diary to store your daily, weekly, and monthly nutrients data. And you can deeply view the insights of your nutrients using charts and other visuals.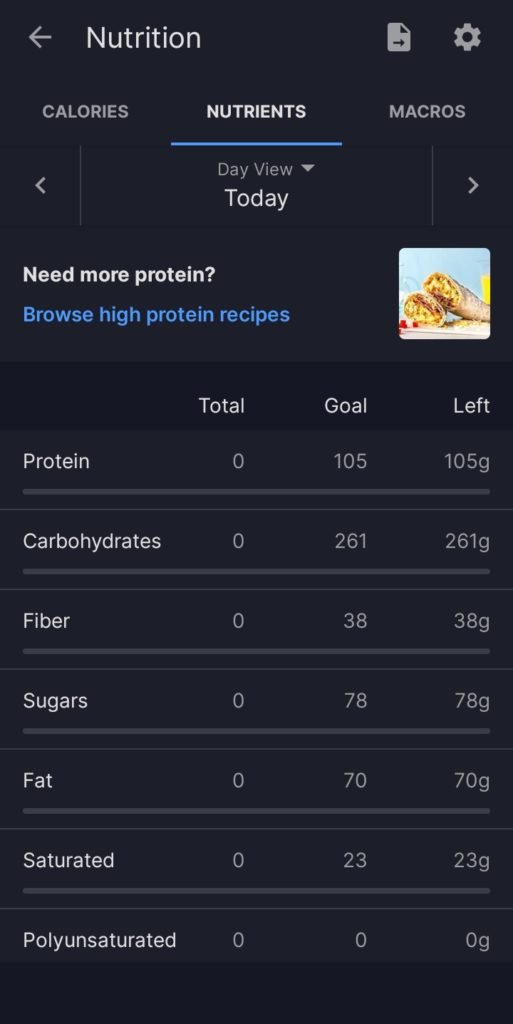 Google Fit VS MyFitnessPal: Steps Tracking
Both apps give you insights into your daily steps. But Google Fit is my favorite app for step tracking, as this app can automatically count your steps. Even if Google Fit is not in sync with your smartwatch, it will still use your smartphone sensor to count steps.
On the other hand, MyFitnessPal can't count your steps directly, and you have to sync it with any health app to get the steps date. You can link MyFitnessPal with over 50 apps like Strava, Samsung Health app, Garmin Connect, Fitbit, Apple Health, etc.
I like Google Fit for steps tracking as this app gives you a detailed overview of your steps-taking activities like running, cycling, hiking, and others. You can also set daily steps and goals, and the app will track them effectively.
You will also see how much distance you have covered in a day/week/month on Google Fit. The new moving minutes feature on fit allows you to measure anything that gets you moving, helping you understand how active you are each day.
Plus, Google Fit will also show you the history of your step count to view your last day, week, and monthly performance.
Google Fit VS MyFitnessPal: Which One Is the Better Coach
Both Google Fit and MyFitnessPal measure your activities and calories and are the best coach to guide you and help you achieve your fitness destination.
Google Fit provides you an option to set daily goals, and you can customize the goals according to your need. And the app will effectively measure these goals. The "Stay Fit #with me" on Google Fit offers different fitness videos to help you stay healthy from home. You can watch different workouts, yoga, dance, and meditation classes.
On the other hand, MyFitnessPal is the best virtual fitness coach I have ever seen. It offers tons of fitness-related videos, blogs, and programs that help you stay fit mentally, physically, and spiritually.
On MFP, you can take part in challenges which might be one week or three-week challenges. These small challenges can bring a huge positive impact on your lifestyle. The app will track your performance during challenges and guide what to do to achieve your goals.
MyFitnessPal provides diet challenges and offers walking and workout to keep you motivated.
In a nutshell, MyFitnessPal is the best virtual coach compared to Google Fit, where you will only have a few helpful youtube videos.
Google Fit VS MyFitnessPal: Exercises Tracking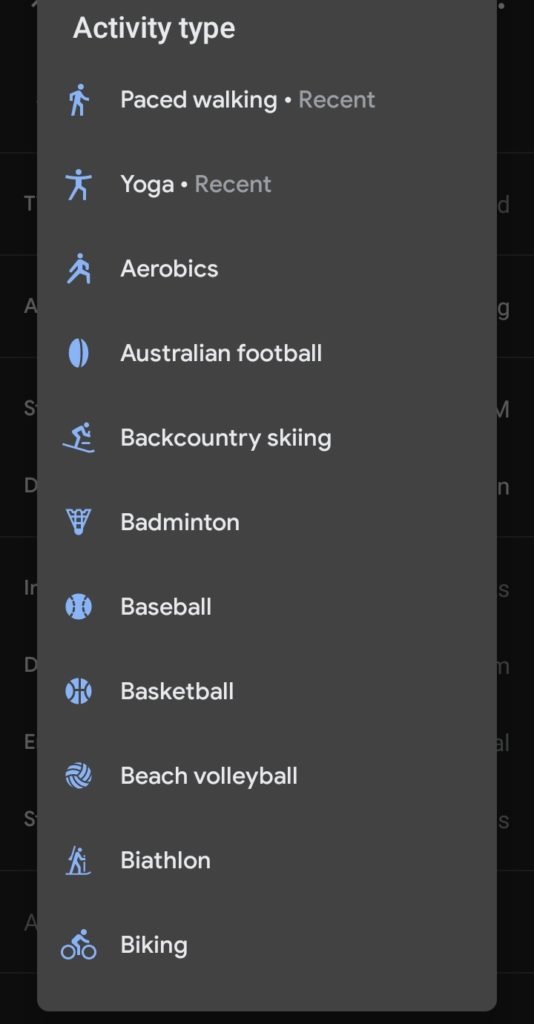 For athletes tracking performance, it must have something that helps them improve their weak areas. Both Google Fit and MyFitnessPal keep track of your exercise data.
In the case of Google Fit, you have to sync it with any of your compatible smartwatches that can measure exercises. Once the watch is successfully synced, it sends all of your exercises and workout data to Google Fit.
Secondly, Google Fit also provides an option to add your activities manually. You will see 108 different exercises and workout activities on the activities option that you can add.
On the other hand, MyFitnessPal doesn't track your activities automatically. Even if you sync it with any other app, it will only count your steps. But it allows you to add exercises, workout routines manually, and guided workout training which is far better than Google Fit.
Google Fit VS MyFitnessPal: Other Options
Both apps give a lot of other tracking features and different options to explore. Google Fit gives more health tracking features than MyFitnessPal. So let's discuss them;
Heart Points:
Heart point is the core feature in Google Fit, designed in collaboration with "American Heart Association." These heart points feature similar intensity minutes in Garmin watches and Active zone minutes in Fitbit Wearables.
Heart points are points for each minute of activity that gets your heart pumping, like walking, running, cycling, etc. So greater the heat points you earn more will be your performance.
Track Respiratory Rate With Google Fit:
Recently Google has added a new feature in Google Fit that tracks your respiratory rate with the help of your phone's front camera. This feature works on AI algorithms and detects your face and chest to calculate scores.
But I have tested it several times, and each time it gives inaccurate values.
Recipes:
MyFitnessPal is a dieting focus app with a huge database of global and continental recipes. Each recipe shows the method to make it and tells about nutrition per serving that helps you take your desired nutrients in the right amount.
Social Platform:
Both MyFitnessPal and Google Fit offer to share your progress with your loved ones.
Google Fit has a separate section named "Journal" that allows you to view all of your activities. From there, you can share your desired activity on your social platforms.
Whereas MyFitnessPal provides you a feed like Instagram and Facebook to share your recipes, blogs, or videos with thousands of people in an MFP community. You can also share your diary with your friends or make it publically visible to everyone in the MFP community.
Google Fit VS MyFitnessPal: Which One To Choose?
Both Google Fit and MyFitnessPal are the best apps on their terms. Google Fit provides an easy-to-use interface with more fitness tracking options. Whereas MyFitnessPal is specifically designed to manage your diet and nutrients.
If your focus is on weight gain or loss, diet, or nutrition, then MyFitnessPal is one of the best options among hundreds of other apps. But if you want to measure your daily fitness goals more effectively, then Google Fit might be the best option available.
About Author