Garmin Tactix Delta Vs. Fenix 6x is a tough competition, and it isn't easy to judge which one is best. The following comparison guide will provide you with clear difference about both smartwatches.
I reviewed Garmin Tactix Delta recently, and I found many useful features in it. But at the same time, I observe most of the features are the same in Garmin Fenix 6x.
Many people are confused about the fact that these two tactical smartwatches are the same because these watches have almost the same features and same similiar design. But there are still some differences.
I know you are pretty confused, asking yourself, should I buy Fenix 6x or Garmin Tactix Delta?
Garmin Tactix Delta Vs. Fenix 6x: Battery Life and Price
Battery Life
Almost both watches comes with same battery which has insane lasting time. But if you compare deeple, Garmin Tactix Delta beats Fenix 6x; on average Tactix Delta will give you 24 Days in Smartwatch Mode, 66 Hours in GPS On mode, 16 Hours in GPS and Music On the way, and120 Days in Low Power Mode.
On the other side, Garmin Fenix 6x will give you eight days of battery life in Smartwatch Mode, 50 Hours in GPS On, and 6 hours in GPS and Music On.
Price
No doubt these two watches are the same in almost most of the features, but there is a pretty big difference in price and some extra premium features.
Garmin Tactix Delta (Solar) : $1,099.99

Tactix Delta (Non-Solar) :$899.99

Garmin Fenix 6x : $699.99
The prices of the Garmin Tactix Delta are pretty much high than the Garmin Fenix 6x.
Garmin Fenix 6x Vs Garmin Tactix Delta : Design
No doubt, Garmin manufactures the world's most durable smartwatches with a highly rugged design. The robust and premium polymers in the design of Garmin watches increase their prices.
If we talk about the display size, both watches have the same display size of 1.4″/ 35.6 mm.
Looking at the display type, so both watches have a MIP LCD type.
Both the watches have the same pixel density of 283 PPI.
If we talk about the material, so both watches are made up of Sapphire Crystal material.
Again both watches have the same feature of screen resolution, which is 280 x 280.
Both the watches have the same case size of 51mm.
Difference
The only physical difference between these two models is a slight face redesign. The Garmin Tactics Delta has a 24 hour time engraved around the bezel.
Garmin Tactix Delta Vs. Fenix 6x: Fitness Features
Common Features
I have seen the majority of fitness, and activity tracking features are the same in both smartwatches. These features include heart rate, Training effect stress monitor, few GYM features, and others. These are normal features that are present in every single smartwatch.
But there are few premium features that makes these watches pretty pricey.
Both the wears offers a real-time Pulse OX monitor that allows you to monitor the amount of oxygen in your blood. Another fantastic feature of these watches is the VO2 max. With the help of this feature, you can measure your's body ability to consume oxygen.
Then it comes a respiration feature. This feature allows you to count the number of breaths per minute.
If we talk about the accuracy of these watches, so I have never seen fluctuation in their results. Both the smartwatches have high accuracy. I think there are significantly limited wears that give you such highly accurate results.
Garmin Fenix 6x Vs Tactix Delta (Difference)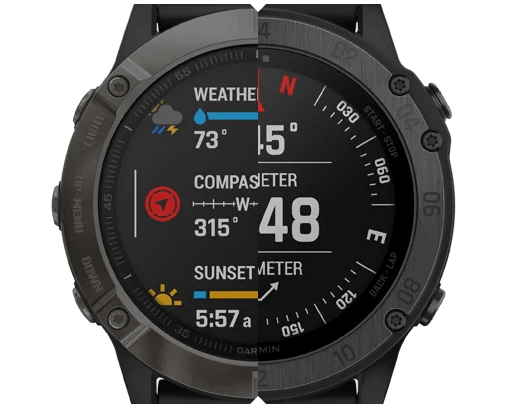 You have seen majority of features are some; however tactics Delta comes with these three features additionally:
Stealth Mode
In restricted areas, this mode helps you disable all the electronic signals from your smartwatch. Stealth Mode is a extremely premium feature that is found in Tactix Delta. But this feature is not useful for civilians.
Enabling this mode prevents the sharing and storage of your GPS position and disables wireless communications.
Whenever you enable Stealth Mode, you will be unable to use GPS, other location sharing, etc.
Being a civilian, this feature is useless for you. But at the same time, this should be an essential and secure feature for military forces.
Night Vision Mode
Night Vision Mode another beneficial feature for military forces. This mode reduces the backlight intensity for compatibility with night vision goggles. Thanks to Garmin that care about the military forces and offer such high-end features to them.
With a night vision lens, it becomes easier to see the dial and read it.
This mode doesn't change the color of the whole display. It only adjusts different radiation and rays coming from your smartwatch display.
Kill Switch
With the help of Kill Switch, one can quickly remove all saved user data and resets all settings on the device to factory default values.
Kill Switch features allows you to reset your smartwatch quickly. Sometimes it will be risky for you. At that time, you can promptly delete all data with the help of the Kill Switch feature.
After configuration, just hold one or two buttons, and it will reset and delelte all your essential data.
Garmin Tactix Delta Vs. Fenix 6x: Other Common Features
Garmin Pace Pro
The Garmin Pace Pro feature help you to keep your pace wwhile running.
Garmin Pace Pro feature offers pace guidance for hiking, running, and jogging, etc. And both watches have this fantastic feature.
Widget Options
This handy feature lets you see insights into your activities and exercises on your smartwatch. Both Fenix 6 and Tactix have a dozen cool widgets.
With the help of Garmin IQ, you can also download more amazing widgets.
There are few gadgets, which are present by default in both watches like notifications, weather temperature, altitude, direction, calendar, distance, and more.
Course Creation
This is one of the most premium feature, only found in Garmin's High-end watches. With the help of this feature, you can create your course for your Garmin Device.
You can create your different routes for jogging, running, and cycling, etc. However, there is also an option to create different exercises and include them in your daily routine.
Garmin Pay
With the help of the Garmin Pay feature, you can pay your utility bill quickly and also you can make a purchase using Garmin Pay.
So if you want to use Garmin Pay feature, first of all you need to hold your wrist near the card reader, and it will scan your watch. But before doing this process, you must have to connect your watch with your debit/credit card or bank account.
Safety Features
Garmin Delta and Fenix watches contain some premium sensors, that will automatically detect incidents, and after the incident, these special sensors will inform your emergency contacts about those incidents.
Among these special sensors, Incident detection and live tracking are the two most usable sensors. Live tracking will automatically share your live location with your emergency contacts and friends if you have an incident . So, whenever you get into an emergency, you can quickly call your friends.
So these both watches come with these fantastic and most usable safety features.
Solar Battery
Both Fenix 6 and Tactix Delta have a Solar Battery feature. Garmin's watches have got an incrdeible Solar battery booster, which makes Garmin's smartwatches more powerful.
This incredible feature works when the sunlight drops on your watch screen, and it gives a boost to your battery life. So you don't even need to charge your watch for months.
Training Effect
Training effect features will give you detailed results after analyzing your heart rate, the oxygen level in the blood, respiration, etc.
Both smartwatches have this incredible feature.
This feature will also measure the impact of any fitness activity on your anaerobic and aerobic fitness. If you are a true fitness lover, so this effect will be beneficial and helpful for you.
Both Fenix 6 and Tactix come with a highly detailed navigation system, which is very accurate and fast. With colorful routes, it becomes easier for you to identify directions.
Because of the precise navigation system of these watches, you can easily reach your destination. The premium GPS will not only allow you to see city maps, but you can also see streets with cities and different shops, restaurants, and petrol pumps, etc.
Even in deserted and hilly areas, their GPS will never disappoint you. I think no other smartwatch offers you such a quick and accurate navigation system.
Conclusion
After going through the above article, you may have found out main differences, and both smartwatches are quite the same except for three unique features in Tactix Delta that make it costly from Fenix 6x.
Secondly, there is a pretty small difference in the shape and design of Garmin Tactics Delta, which has a 24 hour time engraved around the bezel.
If you think Night Vision Mode, Stealth mode, and Kill switch are useful for you, so you can go with Garmin Delta. Otherwise, Garmin Fenix 6x is the best option.
Garmin tactix Delta Solar
Solar charging

TOPO maps

Specialized tactical features

Customizable battery

ABC SENSORS

More saftey features
Garmin Fenix 6x
MIP LCD

Accelerometer, Barometer

Safety Features

Solar Battery Boost

Lithium-Ion Battery