ECG Smartwatches are growing more rapidly these days. According to taiwannews, the Global ECG wearable market was valued at 12,119.3 million in 2020 and is expected to reach $58,071.9 Million by 2027
With the increase in heart diseases, people invest more in digital wearables. Seeing the users demand different smartwatch brands now adding ECG sensors in their flagships.
These wearables are helping people keep an eye on their heart health. Using these ECG Smartwatches, you can identify atrial fibrillation, one of the leading causes of stroke.
After taking an ECG in the smartwatch, it generates a PDF report that you can share with your doctor for a more valuable consultant.
Besides taking ECG readings, you can also use these smartwatches to monitor your daily fitness routine, sleep, heart rate tracking, blood pressure monitoring, etc.
But it's not an easy job to find an accurate and reliable ECG smartwatch. To help you out, we have spent hours in research and testing and found some of the best FDA-approved ECG smartwatches.
In A Hurry! Here Are Our Top Picks…
Related Post:
Why Choose FDA Approved ECG Smartwatch:
Note: You should only choose smartwatches approved by the Food and Drug Administration.
The FDA evaluates health risks and determines the benefits of medical devices. A medical device must pass FDA standards to get formal approval. Likewise, different smartwatches brands like Apple, Samsung, and Fitbit have to submit the results of their clinical tests to get support.
Getting approval from FDA is not an easy job; depending upon the medical product quality and risks FDA puts them in different categories. Here you can check the difference between FDA-approved and clear and registered medical devices.
Similarly, manufacturers must submit the 510(k) form for some medical devices to demonstrate that the device is safe and works effectively. It's a long process that takes 3 months, and after that, a device is regarded as a medical device.
13 Best FDA Approved ECG Smartwatches
If you are planning to get the best smartwatch with ECG, then these are the ones you should look to:
1- Apple Watch 7
Specifications
| | |
| --- | --- |
| OS | Watch OS |
| Compatibility | Only iOS |
| Display | LTPO OLED, Touchscreen, Digital Crown |
| Internal Storage | 32 GB |
| IP Rating | 50m |
| Battery Life | 18 hours |
| GPS | Yes |
Apple Watch 7 is a new addition to the Apple Watch product line. The latest flagship watch comes with revolutionary sensors that take your ECG anytime.
The watch is tested several times, and every time it shows very precise results. Once you have taken ECG on your Apple Watch 7, it shows the sign of atrial fibrillation or sinus rhythm.
How ECG app Works On Apple Watch 7?
There are built-in Electrodes in the Digital crown that takes the readings. When you touch your finger with Digital Crown, it reads your heart's electrical signals. To generate a complete waveform, you have to touch the digital crown for 15 seconds.
And after taking ECG, your Apple Watch 7 shows you the following results, which you must know to maintain your
normal heart rhythm.
Sinus Rhythm: If your ECG results show a Sinus rhythm, it means your heartbeat is in a uniform pattern between 50 and 100 BPM. But in case of any fatigue on your chest, you should consult with your doctor.
Atrial Fibrillation: This indicates an irregular heartbeat pattern. Atrial fibrillation is a serious form of arrhythmia, and if you notice AFib, you must talk to your doctor.
Low or high heart rate: In Apple Watch 7 ECG app also detects your heart rate. But this will only track your heart rate if it's between 50-120 BPM.
Inconclusive: Sometimes, your Apple Watch shows inconclusive results for several reasons. Few physiological conditions prevent some users from creating enough signals to produce good results. Similarly, an ECG app will not work correctly if you have a pacemaker.
How you can get the best ECG results on Apple Watch 7:
Reset your arm on any table and try to relax your whole body.
Make sure the band should be tight enough to take signals.
Make sure your Apple watch and wrist are dry.
Don't keep any electronics around you during ECG.
Apple Watch 7 gives more precise and fast ECG readings than Apple Watch 6. Here you will get ECG readings in just 15 seconds.
What Apple Watch 7 ECG App Doesn't Offer
Although you can use Watch 7 to take ECG or EKG readings, you can't use it for serious medical purposes.
Apple Watch 7 can't detect your heart rate or any chest pain. In case of these situations, you should consult with your doctor immediately. Similarly, the ECG app can't detect any stroke or blood clot.
How Can You Set Up Heart Rate Notification On Your Apple Watch?
Apple watches allow you to keep track of your heart health. That's why it added health notification features. When every heartbeat remains above or below your selected beats, your watch will notify you about this fluctuation.
You can set this notification for your Apple Watch app.
First, open the Apple Watch app, then next tab my watch and tab Heart. Select heart rate and then BPM.
Other Features:
Apart from ECG or EKG, Apple Watch 7 is loaded with many health-tracking features. The more helpful feature spotted here is blood oxygen saturation monitoring that tells about the overall wellness of your health.
Similarly, the watch also includes stress management, a valuable feature for every person. You will also get breathing exercises that help you to reduce your stress. Plus, some audio and video-guided meditation allow you to stay focused and active.
Like predecessors, you will get sleep tracking, calories tracking, and downs of workouts to monitor your outdoor activities effectively.
Overall Verdict:
Undoubtedly, Apple Watch 7 is an outstanding device, especially if you're looking for the best ECG smartwatch. It tracks every activity in detail so you can keep an eye on your weak point.
The battery life is disappointing and similar to the Apple Watch 6. You can use your watch for 18 – 22 hours, and then you have to put it on charge. But luckily, Apple added magnetic fast charging support that boosted the charging speed.
Apple Watch 7
Excellent ECG App

GPS is very accurate

Comfortable

In-depth fitness tracking

Always-on Retina display
2- Apple Watch Series 6
Specifications
| | |
| --- | --- |
| OS | Watch OS |
| Compatibility | iOS 12.0+ |
| Display | 1.78 inch, LTPO OLED, Touchscreen, Digital Crown |
| Internal Storage | 32 GB |
| IP Rating | 50m |
| Battery Life | 18 hours |
| GPS | Yes |
Apple Watch Series 6 is one of the best ECG smartwatch because it is FDA approved and counts the blood oxygen level. It can track irregular heart rate and atrial fibrillation.
Taking ECG on Watches 6 is pretty easy. All you have to do is look for a quiet and calm place. Open the ECG app and touch the Apple watch crown for 30 seconds. While taking readings, you should keep your wrist stable and straight.
After monitoring your ECG, the watch will tell you about Atrial fibrillation or Sinus Rhythm. The readings are accurate most of the time to rely on them.
You can also generate an ECG report from your iPhone app and share it with your doctor to get professional advice. Apple Health smartwatch app will provide you with an EKG graph of heart rate. You can also see the previous trends and data, which is helpful.
Taking ECG on Apple Watch Series 6:
Before taking ECG or EKG on your Apple Watch Series, 6 make sure it is sung. Open the ECG app on your Apple Watch and hold your finder on Digital Crown. The watch will take 30 seconds to record your ECG.
To take more precise readings, you should keep your arm on a table. Secondly, don't press the Digital Crown too much and make sure your watch isn't loose on your wrist.
Other Features
The watch has a SpO2 feature and an advanced that can accurately monitor blood oxygen levels. Apple Watch Series 6 also provides notifications for irregular heart rhythms.
Not only the blood oxygen feature and ECG, but it also serves as the complete package for fitness and health needs. It has a sleep monitor, fitness tracker, elevation tracker, voice assistant, and heart rate monitor.
Stress is one of the significant problems for heart patients, so Stress management in Watch 6 helps track your hypertension. The watch also offers various breathing exercises that keep you calm and focused.
Apple has improved the sensor and its AI algorithms when it comes to accuracy to get pretty precise data. To advance the SpO2 sensor, four photodiodes work in parallel to take more accurate readings.
It can also track outdoor and indoor activities along with health tracking functions. It can measure workouts such as walking, swimming, running, cycling and yoga. Apple Watch Series 6 is 20% faster than Series 5 and has a swim-proof design.
Talking about its physical aspects, the Watch 6 feels more comfortable. The 1.78" OLED display looks more crisp and vibrant, and you can see the dial under direct sunlight.
Apple has also updated its operating system and added WatchOS 7.0 that works barrel with advanced Apple S6 chipset to offer smooth performance.
With a cellular variant of Watch 6, you can make calls and reply to a text without connecting your smartwatch with your phone. Like the predecessor, GPS tracking allows you to measure your routes during outdoor sports.
Overall:
Apple Watch 6 is a good option for the best and most accurate ECG smartwatch. It also performs better in tracking your daily workouts and outdoor sports. The only limitation is its battery life, which lasts for 18 hours. But at the same time, you will get fast charging supports that reduce your stress.
3- Fitbit Sense Advanced Smartwatch
Specifications
| | |
| --- | --- |
| OS | Fitbit OS |
| Compatibility | Both iOS and Android |
| Display | 1.58 inches, AMOLED, touchscreen |
| Internal Storage | 4GB |
| IP Rating | 50m |
| Battery Life | 6days+ |
| GPS | Yes |
Fitbit is a renowned company for fitness trackers and smartwatches. Fitbit Sense Advanced Smartwatch has full features of fitness and health with the ability to perform an ECG.
For taking the electrocardiogram reading, wear your watch and place your finger on an aluminum case. Fitbit Sense will monitor unusual low and high heart rates. It gives notifications for irregular heart rhythms, and you can share these results with your doctor through the Fitbit ECG app. PPG sensors scan these abnormal rhythms.
Like other Apple Watch Series 6, Fitbit Sense also takes 30 seconds to measure ECG. After 30 seconds, it generates a report so you can check the signs of Atrial Fibrillation.
However, the ECG app for Fitbit Sense operates only in selected countries. It does not work in UK, USA, Europe, New Zealand, Singapore, and Canada.
Other Features
Under the hood, the Fitbit Sense offers many other health-tracking features. It has an EDA scan that can detect electrodermal activity. This will indicate the response of the body to stress. Fitbit Sense Advanced has built-in temperature sensors that can monitor your body temperature. In this way, you will have an idea of temperature variation.
Further, you will get valuable insights from daily workouts and activities that tell you about overall performance. The watch also shows Heart rate variability (HRV) during training, a plus point.
Thanks to the SpO2 feature that tells how your body is absorbing oxygen. A spO2 score lower than 95% indicates that you are now well, and you should concern yourself with the doctor.
The most premium and unique feature here is Active Zone Minutes, which tells how much fats you burn in a certain time. The more active minutes you earn, the more effective your performance will be. This feature is helpful for outdoor enthusiasts that can track their health performance in a new way.
Apart from this, there are multiple features of this watch that you can enjoy. You can control your alarms, bedtime reminders, and smart home devices, and this all can be done by just speaking to it.
Final Verdict:
Overall, Fitbit Sense is an excellent fitness tracker that offers many health and fitness-related features. And also, you will get 6+ days of battery life which is much better than Apple Watches battery life.
4- Fitbit Charge 5
Specifications
| | |
| --- | --- |
| OS | Wear OS |
| Compatibility | Both iOS and Android |
| Display | 1.04 inches, AMOLED, Touchscreen |
| Internal Storage | N/A |
| IP Rating | 50m |
| Battery Life | 7days+ |
| GPS | Yes |
Finally, Fitbit introduced the first fitness tracker that comes with an FDA approved ECG app. And it's one of the budget friendly trackers that offer more advanced features for fitness lovers.
In Fitbit Product line, the ECG app was first unveiled in Fitbit Sense, and Fitbit Charge 5 is the second Fitbit's device with an ECG app. You can take ECG readings by simply putting your fingers on stainless steel panels on each side for at least 30 seconds.
Apart from this, the Fitbit Charge 5 is packed with tons of health and fitness tracking features that help you to achieve your fitness goals. There is also a SpO2 sensor that measures the amount of Oxygen in your blood.
So during any activity it shows your SpO2 reading, heart rate, calories burned, intensity (low-high), average cadence, speed, distance, and much more. Because of in depth fitness tracking we strongly recommend this fitness tracker to fitness enthusiasts.
Further, there are built-in sports modes so you can keep track of your every outdoor activity. The Fitbit Charge 5 also offers Women's health tracking so she can monitor her cycles.
This time Fitbit also added a built-in GPS in this tracker which is a big plus point. If you talk about its battery life it will give you 5 days of average battery time which is good. Overall, this is a good fitness tracker with a sleek and minimalist design that feels more comfortable on the wrist.
Fitbit Charge 5
Built-in GPS

AMOLED Display

ECG App

Stress Management Tools
5- Samsung Galaxy Watch Active 2
Specifications
| | |
| --- | --- |
| OS | Tizen |
| Compatibility | Both iOS and Android |
| Display | 1.4 inches, 360x360px |
| Internal Storage | 4GB |
| IP Rating | 50m |
| Battery Life | 2days+ |
| GPS | Yes |
Samsung Galaxy Watch Active 2 is another option if you are looking for the FDA approved ECG smartwatch. This watch provides you with automatic detection of your heart rate so you can check if it is normal. It can detect abnormal variations in heart rate and quickly alerts you.
Taking the reading for ECG is simple with Samsung Galaxy Watch 2. You need to wear your watch and put the finger of the opposite hand on the case.
This watch conducts the ECG rate with the use of a heart rate sensor.
An important thing you need to remember while taking ECG reading is to stay as calm as possible. Resting your forearm over a flat surface is also essential. Do not shift for 30 seconds while taking ECG readings.
The watch asks you to clean your finger and wear a smartwatch for at least 10 minutes before taking ECG.
Other Features:
I'm using Galaxy Watch Active 2, and it never disappoints; I think this is the most comfortable watch with very lightweight.
Galaxy Watch Active comes with a 1.4″ AMOLED display that looks crisp and vibrant. The screen is protected by Corning Gorilla Glass DX+, making it more durable and 5 ATM water-resistant. Watch Active 2 is powered by Tizen OS 5.5, and it has a Dual-core 1.15 GHz Cortex-A53 CPU that offers very smooth performance.
Talking about its health feature, you will also get blood pressure monitoring so you can take BP reading anytime you want. The watch also measures your stress to calm yourself; it offers a 1-minute breathing exercise.
Furthermore, I love its sleep tracking capabilities. Watch Active 2 precisely tracks your sleep. It tells you about your bedtime, wake time, sleep score, actual sleep time, REM, light sleep, etc. Using these metrics, you can improve your sleep quality.
It also includes a lot of outdoor and workouts sports modes; the virtual assistant guides you during every outdoor activity. One thing which I have noticed is sometimes and this watch detects wrong workouts. So it's better to monitor your workouts manually.
Note:
To track ECG on Galaxy Watch Active 2, you have to install some additional files; there are many ways to do this, but you can follow
this guide
to install ECG and blood pressure apps on your watch.
Final Verdict
If you are looking for a budget-friendly but premium fitness watch, then Watch Active 2 is probably a good option for you. It gives you 2-3 days of normal battery life in smartwatch mode. The fitness tracking accuracy is also impressive and competes with high-end smartwatches.
6- Samsung Galaxy Watch 3
Specifications
| | |
| --- | --- |
| OS | Tizen OS |
| Compatibility | Both Android and iOS |
| Display | 1.4 inches, 360 x 360px |
| Internal Storage | 8 GB |
| IP Rating | 50m |
| Battery Life | 2 days |
| GPS | Yes |
This watch can give you valuable insights into your health and fitness. You can keep a look at your physical activities. It is an FDA-approved smartwatch with ECG functionality. Moreover, it can serve as the best alternative to Apple Watch Series 6.
It is packed with an additional feature of monitoring blood pressure along with ECG. What makes it best is its multiple functions such as ECG, Blood oxygen level, heart rate monitoring, calorie tracking, and blood pressure monitoring.
One of the excellent features of this watch is fall detection. There are advanced sensors that can detect hard falls and immediately send a message to the emergency number of your location. It will automatically call Emergency service if the fall alarm is not deactivated in a few minutes.
Galaxy Watch 3 uses advanced sensors to measure your stress; it takes readings from heart rate for stress measurement. You will also get deep breathing exercises to relax and lower your stress.
Further, it offers various sports modes for outdoor enthusiasts, and the sports tracking is much similar to Galaxy Watch Active 2.
The watch 3 also has some extra modes for high-intensity training (HIIT); if you are interested in gym or heavy workouts, Galaxy Watch 3 is the best option for you.
With all these features, this watch is best for people with blood pressure issues. It is available in two versions, 41 and 45mm. This watch has all the elements that will keep you on the right path. It will detect your stress levels and provide you guidelines for calm breathing, and helps to relax.
The health monitor app of Samsung is licensed for South Korea, the US, and Europe, but soon it is coming to other countries such as UK, Germany, Italy, Spain, Switzerland, etc.
The battery life in Galaxy Watch 3 is similar to its predecessor. The 340mAh battery lasts for two days in smartwatch mode. However, you can increase the battery life by adapting optimized settings. Samsung also added fast magnetic charging to boost the charging speed and save time.
SAMSUNG Galaxy Watch 3
More custom dial faces

Accurate GPS

Advanced Health Monitoring

360 x 360 Super AMOLED

MIL-STD-810G
7- Withings ScanWatch
Specifications
| | |
| --- | --- |
| OS | N/A |
| Compatibility | Both iOS and Android |
| Display | 1.65 inches Analog/PMOLED (monochrome) |
| Internal Storage | N/A |
| IP Rating | 50m |
| Battery Life | 25days+ |
| GPS | Only connected GPS |
Withings ScanWatch is the prescription-grade health and fitness watch with a long battery life that can take FDA-approved ECG readings. The Withings ScanWatch is the first watch to be FDA-cleared for its ECG features.
Your heart rate is automatically recorded by ScanWatch day and night and at any time, and just in 30 seconds, an ECG reading is available whenever you want. Also, you can share this report with your doctor through the Health Mate app.
As for its accuracy, it was developed with world-renowned institutions professionals with clinically validated ECG capabilities. With its advanced ECG sensor, you'll be notified about any serious Atrial fibrillation issue at a glance.
How To Take ECG On Withings ScanWatch?
Follow these steps to take the ECG on ScanWatch:
Scroll through the watch's face
Find the ECG icon
Press the crown
Hold your finger still for 30 seconds on the ScanWatch bezel (one of three electrodes).
On the watch's display, you'll see your recording scroll by after all these steps. When the Health Mate app is open on your phone, you can also see your recording scroll in real-time. It's very beneficial.
Note: Watch will only detect the AFib, not any other arrhythmias.
After you get your ECG readings, you can quickly share a PDF of your readings or a complete health report with your doctor. It only takes about 2 seconds to generate the report.
There are also options of sharing the report via email and sharing it.
Other Features
ScanWatch comes with a classy analog design and feels big, weighing 2.9 ounces. It is a hybrid smartwatch designed to monitor health parameters, help to improve fitness and detect AFib.
Featuring a PMOLED screen with the anti-reflective Sapphire glass, you'll get a clear look at your data.
Most importantly, it has heart rate monitoring which lets you know how fast your heart is breathing. This feature enables you to figure out what energy source you are using.
With the clinically validated SpO2 sensor, you can record blood oxygen levels directly from your wrist just in 30 seconds. Also, you can track breathing disturbances during your sleep to improve your sleep quality.
Its activity tracking feature allows you to achieve your fitness goals. The automatic activity detection feature will automatically recognize your activity and log it into the Health Mate app.
Furthermore, it has the features like a step tracker, workout mode, connected GPS, and 5 ATM water-resistant.
Looking at its battery, Withings promises up to 30 days of battery life as a ScanWatch, up to 7 days as a typical fitness band, and up to 18 hours as a typical smartwatch.
Overall
From our point of view, Withings ScanWatch is perfect for ECG as FDA approves it. Along with the ECG monitoring, it also comes with the other essential health and fitness matrics.
So, if you want limited fitness features, you can buy this hybrid watch.
8- Withings Move ECG
Specifications
| | |
| --- | --- |
| OS | N/A |
| Compatibility | Both iOS and Android |
| Display | 1.4 inches |
| Internal Storage | N/A |
| IP Rating | 50m |
| Battery Life | 12 months |
| GPS | No |
Withings Move is the World's first analog watch with the built-in ECG to detect atrial fibrillation anytime. It is an affordable ECG monitor and exercise tracker.
If you want a stylish activity tracker which can help identify atrial fibrillation, then Move ECG is an excellent choice because it is highly accurate and was developed with the help of cardiologists from well-known institutions.
We like the Move ECG watch. You can record an ECG with or without your phone because your data can be stored in the watch until the next sync.
To launch the ECG mode, you must short-press the button to activate the 30-second ECG. You can also view your results on your phone during and after the recording.
How ECG Works On The Withings Move ECG Watch?
Move ECG features the two electrodes on the back of the case. Therefore, every time you push the record button and place your opposite hand on the watch ring electrode, a loop closes that allows Move ECG to record the electrical activity of your heart.
After recording, you can easily share the ECG data with your doctor or health professional in the form of a PDF.
Other Features
Along with the ECG feature, Withings Move ECG also has the workout mode, which you can access by long-pressing the button, which will start a chronometer and track your activity.
You can track steps, swim, and run without even opening the app with this watch. Also, the built-in altimeter measures the floors climbed in feet/meters to help you go the extra miles.
The watch is always monitoring your sleep with the sleep tracking feature. According to the Withings, Move ECG can record the 30 different exercises.
One thing that we have not seen in this watch is continuous heart rate monitoring. Moreover, it is waterproof and can be worn during a shower and swimming.
Talking about its battery life Withings says that this watch can provide up to 12 months of battery life, which is impressive.
Overall
From our point of view, Withings Move ECG is best for detecting atrial fibrillation with high accuracy and precision. Also, it can be a good companion in activity tracking and fitness.
The only thing that we don't like about this watch is that it doesn't feature continuous heart rate monitoring. Overall for ECG, it is best.
9- Alivecor KardiaMobile 6L
Specifications
| | |
| --- | --- |
| Recording Time | 30 seconds |
| Saving method | PDF |
| Compatibility | Both iOS and Android |
| Disease detected | 6 |
| Battery Life | 24 hours |
AliCor KardiaMobile 6L is another FDA-approved ECG monitor which monitors your heart rhythm and detects atrial fibrillation within one minute.
This portable ECG monitor is perfect for those who already own a smartwatch without ECG and don't want to invest more money. The fantastic thing about this ECG monitor is that it takes the 6L ECG, providing more information.
It is unique from the ECG smartwatches because it can also detect other heart problems other than AFib like bradycardia (slow heart rate), tachycardia (increased heart rate), and sinus rhythm.
How Does Alivecor KardiaMobile 6L Works?
KardiaMobile 6L uses three electrodes to record an EKG and wirelessly transmit the data to your smartphone or tablet.
The top surface of this device has two electrodes that are meant to be used with the right and left hands. The bottom surface has one electrode that should be used with the left leg.
Using the KardiaMobile is as simple as placing your fingers on the two sensors for 30 seconds. There is no need for electrodes.
On your smartphone, you will immediately see the results compiled. Then, you can email the results to your doctor.
Note: ICDs and pacemakers are not compatible with KardiaMobile. So, there is no heart attack detection on KardiaMobile.
This portable ECG monitor also requires maintenance. You can take care of this device by spraying the electrodes with an alcohol-based sanitizer and wiping them with a soft cloth.
Precautions
Keep young children away from the device during replacement. Its contents are potentially harmful if swallowed. Ingesting the device can cause severe tissue injury and can pose a choking hazard

When the device is in use, don't replace the battery.
Overall
From our point of view, Alivecor KardiaMobile 6L is a perfect device for monitoring an ECG. Also, FDA approval is the bonus point for this portable device. The only thing that we don't like about this device is that its premium features require a monthly subscription.
So, if you don't want the smartwatch features, you should buy this portable ECG monitor. Overall for ECG, it is perfect.
10- Apple Watch Series 5
Specifications
| | |
| --- | --- |
| OS | Watch OS |
| Compatibility | iOS 12.0+ |
| Display | 1.78 inch, OLED, Touchscreen, Digital Crown |
| Internal Storage | 32 GB |
| IP Rating | 50m |
| Battery Life | 18+ hours |
| GPS | Yes |
The Apple Watch 5 is a luxury watch with several health functions like sleep tracking, calorie tracking, heart rate monitoring, and electrocardiogram (ECG) monitoring. It is one of the best ECG watches on the market.
The great advantage of this ECG watch is that FDA approves it. You can easily take an ECG reading with this smartwatch, and you'll have it recorded in less than 30 seconds!
Apple Watches also have a life-saving fall detection function. It will immediately contact emergency services with your location if you suffered a serious fall and did not answer for one minute.
Moreover, you can track your speed, distance, and direction with the watch's integrated GPS.
With normal use, the battery life of this Apple watch is 18 hours. However, it is mainly determined by how much you use your watch.
Sadly, there is no way to monitor blood oxygen levels with the Apple Watch Series 5. Furthermore, just like the Series 6, the Series 5 will only operate with iPhones. Thus, this watch is only worth buying if you already own an iPhone.
All in all, if you're searching for an affordable smartwatch with ECG, this is one of the best ECG smartwatches in 2021.
11- Samsung Galaxy Watch 4
Specifications
| | |
| --- | --- |
| OS | Wear OS 3.0 |
| Compatibility | Both iOS and Android |
| Display | 1.2 inches, 396 x 396px |
| Internal Storage | 16 GB |
| IP Rating | 50m |
| Battery Life | 1day+ |
| GPS | Yes |
Samsung Galaxy Watch 4 is the best Android smartwatch if you want an FDA-approved ECG smartwatch. It has a variety of health-tracking capabilities, including FDA-approved ECG, blood oxygen level monitoring, and abnormal heart rate detection.
Galaxy is improving its sensor with each flagship watch. Galaxy Watch 4 contains market-leading photodiode sensors that work in parallel to give more accurate ECG readings—taking EKG no Watch 4 similar to predecessors.
After taking ECG readings, you can generate a PDF report and share it with your doctor for better consultation.
Like Galaxy Watch Active 2, you don't need to install additional files from a third-party source, and there is a built-in ECG app. Also, Galaxy Watch 4 has a more advanced and accurate sensor that gives precise results.
Other Features
There are a lot of other features to see in Galaxy Watch 4. First of all, you will get Blood pressure monitoring which is very useful if you face hypertension or blood pressure issues.
Similarly, another premium fitness feature is SpO2, which tracks the amount of oxygenated blood in your body. Apart from this, you will get stress tracking, calories monitoring, sleep tracking, and red-time heart rate monitoring.
This time Samsung has also added Bioelectrical impedance analysis (BIA), which monitors the amount of muscle, fats, and water in your body. For athletes or fitness lovers, BIA sensors are very useful features.
With the built-in GPS, it is possible to track both indoor and outdoor activities like running, bicycling, yoga, and hiking with the watch. Also, this smartwatch has music storage and playback capabilities.
The Samsung Galaxy Smartwatch also has fall detection, which is a great feature. Because of its advanced sensors, this watch will send an SOS message to the emergency services if you suffer a hard fall.
Final Verdict:
With advanced and precise Sensor Galaxy Watch 4 is the best smartwatch for ECG. Apart from ECG, it contains a lot of outdoor sports and workouts modes so you can effectively track every single activity. Galaxy Watch 4 can compete with Apple Watch 6 because it offers high accuracy in the health department.
But when it comes to the battery, it offers 2 days of maximum battery life which is less in such price rage watches.
12- SOREX SG5 Smartwatch
Specifications
| | |
| --- | --- |
| OS | N/A |
| Compatibility | Both iOS and Android |
| Display | N/A |
| Internal Storage | N/A |
| IP Rating | WaterProof |
| Battery Life | N/A |
| GPS | No |
This smartwatch is health-focused because of its ECG and PPT features. These features help in detecting potential abnormalities in the heart.
PPT feature can perform a PPT test that shows abnormalities in heart rate variability or QT interval. It also shows variations in time between the heartbeats.
This test can help in explanation and diagnosis. It comes with a complete heart rate package that includes a smartwatch, 10 electrodes, and a watch base. This package helps perform PPT and ECG tests to check any abnormality, heart rate variability, and QT interval.
Another essential feature in this watch is SpO2, Blood pressure, and sleep monitoring sensor. It accurately measures blood oxygen levels along with blood pressure.
Moreover, it helps in tracking sleep patterns. All these features can help you keep a close look at your health and take action to stay healthy and active.
The 10 sport modes in SOREX SG5 helps in maintaining a healthy lifestyle as it shows dynamic data on the homepage such as calories, steps, temperature, and weather. You can also enjoy sleep goal setting, monitoring, music control, sedentary reminder, countdown, stopwatch, HRV data analysis, etc.
13- Supersonic SC-84ECG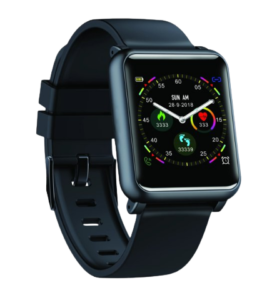 Specifications
| | |
| --- | --- |
| OS | N/A |
| Compatibility | Both iOS and Android |
| Display | 1.3" HD LCD Touch Screen Display |
| Internal Storage | N/A |
| IP Rating | IP67 |
| Battery Life | 200mAh |
| GPS | No |
A supersonic smartwatch is also listed among the best smartwatches with the ECG and PPG heart rate sensor. The TI 129X medical chip ECG sensor will give you accurate results.
The HRS 3300 PPG HR sensor uses the light source and a photodetector at the skin to measure your body's volumetric variations of blood circulation.
Other Features
Talking about its display, we have seen a 1.3 inches HD LCD touch screen display with a resolution of 240×240 pixels, providing you with a bright and clear image.
It also features a blood pressure monitor, heart rate monitor, and ECG monitoring. It also allows you to share your results report with your doctor via PDF.
In terms of the fitness department, it tracks your steps, distance, calories burned, and active minutes. And its smart features include the call reminder, alarm reminder, message reminder, and camera.
The sleep monitoring features allow you to monitor how long and well you sleep to improve your sleep quality. Talking about its RAM, it comes with 128MB RAM and is IP67 rated.
Overall
We like this smartwatch because it is packed with all the essential health and fitness features and monitors the ECG, blood pressure, and heart rate very accurately.
The only thing that we don't like about this smartwatch is that it doesn't have many fitness features. But overall, for ECG monitoring, it is perfect.
---
Comparsion Table
| | | | | | | |
| --- | --- | --- | --- | --- | --- | --- |
| Smartwatch | FDA Approve | Battery Life | GPS | SpO2 | Fall Detection | Price |
| Apple Watch 7 | Yes | 18 hours | Yes | Yes | Yes | $350 |
| Apple Watch 6 | Yes | 18 hours | Yes | Yes | Yes | $250 |
| Fitbit Sense | Yes | 6 days | Yes | Yes | Yes | $226 |
| | Yes | 7 days | Yes | Yes | No | $139 |
| Galaxy Watch Active 2 | Yes | 20-60 hours depending on usage | Yes | No | Yes | $166 |
| Galaxy Watch 3 | Yes | 2 days | Yes | Yes | Yes | $128 |
| Withings ScanWatch | FDA cleared | 30 days | No | Yes | No | $299 |
| KardiaMobile | FDA-cleared | 24 hours | No | No | No | $189 |
| Apple watch series 5 | Yes | 18 hours | Yes | Yes | Yes | $223 |
| Galaxy Watch 4 | Yes | 40 hours | Yes | Yes | Yes | $369 |
| SPOREX SG5 | No | 4-7 days | No | No | No | $79 |
Things To Consider Before Buying A Best Smartwatch With ECG
No matter which ECG smartwatch you will buy, you must consider these factors to buy the perfect one.
1- Accuracy
To get the perfect ECG smartwatch, first of all, you have to consider the accuracy of that smartwatch. If that watch gives accurate results of the ECG app, then you are ready to go for that watch.
SpO2 Feature
The best smartwatch with ECG is incomplete without the SpO2 feature. By using this feature, you can find out how well your heart pumps oxygen throughout your body.
People with conditions that affect blood oxygen levels may use it to monitor their health, especially if they are in the hospital.
2- FDA Approved
The next thing that you have to check in the watch that you are going to buy is whether it is FDA approved or not. If yes, then you can go for that watch.
An FDA-approved product means that the FDA has decided that the product's benefits outweigh the known risks. The manufacturer must submit a pre-market approval application and results of clinical testing.
3- PPG Sensor
For monitoring heart rate, photoplethysmography (PPG) is an uncomplicated and inexpensive optical measurement method.
PPG measures the volumetric variations of blood circulation by using a light source and a photodetector at the skin's surface.
The PPG sensor is the plus point for the best ECG smartwatches.
4- Temperature Sensor
Signals from this sensor are used to measure temperature. When it detects a temperature change, the sensor produces an electrical voltage or resistance.
If the watch contains this feature, it is the plus point for that watch, and you are pretty good to go for it.
---
What is ECG/EKG(Electrocardiogram)?
During an electrocardiogram, your heart's electrical activity is recorded. Heart disease is quickly detected and monitored with this painless test.
ECG is one of the fastest and the simplest tests and is done by placing electrodes at certain essential spots of the body, including your chest, legs, and arms.
Using the lead wires, the electrodes are connected to an ECG machine. This process provides you with your heart's electrical activity, which is then measured, analyzed, and printed out.
Remember, during an ECG, no electricity is sent into your body. Electrical impulses help keep blood flowing effectively in the heart by coordinating contractions of different parts.
An ECG test provides a lot of essential information to the doctor. This information includes:
Fast heart rate (tachycardia)

Slow heart rate (bradycardia)

Heart rhythm

Heart-rate irregularities

Heart attack

Heart block

Atrial fibrillation

Ventricular fibrillation
Until modern wireless ECG devices became available, it was impossible to record your ECG at home. However, a smartwatch can alert users of abnormal heart rhythms (cardiac arrhythmias), but it cannot recognize a heart attack.
This allows you to get medical attention as soon as possible before any further complications arise.
What Is An Atrial Fibrillation?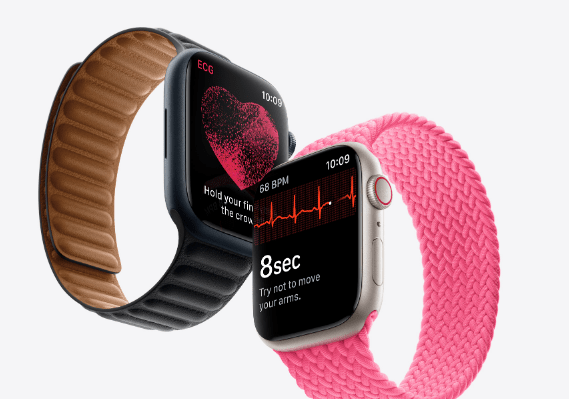 Atrial fibrillation (AFib) is an irregular and sometimes very rapid heart rhythm (arrhythmia) that may lead to blood clots in the heart. In addition to stroke and heart failure, A-fib increases the risk of heart-related complications.
The symptoms of Atrial Fibrillation are fatigue, chest pain, shortness of breath, etc., and are caused by Lung diseases, Sleep apnea, high blood pressure, heart attack, etc.
What Is A Ventricular Fibrillation?
Fibrillation of the ventricles is a type of abnormal heart rhythm (arrhythmia). In ventricular fibrillation, the lower heart chambers (ventricles) twitch (quiver) uselessly due to disorganized heart signals.
Consequently, the heart does not pump blood to the rest of the body. The most common symptom of ventricular fibrillation is collapse and loss of consciousness.
How ECG Smartwatches Work?
Most smartwatches come with Photoplethysmography (PPG) sensors, which measure the changes in blood volume passing through the wrist. Similarly, smartwatches take an ECG reading, and the algorithms process extracted data and show you ECG reports.
According to ScienceDirect, "The"Peak" to "peak" interval pulsation can be used in algorithms to detect atrial fibrillation (AF). Different smartwatch brands have different AF detection algorithms, which can be affected by wrist position, motion, ectopic beats, etc.
Taking an ECG on smartwatches is entirely different from taking ECG on professional devices. For example, in the case of the latest Apple watches, you have to hold your finger on its digital crown for 30 seconds.
Similarly, in Galaxy watches, you have to hold your finger on the back button for 30 seconds, and it will generate results. And in the case of Fitbit, you have first to open the ECG app, and it will ask you to place your finger on the corner of Fitbit.
Should You Buy An ECG Smartwatch?
Before choosing an ECG smartwatch, the question arises why I would buy an ECG watch? These watches are not helpful; some people take ECGs for fun and then forget these features. Users between 20 and 30 years don't need an ECG watch; they should watch a sport to track their activities.
But on the other hand, people over 50 should buy an ECG smartwatch because they need to regularly take care of their health. And also, if you are a person with heart problems, then such smartwatches are valuable for you.
Apart from each ECG, users can also measure their other health factors like blood pressure, SpO2, sleep, calories burned, temperature, etc.
There is a deep sea of smartwatches in the market, so it isn't easy to trust one single brand. If you are infested with ECG watches, you should look for brands like Apple, Samsung, or Fitbit. These brands have a high reputation and trust rates to rely on their smartwatches.
Can ECG Watches Save Your Life?
Although ECG watches can't work like professional medical instruments, still these gadgets are helpful to measure your ECG at home.
FDA approves the latest Apple and Samsung watches for Atrial Fibrillation tests. The watches effectively recognize arrhythmia (irregular heartbeat), so individuals can take precautions to avoid major future problems.
Fitbit's new Sense is currently improving its ECG app, and the FDA does not yet approve it. But in a few months, it will be approved and show the same results as Samsung, and Apple Watches do.
Both Apple Watch and Fitbit Use the same optical photoplethysmography (PPG sensor) to detect heart rate. But like Apple Watch, Fitbit won't be continually monitoring for signs of Atrial Fibrillation.
Apple watches also offer heart rate alters that notify you about your irregular heart rates or BPM. With such notification, you can check your wellness and caution to avoid complex issues.
ECG watches are not made to detect heart rate or any issues; you should consult with your doctor if you feel such problems.
Accuracy Of ECG Smartwatch
If you are going to buy an ECG smartwatch, you should go with that smartwatch approved by the FDA (Food and Drug Administration).
ECG smartwatches that are FDA-approved are clinically validated to be accurate. FDA tests the device profoundly and thoroughly for its performance and accuracy. This makes it difficult to get FDA approval.
The ECG smartwatches are very convenient because these smartwatches allow you to take multiple ECGs directly from your wrist. These smartwatches are helpful because they keep you alert and save you from significant complications.
Pros And Cons Of ECG Smartwatches
According to the Harvard medical school data, over 160 million people will soon use wearable tech like smartwatches to track their health and fitness.
These smartwatches can be a big boon for heart patients as few of them also monitor ECG. But at the same time, it is stated that 30% of wearable devices give inaccurate results.
Similarly, Dr. Ivor Benjamin, the president of the AHF, said that some people report symptoms that are not found in them. This is because of using inaccurate wearables to evaluate your health. Also, AHF doesn't endorse any ECG smartwatch.
According to sciencedirect there are a few pros and cons of ECG smartwatches include;
Pros:
Patient empowerment by having direct access to personalized health measures.

Evaluation of patients with palpitations.

Monitoring of atrial fibrillation in a high-risk population.

Coaching on AF burden and recurrence rate.
Cons:
Price, accessibility

Lack of continuous monitoring

Privacy and security issues of personal data generate by consumer wearables

Don't detect heart rate

False or inaccurate results may lead to stress
Conclusion
There is no doubt that the number of deaths because of sudden heart attacks increases day by day. It is essential to keep track of your heart rate, and overall health is essential. Therefore we provided you with information about the popular choices for the best smartwatch with ECG.
Apple Watch Series 6 is the most popular smartwatch with ECG functionality. It can alert you immediately for any abnormality in your heart rate.
I hope we were able to guide you thoroughly and provide answers to your questions. I hope you had a great time reading this article, and it will be great if you choose a smartwatch from our list.
Frequently Asked Questions (FAQs)
Can a smartwatch detect heart problems?
Smartwatches aren't meant to be used for medical purposes. Advanced smartwatches such as the Apple Watch Series4, 5, 6, the Samsung Galaxy Watch2, 3, 4, and the Fitbit Sense can detect health concerns such as irregular heart rate or atrial fibrillation.
What's the cheapest ECG watch?
The Fitbit Sense is the FDA-approved ECG smartwatch that costs the least. The price ranges from $240 to $290, depending on where you shop.
What are the benefits of using a clinically validated ECG watch?
ECG devices that have been clinically validated go through rigorous testing to ensure they are reliable and accurate. On the market, you'll find many affordable smartwatches equipped with ECGs.
However, they have not been clinically validated. Because of this, these devices may not be able to follow the ECG as precisely as devices that have undergone extensive testing in the clinical setting.