Regular smartwatches are not suitable for a harsh and challenging outdoor environment. You need a rugged and tactical smartwatch if you love outdoor adventures.
The design of tactical watches are pretty different from other smartwatches. Most of the them are made of solid polymer, which increases their durability.
Along with health tracking features, tactical smart watches offers features like GPS, Altimeter, Barometer, and Compass, etc.
And secondly, the battery life of tactical wears is pretty longer as compared to normal wear.
In today's guide we have put 7 best tactical smartwatches for your outdoor purpose.
Our Recommendations (Best offers)
| SiteStripe Image | Name | Rating | GPS | Buy |
| --- | --- | --- | --- | --- |
| | Garmin Vivoactive 3 | 4.6 | Yes | Click Here |
| | Garmin Instinct | 4.5 | Yes | Click Here |
| Top | Suunto 7 | 4 | Yes | Click Here |
Top 7 Best Tactical Smartwatches to Buy
The smartwatches mention below articles are pretty different from each other. Their design, quality, pros/cons, and prices are pretty different. 
Garmin Instinct
Suunto 7
Garmin Fenix 5X
Amazfit T-Rex
Garmin Vivoactive 3
Suunto 5
Casio GBD-H1000-8CR
Garmin Instinct
In the family of rugged and tactical smartwatches, Instinct is on the top of the list. This mid-range watch offers many valuable features like smart GPS, ABC sensors, a Long-lasting battery, phone notifications, weather updates, and a Heart rate sensor.
Physical Aspects
As compared to other Garmin smartwatches, Instinct's price is a bit affordable. Designed on U.S military standard 810G, this watch has water resistance to 100 meters. Instinct comes with a 1.27″ display with the monochromatic dial; the dial is made of fiber-reinforced polymer, much more robust.
The screen is too durable and attractive, cover with Gorilla glass protection which is water-resistant, scratch, and dustproof.
Features:

This watch comes with a global navigation satellite system that helps you find your route even in more challenging places.
In addition to its trackback features, you can navigate the same route back to your starting point. This feature helps you to get lost from your track.
With Garmin Connect, you can stay connected with the online fitness community. You can create different exercises, workouts, and other fitness activities.
The battery life is pretty similar to Garmin Fenix 5X, and last for 14 days on normal mode. On GPS, you can use this smartwatch for at least 16 hours.
Why do we like Garmin Instinct?
Garmin Instinct is excellent, offers a lot of premium features, including ABC sensors. The GPS tracking in the watch is impressive, which provides a couple of safety features and a trackback feature. Step count and Heat rate accuracy are amazing, which is a big plus point.
Why don't we like Garmin Instinct?
Sometimes you may face connectivity issues which are the main downside. The battery life issues are also awful and disappointing. After some time, battery lasting time suddenly reduces. You will get a black and white display which is again disappointing.
Garmin Instinct
3 axis compass and barometric altimeter,

Constructed to U.S. Military standard

High Performance GPS

100 meter Water Resistance

Wrist based heart rate
Prices pulled from the Amazon Product Advertising API on:
Product prices and availability are accurate as of the date/time indicated and are subject to change. Any price and availability information displayed on [relevant Amazon Site(s), as applicable] at the time of purchase will apply to the purchase of this product.
Suunto 7

This is one of the best sports watches for everyday use. Suunto 7 is a pretty bulky watch (44mm), and you have 24mm long strap. The 1.24″ touch display is vibrant and bright, getting up to about 1000 nits.
It has four buttons that are adorable none of these buttons rotate, though, which is interesting. If you're going on a long trail run a lot of times, you just want quick buttons to see things.
Many of the workouts and a lot of the watch, in general, can be controlled by a touch screen, but a lot of apps can be controlled as well using the buttons.
This watch is extremely durable and water-resistant up to 50 meters.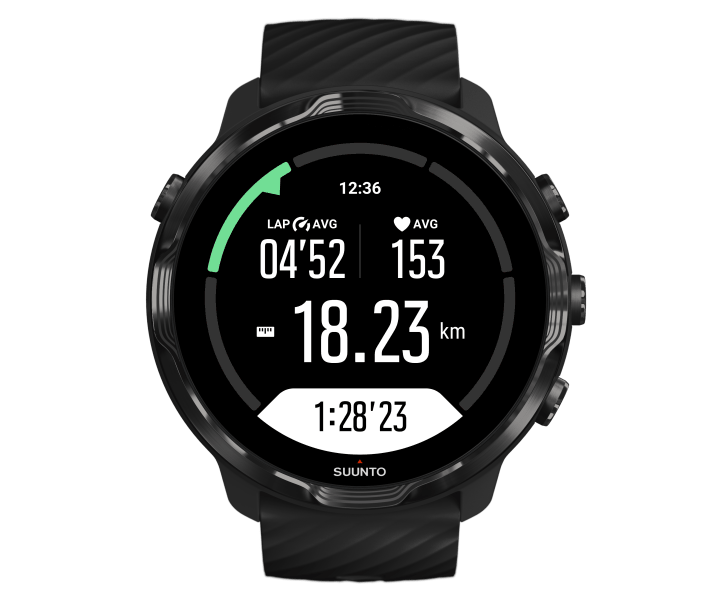 Source: Suunto.com
Other Features
You will see a more accurate and fast GPS in this smartwatch. Its sensors are accurate and quick. Along with GPS, you get more than 70 sports modes in Suunto 7 smartwatch. These sports mode includes different indoor and outdoor activities.
Use free offline maps on Suunto 7 and discover the world around you. The watch's maps are ni details showing you trails, counter linens, and places with colors.
This wearable measures real-time heart rate, steps, and distance. Its results are exact. This one is the first watch in our list of "best tactical smartwatches" with Wear OS powered by Google.
Another exciting feature in this watch is NFC (Near field communication). This feature allows you to make secure transactions and exchange digital content via this Suunto 7. There are a lot more things to explore in this smartwatch.
The battery is impressive as compared to its predecessor. Suunto 7 offers 40 days long-lasting battery on Batter saver mode, up to 2 days of smartwatch use, and 12 hours on GPS mode.
Why do we like Suunto 7?
The smartwatch is beautiful and has a large screen which gives a premium feel. The durability and robustness of the Sunnto 7 are outstanding, making this the best tactical smartwatch. Due to wear OS, you will get much exciting health tracking and other apps that track your everyday activities.
Why don't we like Suunto 7?
When you are using multiple apps at a time, the watch may be stuck. The battery life also needs improvement, and unluckily it takes a pretty long time to fully charged.
Suunto 7 Black
Wrist based Heart rate

70 Sports-modes

Effecient GPs

Free Earbuds + Power Pack

Battery saving modes
Prices pulled from the Amazon Product Advertising API on:
Product prices and availability are accurate as of the date/time indicated and are subject to change. Any price and availability information displayed on [relevant Amazon Site(s), as applicable] at the time of purchase will apply to the purchase of this product.
Garmin Fenix 5X
Fenix 5X is a premium smartwatch that is pricey, but in return, it offers more valuable features. As compre to the last variant, Fenix 5x has large dial. This is a 47mm watch that looks a little bulky on the wrist. You will feel it when you wear it.
But it's a super comfortable watch, and I think everybody agrees that the build quality is insane.
Fenix 5x is a precious device for the outdoor and harsh environment because it has stainless steel bezels and 100 meters water-resistant.
Best for Outdoor
Garmin Fenix 5x is the best watch for outdoor purposes. Either you want to check altitudes, directions, or tracking routes, it's perfect for all. The highly detailed onboard maps and navigations are accurate. That's why all the adventures and tourists like this tactical watch.
Along with GPS, there is also a barometer and altimeter that allows you to measure environmental conditions, weather, and temperature. The Garman Fenix 5X is a very attractive watch, that has a fully-rugged design.
It offers a compass, gyroscope, accelerometer, and thermometer. Not just, that you get some important sports mode that helps you continuously walk towards your fitness goals.
The watch automatically start tracking your running, cycling, swimming, golf, yoga, and more. I am a real fan of its accuracy and preciseness, and a lot of people are happy and satisfy with its work.
You can connect this watch with your smartphones via its app (both for iOS and Android). After sync your watch with your phone you can see a detailed analysis and insights into your daily fitness routine.
Battery life on this smartwatch is one of the best of any wearable there. This watch gives you 12 days of battery life on normal mode and 20 hours on GPS. On normal mode, you can track your activities, receive notifications, etc.
Why do we like Garmin Fenix 5X?
The most exciting feature in Garmin Fenix 5x is "Round Trip." So what you can do is have the watch generate three different routes for you whether you're going to run, bike ride, or don't know the area. And what it'll do is create a pathway for you based on your distance and the direction you want to start.
What don't we like in Garmin Fenix 5X?
Sometimes the GPS takes too much time to looks which is frustrating. Secondly, the watch is bulky and has a large dial which is not suitable for a thin wrist.
Amazfit T-Rex
Amazfit is one of the most popular and trusted smartwatch brands that gives you fantastic mid-range and high-end smartwatches. A lot of these watches come with a rugged design and best for military forces and outdoor purposes.
Amazfit T-Rex passed 12 military-grade certifications; that's why this tactical smartwatch is more robust and perfect for a harsh environment.
Luckily this time, you will see a 1.3″ AMOLED display that looks much beautiful. There is no more monochrome display like Garmin Instinct. The watch is rated waterproof to 50 meters. You can wear it in pools and while bathing.
Features
Like other Amazfit watches, this one also gives you GPS for finding routes and directions A long battery life that measures your activities for a long period of time.
Amazfit gives you the latest Sony GPS chip and build-in highly precise dual satellite positioning more accurately.
In addition, there are 14 different professional sports modes. These outdoor sports modes include; running, walking, cycling, treadmill, mountain, swimming, elliptical trainer, exercise, skiing, and hiking, etc. The watch gives you highly precise results that help you to achieve your fitness goals.
Amazfit T-Rex comes with deep power optimization technology that gives you 20 days of battery life on normal use, while up to 20 hours on GPS. If you need some professional and branded tactical watch then I recommend you to buy this one.
Why do we like Amazfit T-Rex?
You will get a high-end Sony GPS chip and built-in exact dual-satellite system that is appreciable at an affordable price. The GPS is much faster and accurate that never stuck. One thing that I love about this watch is its 14 built-in professional exercise modes.
Why do we don't like Amzfit T-Rex?
YOu may face issues during sync with the app or sync with watch faces. Amazfit doesn't offer a high-quality app like Fitbit offers, so you can't see in-depth insights. 
Amazfit T-Rex
1.3 AMOLED display

GPS

14 Sports modes

5 ATM water resistant

20 Days battery life
Prices pulled from the Amazon Product Advertising API on:
Product prices and availability are accurate as of the date/time indicated and are subject to change. Any price and availability information displayed on [relevant Amazon Site(s), as applicable] at the time of purchase will apply to the purchase of this product.
Garmin Vivoactive 3

If you are looking for a tactical smartwatch that also has GPS support that you should buy Garman Vivoactive 3. This one is the cheapest GPS smartwatch that shares highly accurate and precise locations. Not a totally rugged watch but due to its durability, I like this smartwatch.
There more than 15 indoor sports apps, including yoga, running, swimming, and more. From a fitness perspective, this is a perfect smartwatch, it will measure your heart rate, calories, steps, and sleep.
Additional features in this watch are NFC that allows you to purchase items from utility stores via this smartwatch.
Garmin Vivoactive 3 is best for all indoor and outdoor purposes. With Gorilla glass protection it can sustain in a harsh environment, a totally waterproof, scratch, and dust resistant watch.
Although, there are no barometer sensors and compass in this watch still it supports GPS that helps you to find directions.
There is a online community where people on the go can connect and compete by joining challenges. Like ordinary smartwatches, Garmin Vivoactive 3 gives you 7 days of battery life.
What we like in Garmin Vivoactive 3?
Vivoactive is amazing tactical smartwatch, available in very affordable price. I am surprise to see premium features in this watch. You will get Garmin pay, accurate GPS and deep fitness tracking in very low price.
Why don't we like Garmin Vivoactive 3?
Like few Garmin smaratwatches, you may also face sync issue with your phone. Secondly, touch screen should be more better.
Prices pulled from the Amazon Product Advertising API on:
Product prices and availability are accurate as of the date/time indicated and are subject to change. Any price and availability information displayed on [relevant Amazon Site(s), as applicable] at the time of purchase will apply to the purchase of this product.
Suunto 5
If you are looking for a mid-range outdoor watch, have a look at Suunto 5. In the Sunnto family, this is one of the most lightweight smartwatches with a highly durable body making it best for outdoor use. 
You will get all the major outdoor features in Suunto 5, including; GPS, ABC Sensors, Weather updates, Altitude measurement, and much more. 
The watch's bezel is made with stainless steel, and the glass is made of Mineral Crystal. Glass Fiber reinforced polycarbonate case makes this the best tactical watch. Suunto 5 is 50-meter water-resistant means you can use this watch while swimming and bathing. 
Features
Under the hood, there are dozens of premium features in Suunto 5. In the sports department, this watch gives outstanding performance. 
There are over 80 sports modes that help you to track different outdoor activities. You can also add your workout and exercises, and the watch will help you to follow it. 
On the Suunto app, you can see in-depth insights into your day-to-day moves and sports. Similarly, there is VO2 max that tracks your blood oxygen level, stress, heart health, and more. The watch also tells you about your calories burned, sleep, and distance cover each day.
Thanks to Suunto for adding such an accurate and quick GPS that helps you plan your adventures and offers turn-by-turn navigation. 
Summary
You can pick Suunto 5 if you have a limited budget. Although this is a mid-range watch, it offers plenty of valuable features found in high-end watches. The intelligent battery provides 7-8 days of long-lasting time.
SUUNTO 5
Effecient GPS

80 Sports Mode

Intelligent Battery

Highly Durable

ABC sensors
Prices pulled from the Amazon Product Advertising API on:
Product prices and availability are accurate as of the date/time indicated and are subject to change. Any price and availability information displayed on [relevant Amazon Site(s), as applicable] at the time of purchase will apply to the purchase of this product.
Suu
Casio Men's G-Shock Move
Tough people deserve G-Shock watches, and this watch is the perfect option for them. Casio G-Shock GD-H1000 is used for extreme outdoor environments. And it also offers various smartwatch features that help you to track your fitness as well.
This watch is so rugged as hell offering 200-meter water resistance. The case is made of premium polymer that looks so cool and durable. 
There are a total of 5 sensors in this watch. Magnetic, Pressure and Thermo sensor takes altitude measurements, compass bearing, barometric Pressure, temperature, etc. You will get high-quality stats of your environment. Apart from that, the premium GPS offers more precise and multi-GNOSS tracking, which is too quick.
Another cool thing about this watch is Automatic time adjustment. This G-shock watch receives GPS signals and adjusts the time according to the zone and date.
Fitness Features
An optical sensor in this watch also takes responsibility for your daily activities and fitness tracking. 
This watch measures your blood flow and gives you accurate stats about your heart health, blood pressure, sleep tracking, skin temperature, and more.
Different training models are available in this watch that allows you to track your various outdoor sports effectively. You can track the pace, speed, distance covered, Training status, fitness level, recovery time, elapsed time, calories burned, and training load of your outdoor activities.
Summary
If you are looking for a highly rugged watch, this Casio G-Shock Move is the best option for you. It's specifically designed for tough environments where you can't use regular smartwatches. 
Lastly, there is a Solar battery that offers long battery life. Casio promises to give 12 months of battery life in watch mode.
Casio Men's G-Shock Move
Durable body and case

GPS signal reception

Wrist heart rate measurement

VO2 Max

Training function
Prices pulled from the Amazon Product Advertising API on:
Product prices and availability are accurate as of the date/time indicated and are subject to change. Any price and availability information displayed on [relevant Amazon Site(s), as applicable] at the time of purchase will apply to the purchase of this product.
Guide to buy Tactical Smartwatch
Before buying the best tactical smartwatch you should keep few factors in mind. As you know there are a lot of different brands and types of tactical wearables available in the market.
And it's hard to find the best one for your wrist. But don't worry we will help you to find out the best one. Just consider the following factors.
Design and Durability
First of all, must observe the durability of the smartwatch. High Durable smartwatches have the ability to survive in all the surrounding environment without any damage. You must see, your tactical watch meets all the military standards and has a rugged design.
Comfort
The second important thing is comfort. Lot of rugged design watches have a hard surface and thus difficult to wear for a long time. But you should choose those smartwatches that have a lightweight and soft and flexible band. For long adventures, you need a highly comfortable and flexible watch.
Water-Resistant
For surviving in harsh environments, your tactical watch must be water resistant up to 50 meters. Your watch also has dust and scratch proof. There should be Gorilla glass protection because it tolerates a lot of drops.
Features
The GPS is very essential in outdoor smartwatches, so you should buy such a tactical watch that has GPS. In addition, your watch also has important fitness features that measure at least your main physical activities.
Accuracy
Without accuracy, your smartwatch is useless, for getting high accuracy and a precise smartwatch you must pay some extra amount. With accurate watch, it's easy to measure insights and achieve fitness goals.
Battery life
This is another important factor, for long adventures and outdoor works your watch must have at least 10 days of normal battery life. But if you buy solar power tactical watch then it's very good for you.
Garmin Tactix Delta VS Fenix 6
Final Words
After this guide, you are now able to purchase the best tactical smartwatch for your wrist. But I know most people are still confused that which smartwatch should they buy.
Personally I love Garmin Instinct and Vivoactive 3 these devices give you a lot of features than your expectations.
If you have enough budget I prefer you to buy Sunnto 7 or Garmin Fenix 5X that gives with some premium features that other watches don't offer.
If you buy any tactical smartwatch from an affiliate link, then this will help me to make some pocket money for me and my family.
F&Qs
What is a Tactical Smartwatch watch?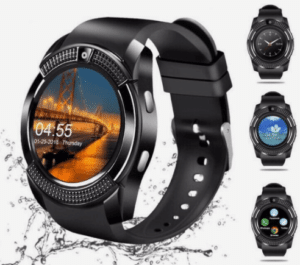 A particular type of smartwatch that is design for outdoor activities. Tactical smartwatches meet military standards and are thus primarily used by security forces and adventure lovers. Other than that, there are some extra advanced features in these smartwatches.
It will continuously measure your heart rate, steps, different movements, map, GPS, and other such extra things.
Tactical smartwatches are also famous due to their GPS features. In ordinary smartwatches, you can't see GPS or map, which is an essential feature.
With the particular polymer material, tactical watches can survive in any environment. You can even wear these smartwatches during swimming, which gives you a waterproof and dustproof design. Many of them are also shock-resistant, although this category of smartwatches is quite expensive.
In the future, we can expect the addition of more advanced features in these smartwatches. Like some essential apps that are specific for military use for their safety and security.
Recently CNN Labs report shows that a giant multinational IT company has been developing the latest smartwatch for military purposes. This particular smartwatch has a lot more exciting features, a large display and many detailed maps, and a hybrid solar power battery.
Which one are the cheap Tactical Smartwatches?
AllCall Smartwatch
I think this is one of the cheapest tactical smartwatches that gives you a high-end performance. There are a lot of fitness features that help you to track your different daily fitness goals.
With its rugged design and ultra-light body, it gives you the next level of comfort. Another exciting thing about this wearable is its battery life. No other cheap tactical smartwatch gives you 45 days of typical stand-by.
Besides, its latest and active sensors measure your step count, distance, calories, and heart rate in real-time. With 24/7 activity tracking features, you can more consistently focus on your health.
Moreover, this tactical smartwatch measures your speed, mileage, energy consumption, distance, and sleep. 11 different sports modes measure your various outdoor activities.
With its latest notification features, you will remain updated. For getting notification, you must connect this smartwatch with your phone via the Qwear app.
This watch can compete with any other ordinary smartwatch. A cheap device that is perfect for regular use as well as for outdoor use. If you are an adventure lover or a military force member, AllCall is a cheap option.
Which is the toughes smartwatch?
Garmin Fenix 5 and Garmin Instinct are the most durable smartwatches ever made. Both smartwatches have been built to US Military standard 810G and water-resistant up to 100 meters, shock proof, and thermal resistant.
Does Military Allow Smartwatches?
Under the military area, your GPS and smartphone network can't work correctly, and most of the Military forces are not allowed to wear such technology. Because previously a Fitness tracking app Strava gives away the location of a secret US army base.
Which Tactical Smartwatch Last For Long Time?
Garmin Instinct can last for more than 14 days, and Garmin Fenix 5x lasts for 12+ days. These two Garmin wears offers a long battery life even on GPS.
Hi! I am Saad Dastagir, an enthusiast of smartwatches and fitness trackers. This blog is created to bring my personal experience with smartwatches in front of you. Our team tests different types of smartwatches and fitness gadgets constantly and shares hands-on experiences with you.