Do you love hiking, climbing, and such thrilling adventures? If yes, then you must have a high-standard Altimeter smartwatch. You can make your journey more amazing, memorable with a high-quality altimeter smartwatch.
Such smart wears are know as ABC sensors watch (Altimeter, Barometer, Compass). Durability and robustness are the key features of such smartwatches.
You need an Altimeter Smartwatch because it,
Tells Geographical Information

Navigation

Have GPS for routing

Compass

Measures Weather Conditions

Tracks your speed and distance

Measures elevations

Sea levels & Air Pressure and much more
Based on our experience and deep research, we make a list of the few best smartwatches with an altimeter. These smartwatches are your best companion during your adventures.
Altimeter measures altitude, heights, elevations, and distance of a point above the sea level. These are used by Skydivers, mountaineers, hikers, and other such people.
Our Recommendations
Check out: Best Hiking Smartwatches
7 Best Smartwatches With Altimeter : High Quality
Below given smartwatches are somehow different from each other. We write a brief review of each watch, with its pros/cons and features. You can choose the best one which suits your budget. So let's start.
Garmin Instinct
Suunto 7
Casio Protrek
Garmin Fenix 5x
NORTH EDGE Apache
Casio G-SHOCK RANGEMAN
Suunto Core
1- Garmin Instinct
Specifications
| | |
| --- | --- |
| OS | Proprietary OS |
| Compatibility | Both iOS and Android |
| Display | 1.2 inches MIP monochrome |
| Internal Storage | N/A |
| IP Rating | 100m |
| Battery Life | 14 days in smartwatch mode, 16 hours in GPS mode |
| GPS | Yes |
The Garmin Instinct is the most robust smartwatch with a fancy dial. Most outdoor smartwatches have bulky and less attractive designs. But Instinct is not one of them. It has 48g of weight, that's why it is a more comfortable.
Garmin Instinct is a precious product for people who are always on the move. And it's your best companion throughout your whole journey.
With its advanced altimeter, you can measure heights and altitudes even in harsh conditions. Instinct has a very accurate ABC sensor making it the best altimeter smartwatch.
Along with ABC sensors that measure all the environmental conditions, there is premium GPS. Galileo satellite network and GLONASS track routes even in more challenging environments. A "TrackBack" feature allows you to navigate the same path back to the initial point.
Fiber-reinforced polymer case made Garmin Instinct more durable. The watch is shockproof, scratch-resistant, and100-meter water-resistant. Instinct can sustain in a harsh environment as it's built to the U.S military standards 810.
Besides, it offers a wrist-based heart rate sensor that is accurate and efficient. The heart rate sensor also calculates stress level via variation in heart rate. Moreover, there are preloaded different sports apps that track your various outdoor activities.
Garmin Instinct
3 axis compass and barometric altimeter,

Constructed to U.S. Military standard

High Performance GPS

100 meter Water Resistance

Wrist based heart rate
4- Garmin Fenix 5X
Specifications
| | |
| --- | --- |
| OS | Proprietary OS |
| Compatibility | Both iOS and Android |
| Display | 1.2 inches Chrome display |
| Internal Storage | 12 GB |
| IP Rating | 100m |
| Battery Life | 12 days in normal mode and 20 hours in GPS mode |
| GPS | Yes |
You can't ignore the durability of the Garmin Fenix 5x as it passes the 12 Military-STD test. You will get a lot of exciting and premium features with Fenix 5X. And it's better than the previous Fenix 5.
Enjoy your adventures with a robust design that features a stainless steel case, buttons and rear case. Fenix 5x is a little bulky, but the Silicon band will never let you feel discomfort.
Talking about its altimeter, Fenix 5x measures heights and altitudes very accurately. Along with Altimeter, it also features a barometer and compass to check weather and directions.
The GPS is so cool and comes with TOPO US mapping that shows the in-depth location with colourful routes. The guidance cues provide banners that display upcoming turns.
You can also track your friends via GropTrack. And its Real-time tracking allows your friends to follow you throughout the whole adventure.
Garmin Fenix 5 offers more advanced battery technology. The watch lasts for 12 days in normal smartwatch mode, up to 20 hours on GPS and 35 hours in UltraTrack battery saver mode.
Fenix 5X offers 16GB of memory to enjoy music and install a lot of apps. With Spotify support, you can make your playlist of a favorite songs, and enjoy music throughout your adventures.
Garmin fēnix 5X
Durable watch

Ultimate multisport GPS

3 axis compass, gyroscope and barometric altimeter

Water resistant at 100 meters / 330 feet

Connect IQ
5- NORTH EDGE Apache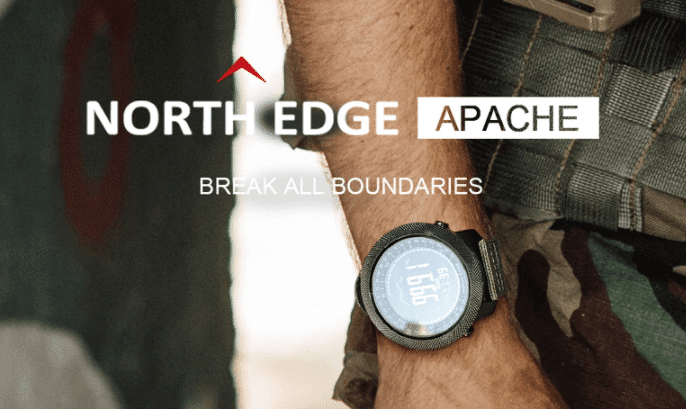 Specifications
| | |
| --- | --- |
| OS | N/A |
| Compatibility | Both iOS and Android |
| Display | 1.9 inches |
| Internal Storage | 16 GB |
| IP Rating | 50m |
| Battery Life | 7 days |
| GPS | Yes |
Are you interested in buying the best budget smartwatch with an Altimeter? If yes! NORTH EDGE Apache is the best option. This one is under $100 watch that offers Altimeter, Barometer and Compass.
Unlike other smartwatches NORTH EDGE don't offers Silicon band. Due to its strong Alloy steel case, the watch is more durable and best to use for harsh environments.
Just like other watches here you will also get Altimeter to measure heights, plus it offers Thermometer and weather forecast these two are premium features in this wearable. North Edge Apache also tracks your health and offers features like calories counter and steps tracker.
With its night mode light, you can see the dial under dim light or at night. Luckily this smartwatch uses a CR2032 battery. You don't need to charge it.
I only recommend this smartwatch if you have a wide and heavy wrist because Edge Apache has 199g of weight which is bulkier as compared to other smartwatches.

NORTH EDGE Apache
ABC Sensors

Thermometer

Weather Forecast

Worldtime functions

Pedometer, calorie, distance monitor, step counter
6- Casio G-SHOCK RANGEMAN
Specifications
| | |
| --- | --- |
| OS | N/A |
| Compatibility | N/A |
| Display | N/A |
| Internal Storage | N/A |
| IP Rating | 200m |
| Battery Life | 33 hours in GPS mode |
| GPS | Yes |
G-Shock Rangeman is the most premium and high-end smartwatch. This G-shock smartwatch is expensive but offers more valuable features. Rangeman is the better option for those who want to invest in smartwatches and a real lover of them.
Besides Altimeter, Barometer, and digital Compass, it offers World timing includes 29 cities, daylight saving on/off, receives time calibration radio signals, and full auto-calendar.
Unlike other watches, this is a unique one that has 200-meter water resistance, a mighty rugged design and shock resistance triple sensors and solid cylindrical buttons. As compared to NORTH EDGE Apache, Rangeman is a comfortable smartwatch anda is lightweight.
Another plus point in this watch is the Solar battery. With its rechargeable battery, you don't need to charge it for seven months.
Casio G-SHOCK RANGEMAN
GPS Navigation

ABC Sensors

200 meter water resistance

World Time 39 cities

Countdown timer
7- SUUNTO Core
Specifications
| | |
| --- | --- |
| OS | Wear OS |
| Compatibility | N/A |
| Display | 1.9 inches |
| Internal Storage | N/A |
| IP Rating | 30m |
| Battery Life | 12 months |
| GPS | No |
Suunto Core is a budget-friendly smartwatch built with Aluminium bezels and Silicon straps. The Core is the most popular smartwatch among adventurers. Its strong quality never disappoints you.
Unlike other rugged watches, the Suunto core has 64g of weight which feels more comfortable. Most of the rugged watches are bulky due to their heavy steel bezels or other robust alloy design. But Suunto Core's unique design and band's flexibility are outstanding.
The Altimeter is more efficient and well working. Along with its ABC sensors, there are also 400+ time zones. The watch also tells sunrise/sunset timing. Suunto Core tracks the weather condition and gives you regular weather updates.
I like its weather forecast system. Its intelligent Strom alarm system enables you to remain updated about storms and harsh weather conditions.
Due to budget and some other reasons, the brand hasn't included fitness/health tracking features. Another downside is Sunnto Core doesn't offer GPS. Overall, Suunto Core is the most durable watch with efficient features.
SUUNTO Core
Altimeter, Barometer, Compass

Measures Temperature

Storm alarm

User-replaceable battery

Depth meter for snorkeling
Two Winners Alimeter Smartwatches
You guys are now curious to know which is the best smartwatch to buy. We will help you to pick the best one.
Above mention smartwatches have a different brand, features pros/cons and prices. So the question arises which one is the high quality and perfect smartwatch? Well, I hope you are now able to decide for yourself which is the best.
But In our opinion, Garmin Instinct and Suunto 7 are the winners. Along with Altimeter, these watches also offer some exciting health tracking features. For hikers and adventures, these features are essential.
I know the value of heart rate tracker, sleep tracker and other health-tracking features. When you are on the move, you should keep tracking your physical aspects that really matter.
Considerations Before Buying a Smartwatch with Altimeter
You know the market is full of smartwatches, and it's hard to pick a suitable and high-quality watch. If you consider a few things before buying an Alister Smartwatch, you will get a fantastic smartwatch. So these few factors are
Efficient ABC Sensors
ABC sensors (Altimeter, Barometer, and Compass) helps you to measure environmental conditions. Only a few smartwatches offer you high quality and accurate ABC sensors.
Before buying the smartwatch, double-check that its ABC sensors are working well. You can check customer reviews on different e-commerce sites.
Durability & Comfort
Outdoor smartwatches are often more durable. The different brands make them too strong to sustain in harsh environments. As an adventurer, you also need such a type of watch. Your watch must be 100-meter water-resistant, scratch & dustproof.
At the same time, most durable smartwatches are bulky due to steel bezels. Aluminium bezels are lightweight and hence more comfortable. Suunto 7, Fenix 5X and Suunto Core are the comfortable smartwatches in our list.
Price
The final thing is the price. You need to invest money to get value. Altimeter smartwatches are usually more expensive. In the market, you would also see above $500 smartwatches. But in this guide, we mention all the smartwatches having below the $400 price tag.
Final Words
After going through the above article, I hope you can now decide which wearable is suitable for you. We gather all the above smartwatches after in-depth research. You saw all smartwatches have high quality and durability, but few s lack health tracking features.
Now it's up to you which smart wearable suits your budget and wrist. It will be great appreciation for us if you buy any watch from our suggestion.
Note: The above content contains few affiliate links, helping us make pocket money when you buy something. Thanks for reading our article:)
Read More: Garmin Fenix 6 VS Garmin Tactix Delta, two premium smartwatches competition.
F&Qs
1-Which is the best Altimeter smartwatch for skydiving?
Suunto 7

Suunto Abit 3 Peak

Garmin Fenix 5X

Casio Pathfinder PAG240

Garmin Fenix 6
2- How accurate an Altimeter watch is?
It depends upon the brand you wear. Few brands like Garmin, Suunto, and Casio offer high quality and accurate Altimeter. However, these brands are expensive but offer you a helpful smartwatch.
3- What do ABC sensors mean?
ABC sensors stand for Altimeter, Barometer, Compass. Few smartwatches offer ABC sensors that tell different environmental and Geographical information like altitudes, sea levels, distance, directions, temperature etc.
4- Which is the cheapest Altimeter Smartwatch?
Suunto Core