Adventure without a hiking smartwatch is useless because you miss out on dozens of exciting things like; tracking your pace, speed, distance, calories burned, altitude, directions, heart health, and all other stuff.
While hiking, one must track its speed, pace, calories burned, altitudes, weather, physical performance, and other aspects. And that's only possible via best hiking smartwatch.
Hiking Smartwatches are pretty different from other watches. They look more rugged and have a robust design. The GPS is the crucial feature in these Smart wears.
Along with GPS, hiking watches also offer ABC (Altimeter, Barometer, Compass) sensors to track different Geographical and weather conditions.
Related Posts:
Top Recommendations
| Image | Name | Battery | Rating | Buy |
| --- | --- | --- | --- | --- |
| Top | Garmin Instinct | 14 Days | 4.5 | Click Here |
| | Garmin Vivoactive 4 | 8 Days | 4.5 | Click Here |
| | Garmin Fenix 5X Plus | 18 Days | 4.6 | Click Here |
9 Best Smartwatches For Hiking
1- Garmin Instinct (Winner)
Garmin Instinct is a fantastic rugged watch for outdoor activities. This hiking watch is made with high-quality strong material, which is perfect for harsh environments.
The watch is built to the U.S military standard 810G for thermal, shock, and water-resistant. With its fiber-reinforced polymer case, it becomes more durable and robust.
Garmin Instant comes with all the necessary features that you required during your adventure. Due to its outdoor capabilities, it's a perfect option for adventures and hilly trips.
As Compared to other bulky watches, Garmin Instinct is exceptionally lightweight and has a comfortable band that is soft and flexible.

GPS
Also, have a GPS, Glonass, and Galileo satellite network to find your directions and paths. There is a 3-axis compass and barometer that allows you to keep your bearings.
Other Features
Along with GPS, this watch also gives you some critical fitness features like heart rate, stress, steps, running, hiking, biking, swimming, running, and more. The best companion during your adventure journey that gives you complete insights into your adventure.
Battery
It also gives you 14 days of extended battery life in smartwatch mode, up to 16 hours in GPS mode, and up to 40 hours in Ultratrac battery saver mode. You can't find such a fantastic battery life hiking watch with a cheap price tag.
Garmin Instinct
3 axis compass and barometric altimeter,

Constructed to U.S. Military standard

High Performance GPS

100 meter Water Resistance

Wrist based heart rate
Check: Best Outdoor Watches Under $100
2- Garmin Venu (Budget Friendly)
A more stylish and flexible hiking smartwatch that gives you the next-level experience of comfort. There are a lot of unique features in this smartwatch. Thank you so much for its long battery life that never disappoints you.
This smartwatch comes with multiple fitness features along with GPS and other essential hiking features.
The best feature of this Watch is Body battery energy monitoring that measures the body's energy levels. During your adventurer day, you can see the exclusive insights and details of your body's energy.
Design:
Garmin Venu has a more beautiful design that looks attractive. Garmin Venu is a lightweight hiking watch that has a rectangular dial. The Watch is made with a premium quality polymer which is flexible and more durable.
The strap is made of silicon, and it's too soft; you can't feel stress on your wrist after wearing it for a long time.
GPS:
This Watch comes with GPS, which helps you to find your directions during your trip. But there is no compass and barometer etc.
Hydration Tracking
A one of my favorite feature of this hiking watch. This feature allows you to measure your daily fluid intake and shows your a reminder to stay hydrated. During your journey, this feature is beneficial, which enables you to stay hydrated.
Other Feature
There are many other fitness features: heart rate monitor, SpO2 monitor, stress tracking, Menstrual cycle track respiration tracking, advanced sleep monitoring, Garmin Coach, Wristband heart rate, and Mindful breathing.
Besides this, it offers different preload workouts include Cardio, Yoga, and other exercises. Also, have more than 20 preloaded sports apps for coaching various indoor and outdoor activities.
Battery
This Watch has six days of average battery life and up to 6 hours in GPS mode with music on a full charge. Although its battery life is so long than Garmin Instinct, it will take a short time to get fully charged.
Garmin Venu
GPS

GARMIN PAY

Animated Exercises

Spotify

Body Battery, Pulse Ox Sensor
Garmin Vivoactive 4 (Runner Up)
This one is another best budget Garmin watch that is specially designed for outdoor activities. Like all other Garmin watches, this one also has a Garmin Coach to help you train for the next 5K, 10K, or help-marathon.
Garmin Vivoactive 4 contains animated workouts that help you to achieve your goals. There are a lot of exciting features in this smartwatch.
The accuracy and preciseness are impressive, and the watch never gives you inaccurate results even when you measure highly intensive moves.
Design
Garmin Vivoactive 4 comes with a circular dial shape with analog-style. With high premium quality, it runs for a long time. The watch looks so durable, attractive, and lightweight. Its bank is made from a soft rubber polymer that gives you comfort.
The watch is water-resistant, scratch and dust-resistant due to Gorilla Glass support. Its glass is so shiny that it looks very beautiful and attractive.
Features
It tracks your energy level, respiration, menstrual cycle, stress, sleep, steps, heart rate, hydration, and more. There are different sports modes for various indoor and outdoor activities.
You also have access to more than 20 preloads of GPS and indoor Sports apps like Yaga, running, swimming, and more. On Garmin Viviactive 4, you can also see different animated workouts, including cardio, strength, yoga, and Pilates.
GPS
This is a GPS smartwatch. Besides, you can also connect this watch with your smartphone GPS. ACCORDING TO SOME CUSTOMERS, its GPS is very accurate, but it takes some time to communicate with a satellite. But in common areas, the watch will quickly connect with the satellite.
Battery
Its battery life is longer as compared to Garmin Venu. This hiking watch gives you an average of 8 days of standby in normal smartwatch mode, while on GPS, you can use Garmin Vivoactive 4 for 6 hours.
Garmin Vivoactive 4
GPS Smartatch

Animated Workouts

Pulse OX sensor

8 days battery timing

Body Battery Energy Monitoring
3- Suunto Core All Black
Suunto is one of the oldest brands of watches established in 1936. It makes fantastic outdoor products, which you can use on the highest mountains and in the deepest oceans.
Suunto Core All Black is a famous Military Men's outdoor sports watch made with a strong polymer. It comes with the latest sensors that give you highly accurate results even on 10,000 feet. You can accurately measure weather, storms, winds, and other environmental conditions on Suunto Core.
I strongly recommend this watch for measuring environmental conditions.
There are special storm sensors in this watch that measures drops in air pressure and notifies you about the upcoming storm. So if you are going to cold, snowy mountains or some desert area, you should buy this hiking smartwatch.
Design:
Overall its design is so stylish and elegant. But if you look at its band/strip, it seems non-flexible. But you can also change its band and choose a durable and flexible one.
There are five buttons on this watch, two on the left side and three on the right side. You can only see dark black Military color in this watch. Around the dial, you can also see a direction measuring parameter that helps you to find paths.
Features
:
There are multiple sensors and features in this watch that makes this wearable a bit expensive. It comes with an Altimeter that helps you to track your ascent or descent and gauge your overall progress on a climb.
A barometer sensor enables you to remain updated with the weather forecast and notify you about upcoming storms.
Copass helps you to navigate and pinpoint locations to find your way in Jungles and on Mountains safely. Sunrise and Sunset times are available for over 400 locations worldwide.
Besides, it also has a weather trend graph and storm alarm which is very helpful during bad weather conditions. You can make your journey and adventure safe with the Suunto Core All-black smartwatch.
GPS
:
There is no GPS feature in this watch, but you can use Compass to find and pin your locations.
Battery
:
Its battery lasts for a long time because there is no GPS in this hiking watch. You can easily use this watch for 7-8 days. The watch comes with two years of warranty so that you can replace/return this watch in-case of any issue.
SUUNTO Core
Altimeter, Barometer, Compass

Measures Temperature

Storm alarm

User-replaceable battery

Depth meter for snorkeling
4- Garmin Fenix 5X Plus (Premium Watch)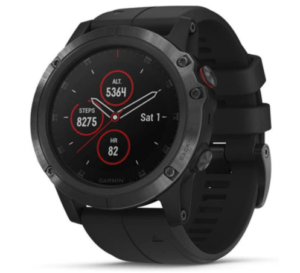 Garmin Fenix 5X is a very famous watch for its GPS. I never see such an accurate and highly detailed map on smartwatches.
If you have some extra budget, then I strongly recommend you to buy this hiking watch. A one of the best outdoor smartwatch out there, offers all the capabilites and features that you want.
The watch has many useful sensors, including GPS, GLONASS, optical heart rate, barometer, altimeter, gyroscope, accelerometer, and thermometer.
Design
It is made with such a silicon polymer that is 30% stronger than steel. The watch Garmin Fenix 5X plus exposed rugged screws and the dark finish go well with that chunky build and slid buttons. It's round, and the shiny dial looks a bit large, but it's highly comfortable and lightweight.
The wrist strap is built with premium quality rubber polymer that offers a nice amount of flex and comfort while also feeling super strong. The watch has 100g of weight, so you need to do uptight, especially when running. There are different variants available in Garmin Flex 5X Plus.
GPS
I love its GPS. To be honest, I can't see such high detailed GPS on a smartwatch. Even its GPS also tells you about restaurants, petrol pumps, and different shops. The latest Galileo system gives you more accuracy and rapid location acquisition.
Other Features
Garmin Flex 5X plus is the best smartwatch for hiking and your best companion that gives you many features. It comes with a Pulse Ox acclimation sensor. Provides awareness of your blood oxygen saturation levels, especially on high altitudes: multinetwork navigation, wrist-based heart rate, music, and NFC.
It will count your step, distance, and give you weather updates. There is a lot more to explore in this smartwatch. You can easily sync this watch with your smartphone, the different outdoor apps pre-installed on this hiking watch.
Battery
I have a powerful battery that gives you an extra-long time to use this watch, even with GPS. It gives you 20 days of extended battery life on normal smartwatch mode and 13 hours in GPS mode with music.
5- Suunto 9
One of the best Rugged and hard-wearing smartwatches for outdoor purposes. A highly durable and premium quality GPS watch designed for athletes. With 80 sports and modes, you can quickly achieve your fitness goals and make your adventure more amazing.
There are a lot of Suunto apps that allow you to analyze your activities deeply. A battery life that will outlast even the most extended endurance challenges.
I love its battery life that gives you a long time even on GPS. The watch is waterproof, dust and scratch proof, built with a high-quality polymer that is stronger than steel.
Design
It has a stylish design which is best for everyday wear. It is built with a special silicon polymer that makes it survive in almost all conditions. There is a large display that can withstand scuffs and knocks.
The overall weight of the watch is light, and it's easy to wear and use. Because of its comfortable and flexible band, You can't feel stress on your wrist after wearing it for a long time.
Its touch screen is very responsive and easy to use But you can also use three buttons to control this watch. In some cases, your finger is wet. Then you can use side buttons for more controls.
GPS
Suunto 9 is one of the best-known GPS smartwatches that gives you highly accurate results.
Other Features
There are a lot of features in this watch in this hiking watch. Along with measuring environmental conditions and directions, it also allows you to measure different fitness activities. It measures real-time heart rate, sleep tracking, blood oxygen tracking.
Besides, it has 80 different sports modes that track various indoor and outdoor activities. This watch uses motion data to fill the blanks between GPS data points.
Battery
No other hiking smartwatch can beat the Suunto 9 in battery timing. If you go on a long adventure trip, then you should buy this beast. Along with three weeks of regular use, it gives you 120 hours of battery life for GPS and continuous exercise tracking.
Suunto 9
Multisport GPS

Excellent ABC sensors

Advanced Performance Metrics

Extremely Durable

Excellent battery life
Read More: 15 Best Smartwatches Under $50
6- Casio Men's PRO TREK PRW-3510Y
When exploring new routes, it is essential to know where you're heading. For this, the map plays a crucial role in making the journey easy.
Out of all the smartwatches I've looked at, the Casio Men's Pro Trek watch is ideal for the best map displays.
Design
Casio designed this durable watch with dimensions of 4.35 x 4.65 x 3.8 inches and 3.4 ounces weight. For durability, it has a round shape with a digital screen and a mineral dial window.
It features a black resin band with a clasp closure for a secure fit during hunting excursions. This watch has a Quartz movement, which allows for accurate timekeeping.
Hiking Features
Hikers love it because of the famous triple sensor of altimeter, barometer, and digital compass. These sensors will alert you to the location's altitude and point you in the appropriate direction.
Furthermore, its thermometer will provide you with information on the temperature of your hiking trail.
GPS
Unfortunately, this watch lacks GPS capability, but aside from that, it has everything you need for a rugged terrain trip.
Other Features
The Casio hiking watch also includes a pressure change indicator, which alerts you to substantial changes. Stopwatch, countdown, calendar, and alarms are among the essential features.
It can tolerate temperatures as low as -10°C. This excellent wrist wear also includes a calibration signal function.
Battery
A solar-rechargeable battery powers the watch that lasts for five months when not exposed to light.
Casio Men's PRO TREK
Tough Solar power,

Pro Trek Version 3 Triple Sensor

Atomic Timekeeping

200 meter water resistant

Multi Alarm
7- Suunto Traverse
Due to its appealing design and superior functionality, the Suunto Traverse watch instantly became a favorite among hikers, climbers, and other outdoor enthusiasts. This watch is ideal for hikers whose primary purpose is to navigate and monitor altitude during their journey.
Design
With its basic black finish, the Suunto Traverse features an attractive appearance. It has a stainless-steel case that protects the entire watch body. The sapphire crystal glass also protects the display from scratches and other damage.
The watch comes with a silicone or textile band to withstand harsh outdoor conditions. For remarkable resilience, it also features a Sapphire glass or mineral crystal lens.
Additionally, this outdoor watch includes a flashlight to aid navigation in the dark.
GPS
This excellent hiking watch has a GPS feature that will guide you through your trek.
Other Features
The Suunto Traverse is a fantastic watch that has excellent functionality and a lovely aesthetic. The altimeter, barometer, thermometer, and digital compass are all included.
You can track the weather before or throughout a trip using storm alarms and the barometric pressure graph.
Also, it comes with a water resistance of 100 meters.
Battery
A lithium-ion battery is required to operate this Suunto timepiece, which comes in the box. You'll get 14 days of battery life in standard mode with a full charge.
Finally, if you're a serious mountaineer, this might be the best watch for you.
Suunto Traverse
Durable body

Accurate Performance

Excellent GPS

Up to 100 hours battery life

100 m/330 feet water resistant
8- G-Shock Rangeman GW9400
The next wristwatch is one of the most fantastic hiking watches due to its extreme shock resistance.
Casio's G-Shock Rangeman GW9400-1B is a legendary model that can endure 200 meters of water pressure, vibrations, gravitational shocks, and temperature shocks.
Design
The G-Shock watches are known for being well-made, long-lasting, and extremely tough construction.
The black resin case of this complete digital watch is highly durable and robust. The watch is 53.5mm in diameter and 55.5mm in length.
The black resin band, like the rest of the watch, is highly durable. It's scratch-resistant, water-resistant, and long-lasting.
Another feature of G-Shock watches is their knobby and knurled body, which ensures optimum durability.
GPS
Unfortunately, this watch does not have a GPS, but aside from that, it is the best hiking watch.
Other Features
The watch has a Triple Sensor that displays altitude, barometric pressure, and temperature.
Like previous Casio models, the thermometer has a range of 14 degrees Fahrenheit to 140 degrees Fahrenheit, giving users a wide range of temperatures to measure.
Also, the Rangeman features an LED lighting for night shift operation.
Battery
The Rangeman, in addition to the ABC and several other useful features, is powered by sunlight, making it one of the most easy-going timepieces ever created.
However, there is no need to recharge the battery or set this solar atomic hiking watch.
Why you need Hiking Smartwatch?

Other than measuring your fitness, steps, and calories, there are different reasons to wear the best hiking watch.
1- Finding Direction
Wherever you go on an adventurer trip, you don't know the directions and ways. In that situation, a Hiking watch can help you to choose the best and safe path.
You can use GPS, compass, altimeter to find out the best direction. This wearable also tells you how far your destination is.
To measure the best and accurate direction, you need the best smartwatch for Hiking that has high accuracy and premium quality. If you come with an inaccurate hiking watch, then this can be a little risky for you.
2- Weather Forecast
Weather forecast is another crucial factor that forces you to buy a backpacking watch for your adventure. You can't see the weather forecast on your mobile phone due to internet problems and some other reasons on hilly and side areas. For such paths, you must have a hiking watch that shows you an accurate weather forecast.
Weather Forecast is crucial for planning your next day's adventure. Along with temperature and weather measurement, you can also measure air direction, humidity, wind speed, etc.
3- Track your performance
If you have a high-quality hiking watch that gives you highly accurate results, then this is a matter of great fortune for you.
You can also track your health, fitness, calories, and other such things during your adventure.
Such hiking watches can also measure your heart rate (24/7), follow your steps, measure your stress, show you notifications, calendar, and all other things.
A lot of such wearables can easily sync to your smartphone via their app. And you can deeply see the insights of your adventure.
Consideration (Before buying the best smartwatch for hiking)

Before buying the hiking watch, you should consider the following factors.
1- Accuracy
Without accuracy, it is useless to have a smartwatch. Accuracy must be your priority before buying any hiking watch. Most of the eyes have no quality sensors and give you inaccurate results, and such effects can be detrimental to you later.
2- Price
Price is another crucial factor. Hiking smartwatches range from $100 to over $600. If you want the best smartwatch for hiking with all the features and GPS, you should pay for it.
A cheap watch does not have the features that an expensive watch has. Its design, durability, features, battery life, all the things are different from cheaper ones.
A lot of people like to have a fixed budget to buy something. Don't worry. This guide will show you different price tag hiking watches that have all the necessary features and give you highly accurate results.
Although such budget-friendly watches have fewer features, they include all the important ones.
3- Easy to Use
The best hiking smartwatch has a user-friendly interface, and it's easy to use. It's a touch screen, buttons, software, UI, and all the things are user-friendly. I saw a lot of hiking watches that come with a tricky touchpad which is challenging to use.
You should check whether the watch is appropriately synced with a mobile phone or not. And also, see that it is easy to use and navigate; buttons should be easy to operate.
4- Battery Life
If your hiking watch has long battery life, you can measure your adventure for an extended period. Battery life is one of the essential factors. Sometimes you use a GPS throughout your whole day.
It drains a lot of battery life. Along with GPS, you can also measure and see different activities. For all such things, you should have a long battery hiking watch.
I saw a lot of hiking smartwatches that come with seven days of average battery life. But on high usage, battery life may be reduced.
Battery life also depends on the usage of a smartwatch, especially GPS. But few hiking watches have solar battery charging systems. Such Smartwatches can easily be used for a long time.
5- Wristband
On an adventure, you need to wear a hiking watch for a long time. So it would help if you bought such a look that has a soft and flexible band. With the smooth band, you feel comfort and your wrist will not tire.
A premium quality band also has vents or small holes that allow airflow, so sweat will never build up between the band and your wrist.
6- Glass Quality
For outdoor activities, a smartwatch must have Gorilla Glass protection. or have sapphire glass like Fenix 5X Plus. Sapphire glass is expensive, which is why a lot of companies use Gorilla Glass protection. But both of them are perfect for Scratch, dust, and water-resistant.
Many cheap hiking watches use chemically strengthened glass, which also provides battery protection but isn't as strong and durable as sapphire or Gorilla glass.
7- Design & Quality
It would help if you bought a premium quality hiking watch that has an extended warranty time. There are many shapes and designs, but many hiking watches come with a rugged design that looks best in the woods.
Fierce eyes are often bulky and don't have attractive designs, but they have premium quality. You also have an option to change the bands of your hiking watch for a routine.
8- Weight
It is another essential factor. You should wear 50 grams or less watch for a high comfortable experience throughout your adventurer journey.
Final Words
If you are going for some adventure in some hilly area or forests, you should have the best hiking smartwatch. In addition to counting, steps hiking watches give you a lot more features. Just as you need hiking shoes, you also need the best hiking smartwatch.
After reading this article, I am sure that you can decide which wearable is perfect for you. If you are looking for a budget-friendly hiking watch with many features plus GPS, you can go with Garmin Instinct and Garmin Venu.
If you need a long battery life watch for your long journey, Suunto Core All Black and Suunto 9 are the best choice.
But All the watches mentioned above are the best smartwatches for hiking. I hope you enjoyed this guide. If you buy any smartwatch from my link, I can make pocket money for my family and me.
F&Qs
Why we should buy a Hiking watch?
A hiking watch is useful for adventure, it finds directions for you, give you weather forecast, track health, fitness, and performance.
Which is the best budget hiking smartwatch?
Garmin Vivoactive 4 is the best budget watch for Hiking.
I want to buy a long battery life hiking watch, which one is best?
For a long battery time, you can buy Suunto 9.
Which is the Best Budget GPS Smartwatch?
Garmin Instinct.
Can I measure weather conditions with Hiking watches?
Yes, all most all the hiking smartwatch comes with barometer and altimeter sensors that help you measure weather conditions.
Hi! I am Saad Dastagir, an enthusiast of smartwatches and fitness trackers. This blog is created to bring my personal experience with smartwatches in front of you. Our team tests different types of smartwatches and fitness gadgets constantly and shares hands-on experiences with you.