If you are given thousands of various options, picking the finest Apple Watch bands for nurses from them can be difficult. Apple offers a variety of straps, but there is also a never-ending supply of third-party Apple Watch straps to choose from.
But, Not all of these will be of the highest quality, so where do you begin?
As a healthcare professional, you must be looking for an apple band that is very durable, easy to clean, and above all, provides your nurse's costume an excellent look because you walk in and out of patient rooms and conduct activities that involve bodily fluids and other critical tasks.
We've chosen 14 of the best apple watch bands for you, based on your preferences, that give you a great aesthetic look and are also really durable.
So, considering your daily busy routine, we've selected some of the best metal, leather, and designer selections for you.
14 Best Apple Watch Bands for Nurses
As a nurse, your watch is likely to contact bodily fluids and, of course, water from frequent hand washing. Choose a watch brand that is durable, breathable, and comfortable, as well as one that can withstand water, when purchasing a wristband. Apple's traditional Apple Watch bands are fantastic for everyday use.
On the other hand, other watch bands have been approved by nurses, and who doesn't like options?
1- Apple Solo Loop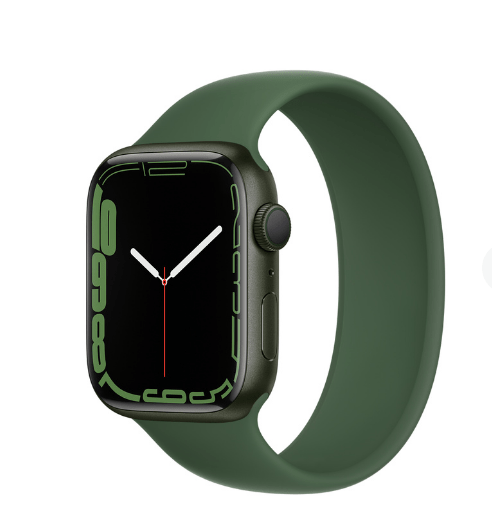 With the Apple Watch Series 6, Apple introduced the Solo Loop band design. The most excellent part about this brand is that it's made entirely of recycled materials, so you'll be helping to clean up the environment by purchasing it.
The band comprises a cotton and silicone thread mix that makes it exceptionally comfortable to wear for long periods. If you want to get Solo Loop, make sure you obtain the right size because each band is different, and you'll need to measure your wrist to figure out which size you need.
The Apple Solo Loop has earned a reputation as an all-day Apple Watch strap for a reason: it's incredibly comfortable.
It's created from liquid silicone rubber and has a unique flexible design that you can slip on your wrist. It comes in a variety of colors.
The main benefit of using this band is that it can be cleaned with healthcare-grade wipes and will not be affected due to its design.
It's also sweatproof and water-resistant, so you won't have to take it off every time you wash your hands.
2- Wepro Black Buckle
The Wepro Black Buckle is a great watch strap for those who like to keep things simple. It also comes at a great price.
It's silicone and is sweat and dirt resistant, but it resembles a classic watch strap more than other silicone bands.
It will undoubtedly offer your nurses' attire a traditional style, enhancing your professionalism and decency.
You can choose from a choice of plain colors, but because the watch is slim, it is durable and will fit into your daily routine.
It has a traditional buckle design that isn't as practical as a pull-over but allows you to modify it throughout the day.
3- Apple Sport Loop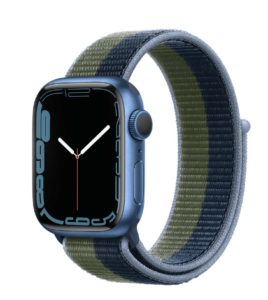 Because of the huge number of patients in the hospital, being a nurse often encounters situations in which your workload becomes too much to handle.
That is why the Apple sport loop was created; it is precisely intended for ventilation so that your wrist does not become suffocated during your busy day.
The Apple Sport Loop incorporates a hook-and-loop fastening that allows you to loosen it if you need a little more space on your wrist. It has a double-layer nylon weave that looks attractive while offering enough comfort to allow sweat to escape.
It's built to last, and the attachment loops are securely fixed, so it won't fall apart while you're lifting.
4- MITERV Silicone Band
The MERV Silicone Band is possibly the greatest Apple Watch band for nurses and medical workers.
You'll be working with a lot of sensitive information as a medical professional, and you'll need to keep your hands and the materials around them germ-free.
The main benefit of using a silicone band is that it can be cleaned with healthcare-grade wipes and will not be affected.
It's also sweatproof and water-resistant, so you won't have to take it off every time you wash your hands. The band is also really comfortable, and you may wear it for long periods without becoming uncomfortable.
However, if you wear the band in a really hot environment, it may become uncomfortable. If you operate in a hot environment, a Nylon band is a good option because it is breathable and comfy.
5- GZ GZHISY Sport Band
As a medical worker, you may be compelled to wear the PPE (Personal Protective Equipment) Suit for an extended period, which means you won't be able to remove the watch.
You'll want a band that is both comfy and doesn't irritate you for long periods in this scenario. Then the GZ GZHISY Athletic Band is for you.
My preference is a nylon athletic band, and the best aspect about it is how comfortable it is. It is comfortable to wear for several hours at a time.
The Nylon Sport Band is also a fantastic choice in hotter climates because it is breathable and sweat dries quickly.
6- SnapBand Solo Stretch Snap Band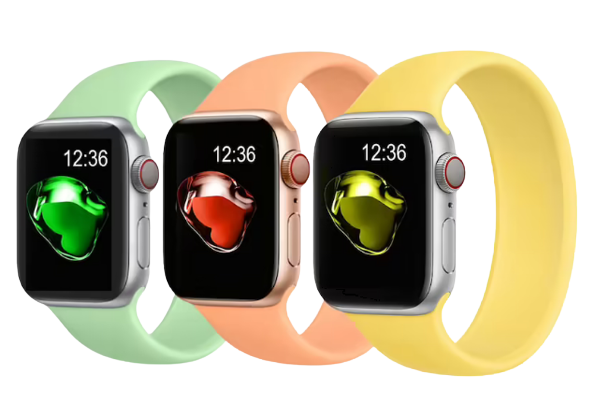 This band is for you if you want a basic yet easy-to-use band to attach while you don't have a lot of time to buckle up a watch as a nurse; it's easy to wear and easy to remove.
The SnapBand Solo Stretch Snap Band is a good option. It effortlessly slides around your wrist and is made of smooth silicone, making it incredibly comfortable to wear.
It's constructed of durable and soft silicone, so it'll feel great on your wrist while also reducing skin irritation.
And made of silicon also benefits in cleaning, and it gives an aesthetic look to your watch and your personality as a nurse.
7- WFEAGL Leather Band
The WFEAGL Leather Band is one of the best Apple Watch Bands for Nurses and Medical Workers. The strength and comfort of leather bands are well-known. It is pleasant to wear for extended periods.
Another advantage of the Leather Band is that it is naturally hypoallergenic, so you can wear it without fear of aggravating your condition if you have allergies.
The beauty of a Leather Band is that it gives the watch a sophisticated appearance. If you want your Apple Watch to look attractive, the WFEAGL Leather Band is a great option.
8- Hermes Noir Swift Leather Attelage Single Tour
The Apple Watch Hermès – 44mm Noir Swift Leather Attelage Single Tour seems like something from a designer retailer, but it's just a normal Apple Watch strap.
It's refined in every manner, with a stainless steel buckle that pays homage to Hermes' equestrian roots. If you want a conversation starter and a high-quality leather band, this is the strap for you.
And it's a perfect complement for your elegant healthcare personality. You'll be working with a lot of sensitive information as a medical professional, and you'll need to keep your hands and the materials around them germ-free.
The main benefit of using a leather band is that it can be cleaned with healthcare-grade wipes and will not be harmed due to its natural properties because it's composed of high-quality leather that can't be easily damaged.
9- JW ACCT Milanese Band
The JWACCT Milanese Band is another amazing Apple Watch Band for Nurses and Medical Workers.
It's on our list because it's made of stainless steel, which means you can clean it with healthcare-grade wipes that will not harm it.
This band is also incredibly breathable, allowing you to wear it for long periods without feeling uncomfortable.
A magnetic clasp is also included in the band, which can be changed anywhere. Whether you have little or large wrists, you can effortlessly slip them on.
The band is comfortable, and you can wear it for long periods without becoming irritated.
10- Rebecca Minkoff Apple Watch Band
The Rebecca Minkoff Apple Watch Gold-Tone Heart-Pressed Mesh Bracelet looks stunning and transforms your Apple Watch into a bracelet.
It includes a sliding buckle fastening for extra protection, but it's surprisingly simple to operate. With Rebecca Minkoff's name on the back, you can proudly display your designer pedigree.
But don't be fooled by its appearance; it is highly resilient in harsh conditions and will help you stand out from the crowd.
11- Marge Plus Compatible
Several Apple Watch Leather bands for Apple watch promise to make you look more elegant and fashionable.
But the Marge Plus Compatible is one of the best Apple Watch bands because it's designed to provide a leather option without needing you to empty your wallet. It is made from high-quality leather.
This band can accommodate wrist sizes between 160 millimeters and 200 mm, making it suitable for a large population segment.
Plus, it's available in 13 colors, including black, red, and teal. Suppose you're looking for a professional yet affordable look, as in the case for nurses. In that case, this band will give them a fantastic look, and anyone looking for a robust leather strap, the Marge Plus Compatible is an excellent place to start.
12- Nomad Sport Strap
The Nomad Sport Strap is a $40 silicone watchband designed to be worn when exercising and sweating.
That means it'll be ideal for those hectic days when you've got a lot on your schedule. This sports band's toughness will ensure that your overall glory does not fade.
According to Nomad, the material is durable and comfy, and the slate-gray finish over the black provides a unique design element.
It's one of the best Apple Watch bands for sports, standing out from the crowd more than the standard silicone options.
13- Jwacct Band with Screen Protector
Are you tired of getting minor scratches on the edges of your Apple Watch from bumping it against hospital chairs, walls, and counters?
This stylish and practical wristwatch band provides extra protection (although it doesn't protect the screen itself) while allowing easy access to the digital crown and side button, and you don't need to remove anything to charge the watch. It has a magnetic clasp for a secure fit.
14- Sunnywoo Sport Band
There are 17 vibrant patterns to choose from on the sunny wood wristband, including leopard skin, rainbow, and polka dot.
This silicone band is narrower than the Apple Sport Band, resulting in a less bulky wristband.
Again, the benefit of using a silicone band is that it can be cleaned with healthcare-grade wipes and will not be harmed due to its nature.
For a secure fit, the Sunnywoo band has a pin-and-tuck clasp. You can order a few to suit your mood at these prices.
FAQs
Why do Nurses wear Apple Watches?
Nurses wear Apple watches as part of their regular work for various reasons. The ability to use current and accessible technology hands-free is one of the most significant advantages for nursing.
Various apps are great for both nursing and leisure on the App Store.
Nurses use watches for a range of tasks, including checking pulses and setting reminders to check on patients or administer drugs.
Nurses utilize timepieces in their daily work for various reasons, including measuring pulses and setting reminders to check on patients or deliver drugs.
While delivering patient care and essentially hands-free, you can time your pulse-taking, dictate notes, and connect with others.
Nurses represent punctuality in the workplace; thus, their time is extremely important. They don't think it's important to know the time. In today's world, nurses can choose whether or not to wear a watch.
Are Nurses allowed to wear Smartwatches?
Yes, They are permitted to wear smartwatches. In most hospitals, nurses are allowed to use smartwatches. In addition to being helpful clocks, they may be used as a hands-free option for staying in touch with loved ones and recording key health indicators and activity data.
Nurses can wear Apple watches if the hospital allows them to wear watches generally. Apple watches offer a variety of benefits for nurses, including the ability to use Siri hands-free for timing, reminders, and important messages.
The Apple Watch is a smartwatch that allows nurses to receive important notifications and messages right on their wrists.
As a result, nurses are less likely to be distracted by the need to check their phones. This is particularly helpful for nursing students who cannot use cell phones in class.
What are the advantages of wearing Apple watches while on duty for nurses?
If you don't want to use Siri, reminder apps work with vibration alarms.
The vending machine and the cafeteria accept Apple Pay. This gives you more time to relax and enjoy your break by allowing you to grab a coffee quickly.
The battery lasts up to 18 hours and covers even the most extended work shifts.
The watch tracks health and sleeps using electrical and optical cardiac sensors, essential to many nurses. Apps for fitness, yoga, and wellness can help you stay in shape while having fun.
Sleeping, exercising, and eating well are three of the most important aspects of staying healthy, and the watch offers apps for all three.
CONCLUSION
The Apple Watch is a stunning and customizable device from an aesthetic standpoint. It gives nurses the ability to design stunning styles that go with any dress, including medical scrubs and nursing shoes, as well as casual and formal attire.
For example, the watchband and display can be swapped out for different contexts and settings. As a result, nurses can always appear lovely even when they are not standing.
Nurses can choose from various materials when purchasing an Apple Watch to match their unique tastes.
Whether you need a sports band for intense workouts or a high-end leather band for formal occasions, Apple has you covered. Despite its technology and functionality, the Apple Watch, along with an aesthetic band, is a gorgeous timepiece that can be worn for any occasion.
About Author