Google Fit belongs to one of the top fitness tracking apps that offer a plethora of features for free. It monitors all the standard parameters such as steps taken, distance traveled, and calories burned.
It also gives complete activity reports, including heart rate, speed, and duration. As a bonus feature, you may use it to keep track of your fitness and weight-loss objectives over time.
But how does Google fit track steps? In this guide, we'll explain how Google Fit tracks your steps and some other considerations you may want to keep in mind when using this fitness app. We also provide some useful suggestions to increase the step tracking accuracy on Google Fit.
So, without any further ado, let's get started.
How Google Fit Tracks Your Steps?
You can use Google Fit to keep track of your steps in two ways.
1.

Utilizing Sensors on a Phone
Google fit utilizes the phone's sensors to determine if you are walking, jogging, or riding. Google Fit employs specific algorithms to take the data from the phone's accelerometer and transform movement information into step counts. The number of steps you've taken is then estimated by Google Fit using this activity data.
2.

Using Fitness Trackers and Smartwatches
If you're wearing a smartwatch, Google Fit can also record the step count from it. All watches that support Wear OS are compatible with Google fit and can easily sync with it to track your steps, health, and fitness data.
Remember:
Smartwatches have more accurate sensors than smartphones, allowing the app to obtain a more accurate step count. Step counts recorded via mobile phone are not considered accurate because this app can potentially interpret random phone throwing as a step.
In addition, Google Fit allows you to create goals, such as walking a specific number of steps daily. The app will then monitor your progress and motivate you to keep exercising.
Does Google Fit

Accurately Measure Your Steps?
The accuracy of Google Fit Step tracking is dependent on accelerometer measurements. It means that the accuracy of your smartphone's accelerometer determines the precision of your steps.
In general, the accelerometers in the latest mobile phones are more precise than those in earlier models. Moreover, you may confirm the accuracy of your device's accelerometer by comparing the steps to those taken with another fitness tracker.
If you have a new phone, you may assume Google Fit to be within +/- 5% of its stated accuracy. Further, turning on the GPS while walking or running will improve its accuracy.
To test the accuracy of your smartphone's sensors, you can use an app like Sensor Test. You can check the accuracy of your phone's accelerometer with this app.
Additionally, third-party apps and devices can provide more precise readings and extra features. For example, Mi-Band devices, in addition to tracking steps, may also monitor your sleep quality and heart rate.
How to Improve Accuracy

of Google Fit Steps Tracking?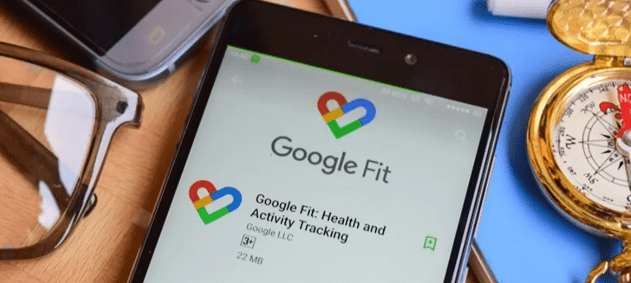 There are a few things you can do to increase the accuracy of Google Fit Step tracking.
Make sure you wear your phone in a fitness armband or a bag that hangs from your wrist. It will help the accelerometer track your steps more accurately. The accelerometer measurements will be erroneous, for example, if you keep your phone in your pocket.

When you go for a walk or a run, turn on your GPS and allow Google Fit to access your location. It will help Google Fit better track your steps.

Use a smartwatch or fitness tracker that is Google Fit compatible. The accelerometers in these devices are more precise than those in smartphones, allowing Google Fit to deliver more accurate step counts.
How Do You Use Google Fit to Stay Motivated?
Google Fit rewards users with Move Minutes and Heart Points depending on their daily activities, encouraging them to live a healthier lifestyle.
The Move Minutes and Heart Points are based on the physical activity guidelines set forth by the American Heart Association (AHA) and the World Health Organization (WHO), which prescribe 150 minutes of moderate-intensity aerobic activity or 75 minutes of intense aerobic activity per week.
Additionally, users can manually report their activity in Google Fit, or the app will reward points based on their activity level. Using charts and graphs, users may track their progress from time to time and see how they perform regarding their AHA and WHO targets.
Thus, in this way, Google Fit works to encourage you to lead a more active lifestyle and measure your progress toward having a healthy lifestyle.
What are Move Points?
Move Points are an important aspect of Google Fit, and they're meant to encourage you to be more active throughout the day. You can earn move points by doing various activities, such as taking the stairs or going for a walk.
And the more Move Points you collect, the closer you come to fulfilling your ultimate objective.
What are Heart Points?
Google Fit has a feature called Heart Points that rewards you for being active. A higher number of Heart Points means greater heart health.
High-intensity physical activity like jogging or biking can earn you Heart Points. Other activities, such as swimming or dancing, can also give you Heart Points. Then, you can redeem these points for cash.
According to the American Heart Association (AHA) and the CDC, adults should engage in at least 2.30 hours of moderate-intensity aerobic activity each week to maintain a healthy weight and reduce disease risk.
Furthermore, the AHA and DHA recommend that adults perform strength-training exercises at least twice a week.
As a result, the Google Fit's Heart and Move Points system is a wonderful motivator for people who want to exercise more frequently.
Conclusion
Google Fit is a useful free application for keeping track of your steps and other physical activity to help you meet your fitness goals. To motivate you, it includes features like Move Points and Heart Points, which track your activity and reward you for it.
Hopefully, this post has given you a better understanding of how Google Fit tracks steps and how it motivates you to reach your health goals. However, if you still have any questions, please feel free to post them in the comments section.
Thank you for reading!
Frequently Asked Questions (FAQs)
Does Google Fit track steps on the treadmill?
Yes. Google Fit keeps track of your steps while you're on the treadmill. When using a treadmill, make sure you have your phone or smartwatch nearby so that the app can automatically track and record your steps.
In addition, if you have a connected treadmill, Google Fit will automatically sync and record the number of steps you do on the treadmill. Alternatively, treadmill workouts can also be entered manually into the app.
Does Google fit double count steps?
No. Google Fit does not double count your steps from your app and smartwatch. Google Fit has powerful sensors and algorithms that allow it to assess and record these steps properly, without any errors or double-counting.
Does Google fit track steps offline?
Yes. Google Fit can track your steps even if you are not connected to the internet. It is feasible because your phone's sensors detect and record your movement even when you are not connected to the internet. Later, when you connect to the internet, the data will be synchronized and uploaded to the Google Fit cloud.
Is Google fit free?
Like many other Android apps, you can download the Google Fit app free from the Play Store. As a response to the Apple Health app, Google has developed an app called Google Fit. Several activities may be tracked by Google Fit, such as walking, jogging, biking, and cycling.
Are there some other apps for keeping track of your steps?
Many other apps that track your steps accurately are MyFitnessPal, Pace Health Pedometer, Leap Fitness Step Counter, etc.
Syeda Masooma is a fitness enthusiast and running enthusiast who loves to write about the latest fitness gadgets and running tips. She has been running for over 10 years and has completed several marathons. She is passionate about helping others reach their fitness goals and loves to share her knowledge and experience with her readers. Syeda is also a certified personal trainer and nutritionist, and she has a degree in Exercise Science. She is always looking for new ways to help her readers stay motivated and reach their fitness goals.