Health tracking has now become easier with the latest apps. You can keep track of your anytime fitness activities on apps like Google Fit and Samsung Health.
Google Fit and Samsung Health are both the best fitness apps that you can install on your iOS or Android devices. But some differences make one better than the other.
Google Fit is a more simple app, whereas Samsung health offers many extra features that keep you motivated and achieve your fitness goals.
In this article, we will compare Google Fit VS Samsung Health apps and see some major differences so you can install the best app on your smartphone.
Google Fit VS Samsung Health: User Interface and Widgets
When it comes to interface Google always tries to make user-friendly apps so users can easily use their apps. Google Fit comes with a simple interface that anyone can track their fitness exercises.
On the other hand, the Samsung Health app comes with more options and stats, so you must learn a few things before monitoring your goals. But the good thing is both apps offer customizable widgets so that you can add or delete any widget.
When it comes to visuals, graphs, and charts Samsung health app gives a more in-depth analysis of your activities with beautiful visuals. Google Fit also shows graphs but does not give many advanced visualizations. So on SHA, you can easily understand your wellness and decide your next move.
Google Fit VS Samsung Health: Features & Options
Both fitness apps offer tons of options to keep track of your health activities. But we will find which app gives more options and features for comprehensive understanding.
Steps Tracking: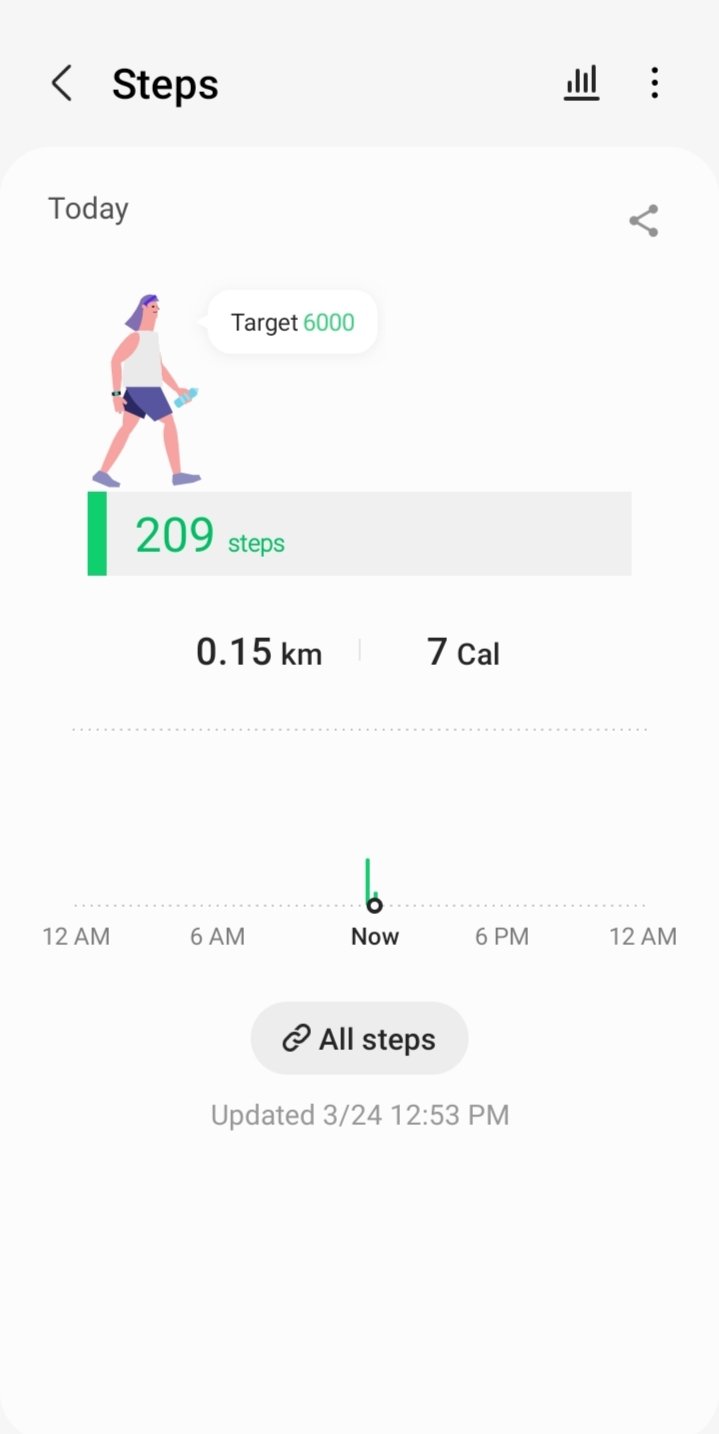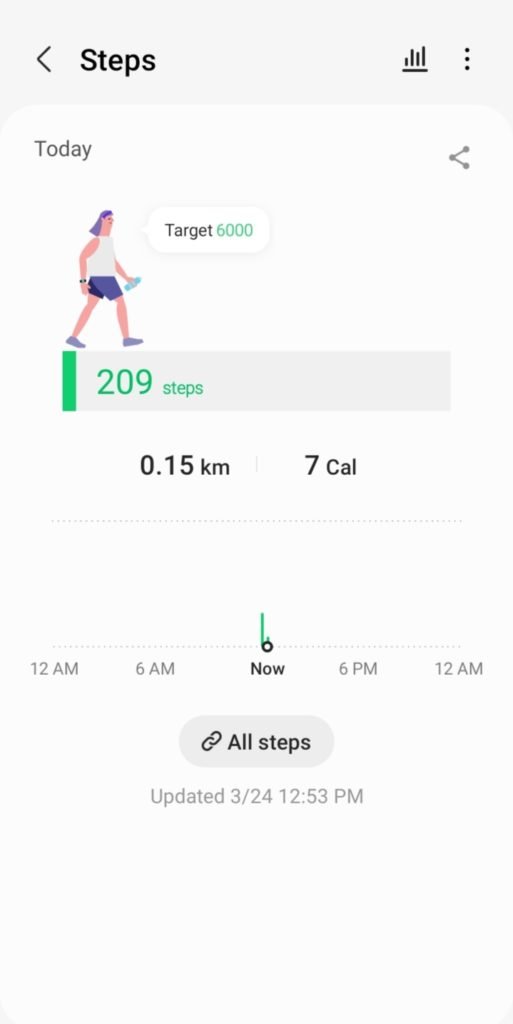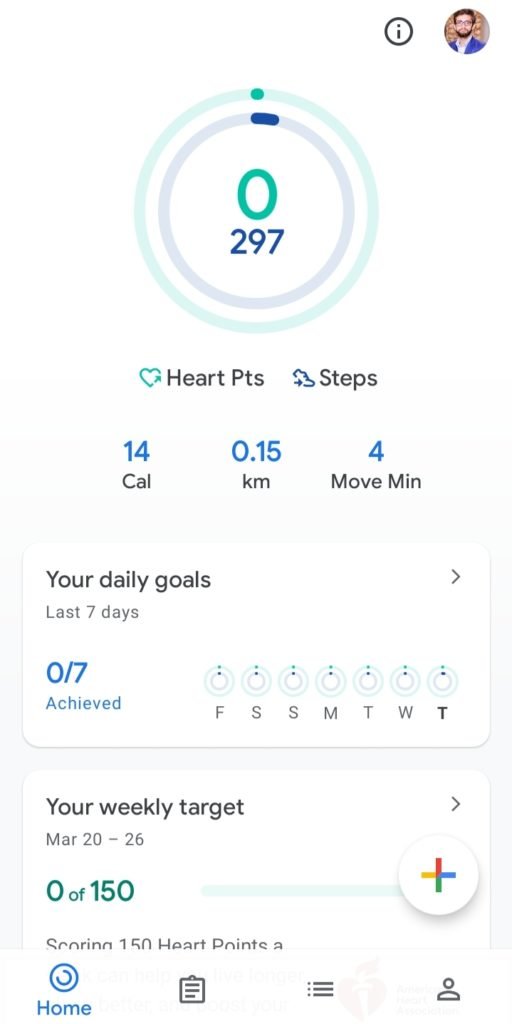 We have tested steps count on both apps and see huge differences. The Google Fit shows more steps than Samsung Health app because Google Fit measures are both slow and fast.
On the other hand, Samsung Health only measures fast pace walks. But both give results near to the accurate values.
We have conducted a test on both apps. Here are the results;
Google Fit

: Distance = 0.15kM Steps = 297

Samsung Health:

Distance = 0.15KM Steps = 209
Goals: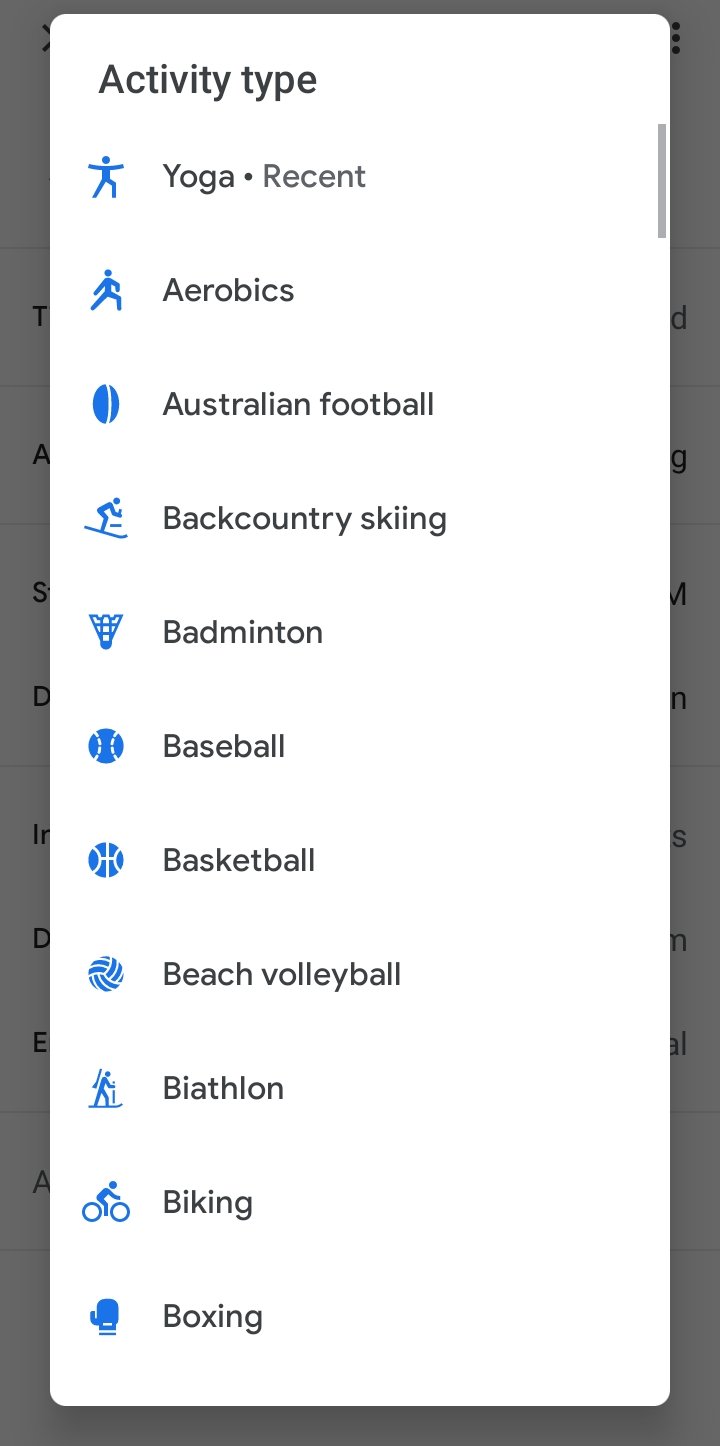 Both apps measure your goals. You can measure your step counts, active time, and calories in goals. Samsung Health app gives more deep insights into your daily goals. You can also edit your daily goals on the Samsung Health app, where Google Fit doesn't allow you to edit your daily goals.
Another plus point that I have seen in Samsung Health App is that you can share your stats on social media. You can use filters to view fitness goals of the past day, week, month, or any custom period on both apps.
Exercises: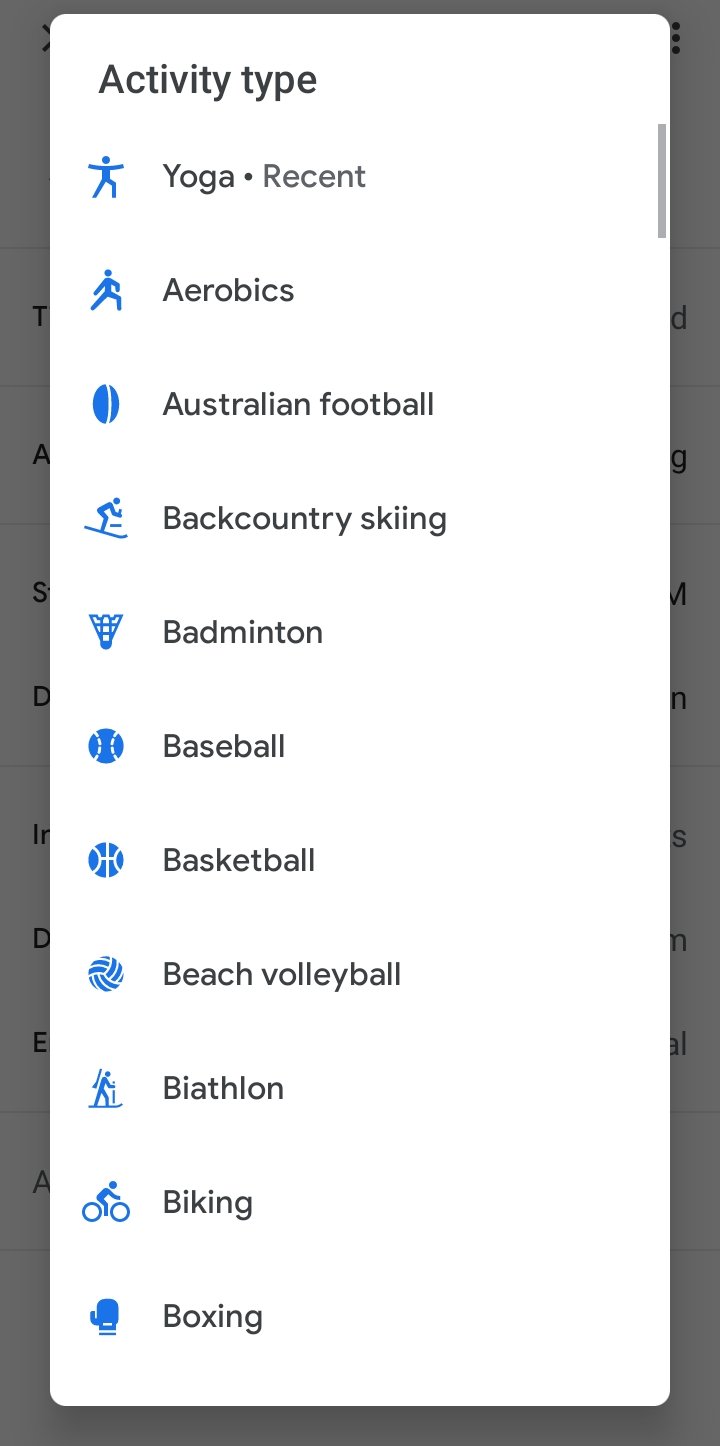 Both fitness apps track different exercises. But Google Fit will only track your walk or running. But if you connect Google Fit with your Galaxy or any other smartwatch, it monitors other exercises.
On the other hand, the Samsung Galaxy Health app usually syncs with the Galaxy Watch. Every activity tracked by your smartwatch is automatically synced with the app.
But Google fit allows you to add a manual activity, and it comes with 108 sports modes so that you can choose anyone from the list.
On the other hand, activity tracking on Samsung health is more advanced than Google Fit. It allows you to track your activity with goals manually. So whether your goal is calorie burn, duration target, or basic workout, it will monitor use on your goal.
Secondly, the Samsung health app also puts time on the screen that helps you to achieve your desired activity goal in a certain time range.
In a nutshell, activity tracking in Samsung health apps is better than Google Fit.
Sleep Tracking:
Sleep tracking is one of the essential features in all health tracking devices, and apps such as the Samsung health app is synced with the Galaxy Watch. That's why it tracks sleep data more precisely. You will get similar sleep data that you have on your smartwatch.
Further, on Samsung Health App, you can see the in-depth insights of your sleep, see charts graphs, see awake time, REM, light, and deep sleep. It also allows you to view the sleep history of the last day, week, or month.
On the other hand, Google Fit has recently announced its sleep tracking update. But for that, you have to connect Google fit to Wear OS smartwatch or third-party sleep tracking app like "Sleep as Android. " After the latest Google Fit updates, the sleep tracking feature became more comprehensive and better, but still it can't beat Samsung health App sleep tracking.
Badges:
Most health tracking apps now give rewards on completing the fitness goals that keep you motivated. Similarly, Samsung Health App also introduces badges assigned to completing certain activities.
There are 12 different badges available on the Samsung health app, and Google Fit doesn't offer any badges.
Other Data Tracking Features:
Apart from activity or workout-tracking, both apps track other health and fitness-related data. Samsung Health app gives more tracking features as compared to Google Fit.
Samsung Health App Can Track:
Sleep

Nutrition

Calories

Weight

Water intake

Stress

Heart rate

Blood pressure

Blood glucose

Blood oxygen

Women health
Google Fit Can Track:
Heart points

Sleep

Weight

Energy expended

Respiratory rate
Which One Guides You Better?
The latest fitness apps track your activities and guide you to keep moving on the right track. Google Fit and Samsung Health app offer different guided videos and programs that quickly help you achieve your fitness goals.
Google Fit suggests some YouTube channels that help you perform your exercises more effectively. Similarly, you will also see some health-related articles that educate you.
Whereas the Samsung Health app gives a septette section for guided programs. You can participate in any program according to your desire. Here you will find different fitness and calories burn programs, weight loss, building muscle, Balance training, Endurance training, and mindfulness programs.
Each program contains proper guided animation so you can perform exercises more effectively. You can also select the program based on difficulty, so if you are a beginner, you can choose low-difficulty programs.
Challenges:
Taking part in challenges can push yourself and your confidence to the next level. Both Google Fit and Samsung health allow you to take part in challenges. Samsung Health app has a separate "together" section for challenges. Here you can challenge your friends or family members. You will also find a world program to challenge thousands of people worldwide. Plus Samsung health app allows you to create challenges.
On the other hand, Google Fit offers heart points, and you will get heart points by performing different activities. You score heart points for each minute of activity that gets your heart pumping, like running, hiking, indoor cycling, etc. This heart rate point feature is designed by the World Health Organization that helps you to boost your stamina and performance.
Third-Party App Support:
You can connect Google Fit and Samsung Health to many other health tracking apps. To connect your Samsung Health app with any other app, go to Settings > Connected Service and choose your desired health app. In contrast, there is no such option available in Google Fit. You can connect Google fit with a third-party app from the settings of the third-party app.
Google Fit can connect with apps like;
Strava

Mi Fit

MyFitnessPal

WearFit

Sleep as Android

Huawei Health

Withings

VeryFitPro

Sleep Cycle

Calm

GymRun

Runtastic etc
Samsung Health can count with app including;
Runkeeper

Strava

Fitbit

Jawbone

Misfit

Microsoft Health

Withings Body +

Mi Fit

Apple Health

MyFitnessPas

WW

Noon

Strava and other 100+ apps
Google Fit VS Samsung Health: Which One Is Better?
In a nutshell, the Samsung Health app gives more features to push your efforts. Where Google fit offers an easy and simple user interface, the most helpful feature that I have seen in Samsung Health App is fitness programs that make your life easier and you can quickly achieve your goals.
Similarly, the Samsung Health app offers a worldwide user community for challenges that make your fitness journey more exciting. At the same time, the only good thing that I have seen in Google Fit is heart points that help you increase your day-to-day performance.
Now it's up to you which fitness app you want to choose, but in my case, I love Samsung Health as it's a better guide and gives more tracking features.
About Author