If you are looking for the best GPS sports watches, Polar Vantage M and Garmin Forerunner 245 are the best options. Both watches offer a lot of sports tracking features that are useful for athletes.
Forerunner 245 and Vantage M are both designs for runners, and their GPS tracking is insane. Both devices are equipped with premium training features.
But which one is the perfect smartwatch? Which one has more fitness tracking or sports features? And which one has longer battery life? In today's guide, we will answer all these questions.
Related Post: Forerunner 245 VS 645
Polar Vantage M Vs Garmin Forerunner 245: Display & Design
The two running watches have pretty different designs. Polar Vantage M comes with a zero-bezel design and has a 1.2″ display with 240 x 240 screen resolution.
As compared to the Garmin Forerunner 245, you will see the display is vibrant and brighter. You can easily read the dial of Vantage M under direct sunlight.
The Polar watch is pretty bulky as compare to the Garmin watch. The watch has 45g of weight with a wristband and 28 g without a wristband, but it's very comfortable. The physical dimension of the Polar watch is 46 x 46 x 12.5 mm.
Two buttons on the right side can help you navigate through menus and start/stop certain activities. If you look deeper, the Polar Vantage M looks more durable than Forerunner 245, but still, it has 5 ATM water resistance. Vantage M is available in three primary colors, including Black, White, and Red.
On the other hand, Garmin Forerunner is made with a premium polymer case that makes it more durable and best for outdoor use.
The watch has 42.3 x 42.3 x 12.5 mm dimensions and 240 x 240 Pixels screen resolution. But unluckily, Forerunner 245 lacks a touchscreen. Instead, it's controlled with five pushbuttons.
Not only in Forerunner 245 but Garmin also did not add touch screens in its high-end devices. We don't know what the reason behind not adding a touchscreen is. I think touch screens are a little fragile; that's why Garmin avoids them.
Garmin Forerunner 245 is also 5 ATM water-resistant, which is suitable to use while swimming or bathing. The watch is pretty tough and can survive in harsh environments, and it has a fully shock-resistant body.
Polar Vantage M Vs Garmin Forerunner 245: Battery Life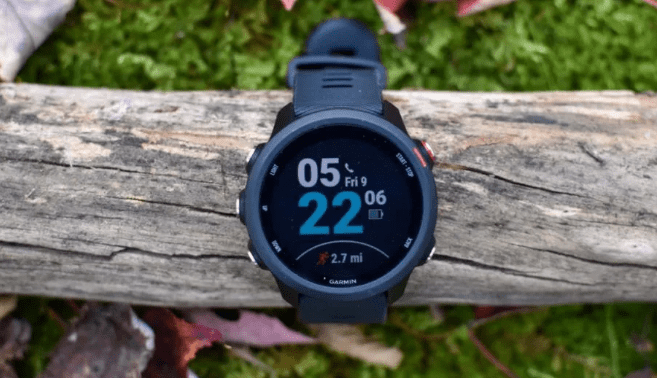 Battery life is one of the most crucial thing which we should look at before buying a watch. Premium smartwatches come with a lot of training and fitness tracking features, thus giving short battery life.
But Garmin is the only watch that maintains its long-lasting battery life from the 1st model. Forerunner 245 comes with 7 days of battery life with activity tracking, smartphone notifications and heart rate. But with GPS, it gives 24 hours of battery time, which is fantastic.
On the other hand, Polar Vantage M also improves its battery time as compared to its predecessors. This time comes with a 230 mAh battery that gives five days in watch mode with continuous heart rate tracking and 30 hours in GPS mode with wrist-based heart rate.
Lastly, I want to say that battery life depends on your usage. If you use an Always-on display, more training features, high brightness etc., it will reduce the battery time.
Polar Vantage M Vs Garmin Forerunner 245: Price
Both the devices fall in mid-range price categories. If you are looking for mid-range price watches with premium features, you are looking for the right thing. Garmin watches are pretty costly compared to Polar, although most of the features are the same in both. The extra price maybe because of bending.
Anyways, Polar Vantage M is available for $279, which is a mid-range price. While Garmin Forerunner 245 is available for $299. There is not a big difference between their prices.
But the Garmin Forerunner 245 also has a music variant which is pretty expensive and costs $349.
POLAR VANTAGE M
Integrated GPS

Training Load Pro

More advance running tools

130 Sports modes

Bright display
Garmin Forerunner 245
Advance Running Dynamics

7 Days of Battery life

Garmin Connect

Aerobic activity tracking

Accurate GPS
Polar Vantage M Vs Garmin Forerunner 245: Training & Fitness Features
No doubt both watches are the best multi-sports watches with built-in GPS. And both offer upgraded features as compared to their predecessors. Most of the fitness tracking features are the same in both, but still, there are some differences.
Polar Vantage M
Of Course, Vantage M is specifically designed for runners and athletes. This watch offers ultimate running features like the Running index to measure your VO2 max during the run. The watch also tracks your anaerobic/aerobic performance.
Similarly, Training load pro gives you detailed insights into every training session; Recovery Pro helps you find the best time to rest and boost your stamina.
In the health department, this watch offers wrist-based heart rate, calories counter, stress tracking, sleep tracking with all stages, fitness tests, and 24/7 activity tracking. FitSpark is your daily training guide on your wrist that guides you on each step of your fitness journey.
The built-in GPS tracks your distance covered, speed, pace and a lot of other running aspects.
Forerunner 245
Forerunner 245 is also full of health tracking and fitness features. An additional part of this watch is the Pulse Ox sensor that measures your estimated body's blood oxygen saturation rate.
Running offers "Running Dynamics" that tracks your; ground contact time, pace, cadence, stride length, vertical oscillation, vertical ratio, running power, and other running aspects.
Similarly, different built-in sports apps track your various indoor and outdoor sports. The watch also tracks your VO2 max performance, calories, sleep, stress, shows recovery time, training load, training effect and much more.
Just like Polar Vantage M, Forerunner 245 also offers a Garmin coach that assists and guides you on each step. This time Garmin also adds Intensity Minutes that track your cardio in a specific time frame. The more intensity minutes you earn, the greater will be your performance.
Difference
You can see most of the features are missing in Polar Vantage M, like intensity minutes, SpO2 sensor, extra sports modes, profile creation etc. But the majority of the elements in both watches are the same.
Garmin Forerunner 245 comes with the most premium running features, making this the best running watch for running purposes. But when it comes to seeing insights on apps, Polar has done much better than Garmin. You can see in-depth insights on the Polar app.
Garmin Forerunner 245 VS Polar Vantage M: Other Features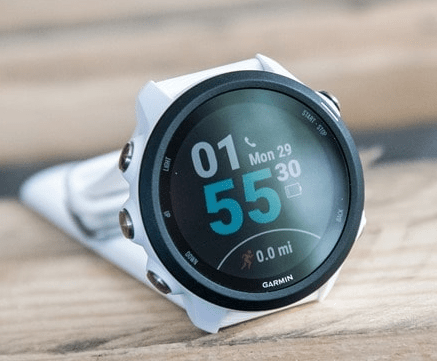 Both the devices come with more crucial smartwatch features, and we can't ignore them. I think both watches offer the same smartwatch feature, except if you buy a Forerunner 245 music edition watch.
On both watches, you will get a built-in notification system that helps you to remain updated about every single SMS. You have to connect your watch with your smartphone to receive notifications because there is no LTE on both devices.
Apart from this, you can set alarms, check weather updates, stopwatch, calendars, customize the screen, etc. Polar Vantage M also offers a different thermometer which forerunner 245 lacks. Similarly, Forerunner 245 comes with a compass, and Vantage M lacks it.
Final Words
Garmin Forerunner 245 and Polar Vantage M are both the best sports watches. But if you want more premium features, especially for running, you should pick Forerunner 245.
Similarly, if you want to analyse your every activity's stats deeply, Polar Vantage M is a great option. We can't ignore any watch because both come with premium features. So you can choose anyone according to your needs and budget.
Hi! I am Saad Dastagir, an enthusiast of smartwatches and fitness trackers. This blog is created to bring my personal experience with smartwatches in front of you. Our team tests different types of smartwatches and fitness gadgets constantly and shares hands-on experiences with you.