Suunto 9 VS Garmin 945: Which outdoor watch is best and has more features? Today's article will compare both watches and see major differences.
In the world of outdoor smartwatches, both Suunto 9 and Garmin Forerunner 945 lie on top; you can't ignore any of them. Garmin forerunner series is best known for its running and sports capabilities, whereas Suunto 9 is famous for its rugged and robust design.
A majority of features are the same in both watches, like advanced GPS tracking, sports modes, some fitness features, and sensors. But still, you will see one watch is the winner of the game.
So let's started
| | | |
| --- | --- | --- |
| Features | Suunto 9 | Garmin Forerunner 945 |
| Dial Size | 50 x 50 x 16.8 mm | 1.2″ (30.4 mm) diameter |
| Weight | 81g | 50g |
| Water rating | 100 metres | 50 metres |
| Resolution | 320 x 300 | 240 x 240 pixels |
| Screen Glass | Tempered Glass | Corning® Gorilla® Glass DX |
| Battery Life | 7 Days + 25 hours on GPS | 2 weeks + 35 hours on GPS |
| NFC | NO | YES |
| Notifications | YES | YES |
| Pulse OX | NO | YES |
| Blood Oxygen Saturation | NO | YES |
Suunto 9 VS Garmin 945: Design & Display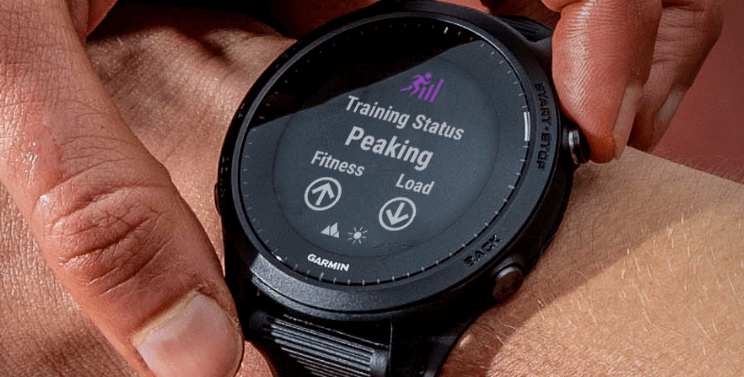 Both brands have incredibly rugged watch portfolios, especially Suunto watches are loved by all outdoor enthusiasts. But there is a clear-cut difference between the design and display of both watches; let's find that.
Suunto 9
Suunto 9 follows the design of its predecessors with some improvements. It comes with a stainless steel bezel like the previous model, making it more durable.
The Sapphire crystal glass is the Suunto watches' identity that protects against different scratches, wear, and tears. The Suunto 9 looks much premium and a little bit heavier.
You will have three buttons on the side that helps to control functionality and navigate through menus.
Suunto 9 is 100 meters water-resistant, so you can also wear a watch while swimming. The overall weight of Suunto 9 is 76, which is a little bulky, but its Silicon makes the watch much more comfortable. You can quickly wear the watch throughout your whole day.
When it comes to displaying, Suunto 9 offers a 50 x 50 x 16.8 mm display which is much bigger than standard displays. You can easily view the readings, even under direct sunlight; this watch never disappoints you.
Garmin Forerunner 945
Forerunner 945 is the latest Garmin watch with a more improved design and display.
I love its sleek and stylish design that is rare in outdoor watches. The bezel of Forerunner 945 is made of fiber-reinforced polymer, and the screen is covered with robust Gorilla Glass DX.
The watch looks durable and is best for outdoor enthusiasts, running, and hiking. But Unlike Suunto 9, Garmin 945 has a 5ATM (50 meters) water-resistant body, in such high-end Garmin watches, it might be a down point.
Further, Garmin forerunner 945 has a 1.2″ display with 240 x 240 pixels resolution. Unluckily, just like other Garmin watches, Forerunner 945 also lacks a touch-screen display. Instead, it has five buttons that help you control the full functionality.
Compared to Suunto 9, Garmin 945 has a high pixel density to get more clarity and a brighter display.
Difference:
Both watches are rugged and best for outdoor environments. Buy Garmin Forerunner 945 is more comfortable, has a lighter weight, more sleek design, 27% less body volume, 3.1mm thinner, and shorter. You can easily carry Forerunner 945 even if you have a small wrist. This is the best outdoor watch for you.
Suunto 9 VS Garmin 945: Battery Life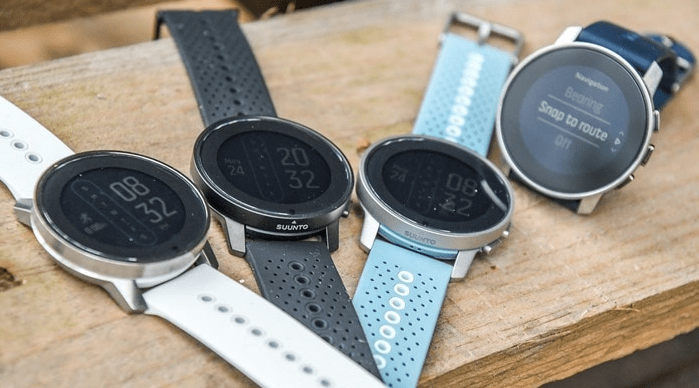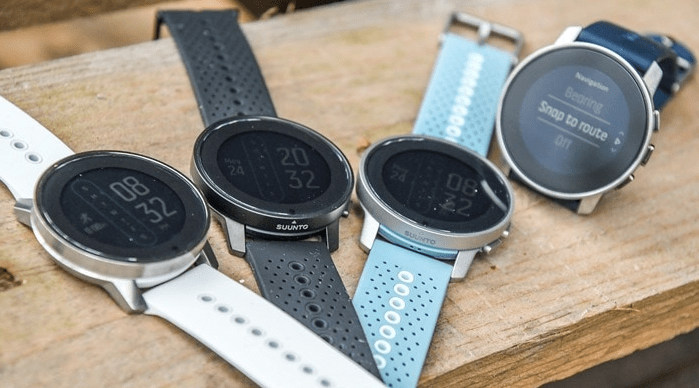 Battery life is one of the essential components that everyone looks for. A long battery life watch means you can track your outdoor activities for a long time without worries about charging.
Both Suunto 9 and Garmin Forerunner 945 are specifically designed for outdoor environments. That's why both have long batteries.
The Garmin 945 gives 2 weeks of battery life in smartwatch mode, which is excellent and much better than similar brands watches. On GPS mode, Garmin 945 offers 36 hours of stand-out time. On the other hand, Suunto 9 gives 7 days battery life in smartwatch mode and 25 hours on GPS.
Suunto 9 VS Garmin 945: Price
Both Suunto 9 and Garmin 945 fall in the high-end smartwatch category. Because of the premium design and features, their prices are higher.
The Garmin Forerunner 945 comes in two variants; an LTE and non-LTE. The non-LTE variant of Fortuner 945 costs $599, while the LTE variant is pretty expensive and costs $649. You might think this is very expensive, and this is because Forerunner 945 is the flagship member of the Forerunner series.
On the other hand, Suunto 9 comes in three different variants. The simple Suunto 9 is available for $419, Suunto 9 Peak – $729, and Suunto 9 Baro – $649.
Suunto 9 VS Garmin 945: Activity Tracking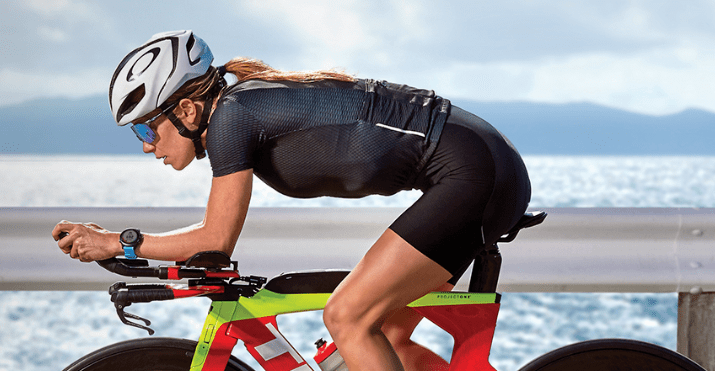 These high-end smartwatches come with various sensors to track heart rate and different outdoor activities. Luckily both Suunto 9 and Garmin Forerunner 945 have accurate sensors that give precise readings.
Let's dig further into which watches perform well in outdoor tracking and health monitoring.
Suunto 9
Suunto 9 focuses more on outdoor features. That's why it has limited health tracking features. The watch can monitor your heart rate, calories, steps, and Cadence.
Blood pressure monitor and blood oxygen saturation monitoring are missing in Suunto 9, while the Suunto 9 Peak contains these features.
But for outdoor activities, Suunto 9 is loaded with 80 sports modes. You can improve the pave and Cadence of your run via its advanced data analysis. The training load feature helps you maintain a healthy load, show rest and recovery time, and boost up your stamina.
To get better insights and stats of your activities, you can connect Suunto 9 with third-party apps like Strava, Endomondo, Training Peaks, etc. Suunto 9 is much better than its previous models when it comes to accuracy. The precise results help you stay confident and move forward in your fitness world.
Garmin Forerunner 945
In a health department, Garmin Forerunner 945 has a much bigger name. This multi-sports watch focuses on outdoor features and has advanced health tracking features.
Forerunner 945 is an ornament for runners, and it has a variety of features like Cadence, stride length, balance, ground contact time, pace, speed, distance, and more. During every outdoor activity, the watch tracks your anaerobic/aerobic performance, heart rate, stress, performance condition, training status, training effect, and more.
Another good thing about the watch is in-depth stats; you can even view the last 7 days of data on your watch and compare it to the optimal range for your fitness. Garmin has also added the latest Intensity minutes feature that tracks daily vigorous activity.
Garmin forerunner 945 is a flagship forerunner member, so Garmin also introduced the Pulse OX sensor. Now you can track your blood oxygen saturation level during activities or sleeping.
Forerunner 945 also brings some special features for women to track their menstrual cycles, nutrition, and daily exercises.
Suunto 9 VS Garmin 945: Other Features
Both Suunto 9 and Garmin Forerunner 945 come with many different smartwatch features. Firstly, both have a built-in GPS, which is much more accurate and precise.
Compared to Suunto 9, Garmin Forerunner 945 has a much better GPS. You will get complete color mapping that helps you easily find out your route. Similarly, the Live track feature enables your friends to find your real-time location.
In Garmin 945, there are some extra features like NFC payment that allow you to make a contactless payment and built-in music storage to pile up your music playlist.
You can check notifications, weather, calendars, set alarms, and more on both watches.
Final Words
After going through the above article, you will know which watch is more suitable for your requirements. No doubt, both watches have some drawbacks and points, but overall both are best for the outdoor enthusiast.
Suggestion: If you are serious about your health and want a health tracking feature, then Garmin Forerunner 945 is a recommended option. Otherwise, you can go with Suunto 9.
About Author