If you are searching for a Fitbit with a wide variety of features, your best option might be the Sense 2 or the Charge 5. Someone looking for a wearable device to track their health and fitness would do well to consider either of these two options. But which should you choose to purchase?
Fitbit Sense 2 and Charge 5 are the latest Fitbit trackers that feature an electrocardiogram (ECG). Both trackers have many similar things, but a few significant differences make one Fitbit tracker superior. Charge 5 does not come with a stair-counting altimeter sensor, temperature sensor, and cEDA sensor etc.
In this article, I will compare Sense 2 and Charge 5 in different aspects so you can easily pick the better one for your wrist.
Similar Things In Fitbit Sense 2 Vs Charge 5
Always-on Option: Both of them are equipped with the always-on display option. However, turning it on will drain the battery life, so this is something to keep in mind.
Built-in GPS: There is built-in GPS as well as GLONASS in both. It means that you may leave your phone behind, and you will still be able to access complete details and maps of your outdoor cycling and running activities. Fitbit has made the Connected GPS option available is a positive development.
Sensors On-board: Both of these devices have the potential to determine the temperature of the skin as well as the oxygen levels in the blood. But To view the stats for more than seven days, you must purchase a premium subscription. After the initial free trial period of three months has passed, the regular price is $9.99 per month or $79.99 per year.
Daily Readiness Score: It was first launched by Fitbit with the Charge 5 and was also included in the Sense 2 shortly. Evaluating your stress level appropriately takes into account your activity level over the past several days and your HRV data and sleep information.
Connectivity: Connectivity is provided by a pre-installed satellite connection on each device.
Tracking your fitness and health: The Fitbit Sense 2 and the Fitbit Charge 5 are identical in terms of their health functions. Both monitors contain an EDA sensor that assesses your stress response and monitors your heart rate recovery. Because they are equipped with an ECG heart rate monitor, you can take electrocardiograms using just your wrist. The cardiograms analyze the beat of your heart and have the ability to identify atrial fibrillation.
Major Differences Between Fitbit Sense 2 Vs Charge 5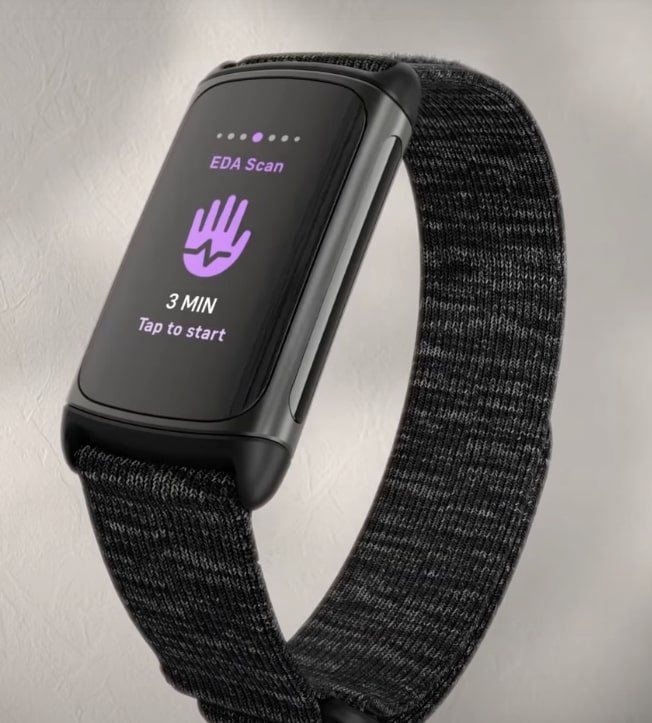 Design: The body of the Fitbit Sense 2 is constructed out of Aluminum and various quality metal elements. On the other hand, Charge 5 is very distinct. It is designed to seem like a traditional fitness band, making it an excellent choice for anyone looking for something less obvious to wear on their wrist.
Display: The display on the Fitbit Charge 5 has dimensions of 36.78mm x 22.79mm and 11.2 millimeters in depth. And it features a 260 x 170-pixel resolution AMOLED display that is 1.04 inches in size. Whereas, The Fitbit sense 2 has an AMOLED display of 1.58 inches in size and a resolution of 336 x 336 pixels. It glows with a brightness of up to a thousand nits and has Corning Glass 3 protection.
Navigation: The touchscreen and the single button are the methods by which you operate either one of them. A haptic button can be found on the left side of Charge 5. In contrast, the Sense 2 features a physical button on the device's right side.
Altimeter Sensor: This time, Fitbit has introduced a new Barometric Altimeter in Fitbit Sense 2. This sensor helps you to measure your elevation and floor climb more accurately. Fitbit Charge 5 doesn't offer this sensor.
Temperature Sensor: Fitbit Sense 2 also has a temperature sensor that accurately measures your body temperature. On the other hand, Fitbit Charge 5 lack this sensor.
CEDA Sensor: Another thing I found useful in Sense 2 is the CEDA sensor. This sensor detects your body's stress and tells you about your mood. So you can take action and adopt a happier mood.
Battery: The battery life of the Charge 5 is around one week, whereas the battery life of the Sense 2 is 6 days. But Sense 2 gives you fast charging support. In just 12 minutes, it juices up the battery to last for one day.
Price: If you are mainly bothered with price in addition to ECG functionality, the Fitbit Charge 5 is the clear winner in this category. Compared to the Fitbit Sense 2, which goes for over $300, this one is a steal at under $180.
Fitbit Sense 2 Vs Charge 5: Technical Specs
Features
Fitbit Sense 2
Fitbit Charge 5
Material

Aluminum housing, metal parts, paired with silicone band

Aluminum housing paired with silicone band

Display size

1.58 inch

1.04 inches

Depth

11.2mm

11.2mm

Display type

AMOLED touchscreen (up to 1000 nits). Corning Glass 3 display.

AMOLED touchscreen

Screen resolution

336 x 336 pixels

260 x 170 pixels

Battery life

6+ days. Charge time (0-100%):2 hours.

up to seven days, or, with GPS, up to five hours.

Water-resistance

5 ATM

5 ATM

Weight

45 grams

29 grams

Button

Physical

Haptic

Sensors

3-axis accelerometer, 3-axis gyroscope, optical heart rate monitor, electrical sensor to measure skin conductance (cEDA), altimeter, SpO2 sensor, skin temperature sensor

Optical heart rate tracker,

multipurpose electrical sensors compatible with ECG app & EDA Scan app,

3-axis accelerometer, 3-axis gyroscope, SpO2 sensor, skin temperature sensor

Microphone & speaker

Yes

No

Satellite connectivity

Built-in GPS/GLONASS

Built-in GPS/GLONASS

NFC

Yes

Yes

Music storage

Yes

No

Altimeter

Yes

No

EDA stress readings

Continuous

On-demand
Why Should You Choose Fitbit Sense 2?
An Altimeter sensor is a big advantage in Fitbit Sense 2. This sensor provides more exact measurements of your altitudes and information regarding the change in pressure that results from changes in height, and it also counts the number of floors. Therefore, this item will greatly benefit you in both activities if you go hiking or run on trails.
The second plus point is Fitbit Sense 2 skin temperature sensor that measures your body temperature.
And, of course, the Fitbit Sense 2 gives you easy access to Google Assistant and Amazon Alexa, which enables you to control your home automation devices, gather information, and create reminders.
[maxbutton id="2″ url="https://amzn.to/3fUv1Gd" text="Get Fitbit Sense 2″ ]
Why Should You Choose Fitbit Charge 5?
If you are searching for a budget-friendly fitness tracker, the Charge 5 is one of the top choices you have on the market. In addition to its elegant design, Charge 5 is a lighter fitness tracker. So if you have a small wist you can opt for this option.
Because it has ECG and EDA sensors, it is a very serious piece of healthcare equipment.
Similarly, Charge 5 has an amazing battery life allowing you to track your fitness for a long. All of the other features in Charge 5 is similar to Sense 2.
That's why Charge 5 seems to be a better option for me. It's not worth paying extra $100 for an Altimeter and temperature sensor.
[maxbutton id="2″ url="https://amzn.to/3SYMI6m" text="Get Fitbit Charge 5″ ]
Related Posts:
Fitbit Sense 2 vs Galaxy Watch 5
Fitbit Charge 5 Vs Garmin Venu Sq
Best Fitbit Charge 5 Clock Faces
About Author