Have you ever wondered if Amazon Halo vs Garmin wearables are comparable? In today's article, I will compare both of these fitness gadgets.
Amazon Halo is responsible for introducing millions of people to the idea of its most notable feature, which is to analyze your voice and tone. Garmin normally attracts a significantly more serious and dedicated audience. If a runner is wearing a fitness watch, there's a strong chance it will be a Garmin, especially if they're training for a marathon.
Garmin is capable of many things that Halo is not, such as letting you navigate without an internet connection using a map on your wrist. In addition, they provide more in-depth statistics, which are perfect for evaluating your performance and fitness levels over time.
Therefore, to help you choose which of these two devices is best for you, I will compare and contrast their similarities and differences.
The following is an comparison table of Amazon Halo and Garmin.
| | | |
| --- | --- | --- |
| Feature | Amazon Halo | Garmin |
| Screen | None | Some models |
| Price | Cheap device but requires subscription | Expensive device, no subscription |
| Maps & tracks | No | Yes |
| GPS | None | Yes |
| Body fat tracking | Yes | None |
| Tone analysis | Yes | None |
| Band material | Fabric | Silicone (other options available) |
| Battery | Mediocre | Great |
| Resources | 100+ learning & coaching programs | Blog, in-app recommendations |
| Fitness tracking | Basic | Advanced |
| HRV tracking | None | Yes (third-party apps) |
| Phone required | Yes | No |
| Social gamification | No | Yes (leaderboards) |
| Recovery tracking | Limited | Advanced |
Amazon Halo Vs Garmin: Design
I believe that a large number of individuals will find Amazon Halo wristbands to be more attractive than Garmin devices.
There is nothing that Garmin makes that is quite as modest and sophisticated as the Amazon Halo. It combines relatively high-end health functions with reasonably small and charming aesthetics.
The classic Garmin methodology relies more on an appearance meant to appeal to individuals who enjoy outdoor activities.
In some Garmin devices, the frame rises above the display to provide an additional layer of protection. Additionally, cases may be bulkier to ensure an intense level of water resistance.
Garmin places a high priority on simplicity and durability in its devices. The Halo is comparable in size to a bracelet compared to the large and cumbersome Garmin.
Don't try to get the Amazon Halo if you're searching for a wristwatch with a screen that displays the time.
Amazon Halo Vs Garmin: Activity Tracking
When it comes to maintaining an accurate track of your health and fitness, Garmin provides a high level of personalization, activity-specific modes, and data points that can be measured in real-time.
It can track your heart rate, HR zone, timings, distances, a complete map, calories burnt, speed, steps taken, and cadence. Additionally, it can display the distance traveled.
On the other hand, Amazon Halo also has an optical sensor at the bottom that measures your HR. But this Halo can't track your step count.
Garmin presents you with all the data but does not provide analysis in any way. You have to do that yourself. Because of its screen, the device can be useful even if you don't have your smartphone with you.
Amazon Halo Vs Garmin: Health tracking Features
Amazon Halo does not measure any other forms of recovery except sleep and HR. On the other hand, Garmin watches give all the primary health metrics like HR, Pulse OX sensor, Body battery energy, Sleep tracking, and more.
In addition, Garmin watches come equipped with a "stress score." A score that is calculated based on the HRV. So, If you are concerned about your rehabilitation and recovery, Halo is not the right choice.
Garmin provides access to a far greater number of advanced fitness capabilities than Amazon halo. Yet, when compared to Halo, none of its watches have superior sleep recovery metrics than Halo does.
The Amazon halo does not have an electrocardiogram, echocardiography, or electrodermal activity (EDA).
There isn't a single Garmin watch that offers either of these capabilities, even though several Garmin models contain "hidden" ECG technology. And that makes a certain amount of sense. Garmin is not in the business of producing watches intended to monitor one's heart health; they make devices more suitable for fitness enthusiasts.
Amazon Halo Vs Garmin: Workout tracking
Garmin offers many training functions that any other company does not offer.
You can create your workouts using the Garmin Connect app, and your watch will then direct you through those programs. And there is no additional cost for any of this; it is all incorporated into the whole package.
A few high-end Garmin watches help you to create an optimal fitness routine based on your fitness data.
Garmin includes few crucial features for athletes including; Body Battery lets you know if you're pushing yourself too hard, Training Load is an indicator of the total amount of effort, Performance Condition provides a sense of how well your training is going, and VO2 Max is a reliable indicator of fitness over the long run.
Halo does not go into such detail, and membership to Halo+ will be needed to activate and use all of Amazon Halo's services, such as Tone, Body Composition, or any more guided exercises and extras.
Amazon has introduced even more outstanding apps from providers, such as Halle Berry's reSpin and SWEAT, to its Halo app, in addition to the dozens of instructional workouts already available to users before this update.
Amazon Halo Vs Garmin: Battery
It is well known that Garmin creates some of the most long-lasting, durable, and reliable wearables today. Consider the Garmin Enduro 2 as an example. If you buy a model that can be charged with solar energy, its power-saving mode has the potential to endure for up to 550 days.
The average battery life of most Garmin watches between 7 – 14 days which is much better than other competitors. Similarly, Garmin also has a few Solar watches that last for months.
However, Amazon claims Halo can give 7 days of battery backup on a single charge. While this may be true in a strictly technical sense, it is unlikely that most customers would enjoy this level of longevity.
Amazon Halo Vs Garmin: Voice & Tone
The Halo's capacity to analyze your speech and tone is undoubtedly the most impressive aspect of this device. Garmin, on the other hand, does not have this feature.
Amazon asserts that voice analytics will make your life easier by enabling you to better understand how you come across to others.
Afterward, it selects noteworthy moments from across the day and emphasizes them. It determines the prevailing feelings present at each of the moments and the time period in which they took place.
Voice analysis has a lot of potential and can provide you with real-time feedback on how your presentation practices are going and how you communicate with different types of people. However, When it is turned on, the rate at which your battery dies is increased by 70 percent.
Amazon Halo Vs Garmin: Price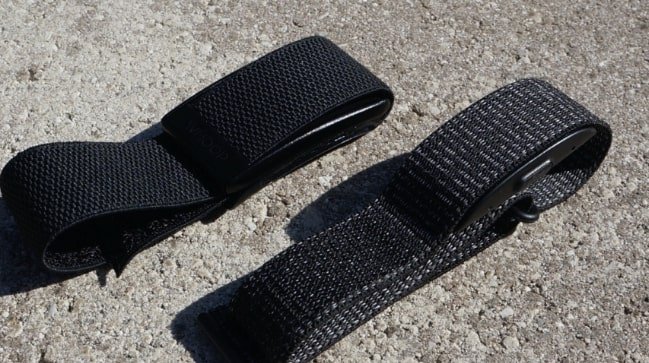 Pricing structures for Garmin and Halo are different from one another. Mostly Garmin watches fall between $300 to $750. They are targeted at people who have an interest in competitive fitness. It is a one-time payment, and the standard models may be purchased for between $200 and $400.
On the other hand, the initial purchase price of Halo is only $100, making it significantly more affordable. You will enjoy a free subscription for the first six months, after which you will be charged $4 monthly.
Prices pulled from the Amazon Product Advertising API on:
Product prices and availability are accurate as of the date/time indicated and are subject to change. Any price and availability information displayed on [relevant Amazon Site(s), as applicable] at the time of purchase will apply to the purchase of this product.
Amazon Halo Vs Garmin: Recommendations
The health suggestions that Halo generates are unlike those generated by any other wearable I've tried. It is the thing that comes the closest to being an automated health coach.
You will receive practical coaching on enhancing many aspects of your health, such as Activity, Sleep, Nutrition, Mindfulness, and Tone, under the "labs" feature of the app.
It means that Amazon Halo is best for those people who want more health-related features. Especially if you want to improve your sleep habits, nothing is best than Amazon Halo.
Whereas Garmin watches are different from Halo, it's best for outdoor sports enthusiasts, hikers, runners, or cyclists. Garmin provides a variety of training and outdoor feature that Halo lack.
Related Posts:
About Author