Based on our experience and deep research, we have compiled the 7 best smartwatches with an Always-on display
Smartwatches with Always-on display are pretty convenient. You don't need to tab on the watch to view time, fitness progress, or notification.
With the AOD display, you can check all the updates with just one glance on the screen.
But does the AOD display drain the battery or not? In most cases, these displays use fewer pixels or only show necessary pixels on the screen. So it doesn't affect the battery too much.
Our Recommendations
Best Smartwatches With Always On Display (AOD)
1- Fitbit Sense (Winner)
Specifications:
The Fitbit Sense is the best alternative to the Apple watch, which is affordable and offers many premium features. Because of its insane capabilities, it is on the top of the best multi-sports watches list.
I have been using Fitbit Sense for last two months, and the thing that has touched my heart the most is its super bright and clear 336 x 336 resolution display. Plus, the Always on display makes your life much easier so you can read the data in a glance.
Similarly, I have seen many exciting health tracking features like the ECG app, SpO2, skin temperature tracking, stress management, and more.
If we compare Fitbit Sense with Apple watch then you see many common features in both Watches. But Fitbit app offers highly detailed insights that are very useful for a real fitness lovers.
Apart from premium features, you will get an intelligent sleep tracking system that comes in very few smartwatches. The watch will track sleep in light, deep, and REM mode and give you a better sleep score.
During your runs, rides, hikes, cycling, you can track Pace and distance with built-in GPS that doesn't need a phone.
How to Turn On Always-On Display in Fitbit Sense:
Go to Settings
Tap on Display
Now scroll down to "Always-on display."
Turn this feature on
2- Apple Watch Series 7
Product Specifications
If you have an iPhone and looking for a smartwatch with an AMOLED display, the Apple Watch Series 7 is the best option. It includes a slew of cutting-edge features to meet all of your smartwatch requirements.
The new Apple Watch Series 7 has an always-on display that feels more like a classic timepiece.
It supports a 45mm thick stainless steel case that is exceptionally durable. In addition, the sapphire crystal glass on the watch shields it from damage, extending the timepiece's lifespan
As a bonus, the 1.61-inch screen is large enough that you can easily monitor the screen and read the data with a single glance.
In addition, the GPS on this smartwatch is extremely precise, allowing you to track your distance, pace, and speed accurately.
Furthermore, this Apple smartwatch comes with a 32 GB storage capacity. As a result, your smartwatch can hold thousands of songs and a wide range of third-party apps.
As far as fitness capabilities go, the Apple Watch Series 7 has an ECG monitor, blood pressure sensor, and stress sensor.
Additionally, this watch's fall detection feature is a big plus. When a watch detects a hard fall to the ground, it automatically calls 911 or notifies the individual's emergency contacts.
This smartwatch is also water-resistant to 50 meters (5 ATMs), making it suitable for swimming and snorkeling.
Unfortunately, this smartwatch only has an 18-hour battery life on a single charge. But the good news is that Apple has added magnetic fast charging features to their devices, which have tremendously sped up charging times.
In addition, this wristwatch is only compatible with iPhone, which is a major flaw.
But overall, it is a fantastic smartwatch with an Always-on display. In addition to the sleek appearance, the device is equipped with a vivid display, a precise GPS, and advanced health monitoring sensors. Also, it is a watch that is well worth the money.
3- Amazfit GTS 2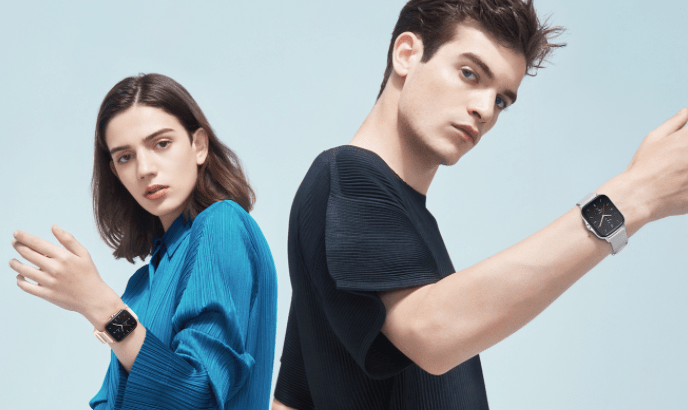 Specifications
Here come the second most affordable multi-sports watch with all the features you want, including an AMOLED display. If you are on budget then it's best affordable smartwatch with always on display that you should buy.
The remarkable thing is the 1.65″ HD AMOLED screen with 3D curve design that looks pretty sexy. The bezel is made with aluminum alloy that makes the watch more durable.
You will get dozens of beautiful watch faces, and most of the dial faces have a custom Always-on Display.
Amazfit GTS 2 is an impressive device for athlete because it offers 90+ Sports modes. So whether you are on a run, hike, or indulge in any outdoor sports, that watch will track your every move.
Apart from all these features, GTS 2 has a unique feature, "PAI Health Assessment" that gives a PAI value by observing your all-day heart rate, exercises, and other activities.
Another plus point in a watch is you can also see some of the basics stats of your activities right on your smartwatch. So you don't always need to open your smartphone again and again.
The Amazfit GTS 2 comes with 3GB of internal storage so that you can transfer your favorite track. You can directly listen to songs from your wrist through a watch speaker or using wireless headphones.
4- SAMSUNG Galaxy Watch Active
Specifications
If you want to wear a more comfortable smartwatch with all the fitness tracking capabilities, then Galaxy Watch Active is made just for you. I strongly recommend this smartwatch to ladies.
Galaxy Watch Active comes with a bright and accurate color always-on display. The display looks sexy because of its 360 x 360 resolution.
Just like Fitbit Sense, you have to go to Settings to activate its always-on display.
The rest of the features in Galaxy Watch Active are pretty the same as Amazfit GTS 2, and there is not much price difference. You will get different exercise modes that track your various indoor/outdoor activities.
You can see the in-depth analytics of your activities in the galaxy app. The app is perfect, but you can't get much better insights than the Fitbit app offers.
The built-in GPS at such an affordable price is a big plus point. You can track your Pace, distance cover and see various routes using built-in GPS. Similarly, this watch can also track your spinning or treadmill.
During your sports, the watch tracks the number of calories you have burned in your specific activity, which is very useful to stay updated about your fitness routine.
You may think this affordable watch offers low battery life. But again, Samsung will put a lot of hard work into enhancing the battery life, and you will get three days of battery with fast charging support.
5- Garmin Instinct Solar
Specifications
Garmin Instinct is the most premium member in the family of rugged watches that comes with an Always-on Display.
But Instinct doesn't have an AMOLED display. It offers monochrome (Black and White)
There is a robust fiber-reinforced polymer case that adds durability and a fully scratch-resistant display. Because of high-quality material, Garmin Instinct has passed the 12-grade Military Standard test for thermal shocks and water resistance.
The most exciting feature in Garmin Instinct is the backlight, which allows you to read displays under direct sunlight.
Why Garmin Instinct Is Best For Outdoor
I strongly recommend Garmin Instinct for outdoor activities because of its high-end outdoor capabilities. These include a Multi-GNSS navigation system that tracks routes even in more challenging and deserted areas.
Then it has an ABC sensor that allows you to get different Geographical information like altimeter, heights, directions, weather, and more.
With the latest Trackback features, you can track the same route back to your initial point.
Similarly, you will get a wrist-based heart rate with enhanced optical sensors and stress tracking that calculates your stress level score, Pulse OX, body battery energy monitor, and more.
Along with outstanding outdoor capability, you also get solid fitness tracking features that help track your health during outdoor adventures.
Lastly, Garmin Instinct offers you insane battery life, which lasts for 24 days in smartwatch mode and 30 hours in GPS mode. You can get such a fantastic battery time in the rest of the watches.
6- Fossil Gen 5
Specifications
You will get a 1.28 inches AMOLED display with 416 x 416 high resolution so that you will experience the actual colors. Apart from the display, there is a flexible silicone band that makes your wrist more comfortable.
There is a powerful Qualcomm Snapdragon 3100 processor that delivers high performance. And 8 GB of internal storage to store your favorite tracks.
Fossil Gen 5 offers 4 Multi-Day battery modes, including Daily Mode, Extended Mode, Time Only Mode, and Custom Mode. So you can use a smartwatch according to your needs and save battery life.
Fitness and Health Tracking
This multi-sport watch offers various exciting health-tracking features that help you to keep track of your fitness journey swim-friendly.
There is an advanced heart rate monitor, sleep tracking, calories tracker, and many other sports modes. You can also sync your watch with Google Fit to get more advanced stats. 
Apart from this, you will get a Barometric Altimeter that gives you the latest weather updates, Ambient light, Accelerometer, Microphone, and Speaker.
7- Apple Watch Series 6
Specifications
If you have a extra budget, then I recommend you buy this insane device. You will get all the health tracking and fitness features just in one device.
Along with an Always-on display, the Apple watch series 6 offer extremely accurate GPS helps you keep your Pace while running or jogging and NFC.
Unlike other smartwatches, this Apple watch offers a 2.5x brighter display that helps you to read the dial under direct sunlight. There are dozens of fantastic watch faces, and few of them are customizable.
If you are too serious about your health, then this Apple watch is good as gold for you. The watch tracks your blood oxygen with revolutionary new sensors, an ECG app, and advanced sleep tracking.
Whenever you feel, stress the watch will automatically detect it and suggest some mindfulness activities to reduce it.
Besides this, you will get a lot of sports modes that precisely track your every single move, even track your underwater activities. You can set different goals on the watch, and it will help you to achieve them effectively.
Because of its cellular capabilities, you can also make calls directly from your wrist without phone.
There are many exciting things to explore in Apple Watch Series 6, and you will only know the value of this device once you own it.
8- Garmin Venu
Specifications
You have seen Garmin watches are too expensive, but this Garmin member is mid-range and offers all the premium features that comes in high-end Garmin wears.
There is a 1.2 inch super AMOLED display with 390 x 390 high resolution making the screen visually appealing.
Along with an Always-on display, you will get great GPS, with GLONASS and Galileo integration. NFC features that allow you to pay directly from your wrist. You can also store music on your watch and listen to tracks without a smartphone.
Health Tracking Features
Just like high-end Garmin watches it has;
Body Battery energy monitor

Pulse Ox sensor

Stress tracking

Women health tracking

Hydration tracking

Respiration tracking

Advanced sleep tracking

Mindful breathing

Garmin Coch

Multiple built-in sports apps
Apart from this, the most exciting features in Garmin Venu are Animated workouts that help you to perform every activity effectively. You can also download more animated workouts from the Garmin Connect app.
Lastly, you will see 5 days of long-lasting battery on GPS Garmin Venu battery for 6 hours.
9- Fitbit Versa 2
Specifications
Fitbit versa 2 elevates almost every moment. With its modern and versatile design, you can take your look from the gym to the office.
With a display resolution of 300 x 300, Fitbit Versa 2 features a bright AMOLED screen. Therefore, Fitbit provides a reliable, always-on feature. Despite being switched off by default, you can activate this feature anytime via settings.
Switching off this feature seems to be an effective way of saving your battery when you need to. You can do it here.
Health Tracking Features
Just like other watches, Fitbit Versa 2 has:

Sleep tracking

Menstrual health tracking

20+ goal-based exercise modes

Floors climbed

Guided Breathing Sessions

Reflections

24/7 heart rate tracking

Cardio fitness score

Oxygen Saturation (SpO2) Monitoring

Breathing rate

Resting heart rate

Skin temperature variations
Besides that, Fitbit Versa 2 is an excellent smartwatch with a great interface and plenty of smart features. The processor in the Versa 2 is exceptionally fast and reliable. You will not experience any lag in performance here.
Fitbit Pay and Alexa are two notable smart features of the Versa 2. In certain situations, these features provide great assistance.
10- Samsung Gear Sport
Specifications
The Gear Sport smartwatch from Samsung is one of those not-so-luxury watches that may suit your needs at the right price.
This smartwatch has a larger screen than previous models, with 44.6 x 42.9 x 11.6 mm.
Under bright sunlight, the AMOLED display on this smartwatch is visible. Due to this, an always-on display is extremely reliable. Depending on your preferences, you have the option to switch the feature on or off.
You can deprive yourself of so many display waking options if you have the always-on feature on your smartwatch. For Example: When looking at the time, you no longer have to turn the bezel or tap on the screen.
Regarding Samsung Gear Sport fitness features, it tracks your daily activity levels quite accurately, and it has a reliable sleep tracking feature.
11- Apple Watch Series 6
Specifications
Apple Watch Series 6 is yet another smartwatch from the company that features an always-on display. It has everything you need to make your life easier and more enjoyable.
In terms of appearance, the watch sports a 1.78″ OLED display that appears more sharp and bright, and the dial can even be seen in direct sunlight. It has a 40 mm stainless steel case, which is quite sturdy. The sapphire crystal glass on the watch provides scratch resistance, considerably increasing its longevity.
In addition, this watch has a highly precise GPS for tracking your routes, distances, pace, and speeds.
Fortunately, this Apple watch has various fitness features to assist you in staying in shape. This fitness watch has a built-in blood oxygen sensor. Also, the watch can keep track of your heart rate, which is important for staying healthy.
Another significant feature of this Apple watch is its fall detection. When a watch senses a heavy fall, it automatically contacts emergency services or sends a notification to the wearer's contacts.
Moreover, you can use your Apple Watch to make calls, send and receive texts, check the weather, and listen to music without a smartphone, thanks to its cellular connectivity.
In addition, this watch is swim-friendly, with a water resistance of up to 50 meters or 5 ATMs.
Unfortunately, the thing which disappoints us a lot is the short battery life of 18-hours. However, the new Apple Watch Series 6 has a quick charging feature. Apart from that, it's a smartwatch only compatible with an iPhone, which is a major issue.
Overall, Apple Watch Series 6 is the best smartwatch with an AMOLED display for under $500. It boasts a stunning design, high-quality build, and a wide range of essential health-tracking capabilities. It is, without a doubt, a fantastic choice for iPhone users.
12- SAMSUNG Galaxy Watch Active 2
Specifications
The Samsung Galaxy Watch Active 2 boasts a sleek and minimalist design that looks great on your wrist. It is also available in 40mm and 44mm sizes, so you can choose the one that best fits your requirements.
The watch is made of high-quality stainless steel, ensuring its long-term durability. In addition, Corning Gorilla Glass DX+ protects the screen, making it more resistant to scratches and damage. It is also quite comfortable to wear thanks to its light and flexible bands.five days on a single charge
On top of all that, the Samsung Galaxy Watch Active 2 is a fantastic fitness tracker. You can monitor your heart rate and blood pressure 24 hours a day and monitor your SpO2 levels and stress level. Aside from that, this device is excellent at tracking sleep patterns.
The watch also has a microphone and speaker and a variety of watch faces that can be customized. A GPS tracker is also integrated into the device, making it easier to achieve your fitness goals.
Other notable features include Samsung Pay, which lets you pay for goods using your wristwatch. Additionally, you will receive all smart notifications directly on your wrist after connecting your watch with your smartphone.
The watch also features a 50-meter (5-ATM) water resistance certification, making it perfect for handwashing, showering, and swimming. It is not, however, ideal for scuba diving.
Unfortunately, the watch is a little bit pricey, but it is a device that is well worth the money. Further, It only supports a small number of third-party apps, which is frustrating.
Aside from that, the Galaxy Watch Active 2 is equipped with a battery that lasts for a long time. It can last for at least five days on a single charge, which is quite impressive.
So overall, Samsung's Galaxy Watch Active 2 is the greatest AMOLED display smartwatch for Android wear consumers. Apart from its eye-catching appearance and high build quality, the watch also features excellent fitness monitoring functions. Additionally, its long battery life is a significant perk.
13- Fitbit Versa 3
Specifications
Fitbit Versa 3 is one of the best smartwatches with an AMOLED display to buy in 2022. Despite its affordable price, this watch has almost everything you need to go.
The Fitbit Versa 3 features a 1.58-inch AMOLED display that delivers excellent visibility even in bright sunlight. Additionally, the flexible silicone strap is incredibly comfortable for extended periods.
Built-in Alexa is a significant selling point for this timepiece. With this feature, you can control your smart home appliances, set bedtime reminders, and get weather updates just by speaking to your watch.
The smartwatch also has a built-in microphone and speaker, so you don't have to take your phone out of your pocket to make a call.
When it comes to fitness functions, the sleep monitoring sensor on this watch is remarkable. It keeps tabs on your bedtime, wake-up time, light sleep, REM sleep, and overall sleep quality. It also has a spO2 sensor, heart rate monitor, a menstrual health tracker, etc.
In addition, the Fitbit Versa 3 keeps track of daily activities, including steps taken, distance traveled, and calories burned.
Our biggest complaint with this smartwatch is the lack of music storage. It also lacks some fitness tracking capabilities, such as a stress monitor, blood pressure monitor, and an ECG app, which is a disappointment.
Besides, this smartwatch features a 50-meter water-resistance rating, making it ideal for swimming.
In addition, the watch may last up to six days on a single charge, which is outstanding. In addition to longer battery life, it has a quick charge time of 12 minutes.
Overall, the Fitbit Versa 3 is the best Always-on display smartwatch. It has all of the great features that make our life easier. The battery life is also very impressive.
14- Amazfit T-Rex Smart Watch
Product Specifications
If you are looking for an affordable AMOLED smartwatch with an always-on display, the Amazfit T-Rex smartwatch is the best pick.
Design-wise, the watch is a wonderful combination of class and functionality. It has an AMOLED display with 1.3-inch screen size. As a result, the smartwatch provides exceptional visibility in all lighting conditions. In addition, the watch boasts military-grade durability, making it resistant to scratches and breakages.
Aside from looks, the watch has a barometric altimeter that keeps you updated on the weather conditions. Furthermore, this smartwatch can survive temperatures ranging from 150F to -40F, making it extremely thermally resistant.
Furthermore, there is no other watch in this price range with GPS. This device comes with a built-in GPS to track your travels and locations.
In addition, it has a few essential health-tracking capabilities to help you monitor your fitness levels daily. It is also capable of monitoring your heart rate and sleep patterns.
Aside from these features, the watch has 14 built-in exercise modes that include running, cycling, walking, treadmill, mountain climbing, and more.
Although the watch is only 0.74 ounces, it still feels a little bulky. Also, you may have issues syncing with your phone, which can be very frustrating.
In addition, the watch's battery life is excellent. A single charge can keep it going for up to two weeks or more. Further, it has a battery life of about two months in smartwatch mode, which is fantastic.
Overall, the Amazfit T-Rex is one of the best Always-on display fitness trackers on the market.
15- SAMSUNG Galaxy Watch 3
Product Specifications
Finally, we have the Samsung Galaxy Watch Active 3, which comes with the always-on feature. It has a sleek design and a high degree of functionality.
The Samsung Galaxy Watch 3 has a sturdy construction and a 1.4-inch always-on display. The dial is built of high-quality stainless steel and is further covered by Corning Gorilla Glass, making it scratch-resistant.
Apart from its attractive appearance, the watch has all the necessary functions to make your life easier. It has a highly precise GPS that tracks your routes, distance, and speed while you're out on the trail.
In addition, it offers a wide range of outdoor sporting activities, such as running, jogging, hiking, and cycling. It can also track your sleep, stress, breath, steps, calories, etc.
Also, it has Bluetooth connectivity, allowing you to make calls, receive texts, and listen to music from your phone without taking it out of your pocket.
Further, it includes an accurate heart rate monitoring function that allows you to check out different heart rate zones to monitor your heart rate.
The device can also keep track of your sleep habits, allowing you to make necessary alterations to your daily routine. In addition, it is the greatest at monitoring stress levels.
One of the excellent features of this watch is fall detection. This feature quickly notifies the local emergency services when a person gets a hard fall.
It has a water-resistant rating of 5 ATMs, so you may wear it when bathing or swimming without taking it off. It is not, however, suitable for diving or snorkelling.
Unfortunately, the watch is too big for small wrists. As a result, people with smaller wrists will be unable to utilize this wonderful fitness watch. Further, this smartwatch is expensive, but it's a watch that's worth every penny.
Besides, it has a battery life of two days on a single charge. In addition, it has fast wireless charging, which is a big advantage.
Consideration Before Buying a Smartwatch With AOD
You should consider few things before picking a best smartwatch from the market.
1- Battery life
The battery department is very critical in smartwatches with AOD because they will remain on 24/7 and hence use more battery.
But on the other hand, few smartwatches use low nits technology in AOD, which means these watches will automatically take fewer pixels during idle time. And on pressing the power button, it will return to its normal state and use regular pixels.
Similarly, to save battery time, most of the smartwatches allow you to turn off AOD features from settings. So if you don't need the features, you can easily disable them.
2- GPS
No one would like to buy a smartwatch without GPS. There are huge advantages of GPS watches, and you can only realize their importance once you own them.
With a GPS, you can track your Pace, distance, find routes, live tracking, opponents tracking, and more. Garmin watches have pretty efficient and impressive GPS tracking.
3- Music
Only read this section if you are a true music lover. A smartwatch with music storage and a built-in speaker is insane things for some people. You can add more twists and fun to your activities with music.
4- Fitness Features
Lastly, make sure your smartwatch should have all the fitness features that you need. The most crucial ones are real-time heart rate tracking, SpO2, sleep tracking, calorie counter, etc.
Last Words
After going the article, I hope you can now pick the best Always-on display smartwatch. And along with advantages, these watches have few downsides too. But still, AOD wears can make almost the same as everyday smart wears.
There is just a battery-draining risk, but you can minimize this risk by picking low nits AOD watch. All above mention watches use only the necessary pixels in the ideal time to save battery life.
F&Q
About Author