Are you tired of carrying bulky phones to listen to songs? Don't worry. You can replace them with the best smartwatch for Spotify.
If you have a smartwatch with the Spotify, you can listen to songs on it. Other than that, you can download your favorite music on your watch. Smartwatches with Spotify connect with your Bluetooth handset or even play music on physical speakers.
With just one tap, you can access millions of songs on your wrist and listen to them during workouts and gym.
But finding a reliable smartwatch with Spotify is a tedious task. Even though there are a lot of smartwatches available in the market, only a few of them support Spotify.
After deep research, we have listed the 11 best smartwatches that allow you to stream music from Spotify. So let's get started.
My Personal Choice
I'm an outdoor guy; that's why I personally like Garmin Venu 2 Plus. Firstly, this smartwatch supports Spotify and allows you to store 650+ songs. You can also stream music from Deezer, Amazon, and other apps.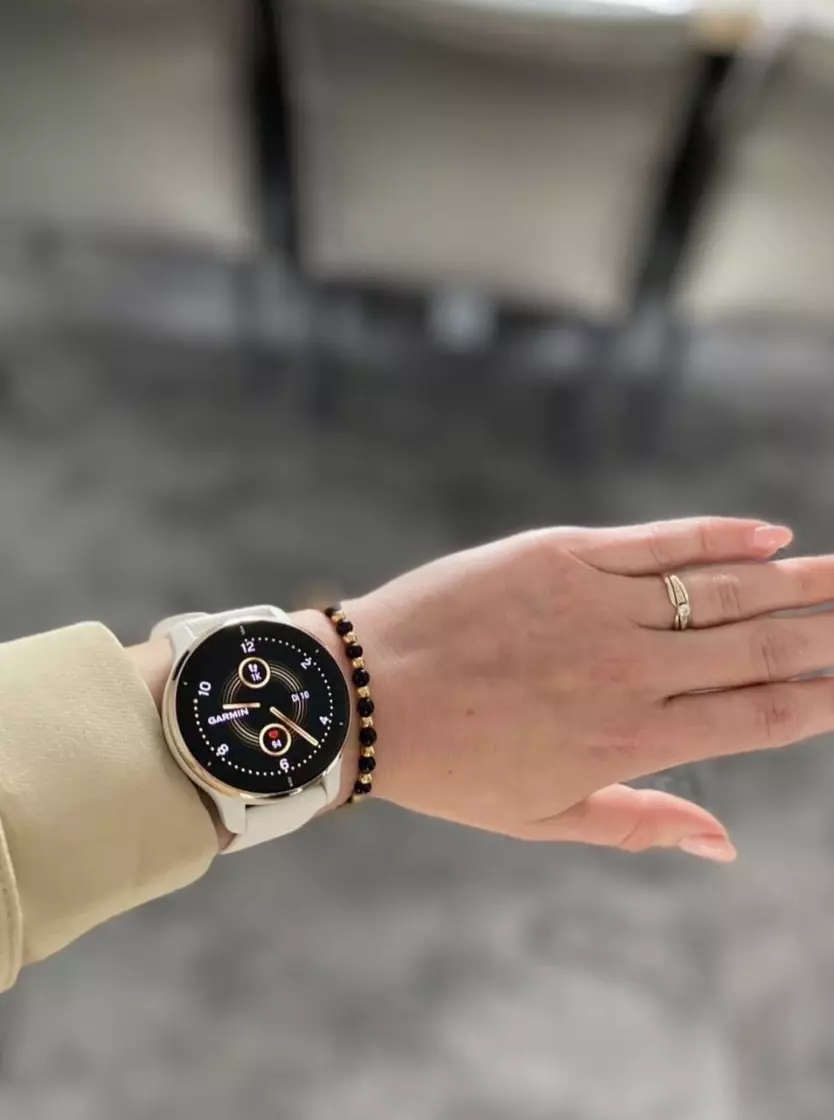 Venu 2 Plus is a stylish watch packed with many outdoor features, animated workouts, HIIT workouts, cardio exercises, and more. For outdoor enthusiasts and fitness lovers, this is a suitable option.
11 Best Best Smartwatches For Spotify
Our Recommendation
The Apple Watch 8 is the best smartwatch for Spotify if you're an iPhone user. It gives you 32GB of storage to pile up the list of your favorite tracks. You can also stream live music from Spotify, Apple Music, and other streaming apps.
Moreover, Apple Watch 8 has built-in speakers, so you can listen to music without handphones.
Apple Watch 8 offers Cellular and BlueTooth variants. If you don't want to carry your phone with you, you go for a Cellular variant. It allows you to make calls, reply to texts, and use the internet without connecting your watch to your iPhone.
Display and Design:
Apple Watch 8 features a 1.9" OLED display with 1000 nits peak brightness. The display and design of the watch are similar to the predecessor.
It Always has on display that makes the screen look stunning, and you can read the dial with one glimpse. The large display is a big plus because that allows you to easily type text messages.
Whereas the design of the Apple Watch 8 is similar to the previous models, it has a crown and a button. The screen is protected with Sapphire crystal glass that protects the watch.
Apple Watch 8 has IP6X dust resistance certification and a 50-meter water rating.
Health & Fitness Features
Apple Watch 8 has advanced health sensors that provide detailed insights into your health metrics. The new addition to this watch is a temperature sensor that tracks your body temperature while you sleep or at any time.
Women's health tracking is getting more accurate on Apple Watch 8. You will get more improved period predictions on your wrist.
Further, you will get advanced sleep tracking, an ECG app, SpO2 and sports modes.
Battery Life
The battery life on Apple Watch 8 is average, and it lasts for 18 hours of battery. This time Apple has introduced a new Low Power Mode, which extends battery life to 36 hours. Apple Watch 8 takes around 2.5 hours to get fully charged.
Pros
Larger and vibrant display
Fast charging
32 GB storage
Low power mode for extended battery life
Improved sleep tracking app
Cons
Battery life should be improve.
Temperature sensor is limited.
Garmin Venu 2 Plus is Garmin's flagship watch, and it comes with many improvements and upgrades. It offers a smart voice assistant that makes your life easier, and you can also make calls from this smartwatch.
Venu 2 Plus is the best smartwatch for Spotify because you can also play music on its physical speaker. Moreover, you can store up to 650 songs on its physical storage.
If you want to play offline music, you can also do that. This smartwatch allows you to sync your favorite music from Spotify, Deeper, Amazon, and other platforms.
Display & Interface
The big improvement in this new flagship watch is the display. Venu 2 Plus comes with a 1.3" AMOLED display. The 416 x 416 pixels display looks vibrant and bold; you can easily read it under direct sunlight.
The second big improvement seen in this smartwatch is its interface. The new UI is gorgeous and easy to understand. It includes different animations, visuals and graphs for better understanding.
Fitness & Sports Features
Garmin Venu 2 Plus is a fitness-focused smartwatch. You will get all the fitness-related features on it, including body battery energy, stress tracking, HR alters, sleep tracking and more.
Just like the Vivoactive series, it also includes an Animated workout that allows you to perform workouts more effectively.
Another useful feature of Venu 2 Plus is Advanced Strength Training, and you can see the detailed picture of your body's muscles and see which muscle group is more active.
If you're a cardio player or involved in HIIT workouts, then Venu 2 Plus is also the best choice for you. Like predecessors, there are various sports modes like running, cycling, swimming, golf and more.
Battery Life
When it comes to battery life, Garmin makes watches stand out. The new Venu 2 Plus gives you 9 days of battery backup and 24 hours in GPS mode.
Pros
Best training watch
A lot of strength training features
Includes ECG app
Excellent GPS tracking
Long battery life
Cons
Lack of third party app support.
Expensive.
Missing some services.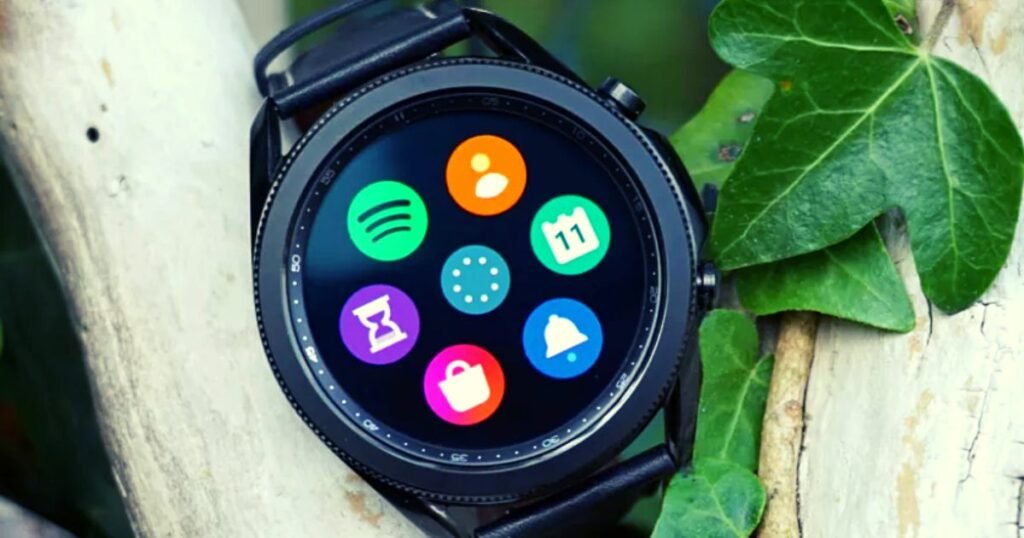 Specifications
| | |
| --- | --- |
| OS | Tizen OS 5.5 |
| Compatibility | iOS and Android |
| Display | 1.4 inches |
| Internal Storage | 8GB |
| IP rating: | 50 meters |
| Battery Life | 2 days |
| GPS | Yes |
Galaxy Watch 3 is one of the most incredible smartwatches with a more attractive design. If you have a Galaxy watch 3, you can stream music from Spotify.
GW3 also offers an LTE feature that helps you make calls and text without being connected to smartphones.
If you forget your phone at home or in your office, your galaxy watch helps you search for your phone via its LTE feature. Another premium feature of this smartwatch is NFC, which allows you to make payments directly from your smartwatch.
Fitness Feature
If you are a fitness fan, I recommend buying the Galaxy watch active 3 despite purchasing any other smartwatch.
It offers you a couple of fitness tracking features, including premium ones that you can only see in high-end smartwatches.
ECG is one of my favorite features that measure your heart's fluctuations. Besides this, you will see a real-time heart rate monitor, steps counter, smart sleep tracker, blood oxygen tracker, VO2 max reporting, and others.
You will see many enhanced sports modes in this wearable that help you perform your daily fitness activities efficiently and accurately.
8 GB Storage
A more exciting thing that will make Galaxy Watch 3 the best smartwatch for Spotify is its 8 GB internal storage. You can download hundreds of songs from Spotify for offline listening.
Pros
Large storage for music
Comfortable
Light weight
Easy to use
Accurate
Bixby Assistant
Cons
No major hardware improvements
Bit expensive
Specifications
| | |
| --- | --- |
| OS | Garmin OS |
| Compatibility | iOS and Android |
| Display | 1.2inches transflective MIP |
| Internal Storage | 3.5 GB |
| IP rating: | 50 meters |
| Battery Life | 7 days |
| GPS | Yes |
Forerunner 245 is among the most durable smartwatches and the best for outdoor enthusiasts. It comes with advanced running and swimming features.
Garmin Forerunner 245 is the best smartwatch for Spotify, and it can store up to 500 songs.
Apart from Spotify, you can stream music from Deezer and Amazon. You can make a playlist of your favorite songs and listen to them during your fitness activities and workouts.
Design
I loved its special polymer that makes this smartwatch more comfortable and flexible. Although this smartwatch looks rugged and hard, its material is soft and comfortable.
Another exciting thing about this wearable is its elegant dial face. Garmin Forerunner 245 has a beautiful but straightforward dial. There is a couple of other watch faces available that are customizable.
GPS
For measuring routes and distance, it also offers you GPS. Compared to other smartwatches, GPS in Garmin Forerunner 245 is very fast and accurate.
The GPS is paired with GLONASS for fast navigation; even the GPS works find in more challenging environments. Forerunner 245 also includes a compass for measuring direction.
Fitness Features
You will see many exciting fitness features in Garmin Forerunner 245 that help you track your daily fitness routine, and you can quickly achieve your fitness goals. Along with a heart rate monitor, sleep tracker, steps counter, it also offers you some premium features like VO2 max and HRM run.
You will see your daily fitness activities' deep analytics directly on your smartphone app. These analytics will help you to perform your fitness activities efficiently.
Battery
Garmin Smartwatches usually offer long battery life, and this wearable gives you seven days (1 week) of average battery life and 7 hours of battery time on GPS mode.
Pros
Best for outdoor athletes
Most exclusive running features
Excellent battery life
Durable design
Affordable price
Cons
No Smart pay
Lack of touch screen display
Specifications
| | |
| --- | --- |
| OS | Proprietary OS |
| Compatibility | iOS and Android |
| Display | 1.2inches AMOLED |
| Internal Storage | 4 GB |
| IP rating: | 50 meters |
| Battery Life | 5 days |
| GPS | Yes |
Garmin Venu is another Garmin best smartwatch with Spotify support. This smartwatch falls in the mid-range smartwatch category.
The stainless steel bezel gives a premium feel, and the finishing looks more premium. For protection, there is a Gorilla Glass 3 that protects the watch from scratches and dust.
You will also bet the Garmin Pay feature to make contactless payments. You can also download the different widgets and watch faces from Connect IQ (App Store).
Fitness Features
Despite regular fitness features like heart rate, steps counter, etc., Garmin Venu offers you hydration tracking, respiration tracking, advanced sleep monitoring, mindful breath, and plenty of preloaded workouts.
To improve your workout angles, there is an on-screen animated workout app. There is also Garmin Coach, which helps you perform fitness activities more efficiently and is free.
Storage for Music
Garmin Venu has more space than Garmin Forerunner, and it offers you 4GB of storage which is enough for storing thousands of tracks. You can also download a couple of other apps from the store.
Along with Spotify, you will also see Amazon Music and Deezer accounts, but I recommend only buying a Spotify account.
Pros
Best for fitness tracking
Bright AMOLED screen
Good storage for music
Accurate
Cons
Just one case size
Limited app store
Specifications
| | |
| --- | --- |
| OS | Fitbit OS 5.0 |
| Compatibility | iOS and Android |
| Display | 1.58inches AMOLED |
| Internal Storage | 4 GB |
| IP rating: | 50 meters |
| Battery Life | 6 days+ |
| GPS | Yes |
If you want to buy a more comfortable smartwatch, Fitbit Versa 3 is the most recommended watch. Specially Versa 3 looks gorgeous on female wrists.
You will see a lot of fantastic features in this Versa 3. I love its app because it gives you more deep analytics that helps you to perform your daily fitness activities more efficiently.
Another exciting and premium feature of this smartwatch is Alexa. With its built-in Alexa, you can do many things with just voice commands, like you can reply to text SMS directly from your smartwatch with your voice.
Alexa also helps you with most things, as it gives you a weather forecast, notifies you about important updates, etc.
This smartwatch also considers the best smartwatch for calls due to its HD microphone.
Fitness Features
Its fitness tracking features are remarkable. Fitbit is an expert in the fitness field. That's why many specialists recommend Fitbit smartwatches.
You can set your goals in Fitbit and versa 3. There is a SpO2 monitor, smart sleep tracker, heart rate monitor, and steps counter.
Active Zone Minutes is another useful feature in Versa 3, and it measures your time spend in any heart-pumping active. By default, your Fitbit is set to 150 minutes/Week goal, which means you have to spend this time in any activity to achieve your goal.
Pros
Comfortable Smartwatch
Also best for females
Deep Analytics
HD Microphones
Cons
Not specified storage
Premium Monthly membership for more features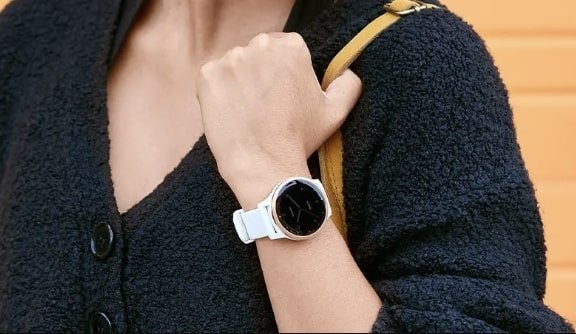 Specifications
| | |
| --- | --- |
| OS | Proprietary OS |
| Compatibility | iOS and Android |
| Display | 1.1 inches diameter |
| Internal Storage | 4 GB |
| IP rating: | 50 meters |
| Battery Life | 7 days |
| GPS | Yes |
One of the best smartwatches for Spotify is Garmin Venu 4S. It can store up to 500 songs in physical memory. There is no speaker in this watch, so you have to connect this watch with headphones to listen to music.
This Garmin watch is more comfortable compared to other Garmin smartwatches. Due to its 1.3" small dial, it's a lightweight smartwatch.
Vivoactive 4S has a smart notification system, and you can also manage notifications according to your routine.
The smartwatch also offers high-end features like Garmin pay, multiple sports tracking, and different safety tracking features.
Vivoactive 4S also offers accurate GPS that connects rapidly and gives you highly accurate routing.
Design & Display
The Vivoactive 4S has a unique design; it comes with a stainless steel bezel that gives a premium feel. The 5 ATM water-resistant design allows you to use the watch to track water activities.
Similarly, only two buttons at the side allow you to control the watch's functionality.
Fitness Features
In the fitness tracking department, Vivoactive 4 rivals Apple and Galaxy Watches. It includes core health tracking features like Pulse OX sensor, VO2 max, body battery energy etc.
Workouts or outdoor sports will measure various physical aspects of your activities. It gives a detailed view of your activities, helping you to improve your sports performance.
It also includes animated on-screen workouts and sports apps for active fitness enthusiasts.
Pros
Long battery
Animated workouts
20 Preloaded GPS sports apps
Pulse OX
Light weight
Specifications
| | |
| --- | --- |
| OS | Fitbit OS |
| Compatibility | iOS and Android |
| Display | 1.5 inches AMOLED |
| Internal Storage | 4 GB |
| IP rating: | 50 meters |
| Battery Life | 6+ hours |
| GPS | Yes |
If you are looking for the best smartwatch for Spotify, then you can't ignore Fitbit sense. It is a more advanced smartwatch that easily controls Spotify from your wrist.
It also offers you a built-in Alexa that helps you to set your fitness goals, clocks, gives weather forecasts, controls smart home devices, and more. Compared to Fitbit Versa 3, this smartwatch offers you a few more advanced features.
There are hundreds of watch faces and apps. Not just that, you can also download several more from its store. With this fantastic smartwatch, you have an option to answer calls and reply to texts.
Fitness Features
Fitbit sense comes with some advanced features. Now, what are these premium features? Here you will get Stress tracking features, an ECG app, a skin temperature monitor, High and low heart rate alerts. These four features are only found in Fitbit Sense.
Online Music
On this smartwatch, you can only listen to music in online mode. There is no option available to download songs from Spotify and then play them offline. I know this one is its point.
Before listening to any song or track, you must connect your smartwatch with the internet. However, you can play offline music using the Deezer app or Pandora app.
Free 6 months trial
Fitbit Sense unlocks a free 6-month trial for new Premium users so that you can access more premium fitness features. You can see more personalized insights, more advanced mindfulness.
This free subscription also includes stress management tools like deeper, different guided programs to improve your nutrition and sleep, workouts, and more.
Pros
Attractive and elegant design
ECG app
Stress management
Amazon Alexa
Comfortable
Cons
Little expensive
Small third-party app selection
Specifications
| | |
| --- | --- |
| OS | software version 8.09 |
| Compatibility | iOS and Android |
| Display | 1.2 inches Transflective (MIP) LCD |
| Internal Storage | 8 GB |
| IP rating: | 50 meters |
| Battery Life | 14 days |
| GPS | Yes |
In the Garmin smartwatches family, Forerunner 945 is one of the high-end and expensive members that gives you a lot of exciting features. You can go with this premium beast if you have some extra budget.
For music Garmin Forerunner 945 is best; it supports Spotify and other music streaming platforms. This Garmin watch can store over 1000+ songs and tracks. So if you have a huge playlist, then opt for this option.
It's also much easier to transfer your favorite music from your smartphone to Forerunner 945. After adding songs to your playlist, you can listen to them through headphones (Bluetooth technology).
While GYM and other workouts, you don't need to put a bulky smartphone in your pocket. Just control your favorite music directly from your wrist.
Fitness Features
This premium watch has more advanced features. It can monitor and track your performance in a more advanced manner, and even if you don't need any trainer for fitness activities, Garmin Forerunner 945 is your best companion.
VO2 max, temperature measuring, respiration track, aerobic and anaerobic training, and more. Again this Garmin smartwatch gives Garmin coach that gives you free guidance.
Pros
Lightweight
Easy to use
Efficient software
More detailed maps
Pre-install Spotify
More accurate
Cons
Resolution on GPS is limited
Expensive
Specifications
| | |
| --- | --- |
| OS | Wear OS |
| Compatibility | iOS and Android |
| Display | 1.28 inches, AMOLED |
| Internal Storage | 8GB |
| IP rating: | 30 meters |
| Battery Life | 24 Days+ |
| GPS | Yes |
If you're an Android user, Fossil Gen 5 is the best option for you. It comes with a slim design, good battery life, and several essential features. Especially for a music lover, it is best because this watch comes with the pre-installed Spotify app.
Because of the pre-installed Spotify app, this smartwatch saves you from the trouble of downloading and installing the Spotify app.
So, you can control the playback directly from your wrist, but one thing is that you can't download playlists to listen offline like the Galaxy Watch.
The most exciting thing about this watch is that it is powered with Wear OS by Google, and it works with both iPhone and Android.
No doubt, Fossil Gen 5 is best for Spotify streaming, but it is also the best smartwatch in many aspects, including its design. Its sleek and slim design makes it more beautiful.
8 GB Of Music Storage
Fossil Gen 5 comes with 8 Gb of storage, which saves thousands of your music files. Moreover, you can also install third-party applications because of their ample storage.
Fitness Features
Fossil Gen 5 is not only best for music, but it is also one of the best fitness smartwatches, which will keep you updated and help you to achieve your goals quickly.
It comes with numerous fitness features, including heart rate monitoring, activity tracking, Built-in GPS, sleep tracking, sleep goals, etc.
These features will keep an eye on your activity and keep you fit and healthy.
Fossil Gen 5 comes with a pretty decent battery life which provides you with at least 24 hours of battery life.
Pros
Excellent display
Attractive design
Quick recharge
Built-in GPS
Cons
Battery life could be improve[
Specifications
| | |
| --- | --- |
| OS | software version 17.10 |
| Compatibility | iOS and Android |
| Display | 1.2 inches, Transflective (MIP) LCD |
| Internal Storage | 16 GB |
| IP rating: | 100 meters |
| Battery Life | 6 Days+ |
| GPS | Yes |
Garmin Fenix 5X Pro is the last smartwatch with the most fantastic music capabilities on this list. You can easily download the Spotify app and sync your desired songs into your playlist for offline use.
I love this smartwatch because it is customizable. There are several amazing watch faces available you can also customize them according to your desire and needs.
Although this is a mid-range smartwatch, I consider it a high-end Garmin smartwatch. The reason behind this consideration is its advanced features. The smartwatch's most amazing feature is its 20 days extra-long battery life.
Fitness Features
You can also download other important fitness-tracking apps along with the Spotify app. Although there are a few important preloaded fitness apps, you can still download more apps.
This smartwatch offers a wrist-based heart rate, Pulse OX sensor, blood oxygen level, and other useful fitness features. Although this smartwatch has multiple features, it still can't beat Garmin Forerunner 945.
Storage
You are thinking, how many songs can I store on Garmin Fenix 5x pro? Well, you can store above 1K+ different songs and tracks.
You have multiple options to grow your playlist; you can use Spotify, Amazon Music, and Deezer and manually transfer songs from the computer to the smartwatch.
Pros
High quality design
Comfortable
Fast GPS
Easy to use
More watch interfaces
Guide On Buying Best Smartwatch For Spotify
Music Storage
Before buying the perfect smartwatch for Spotify, the first and foremost thing you have to consider is Music Storage.
Ensure that the smartwatch has a good amount of storage for storing and saving your music files, songs, playlist, etc.
1- Battery Life
Battery life is also a crucial factor that you should consider when buying the best one for Spotify. Because if you love music, you'll listen to it for more extended periods.
That's why your smartwatch needs good battery life. So, regarding Spotify Smartwatches, ensure your smartwatch has a good battery.
2- Fitness Features
Besides music, you will use your smartwatch for fitness and health features. So, the smartwatch you will buy must contain fitness and health features.
3- Design
The design also matters. Good quality and beautiful smartwatch will add beauty to your personality. So, it's recommended that you should go with a smartwatch that has an attractive design.
4- Comfort
When it comes to the music smartwatch, you have to wear that smartwatch for a longer time. So, you must pick the smartwatch, which provides extreme comfort even on long wear.
Is Spotify is the Best Music App for Smartwatches?
I have a massive craze for Spotify because it gives you a vast ocean of tracks and songs. Although there are many other music apps, Spotify is my favourite. It offers you;
Millions of songs
Podcast
Playlists
Workouts Beats
Mood tracks
Meditation Music
Recently Played
Made for you
Spotify has a vast database of 50 million music songs and 700K podcasts. You are free to listen to any time with this music app. That's why I consider this app as the best music app for smartwatches.
This app is most famous as compare to apple music because it has over 248 million active users (twice as compared to Apple Music)
Secondly, compared to other music apps, this one has a user-friendly interface. You can easily use Spotify on your smartwatch. With just one single tab, you can choose your favourite song. During jogging, running, or workouts, it's easy for you to change tracks.
Downside of Spotify
It's a premium app
Have no own lyrics feature
Little expensive
How to access Spotify on a smartwatch?
Few smartwatches come with a pre-installed Spotify app; you just need to buy its premium account. But if there is no Spotify app, you can easily install it. In Samsung smartwatches, you can install them from the Galaxy store, while in Garmin Smartwatch, you can install them from Connect IQ.
After installing the app, there comes a sign-up process. Using your Gmail or Facebook account to sign up is too easy.
How to listen to Spotify on smartwatches offline?
I love Spotify because it also allows you to listen to music offline. Now your favorite music playlist is on your wrist. If you have a premium Spotify account, you can save your favorite songs and tracks for offline mode. Spotify also allows users to save offline playlists to smartwatch storage.
Spotify alternatives
Although Spotify is one of the largest audio streaming apps, there are still a few other apps that you can also use. It provides a vast collection of songs, tracks, podcasts, etc. But you can also use other streaming services. Here are the best Spotify alternatives for smartwatches.
Amazon Music: This is the second-largest music streaming network and has a collection of over 50 Milli. On songs. Amazon Music will cost you $7.99/month for its premium subscription.
Pandora Music: Pandora is also the most useable streaming app in a smartwatch with over 40 million songs catalog. Pandora's premium account is a bit expensive. It costs you $9.99/month.
Deezer: It has a huge collection of songs with over 60 million songs and tracks. Deezer costs you $14.99/month for its premium subscription.
Final Words
I hope you find the best smartwatch for Spotify from the above article. There are different brands of smartwatches. You can choose any smartwatch according to your choice. Garmin smartwatches performed well compared to other brands, giving you longer battery life and large storage.
Whenever you buy a smartwatch with music, I strongly recommend you choose the Spotify music app because it gives you a wide variety of songs and has low subscription charges.
Note: If you buy any sm
F&Qs
How to access Spotify on smartwatch?
For accessing Spotify on your smartwatch first of all you need to install it from the store. After that, you will signup for a Spotify premium account. Now you can access millions of music tracks and songs.
Which Garmin Smartwatch Supports Spotify?
Garmin Fenix 5X, Garmin forerunner 245, forerunner 945, Garmin Vivoactive 4S, Garmin Venu and Garmin forerunner 645
Can I listen offline music on Garmin forerunner 945?
Yes, you can, for this purpose, you first need to save your favorite track to your playlist.
How to play Spotify on galaxy watch 4
Before using Spotify on your Galaxy Watch, 4 make sure it's connected to your Android phone. Open the Spotify app on your phone, and tap on Spotify on Watch. This watch automatically plays Spotify on your GW4.
Related Post: Best Whoop Alternative
About Author