Apple watches gain popularity day by day. Currently, Apple has launched its flagship Watch 7, which is the beast of the market. Apple has designed a different variety of bands, starting from $70 to $1900.
Whether you are an athlete with a record to beat, a runner, a businessman who needs to wear a watch for the whole day, or simply a smartwatch lover, Apple gives you various options to go parallel with your lifestyle.
Apple bands offer 3X more comfort, durability, stability, softness, and stylish look than other competitor brands.
But the question is, which Apple band is best for sensitive skin? At mid-range prices, there are a lot of varieties available, and you can get the best comfortable band for your wrist.
Based on our experience and deep research, we have collected some of the best bands that you can use if you have sensitive skin. So let's have a look!
Related Posts:
Does Apple's Default Band Is Best For Sensitive Skin?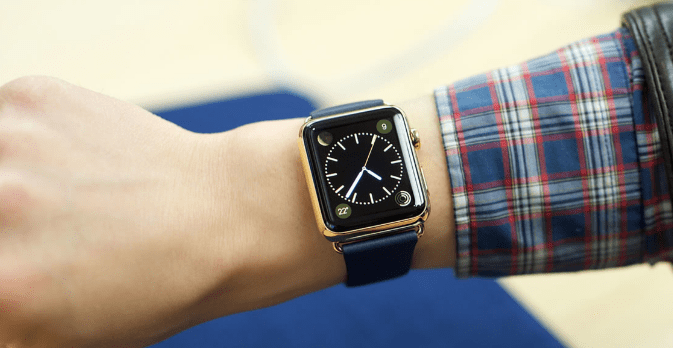 In most Apple watches, you will get a silicone band which is available in different colors. But does this band comfortable? Yes, this silicon band is pretty comfortable because I have been using it. But it's not too good to wear all the time.
Firstly keep in mind that silicone rubber is different from latex rubber that can cause allergies to sensitive skins.
Secondly, the silicon band is not a good option for sensitive skins. It creates irritation if worn for a long time, causes skin burning, and makes the spot red.
Our skin should be the priority; to keep your skin safe and free from allergies, you should use a high-quality Apple band. Wearing an Apple watch with an average silicon band can cause three main problems.
Sweat
No doubt, when you wear an Apple watch or any watch on your wrist for a long time, sweat appears between the bottom of the watch and the surface of your skin.
Especially in summer or when you perform cardio activities. To be honest, sweat is not a big problem for normal skin, but it's not a good sign for sensitive skin. In the case of sensitive skin, when sweat dries, it causes burning of skins, itches, or redness of the skin.
Friction
If you are wearing an Apple watch or any watch more tightly than surface area, it strongly contacts your skin and reduces friction. In most cases, you have noticed that if you wear a watch tightly, it causes pain in the wrist because it blocks blood circulation.
Secondly, the silicon band of the Apple Watch is made from synthetic polymers, which increase the probability of adverse effects on your skin.
Friction can also cause sweat that creates an irritating effect on your skin. And wearing a watch in such a condition can even create a more significant risk for your skin.
Nickel Allergy
Some people are allergic to nickel. If nickel allergy lasts for a longer time, it will cause an itchy rash and burning of the skin. But you don't need to worry about a nick allergy. Just paint a few layers of nail polish on some specific parts of the smartwatch that touches your skin the most.
Secondly, you can also use plastic wrap between the bottom of your watch and the user's skin. In the best-case scenario, you can replace your Apple watch band with a new hypoallergenic band.
Best Apple Watch Bands For Sensitive Skins:
As mentioned earlier, Apple manufactures a variety of bands. But for sensitive skins or whether you are facing sweat and friction problems, it's recommended to replace your Apple Watch band with hypoallergenic bands.
These bands are more skin-friendly because of the lining leather coating which is 99% allergic free. Further hypoallergenic bands are breathable means you can wear them for an extended period without any irritation.
Although these bands are pricey, they will return cost to you in the form of comfort. In the department of hypoallergenic bands, Apple offers 4 different options; leather, synthetic watch bands, titanium watch bands, breathable sport bands.
Note: Not any Apple watch band is tested for its Hypoallergenic ability. We have made this list based on research and other user reviews with sensitive skin. Now you don't need to do any research or spend your precious time reading long reviews.
WFEAGL Leather Band
WFEAGL is an entirely natural rubber lining that is breathable and naturally not allergic. If you love traditional-looking bands, then it's the best option. When it comes to comfort, it's an excellent strap that has stability, flexibility, and comfort (because of its lightweight).
For sensitive skin, it's the best option because it can absorb sweat and make your skin itch-free. The high-grade leather makes this band waterproof and swim-proof. Compared to other synthetic leather bands, it can last for a longer time without any color fading.
Native Union Classic Strap for Apple Watch
If you want something more premium and breathable, then have a look at Native Union Classic strap. This premium quality band is 100% water-resistant and perfect for sweating conditions.
The minimalist design with subtle details makes this band more attractive and fits every outfit.
The plus point in this band is its genuine Italian leather that feels more comfortable and luxurious. And its shine lasts for a longer time.
SKTLET Sport Band

Whether you are an athlete or do cardio workouts daily, the SKTLET sports band is the perfect option for you.
It comes with a unique breathable design that prevents sweating. You can wear this sport band throughout your whole day and track your activities without any irritation.
SKTLET Apple watch band is made with robust and durable silicone material, which is more durable. Its water-resistant and sweat-free design prevents your skin from irritation and allergies.
Carterjett Apple Watch Band
Carterjett is another sports band that comes with hypoallergenic characteristics. It is made with synthetic silicon, which is very soft and durable. Its adapters are steel and have no screw, so you can easily replace them with existing bands.
As a bandit is waterproof so it can be used for sports purposes, like swimming. Its stylish pattern gives comfort and looks hot and adds some additional style to your look. Carterjett is available in different sizes and colors, so you can buy one that suits your outfit the most.
Metal Bands
Men like to wear metallic bands because they look more stylish. If you have an original metal band, it looks more sexy and shiny. You will see different metallic bands for Apple watches in the market, but only a few of them have hypoallergenic characteristics.
HUANLONG metal band is the best option under the metallic band category. This band comes with a double button insurance folding clasp, so you can easily tie it. The band is highly comfortable and also perfect for women or small wrists.
Apart from this, Fitlink is another durable metal strap that you can use with Apple Watch Series 6/5/4/3. Because of its ultra-shiny design, it looks more luxurious. Its stainless steel design is best for sensitive skins and in sweating conditions. You will never feel itching or burning of the skin by wearing such a metallic band.
Final Words
To avoid skin allergies, rashes, and itching, make sure to buy hypoallergenic bands for your Apple watch. Whatever brand you use, never tie it too tight otherwise, it will affect blood circulation. In case of sweat, clean the spot, and your watch, then wear it again.
Finally, I hope you find some information regarding Apple's watchband. You can share this post on any social media platform to help others choose the best Apple Watch band.