Among all the famous smartwatch brands, Apple is the king, and it offers high-quality smartwatches. However, their pro-branding watches are expensive, but are the Apple watches worth it?
In the past few years, we have seen that Apple watches are the best-selling smartwatches on the market. So what are the unique things that make Apple watches more worthy, and even people buy them more confidently without caring about their high prices?
After deep research and comparison with other brands, we have found some things unique about Apple watches, so have a look!
Related Posts:
Why Are Apple Watches So Expensive?
1- More Premium & Accurate Fitness Tracking
I believe only in those smartwatches that offer more premium fitness features and have high accuracy. I have tried so many brands, but only Apple watches forced me to use them for a long time. Their insane fitness & health tracking capabilities impressed everyone.
Along with real-time heart rate and steps tracking, you will be pleased to know that it can follow your stress, calories burned, floor climb, SpO2, women's health tracking, ECG app, High heart rate alters, Irregular rhythm notifications, sports modes. And much more.
But the good news is, Apple watches track all fitness activities more precisely and give you accurate stats. For a real fitness lover, the actual value matters; that's why I love Apple watches.
I know many other smartwatch brands available in the market offer the same features like Garmin. But you will see these features in Garmin high-end watches that are over $500.
Apple Watch owners have rushed to their doctors/hospitals to detect abnormal heart rhythms, which has led to better/positive health. Health & Life benefits are too intangible to quantify with a price, so this is a feature that's worth paying for.
2- Quality & Durability
This is the most crucial factor, and Apple watches get 10/10 in it. Compared to Fitbit and Amazfit watches, we have seen that Apple wears are made with premium quality polymer.
They are made with pure stainless steel with a sapphire crystal Retina display and ceramic back.
You can undoubtedly use these robust watches for outdoor adventures, hiking, cycling, etc., because Apple watches can easily bear the harsh environment. In addition, because of their 50-meter water-resistant capabilities, you can track your underwater activities.
And you are glad to know that the Apple watch works effectively underwater and tracks your every move. Moreover, this watch is entirely shock and dust resistant, so that you can easily use it in a harsh environment.
3- Phone Related Function
I think Apple Watch is a small digital phone as it provides you with every phone feature. In addition, because of its cellular connectivity, you can receive calls, reply to text SMS, and use the internet. And don't even need to connect it with your smartphone to use these features.
When attending meetings or classes frequently, you might want to check notifications to see whether a phone call or text message is essential before pulling out your phone.
The Apple Watch is an extension of your phone which lets you have quick access to your phone without touching it. It helps you to;
Calling anyone without touching your smartphone

Do quick voice searches on Google

Access a lot of apps

Listen to your favorite songs

Ger reminder, notifications, and more
4- Apple Watches have Premium App
Along with Apple Watch, you will get an app named "Watch." I appreciate its developer who makes it easy to use and adds everything we have expected.
You can see deep insights of your daily activities in this app, and also it will notify you about your daily goals.
Similarly, you can set your goals on this app, and it will effectively track them. For example, you will be able to see your daily, weekly, and monthly fitness data.
For beginners, this app is easy to navigate and understand. The visualization and graphs show more deep analysis and break down data. In a nutshell, Apple pays tons of $ $$$ to app developers to better GUI and user experience.
5- Accurate GPS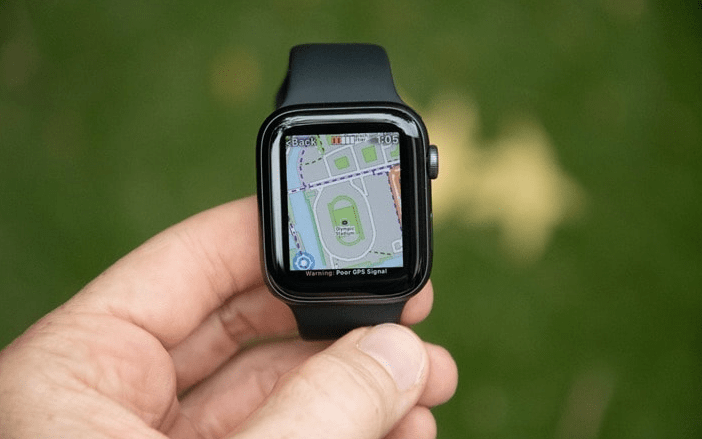 After Garmin watches, Apple watches featured more powerful GPS. Now you can accurately track distance, speed, pace, and maps. With built-in GPS, you don't need to touch your phone, and you can track all your running or hiking without having to take your phone with you.
Sometimes your phone's battery is dead at some point of your adventure, at that time you will realize the value of the Apple watch. And luckily, the GPS is super fast. So even if you are in a deserted area, it shows you accurate data.
As the Apple Watch is packed with Siri, you can also get directions and find paths with just one voice command. In addition, in the latest Apple wears, you will get live tracking features that allow you to find the current location of your friends during a race or cycling.
6- Apple Watch Can Track Your High-Intensity Moves
Generally, all smartwatches can track your steps, heart rate, and other sports. But not every smartwatch can monitor high-intensity moves. High-intensity activities are those that rapidly increase your heart rate, like GYM, hiking, etc.
We have conducted a few tests on Fitbit Versa 3, Apple Watch Series 5, and a Garmin Vivoactive 4. We monitored 5 minutes of cardio with every watch, respectively. We have found that Apple Watch Series 5 and Vivoactive 4 show pretty similar results while Versa 3 makes a huge difference.
So for athletes and real sports, man Apple watch is the best companion that will never let you alone.
7- Access To a Lot Of Apps
On Apple Watches, you will get dozens of fitness and entertainment apps. You can also install specific apps to track your particular activity.
Like, to track your running, you can install "Time to Walk," "Apple Fitness Plus," and "Watch to 5K' etc. Similarly, to track your mood and mental health, you can install "Moodistory." You can also get specific apps to follow your tennis, basketball, or golf.
Not just that, there are plenty of entertainment apps available like Spotify, ONEFOOTBALL, Night Sky, and much more.
Apple watch series 5 comes with 32 GB of storage means you can store tons of data on it. This is the beauty of Apple Watches that makes them more worthy.
8- Built-in Speaker & Microphone
On Apple watches, you will get a built-in microphone and speaker, which is very useful. You can listen to calls and answer them. For example, a built-in Microphone allows you to reply to text SMS via the Voice-to-Text feature.
Similarly, you can control your smart home items and devices with just one voice command via Siri, check weather updates, and much more.
But unfortunately, you can't listen to music using the built-in speaker. It's just for notifications and alarms. Instead, you need to use Bluetooth headphones whale listen to your favorite tracks.
Who Should Buy This Watch?
Lastly, who should buy this watch? According to us, there are two categories of people who should buy this watch.
People who want to check notifications on their watch and make calls. With the Apple watches , you can make calls independently of your iPhone, receive messages, and even make quick replies to apps that support it. It is common for people to do this, from YouTubers to Facebook friends.

Those who may or may not want option one but would like fitness tracking. Since I've been using the Apple Watch Series 3 for fitness tracking, it's almost accurate to track most workouts and even detect when you pause during an exercise. The best thing is that you get up and walk every hour, so you don't spend too much time sitting.
So if you don't want the above two options, you can go with any alternative fitness watch available at chaper price. At that point, I suggest you buy Fitbit Sense, Versa 2, or Garmin Forerunner 45.
Final Words
Like anything, it depends on your intentions for its use. Apple provides smart tools that effectively track our progress towards goals that accurately represent each individual's health status on any given day.
Plus, it works seamlessly with all other Apple products if you already own them. Apart from all the above things, if you are fond of wearing a branded smartwatch, then no other watch is perfect than Apple's.
Hi! I am Saad Dastagir, an enthusiast of smartwatches and fitness trackers. This blog is created to bring my personal experience with smartwatches in front of you. Our team tests different types of smartwatches and fitness gadgets constantly and shares hands-on experiences with you.