Apple always launched two variants with each flagship watch, one for smaller wrist and one for larger ones. Most people get confused about choosing between the Apple Watch 38mm VS 42mm.
In both variants, there is not only a single difference in size, but both have differences in price, battery, comfort, readability, and screen resolution. So this is not only a question of size, but you also have to consider a few other aspects.
In this article, we will compare both the Apple Watch 38mm and 42mm, and solve your problem to make a decision easily.
Let's get started.
Apple Watch 38mm VS 42mm: Comparison Chart
| | | |
| --- | --- | --- |
| Model | Apple Watch 3 38mm | Apple Watch 3 42mm |
| Height | 38.6mm | 42mm |
| Width | 33.3mm | 35.9mm |
| Case thickness | 11.4mm | 11.4mm |
| Weight | 27g | 32g |
| Display Resolution | 272 x 340 pixels | 312 x 390 pixels |
| Display Area | 563 sq mm | 740 sq mm |
| Sport Band size | 130 – 180mm | 140 – 185mm |
| Battery Life | 18 hours | Up to 20 – 25% longer |
Related Posts:
Best Apple Watch Bands for Surfing
Apple Watch 38mm VS 42mm: Wrist Size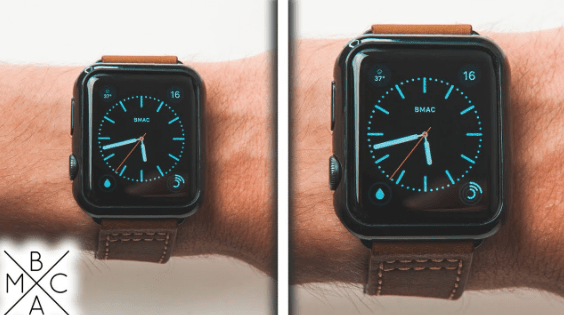 Choosing an Apple Watch according to your wrist size might look difficult for you, especially if you are doing online purchasing. The best way is to get your Apple Watch on a physical store where you can test both 38mm and 42mm variants and one that looks better and more comfortable, then you can choose that one.
In a nutshell, if your wrist size is around 160mm or less, then you should go for 38mm. But if your wrist is heavier and more than 170, then probably 42mm is the best option for you.
Most people think that the Apple Watch 38mm variant is made for women and 42mm variants suit men, but this is not the best-case scenario. Some men also have thin wrists, and some women also have heavy wrists.
But wrist size is not only a single issue; there are also a lot of other differences between Apple watch variants that you should follow to get a better one.
Apple Watch 38mm VS 42mm: Screen Size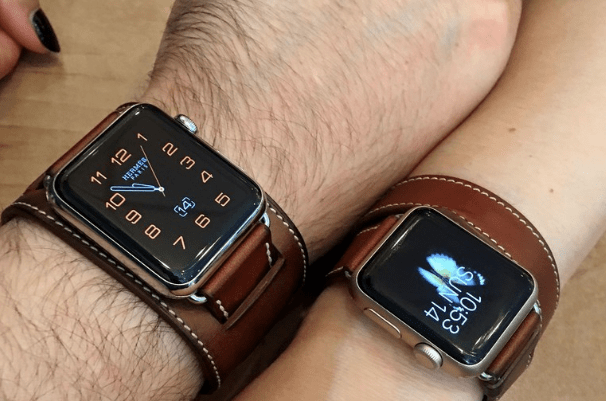 There is also a difference in both Apple 38mm and 42mm variants. Now when it comes to screen size, many factors affect your choice. For example, the bigger screen is convenient and easy to read. Especially if you are using your Apple Watch outdoors, then at times, you will know the importance of a bigger screen.
Secondly, the bigger screen also has bold and vibrant resolutions that give a premium feel, and you can easily read the dial under direct sunlight.
On a big screen, it's pretty easy to navigate through menus, scroll, use the crown, and other usability. And if you are on the run or walk, it's also easy to check your stats in a glimpse on a bigger screen.
The Apple Watch 38mm model comes with a 1.65″ OLDED screen, while the 48mm variety offers a 1.67″ OLDED display. There is no big difference, but in the case of width, the 38mm varied has 33.3mm width while the 42mm variant has 35.9mm width.
There is also a small difference in both, and the Apple Watch 42mm has 312 x 390 pixels of resolution, whereas 38mm offers 272 x 340 pixels resolution, which is again a minute difference.
Overall, if you compare screens, it's much easier to read the dial on a 42mm dial than a 38mm watch dial. You can easily read text, scroll, and navigate through menus.
Apple Watch 38mm VS 42mm: Weight & Comfort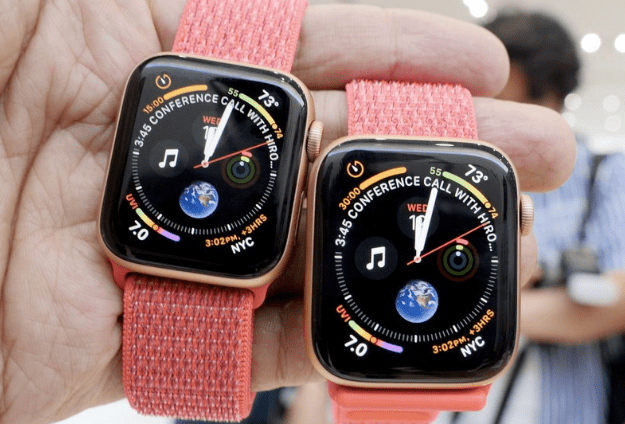 Comfort is another aspect you should look for before choosing between 38mm and 42mm Apple Watch. A comfortable watch allows you to easily wear it throughout the day without feeling any stress on your wrist.
But in the case of the Apple Watch, there is no big issue of weight or comfort, and all the Apple watches are made to achieve excellence of comfort; whether you have a 38mm or 42mm variant, both feel comfortable on your wrist.
The 38mm variants weigh 26.7 g, while 42mm has 42.3 g of weight which is negligible. In case of comfort, both offer smooth silicone bands so you wouldn't feel any stress or bulky experience on your wrist.
Apple Watch 38mm VS 42mm: Battery Life
Battery life is something that must be discussed. The 42mm variant offers a longer battery than the 38mm version. After a little experience and usability, it is noticed that the Apple Watch 42mm variant offers 20 – 25% extra long-lasting battery, which is a plus point for the 42mm version.
Especially if you want a cellular version, then 42mm will be the best option for you. This will give you 2-3 hours of extra battery life. The cellular version makes you stress-free; you can leave your phone at home during running, cycling, or outdoor activities.
But if you want to keep your phone with yourself during outdoor sports, then 38 will still be fine, and its battery performance throughout your whole day. Luckily, both Apple Watch versions support fast charging, which takes 1.5 hours to charge the battery fully.
Apple Watch 38mm VS 42mm: Price
The last difference between both 42mm and 38mm versions is the price. As the Apple Watch 42mm has a bigger screen and greater battery life, that's why it costs $228, whereas you have to pay $199 for the 38mm version.
So if you are on a budget Apple Watch 38mm variant is best. If you want a bigger display and battery life, you should go for the 42mm model.
Final Verdict
After reading the above, you can now decide which one is better for you. The 42mm will be a good option because it provides better utility and a long battery. You can easily read the dial on a bigger screen.
FAQs
What is the difference between the 38mm and 42mm Apple Watch?
The 38mm version of the Apple Watch is slightly different from the 42mm version. In the 42mm version, you will get a larger display with a higher resolution. So you can easily read and scroll the dial. Also, the 42mm Apple Watch has a 20 – 25% longer battery life than the 38mm model. But the 42mm model is pricey compared to the 38mm one.
Is the 38mm Apple Watch Best for women?
It's not a matter of gender, and if you have a smaller wrist around 160mm or less, you should go for 38mm otherwise, 42mm is the best option. Some men also have smaller wrist sizes, and the 38mm model is a comfortable option for them.
Is the 42mm Apple Watch Best For Men?
Apple watches are not targeting any specific gender. Some women also have larger wrists, so the 42mm model is perfect. If your wrist size is above 170mm, you should go for the 42mm version. The 42mm Apple Watch also has a bigger display and longer battery life.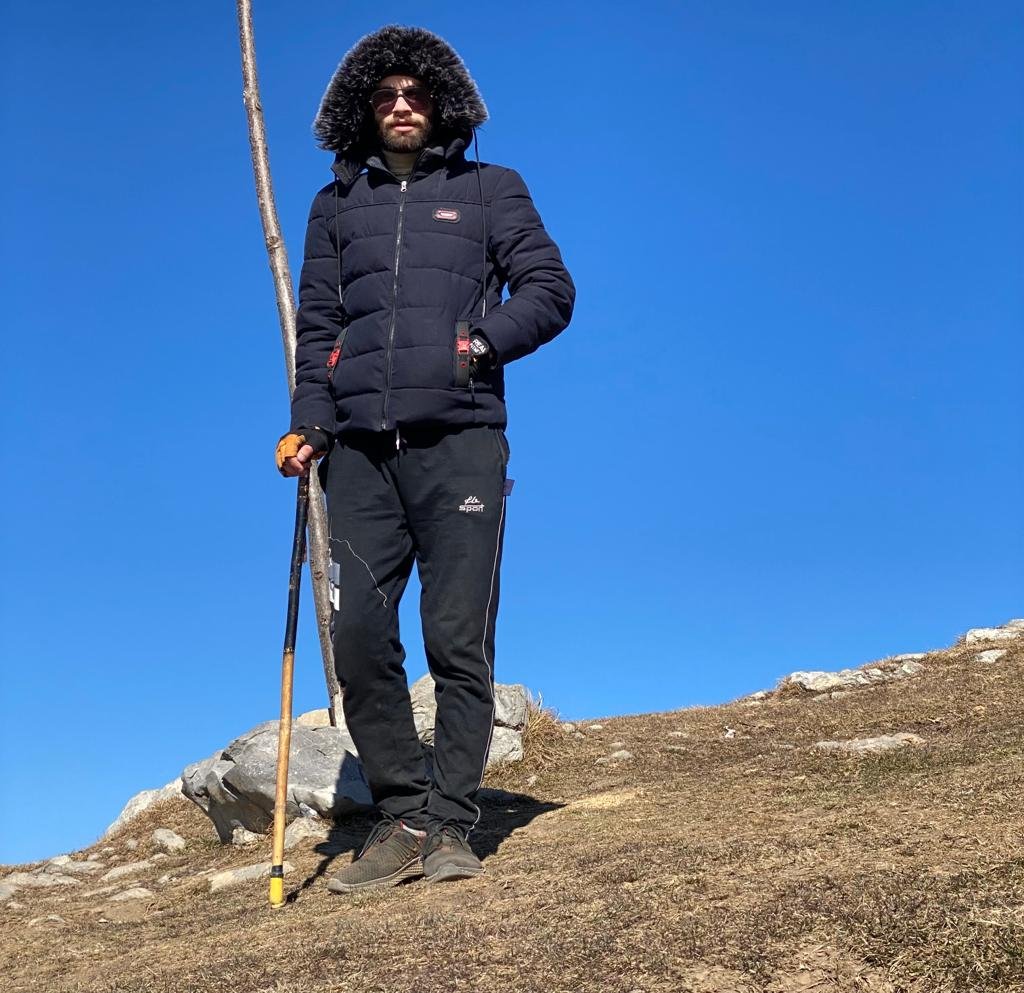 Hi, I'm Saad Dastagir. I'm a tech and fitness enthusiast who loves writing about smartwatches and fitness trackers. When I'm not testing out new gadgets, you can find me out on a hike or exploring new adventures. My passion for technology, fitness, and the great outdoors has led me to create a platform where I can share my experiences, insights, and reviews on the latest gear.