Garmin watches come with tons of training, and health tracking features that Apple watch lack. That's why most users switch from Apple Watch to Garmin.
If you're an iPhone user, you must have a question about which Garmin watch is compatible with the iPhone. Well, all the Garmin watches are compatible with the iPhone, but few of them offer limited features for iPhone users.
There are a lot of Garmin watches available on the market, and it's a bit confusing to choose the best option per your need. But don't worry; in this article, I will help you find the best Garmin watch that will be compatible with the iPhone and offers tons of premium features.
So let's get started!
In A Hurry! Here Are Our Top Picks…
7 Best Garmin Watches Compatible With iPhon
1- Garmin Venu 2 Plus: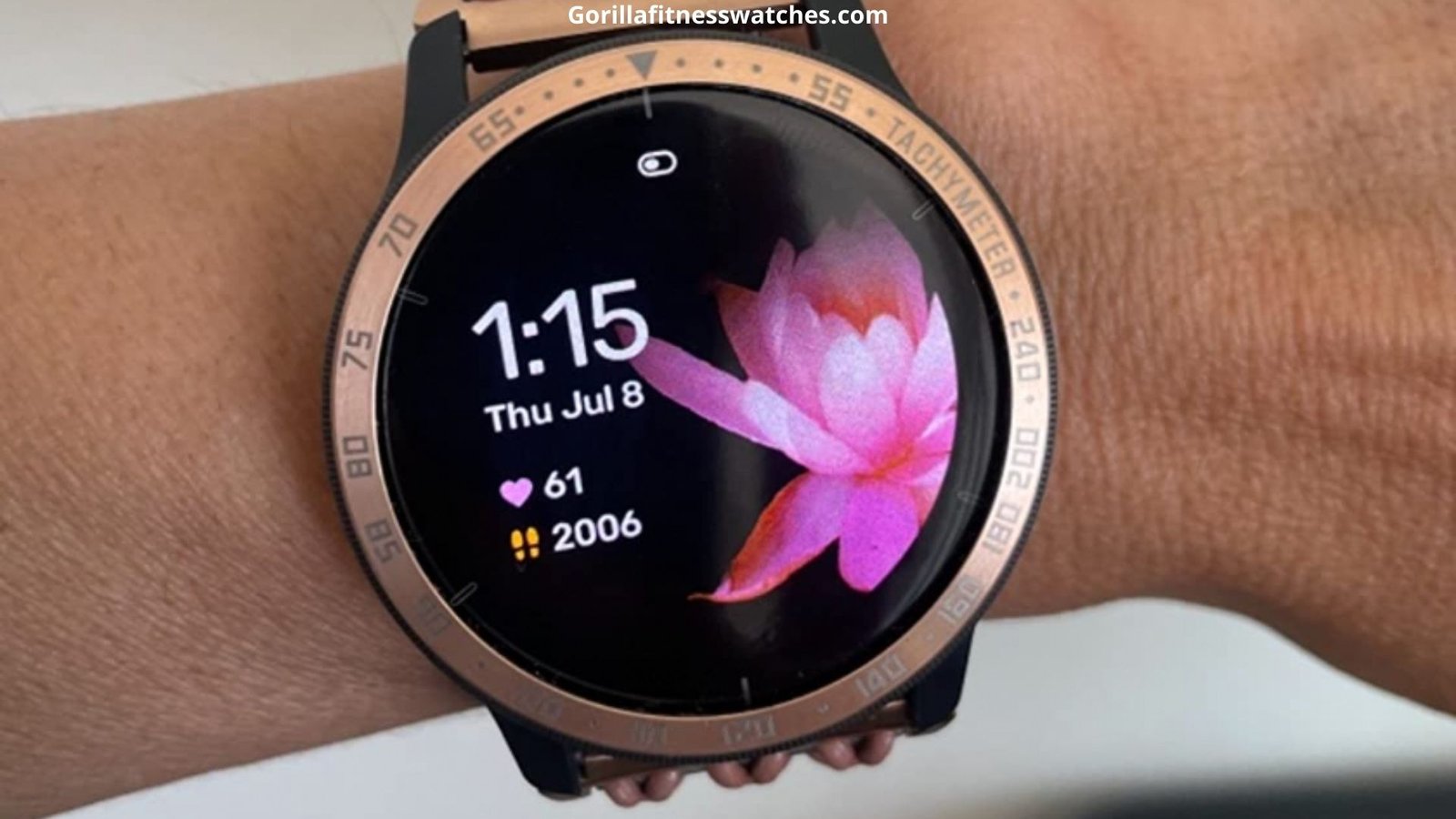 Garmin Venu 2 Plus is a new addition to the Garmin Venu family, offering extra features and superior design.
Compared to the predecessor, this flagship Garmin watch offers voice assistants (Siri, Google Assistant, or Bixby). This is the first Garmin watch that allows you to answer calls directly from your wrist.
Unlike other Garmin Watches, Venu 2 plus has a minimalist design, but still, it's very durable. The bezels are made of stainless steel, and the dial is protected by Gorilla Glass 3.
Another plus point in this Garmin watch is the 1.3″ AMOLED display which is touch, so you can easily perform tasks and navigate through menus. Moreover, three side buttons are making it easy to perform functions.
Training And Health Features:
Venu 2 Plus is a superior sport watch offering a variety of training and health features. If you're a pro athlete or fitness enthusiast, Venu 2 Plus can help you to boost your performance.
It includes animated on-screen workouts, cardio, yoga, pilates, and HIIT exercises, helping you to effectively perform your daily workouts. Plus, an improved SpO2 sensor measures your blood oxygen level during activities and at night, telling you about your overall wellness.s
The watch also includes respiration tracking, a useful feature for runners, cyclists, and hikers. With the new fitness age feature, the watch tells you if your body is younger or older than you are. Plus, it also gives you some tips to lower your fitness age.
Similarly, Garmin Venu 2 Plus includes 25 preloaded activities, including walking, running, cycling, swimming, hiking, golf, and more.
Who doesn't like to listen to music during workouts? Venu 2 Plus can store up to 650 songs you can play during workouts.
This Garmin watch also has a strong grip on the battery department. It gives you nine days of battery timing in smartwatch mode and 24 hours in GPS mode. So you can track your workouts for extended periods.
2- Garmin Fenix 7
If you're looking for a durable multi-sports watch for outdoor tracking, then Fenix 7 is the best option. Because of its stainless steel design and fiber-reinforced polymer case, it's much more durable. And it includes all the essential training features you need to improve your performance.
Garmin Fenix 7 looks similar to Fenix 6, but this time it gives a more sporty look. They have a similar 1.3″ display, but Fenix 7 has a touch screen which is a big plus. The 10 ATM water-resistant design allows you to track underwater activities without hassle.
Fenix 7 is compatible with both Android and iPhone. You just have to install the Garmin Connect app on the iPhone and connect your watch via the app.
Compared to its predecessor, Fenix 7 has much-improved battery life, giving you 18 days of battery backup in smartwatch mode and 57 hours in GPS mode. In battery saver mode, the watch lasts for 57 days.
Thanks to its MULTI-GNSS support, that tracks your location in more challenging environments than GPS alone. Fenix 7, the best outdoor watch, gives you Golf course maps, SKYVIEW maps, and TOPO maps, so you can find the best paths to enjoy your journey.
Training Features:
Garmin Fenix 7 is an unbeatable sports watch and includes unique sports feature that most 2Garmin watch lack. It includes Backcountry SKI, XC SKI dynamics, surf features, Mountain bike tracks, and more.
The one thing that I like about this watch is in-depth sports tracking. Because of comprehensive insights, you can easily see areas where your performance is low and work on them. Sports tracking is much more accurate than predecessors.
For hiking, it includes a ClimbPro feature that tells real-time information about your climbs, distance, gradients, elevation, speed, and more.
Similarly, in the health tracking department, it includes VO2 max, which is a vital feature for runners. Real-time stamina tracking manages your exertion and helps you to avoid overexerting.
Similarly, other health features include; sleep tracking, heart rate monitoring, body battery energy monitoring, respiration tracking, health snapshot, women's health tracking, and more.
3- Garmin Vivoactive 4
Garmin Vivoactive 4 is the follow-up to Garmin's most selling watch Vivoactive 3. Vivoactive 4 is made for runners, hikers, and swimmers who don't want to spend much on outdoor watches. Vivoactive 4 looks pretty similar to its predecessor, but it has many new improvements.
There is a 1.3″ touchscreen display; the dial is protected by Gorilla Glass 3. The size of the watch is a little bigger than Vivoactive 3. So you can easily read the dial during workouts. Vivoactive 4 is 5 ATM water-resistant, so you can use it while swimming or taking a shower, but it is not recommended to wear while driving.
With Garmin Pay, you can make contactless payments at utility stores, malls, and other shopping stores.
This Garmin watch gives an improved battery life that lasts 8 days in smartwatch mode and 18 hours in GPS mode.
You will also get music storage, which can store up to 500 songs. Plus, you can also download songs from Spotify and Deezer. The phone-free music experience is great for those who don't want to carry their smartphone during workouts.
Garmin Vivoactive 4 includes 20+ sports apps that allow you to track your outdoor sports mode effectively. Similarly, it also offers animated on-screen workouts, yoga, HIIT workouts, and more.
Further, it offers Pulse OX sensors that measure your blood oxygen saturation level during workouts and at night. The watch's stress score helps you find the best time to relax and lower stress.
Lastly, you will also get safety tracking features and fall detection. Vivoactive 4 automatically detects incidents and sends SOS messages and your live location to your emergency contacts.
Garmin Vivoactive 4
GPS Smartatch

Animated Workouts

Pulse OX sensor

8 days battery timing

Body Battery Energy Monitoring
4- Garmin Forerunner 245
Forerunner 245 is the best runner option and provides comprehensive running data to understand performance. Garmin Forerunner 245 is considered the best-selling watch in the Forerunner series.
The watch has a more sporty look, a 1.2″ MIP display, and you can easily read it. Because of its 38.5 g of weight, it's very lightweight and comfortable, so you can wear it all the time without feeling any stress on your wrist.
You can also listen to music using Forerunner 245, and it offers 3.5GB storage, so you can store 500 songs. Also, you can download songs from Spotify and Deezer.
Forerunner 245 offers Running Dynamics, which is specifically for runners. This feature tells comprehensive running data, including; Cadence, stride length, ground contact time, speed, stride length, vertical oscillation, vertical ratio, running power, and much more. If you're interested in 10K or 5K running, then it's the best watch for you.
The Forerunner 245 also did a good job in the health tracking department. VO2 max is a core wellness metric, wrist-based wrist-based heart rate, advanced sleep tracking, calories tracking, and more.
Like other Garmin watches, Forerunner 245 offers Gamin pay, allowing you to make a contactless payment. Similarly, with its smart notification feature, you can see your smartphone notifications on your wrist.
Apart from training and health tracking features, this watch gives 7 days of long-lasting battery. And 24 hours battery backup in GPS mode.
Garmin Forerunner 245
Advanced training features

Sync with music streaming services

7 days Battery life

Built-in GPS
5- Garmin Forerunner 945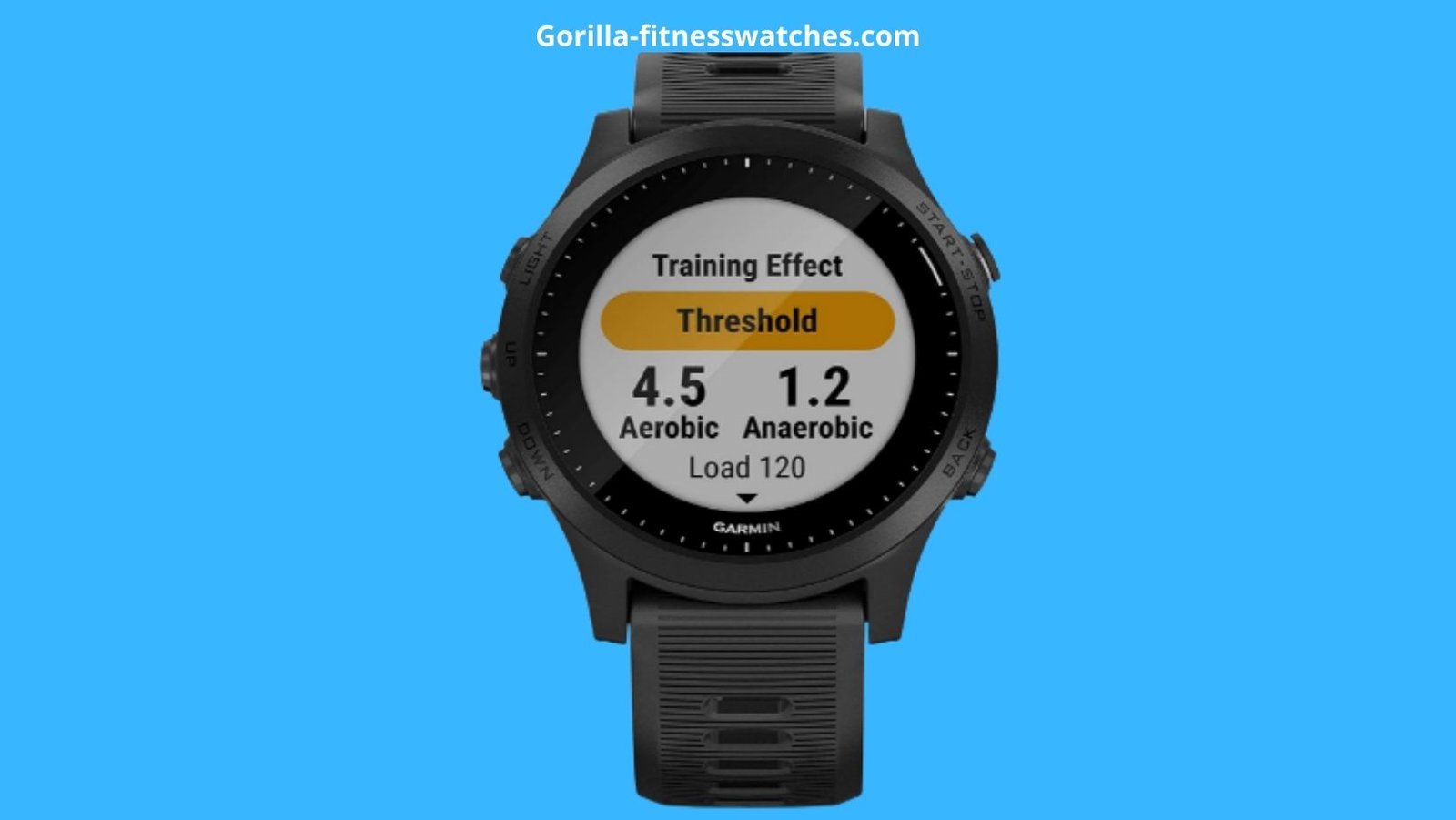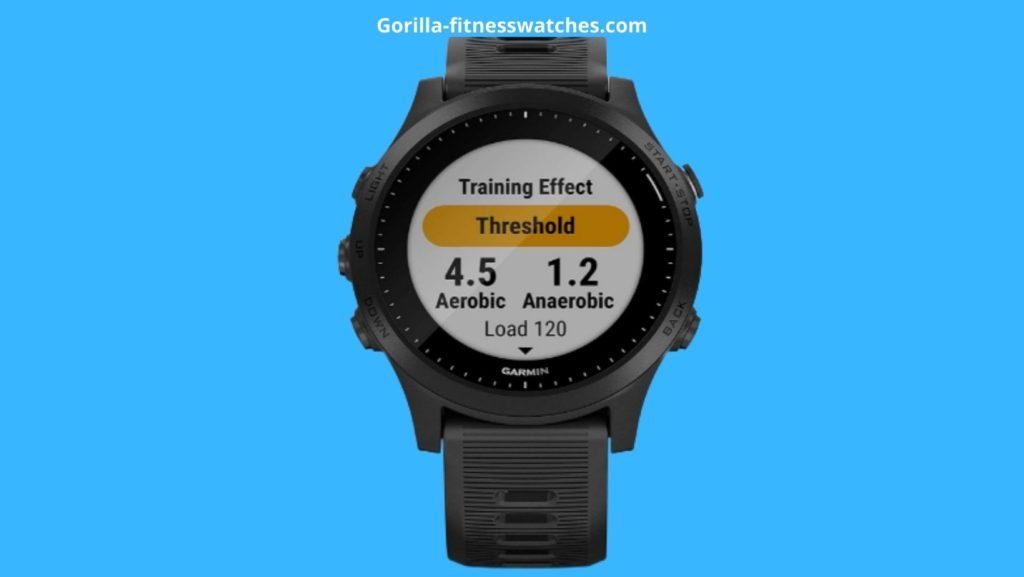 Looking for a premium running watch with top-end sports features, look at Forerunner 945. This Garmin watch is the most elite in the Forerunner family, giving superior performance and a sporty look.
Forerunner 945 is not only the best running watch but also more durable. The Gorilla Glass DX and premium fiber-reinforced polymer make it a robust watch. Because of its 5ATM water-resistant design, it's suitable for swimming or water activities.
It comes with a 1.2″ display that is not touching; instead, you will see five buttons on the side that allow you to control the watch's functionality.
Like Forerunner 245, it includes Running dynamics that give more comprehensive data about your running. You can also see your VO2 max performance and respiration during running or any outdoor activity. After any activity, the recovery time advisor tells you how long you should take a rest before your next move.
Similarly, you will get different sports profiles, and you can also create custom sports profiles from Garmin Connect. Forerunner 245 tracks your performance and guides you to take the right steps toward your fitness journey.
The navigation system in Forerunner 945 is unbeatable, and it offers color, full in-depth maps with turn-by-turn navigation. The multi-GNSS paired GPS offers more accurate navigation even in more challenging environments.
Forerunner 945 lasts 14 days in smartwatch mode and 36 hours in GPS mode. The watch's battery life is better than the rest of the Forerunner watches.
If you're a pro athlete and want more comprehensive data, then Forerunner 945 is the best option. Although this watch is pretty expensive, it's worth the money.
Garmin Forerunner 945
Excellent GPS

Lot of Space to Store songs

Free EarsBuds

POWER PACK Feature

Long battery life
6- Garmin Venu Sq
Venu Sq is one of the affordable Garmin Watch with a decent and sleek design. It has dedicated music storage, and you can store up to 500 songs on it.
Garmin Venu Sq offers a 1.3″ display which is square. The bezel is made of anodized aluminum, and the display is covered with Gorilla Glass 3 protection.
Unlike the Forerunner series, Venu Sq gives an average battery life of 6 days in smartwatch mode and 14 hours in GPS mode. But still, it's better than Apple and Galaxy watches.
Venu Sq has a strong grip on the Fitness tracking department. It offers advanced sleep-tracking and measures your REM sleep, light sleep, and deep sleep stages. It also tracks your respiration rate and Pulse Ox during the night.
With its stress tracking feature, you can measure your stress score and find the best time to rest. The mindfulness breathing app allows you to relax and improve your focusing power.
Other health tracking features include; hydration tracking, menstrual cycle, body battery energy monitoring, Pulse Ox sensor, and more. Using all these features, you can achieve your fitness goals.
You will also get 20+ preloaded GPS sports apps, including walking, running, swimming, hiking, cycling, golf, and more. Venu Sq measures every activity more deeply so you can easily understand your performance.
Apart from health and fitness features, it also includes useful smartwatch features like Garmin pay, smart notification, built-in GPS, safety tracking features, and more.
7- Garmin Instinct 2
Instinct 2 is a rugged GPS watch with potentially unlimited battery life and has all the necessary features. This rugged GPS smartwatch is tough enough to keep up with you and unique enough to fit your style.
Talking about its iOS compatibility, it is also one of the best Garmin watches compatible with iOS and works very well without any bugs and issues.
Looking at its display, it takes the best feature of its high-contrast dual-screen display, which comes with the monochrome memory-in-pixel (MIP) display which is a sensible choice.
Regarding durability, Instinct 2 is water-rated to 100 meters and is shock and thermal resistant. Additionally, it has a fiber-reinforced polymer case and chemically strengthened scratch-resistant Corning Gorilla glass.
During our 5km testing, we found the instinct 2 to be accurate within a few meters, thanks to its multi-GNSS support. Also, its ABC sensors, including an altimeter, barometer, and compass, help us navigate our next trail.
With the VO2 max feature, you can train smarter, which indicates how you can expect to perform. For training guidance, you will also get daily workout suggestions that can take your fitness level to the next level.
Furthermore, it has additional features, including MTB dynamics, recovery time, HIIT workouts, built-in sports apps, heart rate tracking, safety and tracking features, smart notifications, Traceback routing, stress tracking, sleep monitoring, body battery monitoring, and much more.
The most amazing thing about Instinct 2 that we like is Women's health tracking. So, you can use the Garmin Connect app to track your menstrual cycle or pregnancy. Also, you can get exercise, log symptoms, and avail nutrition education and more.
How To Connect Garmin Watch With iPhone
There is no rocket science in connecting Garmin Watch with iPhone; you just need to install Garmin connect app on iPhone. And it will automatically detect your Garmin watch and sync all data with it.
Here are some steps you can follow to connect a Garmin watch with an iPhone.
Download the Garmin Connect App on your iPhone.

Open the app; first, you have to create an account. If you already have an account, then simply login

Now turn on the Bluetooth. To sync the Garmin watch with the iPhone, you must enable BT.

The Garmin app on your iPhone asks you for permission like notifications, sensors, etc. you should allow all these.

Now your watch will ask you to enter a six-digit pairing code. Enter the code to complete the process.

Now tap on next, asking you to put some of your basic information. You can also skip unnecessary steps.

Tap on sync now and then finish.

Congratulations! Your Garmin watch is successfully connected to your iPhone.
FAQs:
Do Garmin watches work with iPhones?
Yes, Garmin watches are compatible with both Android and iPhone. But to successfully connect the Garmin watch with iPhone, you must have an iOS 7.0 or above.
Can I make calls from a Garmin watch?
Only a few Garmin watches allow you to answer calls and reply to text messages. The new Garmin Venu 2 Plus allows you to make calls from your wrist.
Should I buy a Garmin watch or Apple Watch?
Garmin watches are a perfect option if you're looking for outdoor sports watches. Because Garmin watches are more durable and have highly accurate GPS tracking. Similarly, sports features in Garmin watches are way better than Apple watches.
Whereas Apple Watch Series 7 is a better option for heart patients because it includes an ECG app and SpO2 so they can measure their wellness.
Final Words:
Garmin watches are unbeatable sports gadgets, offering many useful sports profiles and accurate GPS. These watches are compatible with both iPhone and Android, and you can easily connect them to iPhone.
A lot of Garmin watches are available in the market, so before getting one, you should first look at why you need a Garmin watch. For running purposes Forerunner series is best, similar Fenix series is best for outdoor enthusiasts, and the Venu series is famous for its training features.