As a fitness enthusiast or a professional, you might be pondering whether Garmin watches are compatible with iPhones. To be blunt, yes, Garmin watches and iPhones are compatible! But there is much more to consider!
To begin with, you might be an iPhone user considering buying a Garmin fitness watch to track your fitness. You may already have a Garmin watch and are thinking of connecting it with your iPhone. Well, worry not. We're here to help out!
Let's deeply dive into Garmin watches and iPhones concerning compatibility!
Are Garmin Watches Compatible with iPhone
Yes, Garmin watches are compatible with iPhones; however, Garmin watches are coherent with iOS version 11.5 or higher. If your iPhone version is 11.5 or higher, you can sync a Garmin watch to it.
To begin with, an iPhone user might think if Garmin fitness tracking watches are compatible with their iOS smartphone, then which one to opt for? Let's clear this up!
Which Garmin Watches are Compatible with iPhone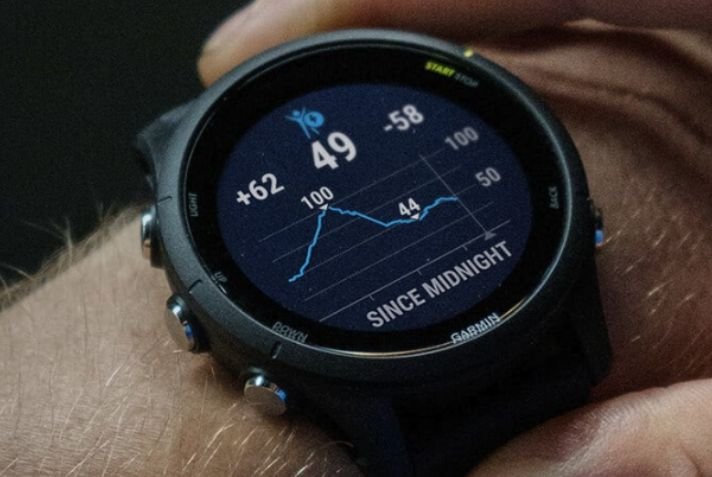 Most Garmin watches are compatible with iPhones if it's iOS 11.5 or higher and even with your Android smartphone.
However, only some of the Garmin watches are as well-known as the most recent versions, like Garmin Fenix 5 and above. So, you might avoid buying vintage editions to connect with your iOS smartphone for activity tracking.
You can go with the trendiest ones among all Garmin wristwatches to make sure you're up to date. Even modish models of Garmin, like Fenix 7 and Garmin Vivoactive 4, Venu 2 Plus, are linkable to your iPhone.
Renowned Garmin watches integrated with iPhone include Garmin: Venue Sq, Forerunner 55 and 245, Vivo Active 3 and Vivomore, and Fenix 5 and above.
Garmin Watches and Garmin Connect: Mode of Connection
You can connect your iPhone with a Garmin watch through a Garmin Connect app to access all tracking metric data. But the question arises of how to link the app with your Garmin watch.
To begin with, Bluetooth is the mode of connection between Garmin watches and the Garmin Connect app on your iOS smartphone. So, you would have to turn on Bluetooth on both devices and pair them together.
Why Use Garmin Watches Instead of Apple Watch with iPhone
Well, you can use an Apple watch with your iPhone. So, why the need to employ a smartwatch from Garmin with an iPhone?
To begin with, Garmin watches offer a lot of data specifically for your category of fitness activity. In contrast, the Apple watch gives some handsome data, but the smartwatch possesses a battery life of an average of 18-36 hours per charge.
So, the charging of the Apple watch dries out a lot earlier than the Garmin wrist watches. You might be tracking your bike ride, a run, or a swimming regimen, and it can go out on you quite quickly.
You can go with the trendiest ones among all Garmin wristwatches to make sure you're up to date. Even modish models of Garmin, like Fenix 7 and Garmin Vivoactive 4, Venu 2 Plus, are linkable to your iPhone.
There are many more merits of using a Garmin watch instead of an Apple watch with your iPhone, like monitoring fitness matrices.
Using Garmin Watches with iPhone: The Pros
Garmin wrist watches have many benefits over the Apple Watch series for tracking your performance.
In contrast to Apple watches, Garmin smartwatches are more durable, cheaper in the case of some models, and hold more battery timing.
Global Positioning System (GPS)
Garmin fitness tracking watches have more accurate GPS (Global Positioning System). The accuracy of the GPS inside this Garmin is 95 percent of the time within 15 meters or 49 feet.
Because of having more precision in GPS, Garmin smartwatches are better at tracking your activities like running, cycling, swimming, and so forth.
But battery timing varies greatly in Garmin if some features are always on. There are limited hours in GPS mode as well. As with the GPS mode on, you can use the fitness tracking feature for up to 14 hours.
Garmin Maps, Display and Garmin Pay
Maps are also a unique feature that most Apple watch series lack and you can update these Garmin maps for free as well.
In addition to a better GPS, the latest Garmin offers an AMOLED display and Garmin Pay. Active-Matrix Organic Light-Emitting Diode (AMOLED) is an advanced type of display, and Garmin watches use it.
AMOLED has a cutting edge over the OLED touch screen used in smartphones.
Garmin Pay is similar to Apple Pay, a payment system designed for checking in and out of stores without your wallet. Garmin Pay lets you get more advanced features like Garmin products or smartwatches.
Additional Advantages
Garmin watches are more durable, and the latest editions, like Instinct, and Fenix series, hold better battery life and some additional attributes.
Additional features of Garmin Watches include heart rate monitoring through its sensors and smart notification feature. The smart notification feature notifies you of messages, calls, etc.
Furthermore, unlike the Apple watch, Garmin watches present additional perks specified for your fitness activity based on the model you chose from the Garmin series.
These qualities include pace, sleep BMI, elevation, blood oxygen, stress tracking, monitoring temperature, and giving feedback for enhanced performance.
Garmin Connect App
The Garmin Connect app tracks and monitors your fitness and performance matrices. Anyone can download the Garmin Connect and install it on their iOS smartphone device and link it with their Garmin watch.
You can monitor your pace, sleep, temperature, body battery matrices, and more on Garmin Connect. This app also suggests a GPS track data overlay for making your tracking adventure more proficient.
Nevertheless, the Apple Watch Series 7 is good. Still, they lack efficacy in GPS tracking and many more features, as Garmin Connect offers more Hi-Tech data for fitness tracking with your new Garmin wearable wristwatch.
Major Disadvantage
Garmin tracking watches can connect with your iPhone, but it has a major drawback over using it with an Android smartphone.
You can receive smart notifications of your messages and calls on your Garmin watch. But you can't respond to the messages on it if you're using an iPhone and not an Android smartphone with your Garmin watch.
Wrap Up
You can enhance your tracking journey by connecting your iPhone with a Garmin watch to obtain advanced performance metric data.
This compatibility depends on your iOS system, as linking Garmin smartwatches with iOS 11.5 or higher is possible. So, you can sync your iPhone with a Garmin wrist watch if you have one such Apple smartphone version.
To summarize, Garmin smartwatches are compatible with iPhones by using the Garmin Connect app. You can use the Garmin Connect app on your iPhone to pair your phone with your smartwatch via Bluetooth.

About Author