Fitness gadgets are becoming so popular. New gadgets are now becoming a part of our fitness routine. With the changing trend, now smart rings are overcoming smartwatches. Smart rings are more convenient and comfortable and closely look at health data.
Like Apple's watches, Oura rings are the fastest-growing smart rings to measure your sleep, activities and readiness. Regarding health Oura ring and the Apple, the watch might look competitive because both have similar health capabilities.
So if you are confused about whether you should go for an Oura ring or Apple watch, this comprehensive Apple Watch Vs Oura ring guide can help you make a better decision. We have tested both devices and compared their results so you can easily judge the results.
Apple Watch Vs. Oura Ring: Comparison Table
| | | |
| --- | --- | --- |
| Features | Apple Watch 7 | Oura ring 3 |
| Weight | Aluminum: 38.8 grams. Stainless steel: 51.5 grams | 4 grams |
| Health features | Heart rate tracking, SpO2, ECG, Calories tracking, activity tracking, steps, stress tracking | Heart rate tracking, advance sleep tracking, step counter, SpO2, temperature tracking, stress tracking |
| Battery Life | 18 hours | 4-7 days |
| Sensor | Optical heart rate, accelerometers, electrical heart rate sensor, gyroscope, altimeter | Optical heart rate, accelerometers, temperature sensor |
| Bluetooth | Yes | Yes |
| NFC | Yes | No |
| Water resistant | 50 meters | 100 meters |
| Built-in GPS |  Yes |  No |
| | | |
Apple Watch Vs Oura Ring: Design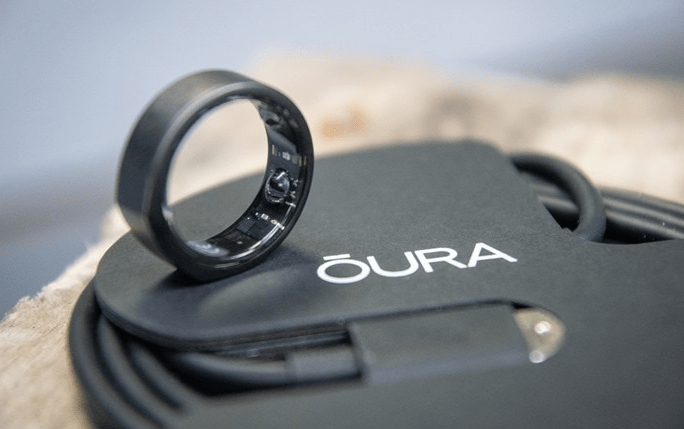 Apple watches and Oura rings have completely different designs. But one thing that I have found similar in both gadgets is their sleek design. Both Apple Watch and Oura rings are comfortable to wear, and you can wear them 24/7.
Especially when it comes to wearing gadgets while sleeping, our rings feel more comfortable. Also, if you are a jewellery lover, this smart ring is made for you. On the other hand, the Apple watch gives a sporty feel and looks perfect for every casual and formal routine.
Apple watches and Oura rings are available in different colors and sizes to choose the best one according to your needs. The Apple watches come in 38mm, 40mm, 41mm, and 44mm display sizes. Whereas Oura rings, give you the option to choose a ring from 6-13mm.
Oura rings have a more durable nature when it comes to durability and protection. Apple watches come with digital displays that might be scratched, whereas Oura rings lack display and don't seem fragile.
According to Apple, their latest model watches are water-resistant up to 50 metres. Whereas Oura claims that their rings are 100-meter water-resistant making them perfect for swimming and diving.
Apple Watch Vs Oura Ring: Battery Life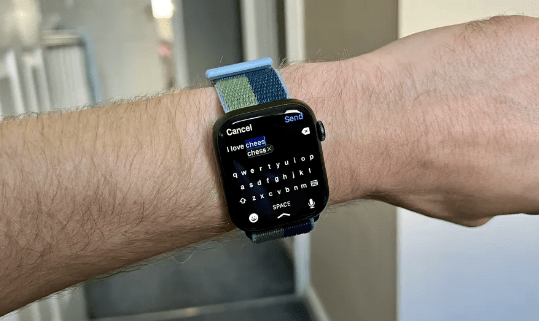 The battery life of your fitness gadgets plays an important role in maintaining consistency in your fitness routine. A smartwatch or smart ring with a long battery backup helps you measure your activities for longer. You might think that smartwatches have longer batteries than smart rings, but this is wrong.
Apple watches normally last up to 18 hours, whereas Oura rings can give 4-7 days of battery backup. But Apple watches come with fast charging support, making it easy to charge the battery in less than 2 hours fully.
The fewer battery backup of the Apple watch is because of its OLED display, GPS, and some extra sensors that consume more battery. Oura ring, a small device, uses very limited resources to measure your health activities.
But in the battery life department, the Oura ring is a clear winner that gives a long-lasting battery.
Apple Watch Vs Oura Ring: Price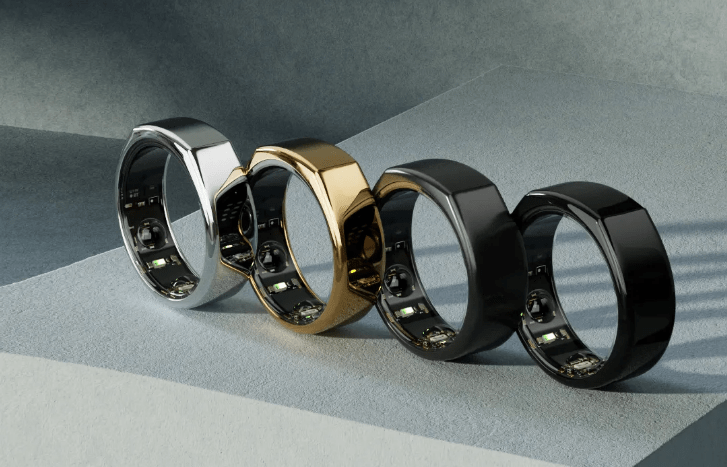 There is a slightly big price difference between the Apple Watch and Oura ring. The new Apple Watch 7 costs $399 for its 41 mm non-cellular model and $529 for its 45mm cellular model.
Whereas the latest Oura ring 3 is available for $299, and it comes in four colors with matching price tags. Our ring comes with 6 months of free membership, and afterwards, it costs $6.
Apple Watch 7
Excellent ECG App

GPS is very accurate

Comfortable

In-depth fitness tracking

Always-on Retina display
Prices pulled from the Amazon Product Advertising API on:
Product prices and availability are accurate as of the date/time indicated and are subject to change. Any price and availability information displayed on [relevant Amazon Site(s), as applicable] at the time of purchase will apply to the purchase of this product.
Apple Watch Vs Oura Ring: Health Features
The Health category is where the Apple Watch and Oura ring has many common features. You might think that Oura comes with fewer sensors because of its compact design, but this is not the case.
Oura tries to add all the essential health tracking features to meet the users' needs. So, let's discuss whether Apple Watch is a superior health tracker or the Oura ring?
Heart Rate Sensor:
Heart rate tracking is one of the crucial things that every fitness gadget has, but the way to track heart rate may vary. Apple Watch uses a photoplethysmography (PPG) sensor to measure the HR.
Apple Watch emits light to cells and tissue, and the photodetector measures the reflected light from tissues and calculates your heart rate variations.
The Apple watch sends alerts for unusually high or low heart rates to keep you updated about heart rate variations.
The PPG sensors in Apple Watch can also measure atrial fibrillation so that you can take ECG at any time. Apple watches have FDA approved ECG apps helping you to monitor abnormal heartbeats.
On the other hand, Oura also uses a PPG sensor to evaluate your heart rate variations. Although our ring doesn't have an ECG feature, they claim that their PPG sensors are 99.9% accurate and reliable as a medical-grade ECG.
According to iopscience.iop.org, the Oura ring shows many similar results as a medical-grade ECG, weighing only 4 grams. These tine rings can also detect your real-time heart rate, which is a big plus. The detailed insights into your resting heart rate and heart rate variability can be seen in the Oura app.
Sleep Tracking:
Apple Watch 3 and previous models don't have many effective sleep tracking mechanisms. But with the latest Apple Watch models, the sleep tracking feature is constantly improving.
Using Apple health app, you can create your bedtime schedules to achieve your sleep goals. You can also look at previous sleep trends to check your overall sleep performance. But the sleep app on Apple watches doesn't give detailed data, and it lacks information about your sleep patterns which might be a big downside. And this might be awful if you buy an Apple watch to correct your sleep habits.
Secondly, Apple doesn't allow you to wear your watch at night if its battery percentage is below 30%. So you first have to charge your watch to measure all-night sleep.
In contrast, Oura rings sleep tracking is much better, and it's one of its selling points. Oura ring gives more comprehensive data on your sleep patterns and stages (REM sleep, deep sleep, and light sleep). Plus, you can also set bed schedules via its app.
Oura ring also measures your average heart rate overnight so that you can see unusual heart rate fluctuations overnight. With all this valuable data, you can improve your sleep habits. The flagship Oura 3 has much-improved sleep tracking, closely matching the gold standard sleep lab test.
The accelerometer in the Oura ring measures sleep, plus the PPG sensor, in combination with other sensors, help algorithms to derive insights into your sleep quality.
As compared to the Apple watch, the Oura ring is also very convenient to wear at night for sleep tracking.
Blood Oxygen Monitoring:
Blood oxygen monitoring is one of the must-have features for fitness lovers. It tells you about how your body's cells absorb oxygen. With SpO2, you can measure the overall wellness of your health. The low level of SpO2 indicates different problems like sleep apnea, emphysema, pneumonia, or pulmonary disease.
Apple Watch and Oura ring are equipped with pulse oximeters to measure your blood oxygen levels. The new Oura 3 smart ring also enables you to view the nighttime Oxygen saturation level, helping you improve your sleep quality.
The blood oxygen monitoring is only available on Apple watch 6 and later versions. Similarly, in the Oura ring, it is only spotted on Oura 3.
Activity Tracking
For sports enthusiasts, both Apple Watch and Oura ring offers activity tracking. The latest Apple Watch models are equipped with an upgraded accelerometer to detect your movements.
The built-in altimeter in Apple Watch 5 and later allows you to measure the elevations. So whether it's hiking, climbing, cycling, or running, Apple Watch effectively measures your activities.
I have been using Apple Watch 7 for the last two months. Its activity tracking is insane, even though you don't need to manually turn on any activity mode as it automatically tracks your activities.
Further, you can see the in-depth insights into your every activity in the app. The latest Apple watches accurately measure high-intensity workouts, so if you lift heavy weights, Apple Watch will track your performance more thoroughly.
On the other hand, the latest Oura ring 3 comes with 30 activities tracking mode. Like Apple Watch, this ring can also track activities automatically. But still, Oura's activity tracking needs much improvement.
Most of the time Oura ring doesn't recognize few of the activities, which is its major drawback. Further, you can't track HIIT workouts with an Oura ring. If you are involved in heavy weight lifting activity, you should look for another gadget rather than the Oura ring.
Which One Is A Better Guide: Oura VS Apple Watch
Oura ring and Apple Watch offer advanced fitness courses to keep you on the right track when it comes to virtual guidance. The advanced Apple watches include a mindfulness app that helps calm you and produce gratitude in your body.
Apple has also introduced new Apple Fitness + that includes different workouts, advanced metrics, etc. Apple adds new workouts every week, having a duration of 5 – 45 minutes. Guided programs and videos on Fitness + helps you to turn your living room into a gym.
On the other hand, Oura is also a better virtual guide. It comes with advanced algorithms that detect your wellness and automatically adjust your daily goals to put your recovery and rest first. You will get over 50 audio sessions for mediation, sleep improvements, focus, energy boosts, and more in the Oura app.
You can also see how your body responds to the guided audio session. Further, it includes all the useful information from experts, like how your bedroom temperature affects your sleep? And how your daily habits impact your health and more.
Oura VS Apple Watch: Main Differences
Being a smartwatch, the Apple watch is much different from the Oura ring. The additional smartwatch feature makes Apple's watch a superior health tracking gadget. The Oura ring lacks most smartwatch features like GPS, cellular, notifications, calling features, assistants, and more.
GPS: For outdoor enthusiasts, GPS is one of the crucial features that helps you find the best routes, check your current location, and navigate to reach your destination.
All the Apple watches include onboard GPS tracking that works without smartphone connectivity. But there is no GPS tracking in Oura rings which might be a big downside. But fortunately, the latest Oura 3 can connect with a smartphone's GPS to measure your distance, speed, and routes during your activities.
Fall Detection: Apple watches also include fall detection, which is a safety tracking feature. In case of any emergency, your Apple Watch will detect the incident and immediately send an SOS message to your emergency contacts and your live location. At the same time, the Oura ring lacks these features.
Notifications: The foremost thing that is lacking in Oura ring is notifications. Being a busy person, it's difficult for you to check your smartphone for notifications constantly; that's why Apple watches allow you to check every notification without touching your phone. You can also answer calls and reply to a text from your Apple Watch.
Virtual Assistant: Similarly, Apple Watch includes a Siri assistant, so you can ask any question from Siri, control your smart home devices, check the weather, set timers and alarms, and much more.
Display: If you are a person who wants to check real-time performance, then it's only possible with a screen. Apple Watch gives a large OLED display to keep an eye on your real-time data.
There are dozens of custom watch faces available, helping you read data in a glimpse. Whereas in the case of Oura ring, you have only the option to see metrics via a smartphone app.
Storage: Apple Watch comes with built-in storage, which may vary from model to model. The latest Watch 7 offers 32GB of storage to pile up your favorite playlist, store videos, and install more apps. At the same time, Oura Ring doesn't provide any built-in storage. It can only store data for three weeks, depending on the type and frequency of use.
Buy Oura Ring If:
Our ring is a better option if you are looking for more convenient and comfortable gadgets. Or if you love to wear jewellery, you should go for a new Oura ring. Similarly, if you want to improve your sleep habits, the Oura ring can help you to improve your sleep quality.
The new Oura ring 3 gives more comprehensive insights into your health. Plus, the accuracy of the ring is much better than the rest of the competition fitness gadgets.
When it comes to data representation and visuals, you will fall with the Oura app. Oura gave you access to a vast wellness content library and guided sessions to improve sleep, mediations, and other exercises.
Buy Apple Watch:
If sleep tracking is not your big concern, and you want sports gadgets to track your outdoor activities, then Apple Watch is the best option. But Apple watchers don't offer much data about your sleep stages and have only 18 hours of battery life.
If you are a heart patient, the Apple Watch might be a useful gadget that allows you to take ECG readings and fall detection for the elderly.
About Author