Apple Watches can swap the straps, which is a big plus point. So you can interchange the Apple Watch band according to suitable activity.
There are dedicated Apple Watch bands for swimming that resist water and don't make your skin itchy after water activities.
Based on our experience, we have compiled a list of the best Apple Watch bands for swimming. These bands are durable, safe for your skin, and water-resistant.
So let's find out the best match for your wrist!
Best Apple Watch Bands For Swimming
Not every single Apple Watch band is a suitable choice for swimming.
I remembered my nylon fabric band that I used for water basketball, and that severely irritated my skin because of the wet porous material.
That's why I decided to go for a silicon band or BPA-free.
After spending a couple of time researching, I have the most suitable swimming bands that I will share with you.
1- Nike Sport Band – Very Breathable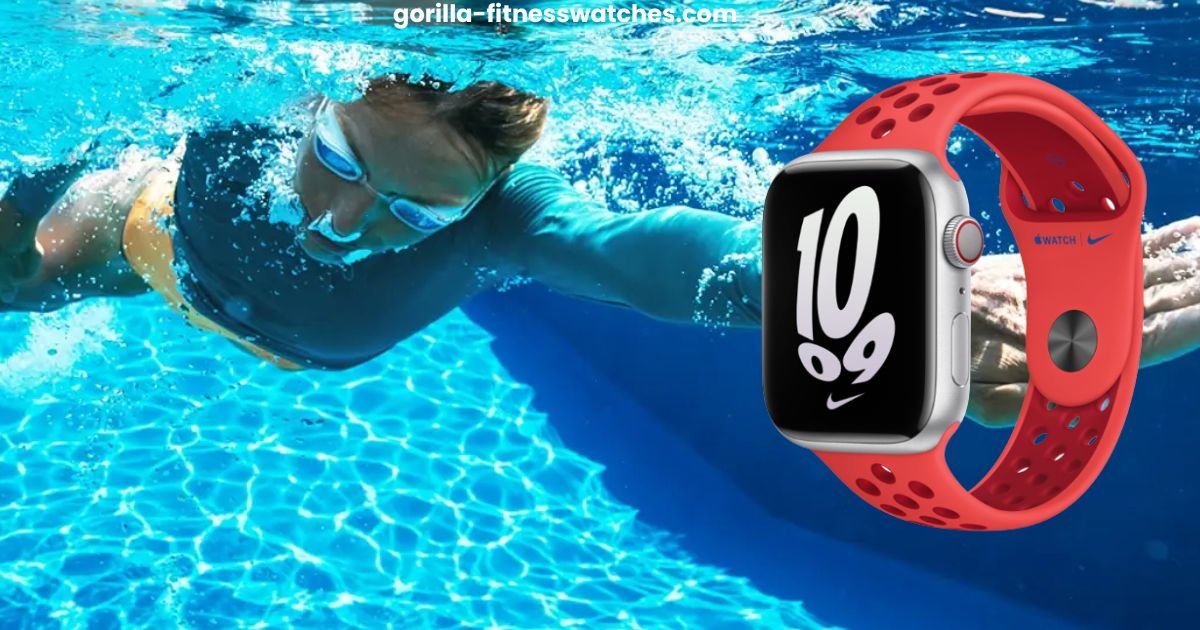 This Nike sport band is completely freaking nuts for swimmers. The minute holes in the band make it more breathable and suitable for water activities.
This band is made with top-notch fluoroelastomer that increases the breathability of the band. Plus, the stretchable nature makes it smoother and more comfortable on the skin.
Nike Sport Band is a decent option for workouts, cardio, and other sports activities. Because of its design, it lets sweat on your wrist evaporate quickly.
Pros
Enhanced Breathability 
High-quality material
Very stretchy 
Quick sweat evaporation
Cons
Not for a formal outfit
Limited color options 
2- Apple Solo Loop – Comfortable
The elegant Apple Solo Loop band is a fantastic option for water enthusiasts. The appealing color options combination makes the band Solo an alluring watch band.
This watch band is made of liquid silicone rubber, which is a supreme choice for water activities.
What I love the most about the solo loop is its buckles-less design; that's why it's easy to install.
Unlike other silicon bands, the Solo loop is treated with UV to make it more silky and stretchy. That's why it's one of the most comfortable Apple Watch bands.
Pros
Very comfortable
Water-friendly
Buckle-less design 
Very smooth
Cons
Get dirty soon
Not a good option for large wrists
3- Apple Sport Band – Ensures Firm Fit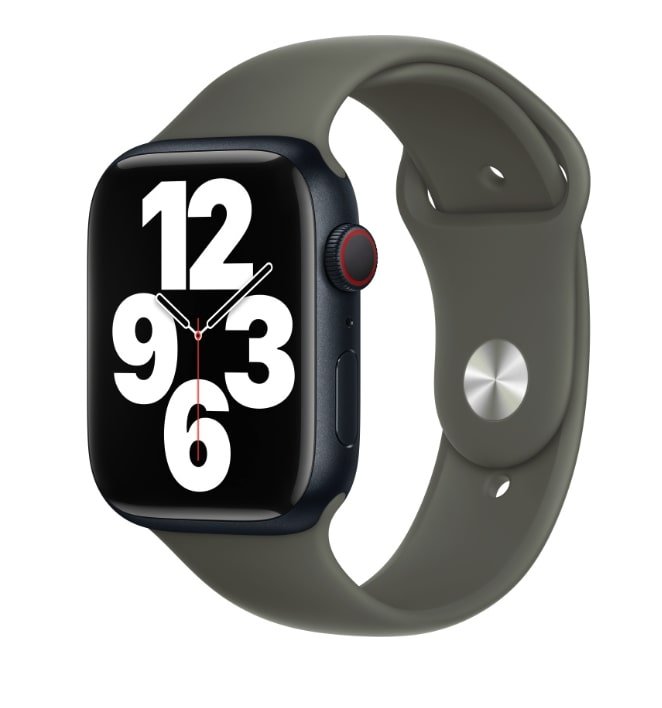 If you're looking for a durable Apple Watch band for swimming, look at Apple Sport Band. It's made of dense fluoroelastomer, which makes it softer and more comfortable.
An advanced pin-and-tuck closure ensures a firm fit during water activities. This sport band is available in seven colors and is compatible with every Apple Watch.
Plus, you can use this type of watch band for casual and formal routines.
Pros
Durable and Versatile 
Soft and skin-friendly 
Secure closure 
A lot of color options. 
Cons
Seems less breathable 
Very common design
4- HeartBoom Silicon Band – Best For Females
This one is a pretty unique Apple Watch band for females. It has a lace floral design making it more feminine.
The high-quality silicon material with a breathable design makes it the best option for swimmers. After water activists, this band dries out immediately and doesn't cause any irritation on the skin.
I love its double-closure design, which fits perfectly on the skin. So if you're looking for a breathable, wear-resistant, and unique design Apple Watch band, opt for the HeartBoom Silicon band.
Pros
Unique famine design
Good quality
Breathable design
Double Closure design
Cons
Not much durable
Not for males
5- STG Sport Band – Multi-Purpose Band
Next, we have another Silicon band with a thinner design. The band is made with elastic rubber and silicone resin, making it a waterproof watch band.
The versatile design and BPA-free material increase its water-resistant capabilities, so it's the best watch band for water activities.
Apart from water activities, you can use the STG sport band for all kinds of sports activities because it is durable and holds up in harsh environments.
STG sport band has a steel buckle that makes the band very easy to install. Also, the band is easy to tie and fits firmly on the wrist.
Pros
Versatile design
Ensures Secure fit 
Comfortable and breathable design
Affordable option
Cons
Not suitable for men
Common design
Because of its thin design, it irritates the skin
6- Fullmosa Stainless steel – Gives a Masculine Feel
This stainless steel Apple Watch band gives a masculine feel. Fullmosa stainless is made with durable steel links that make it more stylish.
The material will never fade in water because of the top-notch crafting and premium colors. Plus, the shiny metallic surface adds a luxurious look to it.
You can also remove the links from the band and adjust them according to your wrist size.
The Fullmosa stainless steel band is breathable, durable, waterproof, durst resistant, and a decent choice. Compared to the silicon bands, this one lasts longer. It's the best option for both formal and casual occasions.
Pros
A stylish option for men
Fade-resistant material
Breathable and durable design
Easy to adjust
Cons
Not too comfortable 
Feels bulky on the wrist
7- Getino Apple Watch Band – Slim & Comfortable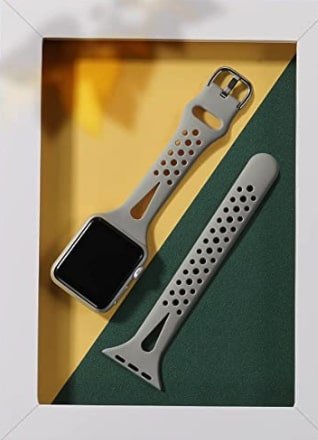 For sports enthusiasts, the Getino Apple Watch band is the best option. It has small holes that increase its breathability, so it evaporates sweat more quickly.
The lightweight silicon material and skin-friendly design make it more comfortable for the swimmer. The silicon material used in this strap is hypoallergenic, making this band the best choice for sensitive skin.
Thanks to its traditional buckle design, which is too easy to tie. The Getino band is slim and lightweight. That's why we recommend it for females. It's available in four different colors to choose from.
Pros
Hypoallergenic material 
Breathable design
Slim and lightweight
Easy to install
Cons
Durability concerns
Limited appeal 
8- AMSKY Floral Apple Watch Band – Unique Floral Patterns
AMSKY Floral is the next Apple Watch band that attracts females due to its unique pattern design. The watch band is made of flexible and soft silicon, which is skin friendly.
Because of the supreme material, this watch band can resist water and is best for pool activities. AMSKY watch band has three major color patterns, and every pattern gives a romantic feel.
The band is breathable and provides better ventilation, so we recommend it for swimmers.
With the gentle buckle closure, you can easily tie the band. This watch band suits sports, workouts, casual parties, and formal routines.
Pros
Very catchy design
Easy buckle closure
Breathable and comfortable
Budget-friendly 
9- CreateGreat Watch Band – Elegant Tiger Pattern
This nice-looking Apple Watch band boosts the look of your Apple Watch. The CreateGreat watch band is inspired by a tiger, and it has a similar pattern to tiger skin.
These watch bands are suitable for both females and males. I love this band's premium quality, which makes it very soft and comfortable. Plus, this watch band is also very lightweight.
You can easily install this strap with your Apple Watch, and it's too easy to detach. The CreateGreat band comes under a 180 warranty, so you can replace it in case of any damage.
Pros
Suitable for both Genders
Lightweight and flexible
180 days warranty
Easy to install 
Cons
The tiger pattern may not appeal to everyone 
Just one design
Attracts dirt 
10- Carterjett Apple Watch Band – Durable And Rugged
Carterjett Apple Watch band is designed for outdoor enthusiasts. The rugged design and high-quality silicon material make this Apple watch band best for swimming. Because of its thick design, it lasts longer than other Silicon bands.
The band is very flexible and feels comfortable on the wrist. Traditional buckle design makes it easy to tie the band and sits firmly on the wrist.
You can use this Apple Watch band for harsh conditions, workouts, outdoor activities, and more. Due to the dark color tune, this watch band doesn't get dirty too early and is easy to clean.
Pros
Durable and Rugged design
High-quality silicon material
Flexible and comfortable
Best for outdoor purposes
Cons
Limited color option. 
The pattern might irritate sensitive skin. 
Wrap Up!
Not every Apple Watch is suitable for swimming. You need a rugged, water-resistant, flexible, and breathable watch band for water activities. Such bands don't irritate your skin after getting out of the pool.
All the Apple Watch bands are suitable for pool activities, so you opt for anyone.
FAQs
Does the nylon Apple band irritate the skin?
Even though nylon is a breathable material, it's not recommended for swimming. Because once the nylon gets wet, it takes too much time to dry, and such a moisture surface aggravates sensitive skin. So Nylon bands can irritate your skin after swimming or pool activities. 
Are leather bands suitable for swimming?
Big No! Because leather is too porous, it starts cracking once it gets wet. Especially if you're using a watch with non synthetic leather. Plus, leather watch bands are also irritating for a few skins. 
About Author