Tissot and Victorinox, two well-known Swiss watch brands, have made a name for themselves by producing high-end timepieces. It is no secret that Victorinox and Tissot are big rivals. They have some things in common, but they also have some differences that make them unique.
What's the main difference?
Tissot is a well-known mid-range luxury Swiss watchmaker recognized for its high-precision timepieces and stylish designs. On the other hand, Victorinox specializes in a single type of timepiece: the sturdy tool watch. Victorinox timepieces are built to withstand the test of time.
To compare these companies, we'll look at their aesthetic and design and their build quality, warranties, and pricing. We hope that this article has helped you decide which brand is best for you.
But first, let's take a quick look at these the histories of these two manufacturers.
Tissot VS Victorinox: Comparison Table
| | |
| --- | --- |
| Tissot | Victorinox |
| Founded in 1853 | Founded in 1989 |
| Made in Switzerland | Made in Switzerland |
| Uses Sapphire Crystal Glass | Uses Sapphire Crystal Glass |
| Entry-Level Luxury watch brands | Entry-Level Luxury watch brands |
| Comes with 2 years of warranty | Comes with five years of warranty |
Tissot VS Victorinox: Brand's History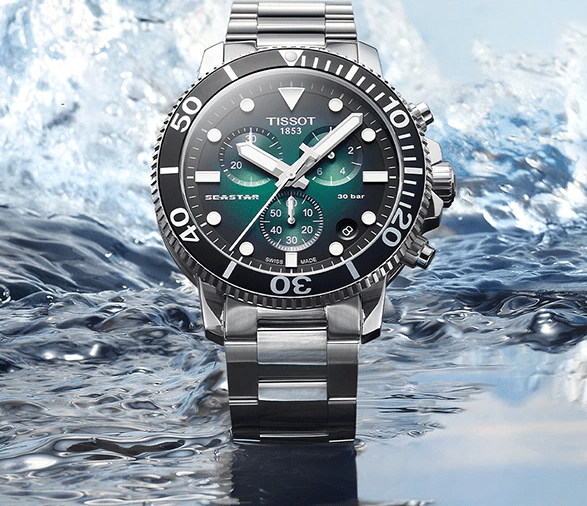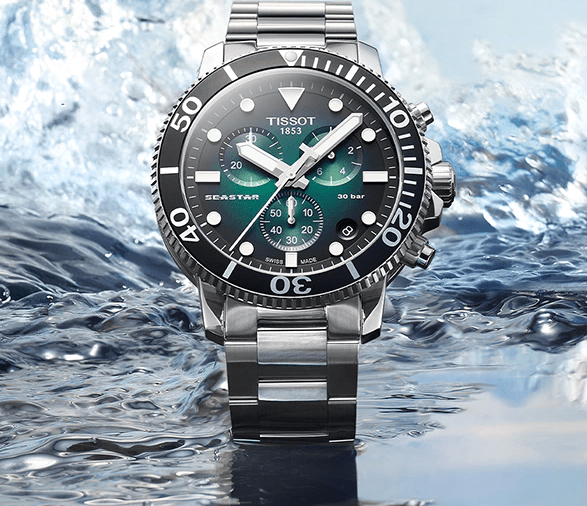 Tissot History:
Tissot has been making timepieces for almost 150 years. It is a famous Swiss watch brand started in 1853 by a father (Charles-Felicien) and his son (Charles-Emile Tissot).
Since the founding of Tissot, the firm has sought an international reputation because its pocket watches were mainly exported. Afterward, the company gained a massive amount of fame and expanded its range of timepieces.
Tissot has even made significant contributions to the watch industry. One of them is the world's first tactile watch with multiple functions. Their first antimagnetic timepiece, created in 1930, was another first for the company.
Tissot became a member of the world-famous Swiss Swatch Group in 1983. Today, Tissot is regarded as one of the most prestigious Swiss watchmakers. In addition, the company has received numerous accolades for its work in timepiece development.
Victorinox History:
Victorinox is another well-known Swiss watchmaker with a remarkable history. It is worth noting that Victorinox, in contrast to Tissot, didn't begin as a watchmaker. To start with, Victorinox made army knives, namely the Swiss Army Knife, when it was established in 1884.
However, in 1989, the company entered the watchmaking business. Initially, their goal was to manufacture economical and long-lasting watches.
Initially, quartz movements were used in the majority of their timepieces. However, demand and competition have prompted them to shift more of their watch models to mechanical movements.
In addition, Victorinox makes dive watches exclusively. Victorinox is, in fact, one of the most well-known manufacturers of such timepieces.
Now that we've learned a bit about both of these companies let's start comparing their watches! We'll begin by examining the aesthetics of the timepieces offered by each of these companies.
Tissot VS Victorinox: Design and Style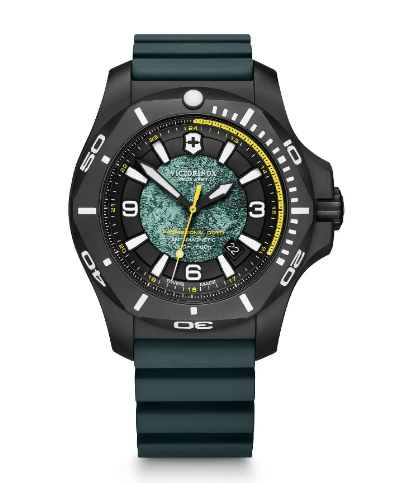 Tissot:
As a watchmaker, Tissot has long been known for its feminine timepieces characterized by their beauty and elegance. Later on, they begin making watches for males as well.
Nowadays, they offer a wide variety of Tissot watches to pick from, each with its distinct style. These include dive watches, automatics, mechanicals, chronographs, and dress timepieces in beautiful luxury design. In addition, they make light and comfortable watches that are both minimalistic and fashionable.
Another positive aspect of its design is the attention to fine detail. In contrast to Victorinox, Tissot watches exhibit flawless detail in their color, clarity, and diamond carat weight. Their diamonds meet the Kimberley Process certification requirements.
Overall, the Tissot brand is ideal for anyone looking for a more fashionable and eye-catching timepiece.
Victorinox:
Victorinox watches come in various designs and styles, ensuring that there is a model to satisfy any collector. The company is well recognized for its rugged and long-lasting outdoor timepieces.
Victorinox is a luxury watch brand with a sophisticated appearance and elegance. It's safe to say that their timepieces are meticulously built to find the ideal mix between functionality and classic style.
Victorinox watches are a little heavier than Tissot models due to their robust casings, but they're still pleasant to wear for a long time. Victorinox watches don't strain your wrist, so you may wear one all day without becoming tired of it.
In addition, high-quality materials are employed throughout, enhancing the already spectacular luxury appearance. Ultimately, Victorinox is the most acceptable option for those who prefer tough and long-lasting watches.
Tissot VS Victorinox: Quality and Efficiency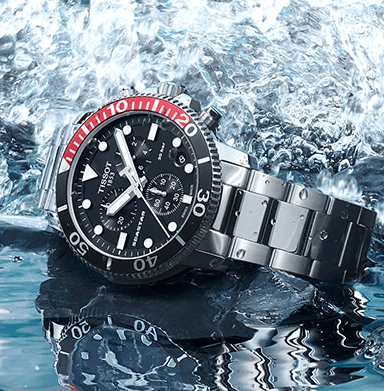 Tissot:
Tissot is the most well-known and respected watchmaker in terms of quality. It is a Swiss watchmaker that produces mechanical, digital, and quartz-powered watches.
Tissot employs stainless steel for most of its watch casings to ensure the best possible quality. Titanium and gold-plated casings are also available in some models. Additionally, the dials of these watches are shielded from damage with Sapphire, making them scratch and break-resistant.
Various materials are available for the bands, including stainless steel, leather, and nylon. They are of superb quality and provide a high level of comfort.
In addition, they have produced several high-quality watches that use SuperLuminova. This substance glows in the dark and is applied to needles and other visible parts.
Tissot watches are also water-resistant to varying degrees, ranging from 30 meters to 100 meters.
Victorinox:
When it comes to luxury Swiss timepieces, Victorinox is a name you can trust. To ensure quality, the company manufactures most of its products in Switzerland.
The primary goal of Victorinox is to ensure the long-term viability of its products. As a result, many of their watches are suitable for outdoor usage.
Victorinox watches come in a variety of styles and designs. Mostly, their luxury watches use sapphire dial windows; however, their low-cost watches use mineral dials windows instead. They also have carbon and stainless steel casings, which make their timepieces scratch-resistant.
PVD-treated (Physical Vapour Deposition) and titanium-finished surfaces are common on Victorinox watches, adding even more durability to the already tough steel. Furthermore, the watch bracelets are constructed of stainless steel, leather, genuine rubber, and textile.
In terms of accuracy, Victorinox watches contain both mechanical and quartz movements that are extremely precise and dependable.
Additionally, their timepieces are water-resistant. Different models have different levels of water resistance, ranging from 100 to 200 meters. Because of this, these watches are great for swimming and showering.
Tissot VS Victorinox: Best Selling Models
1- Tissot PRS 516 Quartz Chronograph
Tissot PRS 516 Quartz Chronograph is one of the best selling waches by Tissot. It's also an excellent option for individuals looking for a sporty style that can be worn in various situations.
The stainless steel case of this quartz chronograph is 42mm in diameter and 12.12mm in thickness. The dial has three chronograph sub-dials and a small date window at 4 o'clock. It is also quite comfortable to wear for extended periods, thanks to the perforated leather band.
Besides stainless steel, the watch is protected by a scratch-resistant sapphire crystal to enhance its longevity.
Aside from that, the watch has an accurate automatic movement that requires less maintenance.
The watch is also water-resistant to a depth of 100 meters. Thus, you won't have to be concerned about damaging your watch when swimming.
Overall, the Tissot PRS 516 Quartz Chronograph is an excellent choice if you're seeking a high-end Swiss timepiece.
2-

Victorinox Swiss Army Men's I.N.O.X. Pro Diver Watch
The Victorinox Swiss Army Men's I.N.O.X. Pro Diver Watch is an excellent choice if you want a watch from Victorinox that is both accurate and reliable.
Design-wise, this stainless steel diving watch features a 45mm case diameter and is made of durable material. In addition, sapphire crystal shields the dial, making the timepiece scratch and break-resistant.
Additionally, the rubber used to make the band is sturdy and breathable. It will, however, keep your wrist cool and comfortable, which is a big plus!
Furthermore, this timepiece has a quartz mechanism that guarantees accurate timekeeping. For added convenience, the watch features luminous hands and markings that can be seen even in the dark.
The watch is also resistant to water up to 200 meters, making it ideal for hand washing, showering, and swimming. Plus, this watch is also recommended to professional divers for diving purposes.
Tissot VS Victorinox: Pricing
Both brands are regarded as entry-level luxury watchmakers in terms of pricing. Their watches come in various price points, but both are generally considered the most affordable Swiss brands.
Tissot:
Tissot has a wide selection of high-quality wristwatches at various price points. They offer a wide range of options, from cheap to expensive.
The Heritage Navigator Men's Automatic watch, which retails for $8250, is the most expensive Tissot model. However, their timepieces are also available at a reasonable price, ranging from $200 to $400.
Victorinox:
Victorinox's core collections are affordable, apart from a few high-end pieces. The most popular Victorinox pieces are available for less than $500. You can even get an entry-level watch for less than $100.
In addition, analog quartz watches are the least expensive, whereas the new Victorinox automatic watch line is considered the most expensive.
Tissot VS Victorinox: Warranty
Tissot:
Tissot offers a decent warranty period of two years from the date of purchase. According to the manufacturer, this warranty period covers both material and manufacturing flaws.
It is important to note that the international warranty does not cover the watch's battery, normal wear, and tear, or damage caused by the owner's negligence.
Victorinox:
Compared to Tissot, Victorinox watches come with a lengthy warranty period.
Until January 2019, the duration of the warranty was three years. Since then, it has been extended to five years. The 5-Year Limited Warranty covers all manufacturing and material faults during regular use.
In addition, the brand provides a free battery replacement for the first year of ownership.
Remember that the guarantee is only valid for watches purchased from the Victorinox official website or an authorized store.
Tissot VS Victorinox: Which brand is better?
Fortunately, both Tissot and Victorinox are recognized for creating high-quality watches. Both are strong competitors, but to determine which is superior, let's examine their features closely.
Tissot:
Tissot is renowned for producing the best women's watches.

Tissot is considered the king of elegant timepieces.

All their products are Swiss-made.

All the watches manufactured by the company are highly durable and long-lasting.

In terms of accuracy, their watches are highly reliable.

Tissot produced watches for all buyers, from cheap to expensive.

They offer a good warranty period of two years.
Victorinox:
Most Victorinox watches are meant for outdoor purposes like hunting, hiking, and mountain biking.

Their watches have a premium luxury look.

They are highly precise and accurate in timekeeping.

Like Tissot, Victorinox watches are manufactured in Switzerland.

It is considered an entry-level luxury watch brand.

It offers a great warranty period of five years.
Final Thoughts
Hopefully, this Tissot VS Victorinox comparison has assisted you in making an informed decision. Both of these companies are renowned for producing high-quality timepieces. As a result, deciding between the two is a challenging task.
However, if you are searching for elegant and fashionable timepieces, Tissot is a perfect choice. On the other hand, Victorinox is the most acceptable option for individuals looking for a challenging and long-lasting watch at a reasonable price.
So, the choice between Tissot and Victorinox is entirely up to your taste and preference.
Frequently Asked Questions (F

AQs)
Where Are Victorinox Watches Made?
All Victorinox watches are made in Switzerland. Not only are their watches created there, but so are all of their other products. They claim that their devices are manufactured to the greatest possible standards.
Is Tissot a Luxury Watch Brand?
Tissot is, without a doubt, a high-end watchmaker. The majority of this brand's timepieces start around $700. However, Tissot cannot be compared to the most prestigious watch companies like Rolex or Hublot. But, because of its design and craftsmanship, Tissot will continue to be a premium watchmaker for watch collectors.
Where are Tissot watches made?
Tissot is a well-known Swiss watchmaker known for its innovative designs. All Tissot timepieces are made in Switzerland, just like Victorinox watches.
About Author