Most serious bikers use mounted bike computers to track their routes. But advancement in technology brings GPS smartwatches that you can use for mountain biking.
I have seen every single mountain biker use a smartwatch with GPS. The big plus point to using a GPS watch is it offers multi-sports features, so, during your journey, you can also track your physical health.
Whereas it's not possible to track your physical health with a mounted bike computer.
Garmin watches are the ornaments of every athlete and mountain biker. We have done deep research and collected a few best smartwatches, which have high durability and accuracy. Let's have a look!
Also Check: Best Garmin Watch For Cycling
Best Smartwatches For Mountain Biking
Garmin Forerunner 245
Garmin is the all-time best smartwatch brand that offers high quality and durable GPS watches. The brand focuses on outdoor sports and fitness, mainly to track out-door sports. This watch has a lot of tools to track your cycling.
Under the hood, this mid-range Garmin watch is full of premium features. Other than GPS, you have a lot of things to explore that might improve your mountain biking. 
Forerunner 245 has a 1.2″ dial, which is perfect for every wrist size, and this time, the display is crispy and bright, giving a premium feel. The watch is lightweight and more comfortable because of the silicon band. 
Why It's the Best Multi-Sports Watch?
Because of its insane capabilities and features, we put it on the top of our list. It offers accurate GPS tracking to track your speed, pace and distance etc.
The advanced live tracking feature allows your friends to follow your real-time location and even view your entire pre-planned course. So during mountain biking, it becomes easy for you to keep an eye on your friends. 
Secondly, the most helpful feature is the safety tracking feature. If you meet with an accident, this feature will automatically send an SMS (along with your location) to your emergency contacts.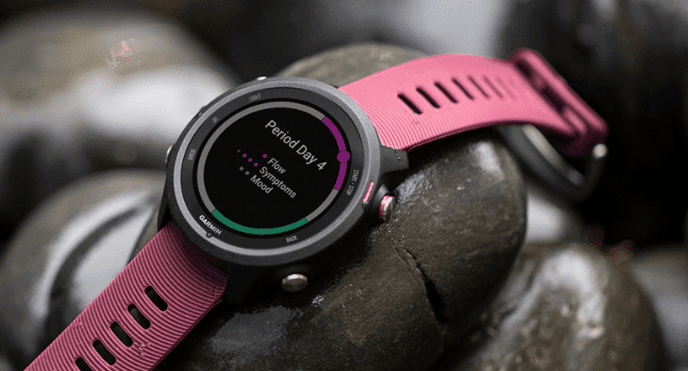 Forerunner 245 is packed with dozen of other fitness tracking and sports features, including;
Running dynamics

Wrist-based heart rate

VO2 Max

Pulse OX sensor

Training status

Recovery time

Training load and effect

Intensity minutes

Body Battery monitor

Women's health tracking and more
You will also see plenty of built-in sports modes, and your watch automatically tracks a few of them. 
Bottom Line
No doubt the Garmin Forerunner series contains the best multisports watches, but Forerunner 245 is an insane mid-range wear. It offers 7-days of battery life, which is more than enough to track your activities for a long time. 
Durable Corning Gorilla Glass 3 ensures robustness, making this watch best for outdoor environments. Lastly, I love its sleek and sexy design that gives a more luxurious feel.
Garmin Forerunner 245
Advance Running Dynamics

7 Days of Battery life

Garmin Connect

Aerobic activity tracking

Accurate GPS
Garmin Fenix 6
If you are a serious mountain biker and have an extra budget, I recommend you buy Fenix 6. The Fenix series contains watches that have durability like hell. These beasts will never let you along during your outdoor adventures. 
Fenix 6 gained significant updates after its predecessor (Fenix 5). This time you will have plenty of extra health tracking features like; power manager, hydration tracking, daily workout suggestions, Pulse OX sensor, respiration tracking, advanced sleep-tracking tools, expedition mode, dozens of sports modes and more.
It offers three preloaded cycling modes; BIke, MTB, and Indoor Biking. The watch tracks your cycling more profoundly and shows tons of valuable stats.
Advanced GPS
Compared to other Garmin watches, Fenix 6 offers advanced GPS tracking, which is more accurate than previous models. 
This time you will get Multi-GNSS support. This tracks a more challenging and deserted environment than GPS alone. This feature uses more than one satellite to track your routes. That's why it's fast and precise.
It also has ABC sensors, including an altimeter that tracks your elevations, a barometer that monitors the current weather, and a compass to see directions. Because of advanced sensors that Fenix 6 accurately tracks heart rate during high-intensity moves. 
It offers a new trackback feature that enables you to navigate towards the starting/initial point. Similarly, you will also see safety tracking features just like Forerunner 245.
All these outdoor features ensure effective mountain biking, plus you can track your journey more deeply and enjoy the fun. 
Bottom Line
Fenix 6 is the most robust smartwatch that has stainless steel bezels and a high-quality polymer case. The watch is a bit bulky but more comfortable. It offers 14 days of battery life in smartwatch mode, 48 days in battery saver mode and 36 hours in GPS mode, which is insane.
Garmin fenix 6X Sapphire
3-axis compass, gyroscope and barometric altimeter

21 days long battery

PacePro Technology

Power Manager

TOPO and Ski Maps

ClimbPro Feature
Garmin Enduro
Garmin Enduro is a killing sports watch, and it has a wide range of sports modes for the outdoors. Along with sports modes, it is packed with more premium and accurate health tracking features. I only recommend this watch to you if you have a budget and a passionate mountain biker.
Solar power is used in this watch's power glass, which automatically charges the battery life and gives you extra-long battery life.
Enduro comes with a 1.4″ Always-on display, a sunlight-optimized display for easy viewing. The watch is rugged and durable like hell. Its bezels are made with stainless steel and have an ultra-fit Nylon band.
King of Outdoor Sports
It's 101% true that Garmin Enduro has the best outdoor atmosphere. It is packed with the most advanced outdoor sports mode including; Trail run; Ultra run, Run, Virtual Run, Track Run, Indoor Track Run, Bike, Indoor Bike, Mountain Bike, Cycling, Pool swim, Triathlon, Hike, Climb, Bouldering, Ski, Snowboard, Cross country Ski, Surf, SUP, Kayak, Row, Golf, Yoga, Pilates, and much much more.
Just like sports modes, you will also get more advanced fitness tracking features. You can track every single physical aspect during mountain biking, including; VO2 Max, Power Manager, Heat, Hydration, Respiration, Heart health, and more.
Bottom Line:
Garmin Enduro is an insane training watch, and it comes with all the tools that the Fenix line has. Plus, this watch offers some extra and advanced features that other Garmin Watches lack. 
I love its ultra-long battery life, and it gives you 50-65 days of battery life in smartwatch mode. 
Garmin Enduro
Solar Battery

NFC

10 ATM water resistant

DLC-coated titanium bezel

Many premium features and modes
POLAR VANTAGE V2 (Best Budget Watch)
After the Garmin, Polar is only the brand that offers high-quality and premium sports watches. Polar Vantage V2 is the upper-class watch of this brand, offering tons of high-end features that make this watch best for mountain biking.
This is a pretty sleek watch that gives you a more luxurious and sexy feel. The display is brighter, and you can easily read it under direct sunlight. There is an entire aluminum case making this watch more durable. 
Polar Vantage V2 is only the watch that shows you deep insights into your day-to-day activities. You will find that the results are more accurate and precise. Not just that, this watch also guides you on each step of your training. 
Best Ever GPS Tracking
This polar watch has ultimate GPS tracking. Under the hood, there is GLONASS, Galileo, and QZSS with assisted GPS for fast fix times. With Kamoot, you can pre-plan your route and import it to Polar Vantage V2, and watch the width guide on every turn. 
Similarly, there is an ABC sensor that tracks your Altitudes, weather conditions, and directions.
The GPS is insane and will never show you wrong directions or late loading etc. You will get on-time results even if you are in hell. 
Fitness Features
Along with tons of sports modes and features, you will also see fantastic fitness features in this watch. This feature includes; 
Advanced heart rate monitoring

Running performance text

Cycling performance test

Training load pro

Recovery pro

Legs recovery test

Running power

Sleep plus stages

FuelWise

Hill splitter

Fitspark

Strava live segments

Sports profiles

Running index

Energy source
Bottom Line
If you are on a budget and want some extra killing feature on your wrist, then don't do anywhere else. Polar Vantage V2 is the best multi-sports watch not only for mountain bikers but for every outdoor lover. 
POLAR Vantage V2
Elegant design

Comfortable

Excellent battery life

Accurate GPS

More features
Polar Ignite
This one is the last smartwatch on our list, and I appreciate its capabilities. Polar Ignite is the most affordable watch on this list, but there is no shortage of features. The watch offers an in-depth view of your all-day activities and guides you towards a more balanced life.
This watch is not only best for mountain bikers but also a perfect option for fitness lovers. You will get smart calories tracking, continuous heart rate, sleep tracking, Fitness text, Activity guide, Breathe exercises, Running program ad tools, and more.
In addition to this, there are a variety of sports modes that help with your different indoor and outdoor activities.
You have an integrated GPS that tracks your speed, distance, and pace during mount biking, cycling, or hiking. GPS is accurate and shows quick data. But this watch lacks GLONASS and ABC sensors which are its downside. 
Its best feature is its in-depth stats. The built-in Polar flow app is a brilliant app that is the home of your daily data. The colorful visualization helps to understand the results better. 
Because of advanced sensors, that watch also tracks your high-intensity activities like gym and other heavy workouts. 
Bottom Line:
Overall, Polar Ignite is an excellent watch that has an elegant and sleek design. The watch is packed with a lot of features but not too much like Polar Vantage V2. This watch will give you five days of battery life on smartwatch mode, and I think the battery life should be improved.
POLAR IGNITE
Affordable

Comfortable

Excellent battery life

Accurate GPS

Durable
Consideration Before Buying a Biking Watch
It's pretty tricky to pick the best biking watch from the deep sea of smartwatches. You should consider a few crucial things before buying a watch.
Accurate GPS
GPS is the core feature in biking watches, and if you have in-accuracy, then your smartwatch is useless. A reliable GPS allows you to navigate routes, even in deserted areas, quickly. It's better to buy a watch that also has GLONASS for more precise and fast navigation.
Durable
Mountain biking is an off-road game, and brittle thighs can't survive in such an environment. Make sure you have a more durable smartwatch that has a water-resistant and dust-proof body. Garmin and Polar watches are considered to be the most robust sports watches.
Fitness Tracking
Along with GPS, it's helpful to have an optical heart rate sensor and other fitness tracking features. And It's now common for all smartwatches to come with fitness features, but only a few of them provide the most premium one. But the point is your smartwatch must track your physical health more precisely.
Battery Life
It's the most critical factor, especially for outdoor watches; when you are on an adventure, you cannot charge your watch. So make sure your smartwatch lasts for a minimum of one week. If you have a budget, then you can also buy solar technology watches like Garmin Enduro.
Comfort
The last thing is comfort; most durable watches are bulky because of their stainless steel structure. But if they have a silicone band and smooth surface dial, you don't need to worry about their weight. These watches are more comfortable.
Apart from bulky watches, a few sleek designs watch available like Polar ignite, and Forerunner 245 are super comfortable.
Final Words
A smartwatch with GPS and cycling tools makes your mountain biking journey much more enjoyable. Along with tracking your routes, you can track your other fitness features like VO2 Max, heart rate, and more. 
Hopefully, this article will help you to choose the best smartwatch. Either you have a tight budget or more you can choose a suitable device accordingly. 
Note: We have done a lot of research before making this list so that you can buy any device without any doubt. We didn't mention any Apple or Galaxy watch in this list, although they can track mountain biking. The reason is their low durability and battery life.