Because of advancements, the wearable fitness market is evolving quickly. The new smart rings are taking the place of smartwatches. Smart rings are pretty nifty gadgets that are very lightweight and more comfortable than bulky smartwatches.
In the market, many smart rings are available, each with a certain purpose. But if you want something to track your Blood oxygen level and heart rate, the Wellue O2 Ring comes into the game. 
In today's article, we will share the hands-on experience of the Wellue O2 Ring, and at the end of the article, we will let you know whether you should buy an O2 Ring or not.
Wellue O2 Ring Review
1- Design
The design of the Wellue O2 Ring is pretty unique as compared to the Oura ring or any other smart ring, and this is because this Ring features a display to show you real-time stats.
The Ring has a pretty large display but is too comfortable. The ring dimensions are 1.5″ x 1.2″ x 1.5″. I like the rubber that fits firmly on your finger, and it feels very comfortable compared to any other metallic ring.
On the ring side of the rubber band, there is a sensor that emits red light and takes the readings. One big benefit of the sidewise alignment of the sensor is that it sticks with your finger firmly; that's why it gives more accurate readings.
The O2 Ring feels very delicate when wearing and taking off. Unlike other metallic Rings, this one is not too much water resistant; it only has an IP24 water rating, so it can withstand minute water splashes.
During the night, the Wellue O2 Ring feels comfortable and never disturbs you during sleep. And doesn't even move from its place during the night.
Use Coupon Code 'GFW10' and get 10% off.
Wellue O2 Ring Heart Rate Tracking
One of the potent features of the O2 Ring is heart rate tracking. You can view the real-time heart rate data on the Ring's screen. It also syncs real-time heart rate data with the native app.
In terms of accuracy, Wellue O2 Ring shows more accurate HR readings. It features an intelligent SOC chip combined with anti-interference filtering technology.
I have compared the heart rate data with my Galaxy Watch Active 2, and I got very accurate results. I have conducted two tests and got pretty similar readings both times. You can see the results in the pictures below.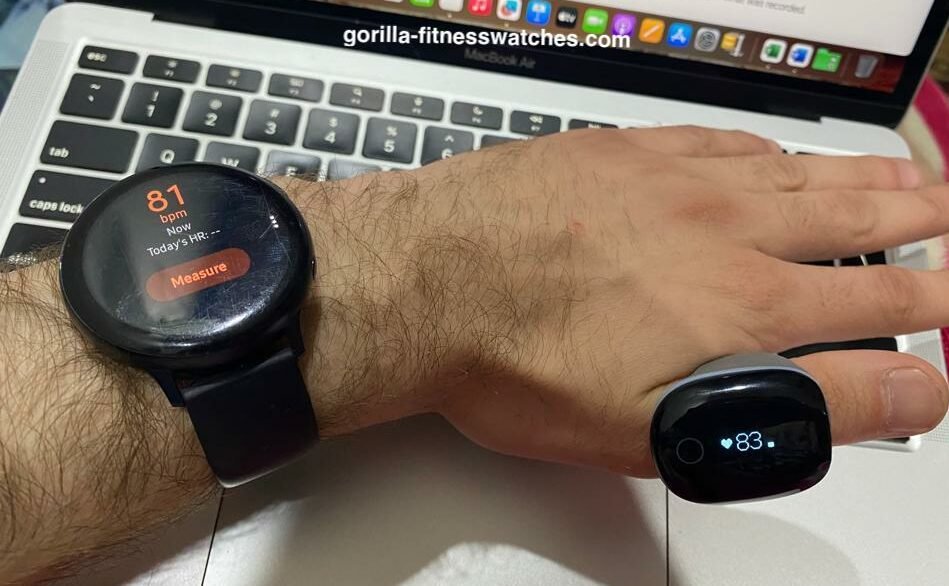 Another best thing about the O2 Ring is the high and low pulse rate alerts. So in case of an irregular pulse rate, the Ring vibrates so you can take immediate precautions.
Wellue O2 Ring Oxygen Level Tracking
The primary feature of the O2 Ring is oxygen level tracking; as the name suggests, this Ring is specifically made to track blood oxygen levels. And this is one of the core features that tell you about your body's overall wellness.
Like heart rate, O2 Ring tells real-time SpO2 score on the Ring. Also, you can view the real-time graph of Oxygen levels in the app. In lower O2 readings, the Ring vibrates, so you can better understand your body condition.
Blood oxygen level is very accurate, and you can track overnight SpO2 score and see at which the blood oxygen level falls during the night. Because of the accuracy of this oximeter, it captures every hypoxia event, which makes it better than other market competitors.
Companion App
Wellue O2 Ring has an amazing native app that shows a detailed analysis of O2, heart rate, and motion data. Even this app shows real-time data, which is a big plus. I have never seen any fitness app showing real-time heart rate or SpO2 data.
The app's name is "ViHealth," and it's available on both iOS and Android.
Under the history tab, you can view the data from the past week, month, and year. Similarly, you can comprehensively analyze how well your day and night were going; you can zoom in/out the graphs, see drops, average O2 score, ranges, distribution, and more.
The best thing in this app is data sharing options. You can generate the data report in different formats and share it with your doctor for better consultancy.
From the companion app, you can also control the vibration of the Ring, its brightness, screen mode, and more.
Battery Life & Price
The Wellue O2 Ring doesn't have too long battery life like the Oura Ring. On a single charge, it lasts 12 to 16 hours, and you can easily track your overnight SpO2 and heart rate.
In terms of price, Wellue O2 Ring is far more affordable than the Oura ring and the market competitors; it costs you around $159, which is worth the deal. It comes with a USB 3.0 charging cable and a USB charging port on the front side of the Ring.
You can use my referral link with coupon code "GFW10" to get 10% off.
Is the Wellue O2 Ring Worth it?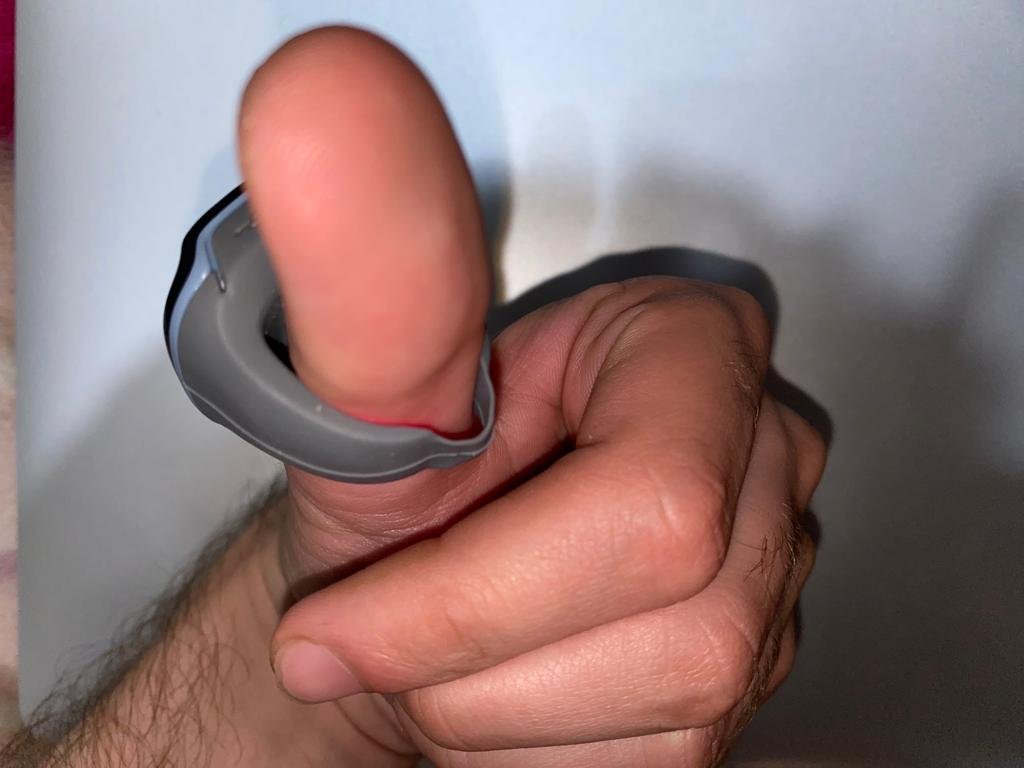 It depends on your need; if you're a person who wants to keep an eye on your heart rate and blood oxygen level, then the Wellue O2 Ring is worth it option for you. Especially people with chronic health issues or heart disease should invest in this Ring.
Secondly, this Ring is useful if you want to get useful data about our sleep patterns and motions during the night.
But remember that the Wellue O2 Ring is not a fitness tracking ring; it wouldn't track your steps, calories, activities, etc. So if you're a fitness enthusiast, this is not the right option to invest in.
In a nutshell, Wellue O2 Ring is highly recommended for the elderly, heart patients, sleep apnea patients, CPAP users, and people who want to take control of their habits.
About Author